23 Footballer Hair Transplant Transformations
From Premier League players to international soccer stars, footballer hair transplants are becoming more popular. Ever since Wayne Rooney came clean about his own hair restoration procedure back in 2011, more and more players have decided to undergo their own FUE and FUT transplants.
Just to confirm to all my followers I have had a hair transplant. I was going bald at 25 why not. I'm delighted with the result.

— Wayne Rooney (@WayneRooney) June 4, 2011
So which other footballers have had a hair transplant? Let's find out.
1. Rob Holding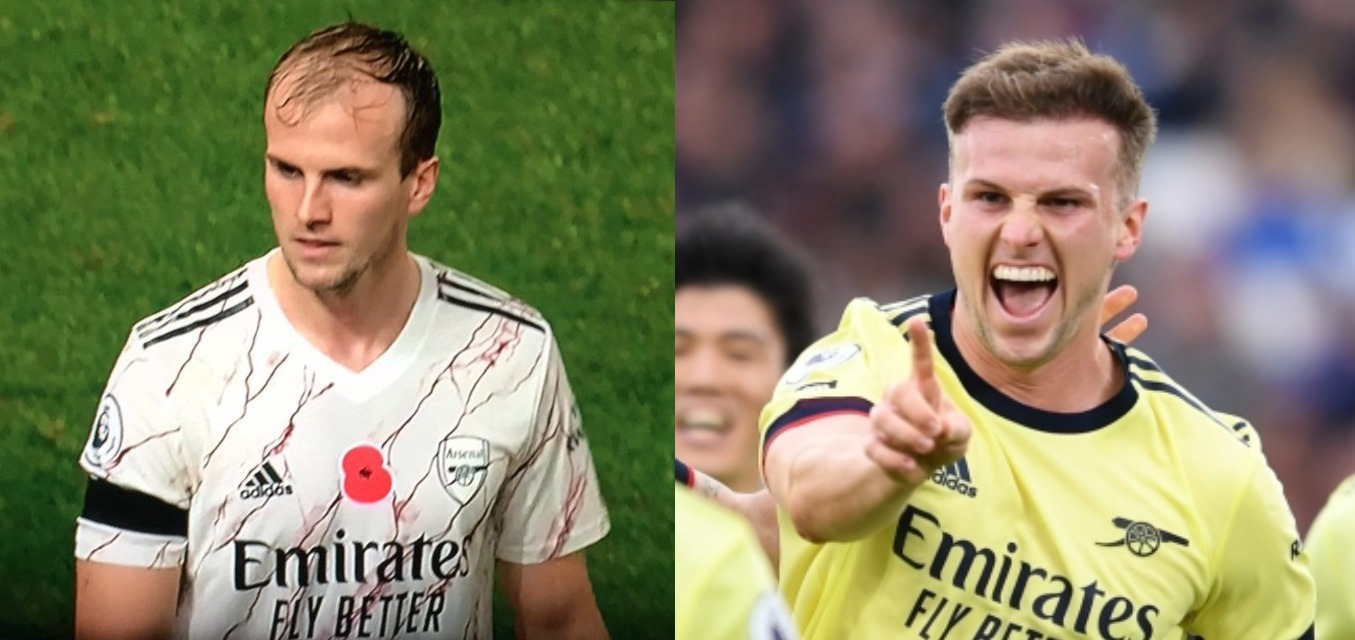 Arsenal centre-back Rob Holding had a hair transplant at the Wimpole Clinic in 2021. He's been open about the impact of his hair restoration procedure, saying it's boosted his confidence as well as his hairline:
"I struggled so much with my hair and self-confidence. I have had so many messages about where I had my procedure. The Wimpole Clinic in London treated me so well and I am so happy with the results."
We don't charge a premium to treat footballers and celebrities. Our hair transplant prices suit patients with all kinds of budgets. So if you're considering a procedure to address your temple hair loss like Rob, find out everything you need to know in our hair transplant FAQs.
2. Wayne Rooney
Rooney's famous hair transplant has paved the way for future generations of footballers to address their own hair loss. Rooney candidly revealed his procedure in 2011, and since then he's had a second hair transplant to keep his hair looking thick and full.
See Wayne Rooney's hair journey in full.
3. Antonio Conte
Now better-known as a successful manager, Antonio Conte also had an illustrious playing career with Italian clubs Lecce and Juventus. It was at the latter club that his hair began to seriously thin (see the left photo above).
While the Godfather hasn't publicly commented on his new-and-improved hair, it's almost certain he's had some surgical intervention to achieve this. See our in-depth analysis of Antonio Conte's hair transplant.
4. Harry Kane
Harry Kane's hair is looking a little different these days. Instead of opting for the slicked-back look England and Tottenham fans are used to, he now sports a brushed-up style that hides his receding hairline.
But is this just the work of a great barber — or has Harry Kane had a hair transplant, too? The jury's still out on this one, but it certainly looks like he may have had a small top-up around his temples.
5. Xherdan Shaqiri
Swiss international Xherdan Shaqiri has also kept quiet about his hair restoration. But reports that he was unable to head the ball following a two-month injury in 2019 — plus his plush new head of hair — suggest he probably underwent a hair transplant around this time.
Shaqiri's new hairline is thick and bold. It's not the most natural-looking hairline; even men with minimal hair loss tend to have slight recession at the temples due to a maturing hairline. But it gives him a more youthful look, and — thankfully for his team — he has no problem heading the ball any more. Learn more about Shaqiri's hair transplant.
6. David Beckham
David Beckham has always been renowned for his trendsetting hairstyles. But after photos in 2020 (above left) exposed his thinning hair, speculation about a David Beckham hair transplant began to grow.
There are plenty of other ways to hide thinning hair, such as hair fibres or hair thickening spray. Has Becks had a hair transplant? It's not definite. But he seems to have taken some kind of restorative action to give him the enviable head of hair he has in 2023.
7. Andros Townsend
Everton winger Andros Townsend displayed classic signs of male pattern baldness back in his Newcastle United days. He was losing hair at both temples — a surefire symptom of androgenetic alopecia in men.
Now, though, Andros's hairline is super straight, indicating he's probably had an Afro hair transplant in recent years. Find out more about Andros Townsend's hair transplant.
8. Jurgen Klopp
Longstanding Liverpool manager Jurgen Klopp revealed he'd had a hair transplant back in his playing days for German club Borussia Dortmund. Never one to be coy, Jurgen Klopp's hair transplant was well-publicised at the time — and it still looks great 10 years later.
9. David Silva
David Silva's M-shaped hairline was hidden for several years by mid-length hairstyles. So when he shaved his head in 2017, the extent of his hair loss became pretty obvious.
Since then, David's hair has returned with a vengeance following his hair transplant. His new hairline is much straighter, giving him lots more styling options.
10. Sadio Mané
Liverpool legend Sadio Mané appears to have followed in his former manager Jurgen Klopp's footsteps, having left the club with significantly more hair than when he arrived.
Like many players, Sadio hasn't revealed that he's had a hair transplant — but his new hairline speaks for itself.
11. Cesc Fabregas
Cesc Fabregas returned to the Premier League in 2014 with a new hairline as well as a new club.
The left-hand photo above appears to show Cesc's new hairline growing in just a few months after surgery. The right-hand photo, meanwhile, shows Cesc in 2022, with a much straighter hairline than before.
12. Slaven Bilic
Eagle-eyed viewers spotted what appeared to be fairly fresh hair grafts along Slaven Bilic's hairline and mid-scalp during this 2016 pundit appearance. With some lingering redness but minimal scabbing, it looks like Bilic was around 2 months post-hair transplant at this stage.
In 2022, Slaven's hair is much thicker across his scalp. There's still some thinning, suggesting ongoing hair loss — supplementary medical therapy like Finasteride or Minoxidil can help maintain your hair transplant.
13. Dimitar Berbatov
Dimitar Berbatov played in the Premier League for several years, but it wasn't until after his playing career that he opted for a hair transplant. Back in 2018, his hair was much thinner around his temples than it is in 2022.
14. Michael Gray
In a unique move, ex-Sunderland player Michael Gray decided not only to reveal his hair transplant, but to broadcast it live. It's said to have been the first FUT procedure to be broadcast live on the internet.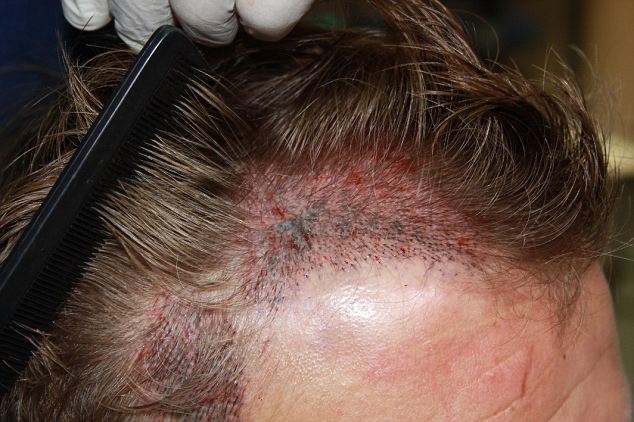 Photos of the aftermath show where Michael's grafts were placed: mainly around his temples, with some grafts also implanted at the sides of his head. Michael's hair transplant is standing the test of time — a decade later, it still looks natural, thick, and full.
15. Ryan Giggs
Ryan Giggs revealed he'd had a 1,500 graft hair transplant following a series of non-surgical hair restoration treatments. His new age-appropriate hairline follows his original hairline, giving him a natural-looking result.
Reflecting on his hair loss, Ryan said, "When you play football, the camera can be overhead and can see the top of your head. There's no hiding place. With longer hair, when you're thinning a little bit, it just looks even worse. It just makes people more aware of it.
"It'd be interesting to see what my hair would be like if I hadn't had the last ten to fifteen years of treatment. Obviously not as good as it's looking now."
16. Ashley Barnes
Burnley forward Ashley Barnes has seen a huge change in his hairline just two years after his procedure. Here, he's pictured pre-transplant in 2017 and post-transplant in 2019.
Ashley revealed his hair transplant in 2017. His hairline has seen a dramatic improvement — the recession around his temples is now much shallower than before. He can wear modern styles like this combed-back look without worrying about exposing his receding hairline.
17. Steve Claridge
Steve Claridge swerved the standard advice to stay at home for a few days after a hair transplant, having been snapped watching Dorchester Town with evidence of pretty fresh surgery on his scalp. The wounds on the back of his head shows Steve has had FUE surgery; these tiny cuts heal quickly, leaving virtually zero scarring.
18. Gianfranco Zola
Gianfranco Zola has been spotted sporting a much thicker head of hair in recent years. He's said to have had multiple hair transplants — including a 5,000 graft hair transplant — to restore his hair to its current thickness.
19. Christian Eriksen
Christian Eriksen's hairline has seen a few changes over the years. In his early career at Ajax, he had definite signs of male pattern baldness. But later, in 2014 (centre photo), his temples had filled out again.
In more recent years, however, Christian's hair appears to have started thinning again. This can happen if you don't take steps to manage your ongoing hair loss, such as taking Finasteride.
20. Leigh Griffiths
Leigh Griffiths has naturally light, fine hair, which can make it much more difficult to disguise thinning hair. As a result, Leigh decided to opt for a hair transplant.
Like many other footballers who have hair transplants, Leigh's aim was to reinstate his self-confidence. "Opting for a hair transplant was easy," he said. "I was going bald very, very quickly, and getting a hair transplant seemed the only thing to get my confidence back."
21. Anthony Stokes
Leigh Griffiths isn't the only former Celtic striker to get a hair transplant. Anthony Stokes also addressed his temple hair loss around the same time. Like Leigh, Anthony is now reaping the rewards of his hair restoration surgery.
22. Cenk Tosun
While Turkish footballer Cenk Tosun is said to have refreshed his hairline with a hair transplant, there's some speculation that he actually uses hair fibres to boost his thinning thatch. Hair fibres work by clinging to the existing hair, giving them appearance of better hair density. Rooney is said to have used a similar temporary thickening technique when his hair was thinning.
23. Kris Boyd
Kris Boyd reportedly underwent a 1,700 graft hair transplant in 2015 to treat his advancing male pattern hair loss. Like for many other footballers, Kris's decision to get a hair transplant has made him look younger — and best of all, he's happy with his results.
Kris said, "To be honest, I think it can really change your life. You get used to not having your hair, but having it back again can make you feel a lot more confident in yourself."
More celebrity hair transplants
Hair transplants aren't just for footballers. Elton John, Elon Musk, Jimmy Carr, and many other famous people — as well as sports stars like Jonathan Joseph — have also opted to surgically enhance their hairlines. See more celebrity hair transplants before and after in our series:
The Wimpole Clinic offers FUE Hair, Beard & Eyebrow Transplants & Trichology.
Talk to a specialist ☎
020 7935 1861
.
Blog search
Book a consultation
Simply fill in your details in the form below and we'll get in touch with you shortly.