Book a Consultation
Simply fill in your details and we'll get in touch with you shortly.
FUE Hair Transplant
Wimpole Clinic in London,
Harley Street
• 1 DAY PROCEDURE
• NO VISIBLE SCARRING
• NATURAL LOOK
• VIDEO CONSULTATIONS
• 1 DAY PROCEDURE
• NO VISIBLE SCARRING
• NATURAL LOOK
• VIDEO CONSULTATIONS
Book a Consultation
Simply fill in your details and we'll get in touch with you shortly.
FUE Hair Transplant London - Voted Hair Clinic of the Year 2022
Wimpole Clinic is proud to have been voted as the FUE Hair Transplant Clinic of the Year 2022 at the Corporate Live Wire London prestige awards for a second year in a row. Since the clinic's formation in 1975 it has played a major role in the advancement of hair transplant restoration surgery and treating both male and female pattern baldness.
Dr May, a key figure at Wimpole Clinic for over 30 years, and our team, have been instrumental in developing the revolutionary FUT technique. More recently, we've pioneered refinements to the minimally invasive FUE transplant technique.
Patients are front and centre of everything we do. That's why we've garnered so many genuine 5 star Google & TrustPilot reviews. You can find more information about our award-winning FUE London hair transplant clinic below or by speaking to one of our friendly patient advisors during a free consultation.
John's FUE hair transplant story
"I am a 47 year old UK expat living in Hong Kong and I wanted to travel to have an FUE hair transplant in London before travelling back to Hong Kong one week later.
The Clinic's customer advisor explained the procedure itself and arranged a video conference with Dr May. They advised me the following day of the lump-sum quote for 2000 grafts.
I cannot recommend Wimpole Clinic highly enough. Both the doctor and his entire support team were exceptional. The clinical assistants were very helpful in explaining what was happening and also advising on their progress.
I am delighted with my results to date and am repeatedly complimented on how natural my hairline looks. I have recommended the clinic to several close friends, a number of whom have also now had the procedure and again experienced exceptional results. 5 stars!!"
What is a FUE hair transplant?
FUE (Follicular Unit Extraction) involves removing groups of healthy hair follicles from the donor area – usually the back or sides of the head – and reimplanting them into the bald or thinning area. Using the latest minimally invasive hair restoration techniques, we create natural hair transpant before and after results with faster recovery times and minimal scarring. This means patients can wear their hair as short as they want in the future without any scar tissue showing.
How does FUE hair transplant work?
The procedure starts with a local anaesthetic, which numbs your entire scalp so you don't feel a thing. You will also be offered a mild sedative so you can lay back and relax. Then your surgeon will extract hair follicles, one by one, from donor areas on your head where your hair grows thicker, usually the back or the sides.
A specially designed micro-instrument called an FUE punch trumpet is used to extract the hair follicles. This makes tiny puncture holes, usually 0.6 – 0.8 mm, and their small size ensures that they heal faster and are nearly invisible. Each graft contains 1-4 hair follicles. These are then replanted in similarly small incisions made in areas of the scalp where you would like to have more hair growth.
Why choose an FUE hair transplant?
FUE has quickly become the most popular hair transplant procedure for both men and women. Here's why:
FUE leaves virtually no scarring, so you can crop your hair as short as you like
Recovery is easier and faster than FUT surgery, so you can get back to normal life quickly
You'll get full, natural-looking hair
Surgery takes 1 day to complete
FUE has a 97%-100% success rate at the Wimpole Clinic
What is the difference between FUE and FUT hair transplants?
FUE is one of two modern hair transplant methods. The alternative is an FUT hair transplant. While both FUE and FUT yield excellent success rates and long-term results, there are certain differences potential patients should be aware of. These centre around cost, recovery time, cosmetic appearance, and how the surgery works. Find out more about the difference between FUE and FUT hair transplant procedures.
Is FUE right for me?
Our hair transplant specialists can help you decide if you're a good candidate for an FUE hair transplant in London. They will run the necessary tests to determine the source of your balding and examine the thickness and texture of your hair. If the cause of your hair loss is compatible with a transplant and you have sufficient hair growth in the donor areas, it is likely that the FUE procedure is suitable for you. Find out more about hair transplant eligibility.
John's Experience On The Day
"The day before my procedure I met with Warren (the clinic's customer advisor) and Dr May who again explained the procedure and also designed my new hair line to show me what the finished result would look like. They took their time and explained the pros and cons of each alternative hair line, until we collectively settled on an age-appropriate result.
The following morning, I went to their Harley Street clinic at 7:30 am to receive some mild sedatives and commence the procedure. The procedure itself took 8 hours in total and was painless. We had a one break for lunch and a quick toilet stop.
Both the doctor and his entire support team were exceptional. The clinical assistants were very helpful in explaining what was happening and also advising on their progress.
The clinic organised a taxi to take me back to the hotel and gave me some mild painkillers to help me sleep that night.
The clinic had organised a number of follow-up consultations to ensure my head was healing properly before my scheduled long haul flight back to Hong Kong. They were able to remove the vast majority of the scabs before my flight. I simply kept a hat on during the flight and felt no discomfort."
FUE hair transplants - The procedure
How successful is FUE?
FUE is the most successful hair transplant technique available today. Due to the great accuracy of the procedure and the control the surgeon has over the process, 97%-100% of Wimpole Clinic patients enjoy a successful, satisfying transplant. This means minimal scarring, quick recovery and natural-looking hair growth.
To improve the success and results of your hair transplant, you may be advised to delay surgery and take hair loss medication that prevents further loss. These include but are not limited to Finasteride & Minoxidil.
How long is the recovery period?
Recovery from FUE is twice as speedy as for FUT, taking only 5-7 days. During this time, you'll experience very little discomfort as the puncture holes are very small. It usually takes between six and nine months for the transplanted hair to start growing on its own and you should expect to see the full results 12 months after surgery.
How much does it cost?
FUE takes longer and is more precise than FUT, so the procedure is more expensive. The price depends largely on the number of grafts you need, as well as the skill, experience and reputation of the surgeon performing the operation. Wimpole Clinic prices start at £3,499.
While it may be tempting to choose a cheaper hair transplant, this often comes at the cost of lower quality. This can mean anything from a fake-looking hairline to an unsuccessful transplant which needs to be redone. Opting for the services of an experienced surgeon is a good way of protecting your investment in your appearance and sparing yourself any undue distress.
Learn more about how cost can serve as an indicator of quality in our UK hair transplant cost analysis.
Mark's FUE hair transplant review
The experience from start to finish has been fantastic. After an initial conversation with Matt, I was put at ease about what to expect on the day and all of my questions were answered. On the day Dr. Malkani and his team were brilliant. There was a very relaxing atmosphere and the team couldn't have done more for me. The Wimpole Clinic was recommended to me by a friend who had a transplant in July as he had a great experience. I'll also be recommending the clinic to friends considering going ahead with treatment.
Hair transplant before & after
Transplant aftercare
Every Wimpole Clinic patient is provided with an aftercare pack that contains information on how to look after your transplanted hair. In addition to this, your aftercare pack will also contain specialist products such as shampoos that will aid in the healing and recovery process.
We also include:
3 day post procedure visit for a hair wash
24 hour surgical hot line for aftercare
Shampoo
Hair blood test
Neck pillow and pillow cover
Paracetamol and anti-swelling tablets
Post-operative care notes
Baseball cap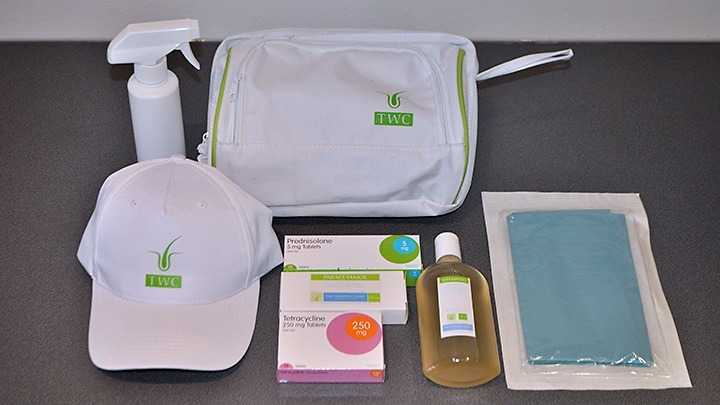 Our Specialists
Dr. Michael May (GMC No: 1642315) is the Medical Director and Principal Surgeon of the Wimpole Clinic. He has 25…
Get an FUE hair transplant London at the Wimpole Clinic
Led by principal surgeon Dr. Michael May, our team is renowned for delivering incredible results to every FUE patient that visits our Harley Street clinic.
When you choose an FUE hair transplant at the Wimpole Clinic, you'll get:
Free consultation
Full trichological exam to determine the cause of your hair loss
Personalised treatment plan
Advice, surgery and aftercare from a clinic with more than 45 years' experience
Aftercare pack to help you recover
On-hand consultant to answer any questions or concerns you have
Book your free initial consultation for an FUE hair transplant in London using the form below. Talk to our experienced hair restoration specialists to find out more about restoring your hair with an FUE transplant.
We are registered with, members of, or recommended by:
Book a consultation
Simply fill in your details in the form below and we'll get in touch with you shortly.
Latest Articles
Recommended Articles