FUE Hair Transplant Surgery
The FUE hair transplant method is the most popular procedure for men. FUE or "Follicular Hair Extraction" involves removing groups of healthy hair follicles or "grafts" from the back of the head and placing them into the bald or thinning area.
By using short-term anaesthetics, the FUE transplant procedure minimises patient discomfort, even when extracting and implanting up to 3000 grafts. This method allows for fast recovery and minimal scarring, meaning that the patient can keep their hair as short as they want in the future without any scar tissue showing.
We also offer follow-up treatments to stimulate hair growth and aid recovery. The Wimpole Clinic's treatments include PRP therapy as well as high-frequency laser treatment to further aid hair growth after the FUE hair transplant procedure.
Google Reviews
Friendly. kind and profesional. There is a parking in front of the clinic.
I Balaburov
13:42 13 Aug 18
Jonny is always helpful and willing to answer any problems or questions, awaiting procedure so will update again after this
Jacob Kelly
14:21 10 Feb 18
Thank you everybody at The Wimpole Clinic. My hair transplant is fantastic. I had 2711 grafts inserted into my scalp. In the initial stages a mild scalp infection, which was quickly and easily treated, slowed matters down somewhat but I didn't give up. With help and advice from Dr May and Paru I have managed to get to one year post-op and the results are unbelievable. Thank you also to Derek and Jonny, and all the nurses who kept my spirits up. Christine
Christine Goodwin
12:20 07 Feb 17
Very happy with friendly atmosphere and staff makes you feel at home. Dr. May is a real gem, Derek, manager - makes every possible effort to help patients and staff. Rest of the team is just incredible. I highly recommend this clinic.
Paru Shukla
11:03 20 Sep 16
I had a hair transplant at the Wimpole Clinic in January, a method they call the FUT, this was done by Dr Michael May and his team, I am so Pleased with the results and would certainly recommend if you are looking at restoring your hair to meet Dr Michael May and his team the relaxed atmosphere certainly put me at ease..Derek
Derek Bailey
12:28 21 Nov 16
Two years ago I went for my 1st hair transplant with Mr DSouza and this was done on the crown of my head, everything that was explained to me about the process and what would happen, I followed the aftercare plan I was given to the letter. I said that if it was successful I would go back to have the front done. Well two years on and the results was a great success, so I decided to go back to Mr DeSouza and have him do the front. Again so far all has gone to plan, already things are looking much better and i know I still have a bit of a way to go yet before the final results from this time, but already seeing a vast improvement and have every faith in Mr DeSouza and his team. They looked after me, arranged a overnight stay before my Surgery, so that took away the stress of getting to the clinic on time on the morning of the op. Mr DeSouzas team were fantastic, friendly, we were talking and they all made me feel comfortable as possible during the procedure. Would I recommend The DeSouza Clinic, goes without saying definitely, without any doubt.
Dean Humphreys
20:19 28 Nov 18
From start to finish the A team excels so much. Nice to know all around high quality still exists in UK which money cant buy
warren landmark
22:12 19 Mar 19
I couldn't have asked for a better result! I have to wear my head everyday, I wouldn't compromise my results for anything. I had lots of questions but right from start to finish I was made to feel comfortable and I felt that the staff would take good care of me. By surgery day, I knew exactly what to expect and what my results would be like. Best decision I ever made! Thank you Wimpole!
Susan Smiles
10:39 21 Mar 19
Consistently getting good service, welcoming staff, solid information and most importantly, results driven!
Michelle P
10:34 21 Mar 19
very professional outfit and very much customer focused. Jonny's consultation was very thorough and informative
Biruntha Vaheeswaran
22:21 29 Mar 19
After 6months my results have been really good...I could not have asked for a better outcome! Very pleased and would highly recommend Dr May and his team for their honesty and the smooth, relaxed process!
Michael Porter
08:26 04 Apr 19
Very informative and great communication
Peter Sears
09:16 05 Apr 19
I recently visited the Wimpole Clinic to receive 2,000 grafts as my early hair loss took its toll on me and my confidence. The service I received was exceptional.. I would like to thank Warren for his immaculate service throughout my consultation and then the handling of my account throughout the build up to my surgery. I would also like to note that Billie and her team were amazing, comforting, clearly highly skilled and their service lead on with the same excellence as that I received during my build up - leading to an amazing and seamless process. I honestly could not be happier with what I received on the day and prior, which led me to write such a passionate review. I am in service management at a senior level myself and I appreciate any excellence in the field and sincerely genuine people when I meet them.I look forward to seeing the results of my transplant develop and staying in touch with those at the winpole clinic!I spent some time researching this procedure and trying to find the right surgery for me. Anybody in the same boat, I highly recommend.Thanks again guys and apologies for being a fidget!
Eyebrow hair transplant I had an eyebrow tattoo many years ago where I did not have hair at the ends of my eyebrows. I visited many clinics in London for consultation and after long research, I decided to do the FUT transplant at Wimpole clinic. The process took around 8 hours.I experienced little bruising and swollen left eyebrow. The wound at the back of my head was painful but controlled by pain killers for around 7-10 days. Doctor May took a small part from the skin at the back of my head. Sandra prepared donor hair under microscope.And Billi was an artist and perfectionist in reshaping both eyebrows in a way that no one can tell that these ends are transplanted. They looked completely natural, thick and perfect. She also filled the gaps that showed the tattoo at the beginnings. Warren followed up with me day by day till the 10th day where I returned back to my work.That was my experience with Wimpole clinic. I highly recommend it and if time goes back, I will re choose it again for this procedure.Amazing consistent and professional team with 6 stars.
I'm an old patient of the Wimpole Clinic before Warren become the owner. Dr May is cold and I found out Warren was prosecuted by West Min council. The clinic is the worst place compared to all the other clinics.
Ben Taylor
14:04 13 Aug 19
FUE Hair Transplant Procedure
FUE Hair Transplant Process
Aftercare
Every Wimpole Clinic patient is provided with an aftercare pack that contains information on how to look after your transplanted hair. In addition to this, your aftercare pack will also contain specialist products such as shampoos that will aid in the healing and recovery process.
We also include:
3 day post procedure visit for a hair wash
24 hour surgical hot line for aftercare
Advice on types of shampoo
Hair blood test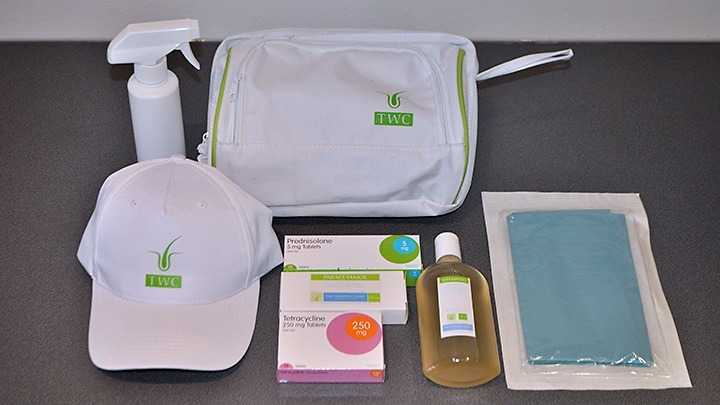 FUE Hair Transplant
Angled To Follow Hair Pattern
Most Popular Technique
No Visible Scaring
Stimulating Laser Session
FUT Hair Transplant
Aftercare Checkups
Less Expensive Than FUE
Fine Linear Scar
Stimulating Laser Session
Beard Transplant
Moustache To Full Beard
FUT & FUE Procedures
Fill In Bald Patches
Increase Beard Density
Eyebrow Transplant
Angled To Follow Hair Pattern
Restore Eyebrows
Increase Eyebrow Density
Aftercare Included
Our Specialists
About Michael May Mr Michael May FRCS is Principal of The Wimpole Clinic and has been at the forefront of medical advances in hair transplant surgery for over three decades.…
Iva has a degree in microbiology and chose to get involved in the art of hair restoration. She has been with us for the last four years as a very…
Bili, as she is known to her patients and colleagues, comes from a medical background in Cardiac and Thoracic surgery, and has for the last 22 years specialised in eyebrow…
Linda is the registered nurse at the Wimpole Clinic, and has been with the clinic since 1976. She was one of the first nurses to carry out hair transplant surgery…
Paru Shukla is a qualified trichologist from the Institute of Trichologists, London and received the John Mason award for excellence. She has been in the medical field since 2005 and…