Book a Consultation
Simply fill in your details and we'll get in touch with you shortly.
FUT Hair Transplant
Harley Street, London
• 1 DAY PROCEDURE
• LESS EXPENSIVE THAN FUE
• NATURAL LOOK
FUT Hair Transplant
Harley Street, London
• 1 DAY PROCEDURE
• LESS EXPENSIVE THAN FUE
• NATURAL LOOK

Book a Consultation
Simply fill in your details and we'll get in touch with you shortly.
What is FUT Hair Transplant?
Follicular Unit Transplantation, FUT (or FUSS) in short, is one of the two modern and efficient ways of conducting hair transplants. It is a fast and mostly painless way of restoring your hair to its former glory by taking some follicles from where you still have plenty and reimplanting it where it's thinning and you feel like you could use some more. An experienced surgeon will ensure that this procedure is performed in the best conditions, with as little scarring as possible and excellent, long-lasting results.
Before & After
How Does FUT Hair Transplant Work?
A local anesthetic will be applied to your scalp and you will be offered a mild sedative so that you are fully comfortable and pain-free throughout the procedure. Your surgeon will proceed to extract a thin strip of skin (under 1.5 cm) from the donor area you have choses, where your hair grows plentiful.
This strip will then be processed, which means it will be cut into small pieces. The separated hair follicles (grafts) will then be reimplanted in very small puncture holes made in the problematic areas of your scalp with high precision micro-equipment. Once the procedure has been completed, your surgeon will sew the wound in your donor area right back up, leaving behind only a thin scar which will fade some more with time.
FUT Hair Transplant Process
Donor Harvesting
The first step in this procedure is the removal of the donor strip from the back of the head, after which the tissue is sutured together using a trichophytic closure, resulting in a neat surgical scar, which is easily concealed if the hair is kept longer than approximately 1cm at the back of the head. The trichophytic closure allows for a very neat scar and for some hair to grow through the scar tissue, minimising its visibility.
Graft Preparation
Skill and efficiency are required to dissect the donor tissue under a microscope into individual grafts of 1-3 hairs. No trauma to, or transection of, the grafts occurs when done correct by a highly experienced and skilled team. The dissection creates small and neat grafts in their natural groupings of 1-3 hairs, which is how they occur on the scalp. This enables us to use the smallest possible incision into which the grafts are placed. This, in turn, means less trauma and better graft survival.
Creating The Recipient Sites
Whilst the grafts are being prepared, the surgeon creates the recipient sites. This means the surgeon has to be able to make up to around 3000 tiny incisions in such a way that will ensure maximum survival of the grafts and minimal trauma to pre-existing hair.
Our Specialists
About Michael May Mr Michael May is the Medical Director and Principal Surgeon of the Wimpole Clinic. He has 25 years experience in the field of hair transplant surgery has…
What is the Difference Between FUT and FUE Hair Transplant Techniques?
Modern, high-precision hair transplants can be performed in two major ways: FUT or FUE (Follicular Unit Extraction). While they both provide excellent results, the fundamental difference between them is that for FUT, your surgeon extracts an entire strip of scalp from your donor area, while for FUE, he collects individual hair follicles and replants them where your hair is thinning.
This means that FUT hair transplant is significantly faster to complete and also more inexpensive, making it a great choice for patients who require a large number of grafts on a budget. However, recovery from FUT is longer and more difficult than for FUE and the procedure leaves a thin but visible scar. While this shouldn't be a problem for patients with longer hair, it may prevent you from wearing short hairstyles in the future.
Amy Monks's FUT Hair Transplant Review
I chose to have an FUT transplant to lower my fivehead down to a forehead. I was nervous on the day but James the consultant made me feel entirely at ease and talked me through everything thoroughly. The surgeons then took the time to design my hairline exactly how I wanted it and made sure I was happy before continuing. The incision of the donor area was virtually pain free thanks to the anaesthetic, as was the rest of the procedure. I cannot recommend this clinic enough.
FUT Hair Transplant Aftercare
Every Wimpole Clinic patient is provided with an aftercare pack that contains information on how to look after your transplanted hair. In addition to this, your FUT hair transplant aftercare pack will also contain specialist products such as shampoos that will aid in the healing and recovery process.
We also include:
3 day post procedure visit for a hair wash
24 hour surgical hot line for aftercare
Advice on types of shampoo
Hair blood test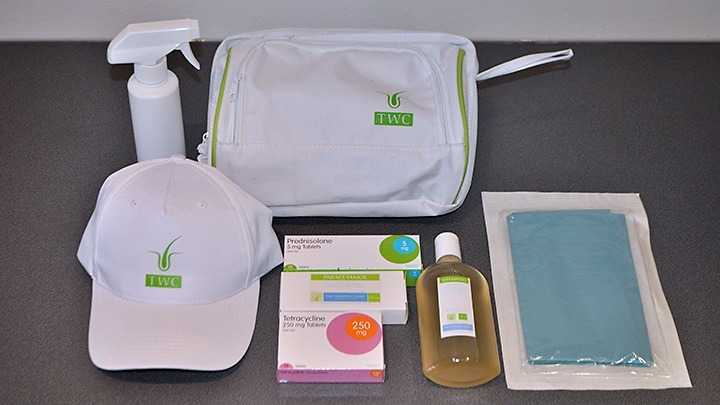 Am I a suitable candidate for FUT hair transplant?
The best way to be certain that the FUT hair transplant would work well for you is to consult a hair transplant surgeon and/or a trichologist (a hair and scalp doctor). After an examination they will guide you towards the most appropriate hair transplant option.
Normally, FUT works best for patients who suffer from Androgenic Alopecia. This means men who suffer from Male Pattern Baldness and women who suffer from Ludwing pattern hair thinning (normally concentrated on the top of the head). It is also recommendable that you are older than 25 for this procedure, as your hairline has not yet properly set before this age.
Many patients have seen better results and a speed up to healing time when they complimented with PRP therapy in conjunction with their hair transplant procedure.
FUE Hair Transplant
Angled To Follow Hair Pattern
Most Popular Technique
No Visible Scaring
Stimulating Laser Session
FUT Hair Transplant
Aftercare Checkups
Less Expensive Than FUE
Fine Linear Scar
Stimulating Laser Session
Beard Transplant
Moustache To Full Beard
FUT & FUE Procedures
Fill In Bald Patches
Increase Beard Density
Eyebrow Transplant
Angled To Follow Hair Pattern
Restore Eyebrows
Increase Eyebrow Density
Aftercare Included
Book a Consultation
Simply fill in your details in the form below and we'll get in touch with you shortly.