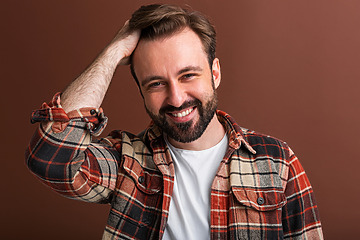 FUT Hair Transplants: Facts, Costs & Results
Ready to find out everything you need to know about the follicular unit transplantation process? Learn about FUT technique, cost, results, and recovery below.
Key FUT facts:
FUT is a popular hair transplant technique that yields excellent hair restoration results
UK clinics charge approximately £4,500 on average for FUT — but costs vary depending on location and the number of hair grafts you need
FUT takes less time than FUE, but the recovery time tends to be longer
FUT is a permanent procedure that gives you lifelong results.
What is an FUT hair transplant?
FUT (follicular unit transplantation) is a technique used to remove healthy hair follicles from one area of the body and transplant them to a spot where hair is sparse, balding, or thinning. While FUE is the most popular method, more than 21% of male patients and 42% of female patients choose FUT [1].
FUT leaves some light scarring around the back and sides of the head. So it's more popular with people who wear their hair long. That's why it's a common choice for female hair transplants.
How does FUT work?
FUT works by surgically removing a strip of skin that contains healthy hair follicles from a safe donor site on your scalp. A safe donor site is an area where the follicles are unaffected by male pattern baldness or female pattern hair loss — usually the back or side of the scalp. This strip of skin is then dissected into individual hair grafts.
Your surgeon will then make small incisions in your balding areas and transplant these grafts into the cuts. As the cuts heal and the grafts settle, they'll begin to produce new hair growth.
FUT surgery itself takes just a few hours, but the growth process takes several months.
FUT surgery: step-by-step guide
Here's a step-by-step guide to what happens before, during and after FUT surgery:
1. Initial consultation
The first step is to check you're eligible for a hair transplant, and to determine if a hair transplant is the most suitable treatment for you.
Your consultant can conduct a thorough hair and scalp exam (and perform hair loss blood tests if necessary) to understand why your hair is falling out and ensure you're a good hair transplant candidate.
2. Designing your hairline
Hairline design is a key element when it comes to creating a natural result. It's important for your new hairline to follow the original, creating a natural-looking, age-appropriate result.
Your consultant and surgeon should be realistic about the results you can expect. If you have extreme hair loss (stages 5+ on the Norwood Scale), a full head of hair may not be possible — but you can still increase hair density in targeted areas.
3. Surgery preparation
On the day of surgery, your consultant and surgical team should answer any last-minute questions you have, then get you ready for the procedure.
Your scalp will be prepped with local anaesthetic to fully numb the areas. This makes FUT a virtually pain-free procedure. You can also have a sedative if you're feeling tense or nervous.
4. Extraction and transplantation
The surgeon and technicians will start your FUT procedure by removing the strip of skin from your donor area. They'll then cut this into individual grafts (clusters of 1-5 follicles).
When the grafts are prepared, the team will transplant them into your thinning areas.
5. Post-procedure care
The team will patch up your head after the surgery and give you thorough hair transplant aftercare instructions for the first few days.
FUT results
FUT creates amazing results that are indistinguishable from your natural hair. Here are the results for previous Wimpole Clinic FUT patients:
How much does an FUT hair transplant cost?
The cost of a hair transplant differs from clinic to clinic. Ultimately, the cost comes down to the number of hair grafts you need, and which clinic you choose.
While some clinics offer hair transplants at very high prices, you don't need to pay over the odds to get a great hair transplant. Equally, avoid clinics with too-good-to-be-true prices, as they could be cutting corners with safety and quality.
At the Wimpole Clinic, FUT prices start at £2,999.
Across the UK, the average cost of a Norwood stage 2-3 hair transplant is £4,820. Learn more about getting a good value hair transplant in our hair transplant cost analysis.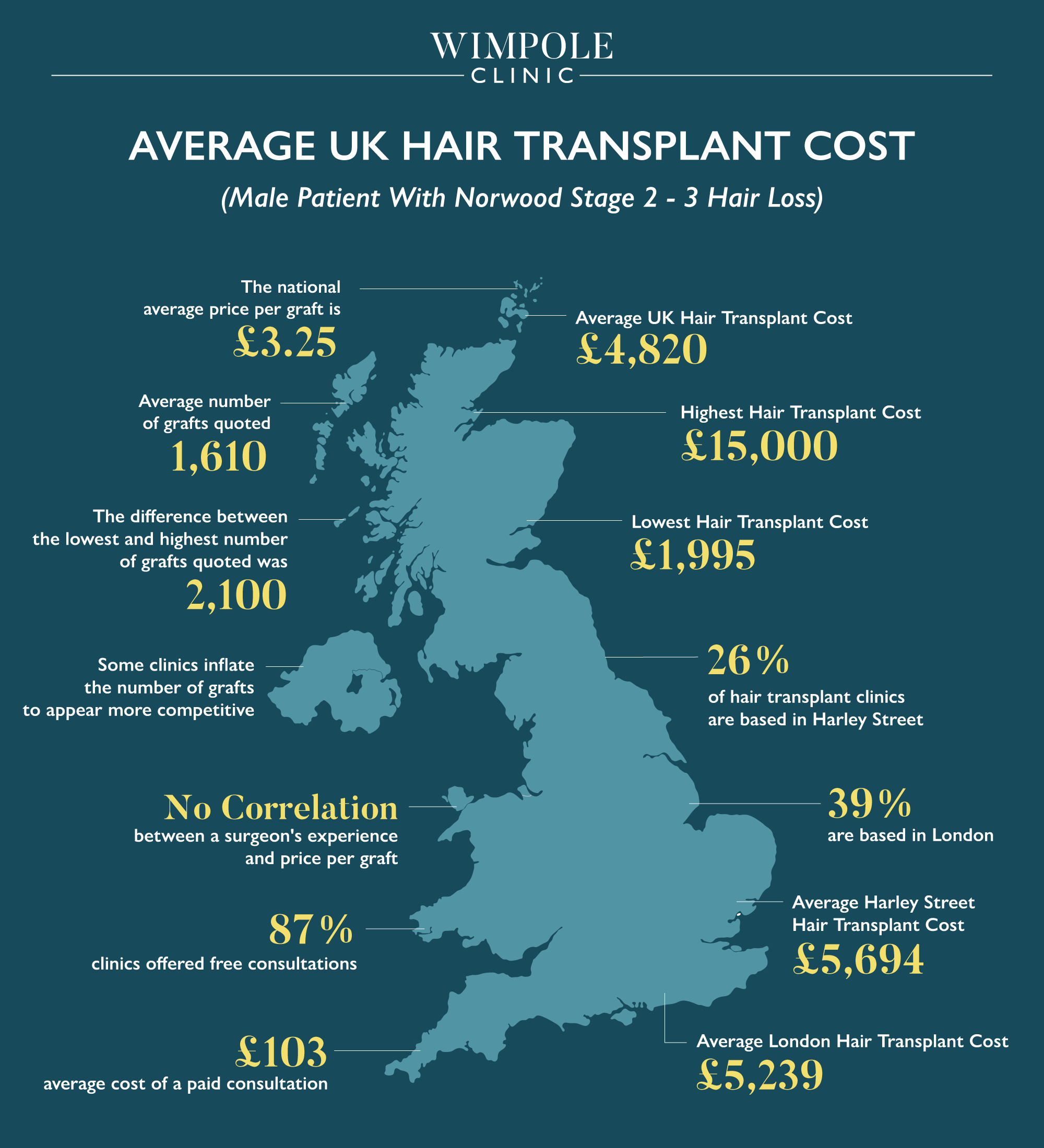 FUT recovery
It's important to take special care of your FUT transplant in the days and weeks after surgery. Poor aftercare can lead to a failed hair transplant — so here's everything you need to know about looking after your grafts during the hair transplant recovery process.
How long does FUT recovery take?
It's around a week before you can get back to your normal activities after FUT, and several months before you'll see any new growth from your transplants. See the full hair transplant recovery timeline for more information.
How to sleep after FUT
Try to sleep with your head tilted upwards using a travel pillow or similar. It may not be the most comfortable position, but it will prevent you from damaging or dislodging your grafts at night. Learn more about how to sleep after a hair transplant.
Washing your hair after FUT
When washing your hair after a hair transplant, don't put your head directly under strong water jets. Reduce the water pressure or use a cup to gently pour water over your head. Use your fingertips (not your nails) to massage the shampoo into your scalp. Then rinse your hair using the same low-pressure technique.
You might also be given the option to return to the clinic for a hairwash, which is a good way to get a thorough clean without worrying about dislodging your grafts. Wimpole Clinic patients can get a post-surgery hairwash 3 days after their procedure.
When are hair grafts secure after FUT?
One study found that most hair grafts are anchored securely in place 9 days after an FUT transplant [2]. For the first week, there's a high risk of dislodgement, so you need to be really careful during this period.
When can you get a haircut after FUT?
It's safe to get a haircut after a hair transplant at around 3 weeks after your procedure, providing everything has healed up properly. If you still have scabs or soreness in the area, it's best to wait until these have cleared up.
FUT side effects
Most patients experience at least one of the following side effects after FUT:
Itchiness
Bleeding and weeping from the donor and recipient sites
Shock hair loss (also known as post-transplant shedding)
These usually clear up after a few weeks, but if you're concerned, seek advice from your clinic.
Is FUT better than other types of hair transplant?
FUE is the most popular type of hair transplant [1]. But is it better than FUT? Here is a comparison between the two.
| | FUE | FUT |
| --- | --- | --- |
| Eligibility | Suitable for most eligible patients | Suitable for most eligible patients; often recommended for Afro hair transplants and people with large areas of hair loss |
| Cost | More expensive than FUT | Cheaper than FUE |
| Surgery time | Takes longer than FUT | Takes less time than FUT |
| Recovery time | Faster than FUT | Slower than FUE |
| Scarring | Virtually zero scarring | Some scarring from the strip wound |
| Results | Natural results; virtually impossible to tell you've had a hair transplant | Natural results; scarring may be visible through short hair |
How long do FUT hair transplants last?
FUT hair transplants are permanent. So if you take care of your hair, your transplant should last a lifetime. To make the most of your hair, you'll need to:
Manage ongoing hair loss — most men use Finasteride and/or Minoxidil to prevent further hair loss
Live a healthy lifestyle — eating well and cutting out smoking can help your hair stay healthy
Take care of your hair — don't expose your hair to harsh styling practices or products.
If you are interested in learning more about our follicular unit transplantation treatments just get in touch for a free consultation with one of friendly patient advisors to find out more and how we can help.
Sources:
The Wimpole Clinic offers FUE Hair, Beard & Eyebrow Transplants & Trichology.
Talk to a specialist ☎
020 7935 1861
.
Blog search
Book a consultation
Simply fill in your details in the form below and we'll get in touch with you shortly.