Male Pattern Baldness: Causes, Stages & Treatment Options
What is male pattern baldness?

Male pattern baldness (MPB) is the most common type of hair loss in men [1]. This type of hair loss is also called androgenetic alopecia. It usually occurs later in life as a result of changing hormone levels.
It affects 80% of all men and up to 50% of women typically starting before middle age and studies have revealed that European Caucasians are the worst affected [2]. So if you find yourself your hairline is receding or your hair is thinning on one side or both, you may be experiencing male pattern baldness.
What causes male pattern baldness?
There are many things thought to cause male pattern baldness.
One of the main causes is a genetic predisposition to balding. Those with this have a family history of balding and hair loss. Studies have shown that it is associated with the male sex hormones, androgens.
Androgens regulate hair growth alongside their many other functions. Each hair has a growth cycle, and these growth cycles weaken with male pattern baldness. The hair follicle then shrinks, and eventually, the process ends – with no new hair growing in its place.
As well as genetic causes, there are also environmental causes. In fact, there are many possible reasons why your hair is falling out. Things that negatively affect health can also contribute to balding. These include stress, anxiety, nutritional deficiencies, and smoking, which can double the likelihood of experiencing hair loss.
Hair loss has also been linked to several long-lasting conditions, including diabetes and high blood pressure. Learn more about diabetes and hair loss.
If hair loss occurs alongside another health complaint or after new medication, you should seek medical advice. There has been concern that MPB is a potential indicator for future prostate cancer incidence. However, findings have been inconclusive so far as patients' recollections could be deemed unreliable [3].
Doctors will examine the pattern of the patient's hair loss to diagnose whether they are suffering from male pattern baldness or not. Hair loss may occur due to other conditions, and they will need to verify what type of balding the patient has.
Who is at risk?
The likelihood increases with age, but it commonly occurs in adult men. Younger men can experience hair loss like this, but it is rare. Those who have close relatives who suffer are also at higher risk.
There also seems to be an increase when those family sufferers are on the maternal side of the family.
Caucasian men seem to be more inclined to suffer from MPB. Most develop some degree of baldness in their lifetime, with other ethnic groups such as Chinese and Japanese men less affected.
Some evidence also suggests male pattern baldness can be aggravated by Covid, though hair loss after Covid is more commonly due to telogen effluvium [4].
How is male pattern baldness diagnosed?
Your trichologist will ask you a series of questions to rule out any causes of temporary hair loss, such as eating disorders, autoimmune conditions, recent chemotherapy treatment, or mental health issues. They will also examine your hair and scalp for the typical signs of male pattern baldness. This usually consists of thinning around the temples and/or crown.
Trichologists use a chart called the Norwood scale (sometimes known as the Hamilton-Norwood scale) to diagnose male pattern baldness. This chart indicates the various degrees of hair loss that usually occur in mild, moderate, and severe male pattern baldness.
Stages of male pattern baldness
There are seven different stages of MPB [2]. The Norwood scale helps to gauge the severity of your balding.
Image credit: Healthline
The stages are:
1 – Unnoticeable hair thinning
2 – Hair thinning and an M-shaped hairline
3 – Visible balding and recession of hairline (may be M, U or V shape)
4 – Extensive hair loss at the back of the head
5 – Horseshoe/U-shaped hairline at the crown
6 – Visible scalp and larger bald patches
7 – Recession to the crown with minimal thin hair
Due to the first stage being challenging to identify, you may not notice until you are in a more advanced stage. If there is a genetic predisposition to male baldness, you may be more aware and notice it at Stage 1. Stage 3 is the stage where balding becomes more evident.
In rare cases, hair loss may progress beyond Norwood stage 7. Retrograde alopecia is a type of aggressive pattern baldness that affects hair at the nape and around the ears, and can impact the safe donor area for a hair transplant.
Is androgenetic alopecia permanent?
Unfortunately, male pattern baldness is permanent and irreversible.
Some treatments — such as Minoxidil, Finasteride and Dutasteride — can slow or even halt hair loss. However, once the follicles have been impacted by androgenetic alopecia, they will no longer produce hair.
That's why FUT and FUE hair transplants are such popular treatments. By taking healthy hair follicles from the back of the head and implanting them in the areas affected by hair loss, you can get natural, permanent hair regrowth across your full hairline.
Is male pattern baldness inherited?
Research suggests that although DHT is the catalyst for male pattern baldness, genetics play a large part, too [5]. 80% of people with male pattern baldness have a family history of androgenetic alopecia [6].
Male pattern baldness has been strongly linked to the AR gene, or the androgen receptor gene, which controls the impact of testosterone and other androgens in the body. People who have this gene are more likely to experience androgenetic alopecia [7].
Male pattern baldness treatment
There are several treatments available for MPB. Some sufferers may choose not to pursue treatment. However, there are a number of medicinal and surgical options.
In scientifically controlled trials, many approved medications have been shown to halt hair loss progress. Sometimes they may even reverse it, depending on the stage of hair loss you are at.
Minoxidil
Minoxidil, sometimes known as Rogaine, is a solution applied directly to the scalp. It stimulates the hair follicles and can slow hair loss for many men who use it. Some users may even see hair growth but are unlikely to see complete regrowth. However, hair loss can return when you stop using this treatment.
It reportedly works best on the crown of the head. Learn more about Minoxidil's uses, results & side effects.
Finasteride
Finasteride, sometimes known as Propecia, is a pill you can take. Hair loss will return if treatment is stopped. The pill itself interferes with the production of a derivative of testosterone (dihydrotestosterone, DHT) that is linked to baldness. It prevents this hormone from forming in the scalp.
Finasteride tends to work better than minoxidil, and it has been shown to slow down further hair loss exponentially [8]. About 80% to 90% of men taking this drug see positive Finasteride results.
Finasteride is a prescription medication and works best if you take the recommend dosage. As with all medications, there are potential side effects, such as initial hair shedding, but this usual lasts for a couple of weeks.
For more information on Finasteride such as results and side effects see our Finasteride overview.
Dutasteride
Dutasteride is an oral medication similar to Finasteride taken daily with a dosage of 0.5 milligrams. It inhibits enzymes that convert testosterone into DHT, a leading cause of male pattern baldness. However, Dutasteride is a more potent drug due to it inhibiting additional DHT-generating enzymes. [9]
At the time of writing, the drug is not officially licensed for the treatment of hair loss in the UK and US. Instead, it is used to treat the enlargement of the prostate gland.
Hair Transplants
Hair transplants are another option but are usually the last resort. They can be expensive and are the most invasive of treatments. Sometimes patients need more than one transplant and ample recovery time. An ISHRS survey showed that 33.1% need two procedures and 9,6% need three. However, a transplant is a more permanent solution that looks natural.
There are two popular types of hair transplants – FUE (Follicular Unit Extraction) and FUT (Follicular Unit Transplantation). They have many similarities, but there are also some differences. Both have excellent success rates and create great results. Some patients also choose to have scalp micropigmentation (SMP) following their hair transplant to create a more even hairline while their hair is cropped short. Learn more about SMP hair transplants.
We analysed hair transplant costs of 104 UK clinics and found the average price to be £4,820 for 1,600 grafts. This diagram shows an estimate of how many hair grafts are required to fill each section of the scalp: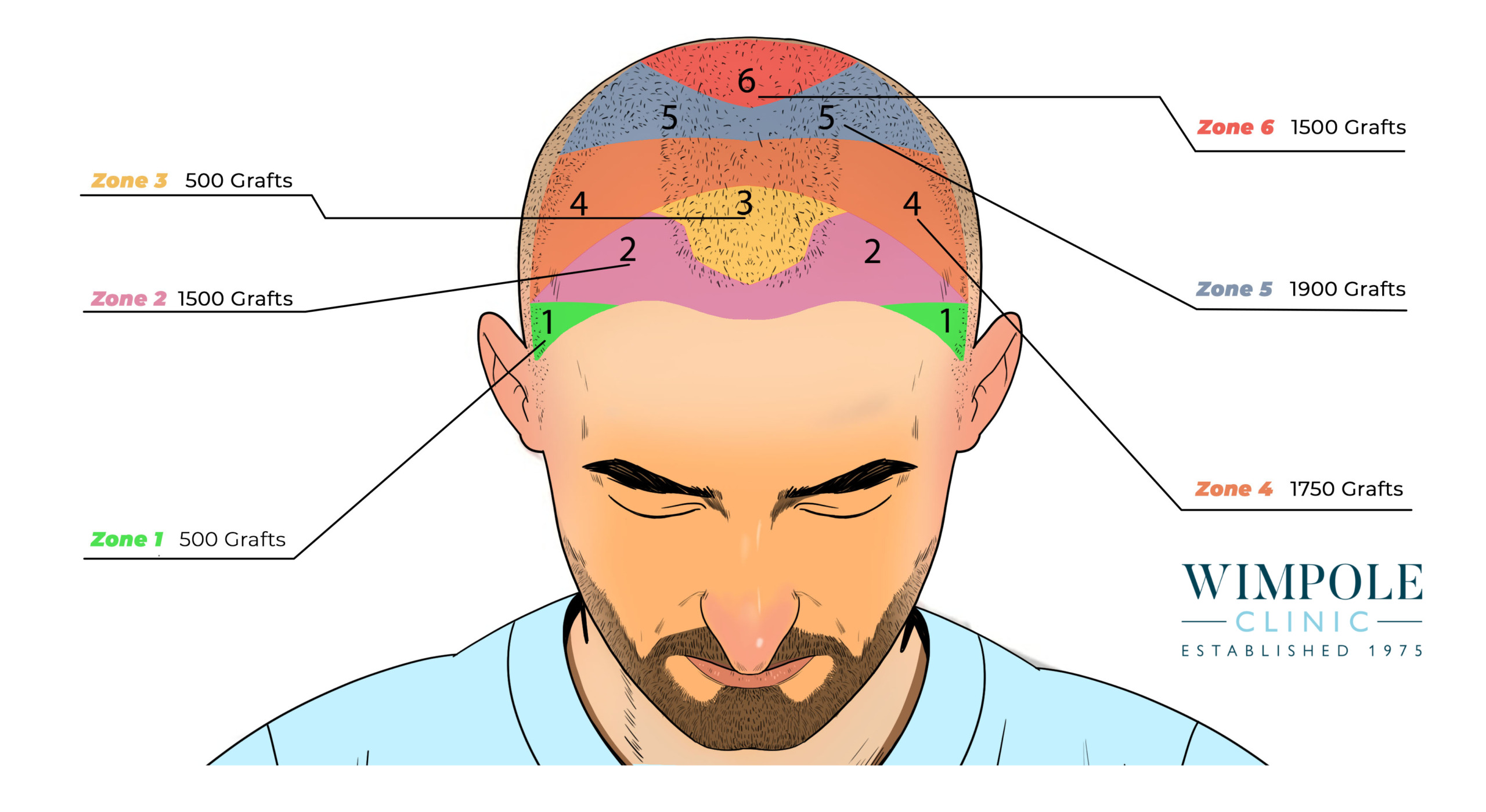 New hair loss treatments have recently become available to treat other hair loss conditions. Learn more about the FDA's recent approval of Olumiant for male pattern baldness & alopecia areata.
What should you do about your male pattern baldness?
Male pattern baldness affects men the world over, and there is no known cure.Even celebrities like Elon Musk turn to hair transplants to solve their male pattern baldness.

Some products like hair thickening sprays and hair thickening shampoos can also mask the effects. But while there is no solution, some medications can slow hair loss down.
If you believe that you are suffering from male pattern baldness, feel free to contact the Wimpole Clinic. We offer free consultations and can answer any questions you may have. We can also discuss the options available to you – from hair transplants to alternative treatments. You can book a consultation here.
The Wimpole Clinic offers FUE Hair, Beard & Eyebrow Transplants & Trichology.
Talk to a specialist ☎
020 7935 1861
.
Blog search
Book a consultation
Simply fill in your details in the form below and we'll get in touch with you shortly.