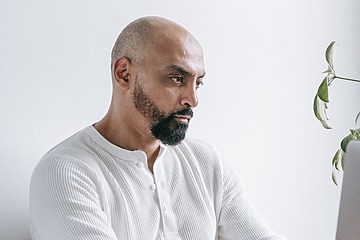 Norwood Stage 6: Photos, Treatments, Results
Male pattern baldness is a progressive hair loss condition that, if left untreated, can advance to complete frontal balding and near total loss of hair at the crown. This is Norwood stage 6 hair loss, and it's the second most advanced stage of hair loss on the Norwood Scale.
If you're concerned about hair loss, you should start looking into treatments before your hair loss gets this far. But if you're just embarking on your hair restoration journey, you may still have some options.
In this article, you'll discover:
What Norwood 6 hair loss looks like
Treatment options for advanced hair loss
All about hair transplants for Norwood 6.
What does a Norwood 6 hairline look like?
Norwood 6 hairlines are extremely thin. Almost all the hair is gone from around the temples and mid-scalp. Crown hair loss is advanced, but there may still be some hair around the sides of the scalp vertex.
Prince William and actor Ed Harris have both reached stage 6 on the Norwood Scale:
Norwood 6 vs 7: what's the difference?
People at Norwood stage 6 may already appear almost completely bald. So it's disheartening to learn there's actually a further stage of hair loss: Norwood 7.
At stage 6, while your baldness is substantial and near-complete, you may still have some coverage around the crown, and some thin hair through the mid-scalp. At stage 7, this has completely disappeared, leaving you with just the hair around the back and sides of the head.
Does Finasteride work at Norwood stage 6?
Finasteride can help stimulate some regrowth even if your hair loss is severe. One study found that Finasteride is better at treating severe male androgenetic alopecia than Minoxidil, though it's not as effective as Dutasteride [1].
Does Minoxidil work at Norwood stage 6?
Minoxidil is most effective in the early stages of hair loss, so it's less likely to have a substantial impact on regrowth at Norwood stage 6 [1]. This is especially true when compared with Dutasteride and Finasteride.
Getting a Norwood 6 hair transplant
When your hair loss progresses to Norwood 5 or later, you'll almost certainly need a hair transplant to restore your hair to a reasonable level of thickness. At this point, a hair transplant can only achieve so much; so temper your expectations if you have severe hair loss.
That said, many hair transplant patients see huge increases in hair density even if they're almost completely bald. So if you're unhappy with your hair, it's worth talking to a hair transplant specialist to see how many grafts you'll need, and whether this is an appropriate treatment for you.
How many grafts are needed for a Norwood 6 hair transplant?
Men at Norwood stage 6 need a substantial number of hair grafts:
Average grafts required (temple): 1,800-2,500
Average grafts required (crown): 1,500-1,700
So you could be looking at a 4,000 graft hair transplant or more at this stage of hair loss.
The exact number of hair grafts you need is calculated based on the amount of hair lost in each of the six scalp zones: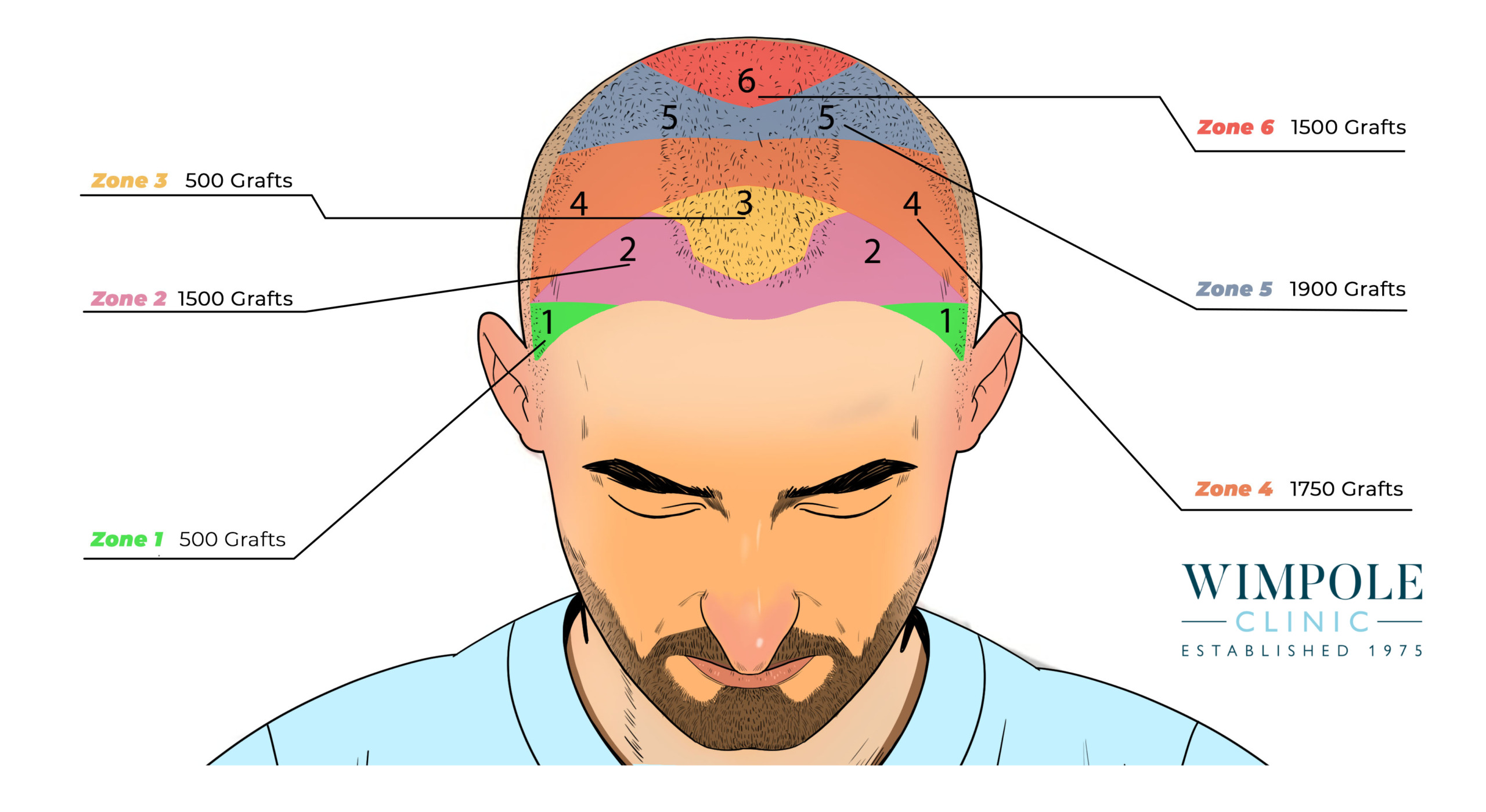 At stage 6, the hair has typically disappeared from all zones except zone 5, where there's still some lingering coverage.
Does FUE work for advanced hair loss?
Because of the high number of grafts required at Norwood stage 6, FUT is generally recommended over FUE. With FUE surgery, follicles are more likely to become unusable over the course of a long hair transplant session [2].
While FUE is possible — many men still opt for FUE even at stage 6 — you may need to have multiple sessions to get the coverage you want. Some men choose a combination of FUE and FUT to get the results they want with minimal scarring.
Norwood 6 hair transplant: before and after
Below are the hair transplant results of two Norwood 6 stage Wimpole Clinic patients:
Procedure: FUT
Grafts: 2,800
Procedure: FUT & FUE combination
Grafts: 3,000
Our skilled surgeons have substantially restored these patients' hair. Using hair from the back and side of the scalp, it's possible to enhance or create density across the top of the scalp, even if you've lost almost all your hair.
Get a hair transplant at the Wimpole Clinic
All male pattern baldness treatments are more effective the earlier you use them. So don't lose any more time — speak to the team at the Wimpole Clinic to start your hair restoration process.
We'll explore all the options with you, from Finasteride to non-surgical hair loss treatments to hair transplants. If you're at Norwood stage 6 already, a hair transplant is probably necessary. But if you're treated sooner, you may be able to regrow lost hair with medical therapy alone.
Book a free consultation with our trichology team to find out more.
The Wimpole Clinic offers FUE Hair, Beard & Eyebrow Transplants & Trichology.
Talk to a specialist ☎
020 7935 1861
.
Blog search
Book a consultation
Simply fill in your details in the form below and we'll get in touch with you shortly.