Frontal Balding: Causes, Symptoms, Treatments
Frontal balding is one of the most distressing yet common types of hair loss. 12% of healthy men under 50 are said to have moderate to extensive frontal baldness [1].
If left untreated, frontal balding can become highly noticeable, making you feel paranoid about your appearance. But like all hair loss, you need to know what causes frontal balding before you can treat it. In this article, you'll discover:
how to spot the symptoms of frontal balding
the causes of frontal balding
how to treat frontal balding.
Symptoms of frontal balding
Frontal balding is characterised by hair loss along the hairline and temples. Some people may see hair loss on just one side of the head.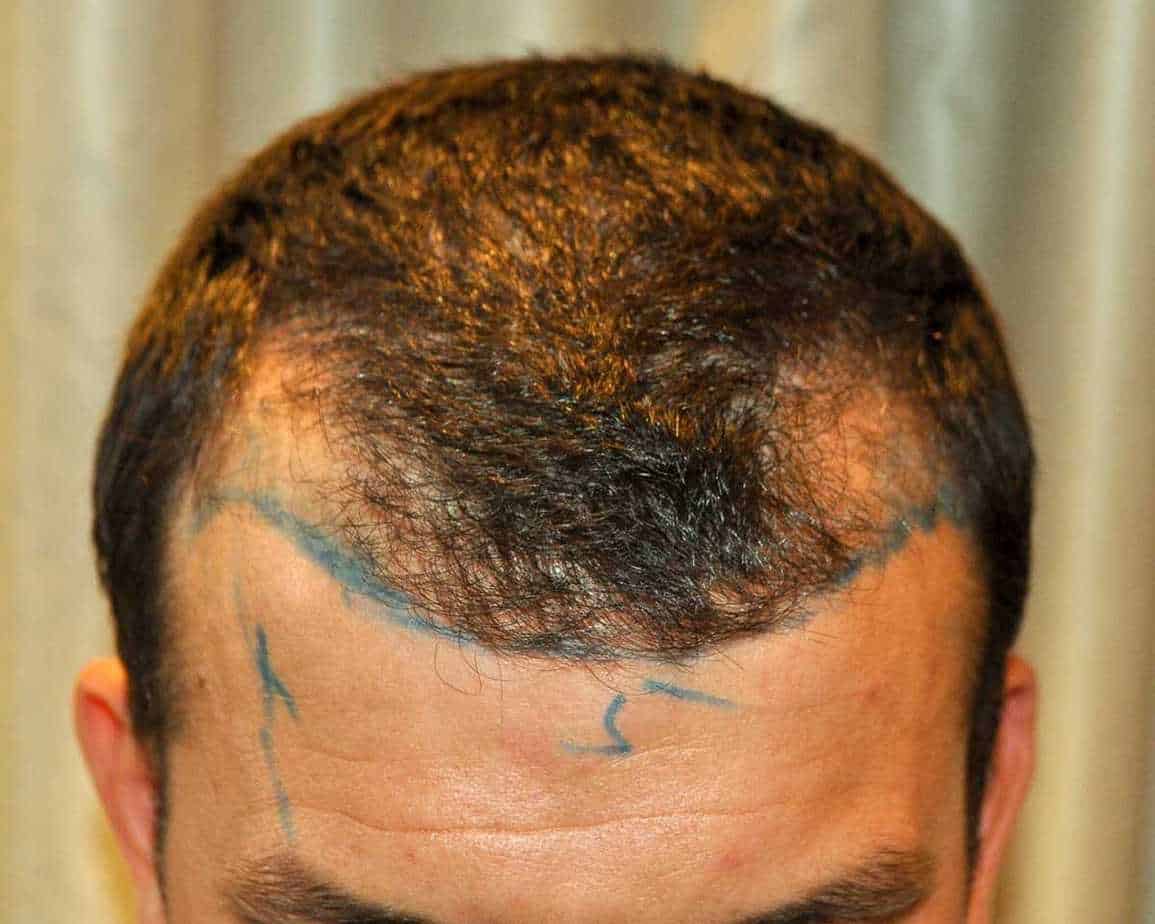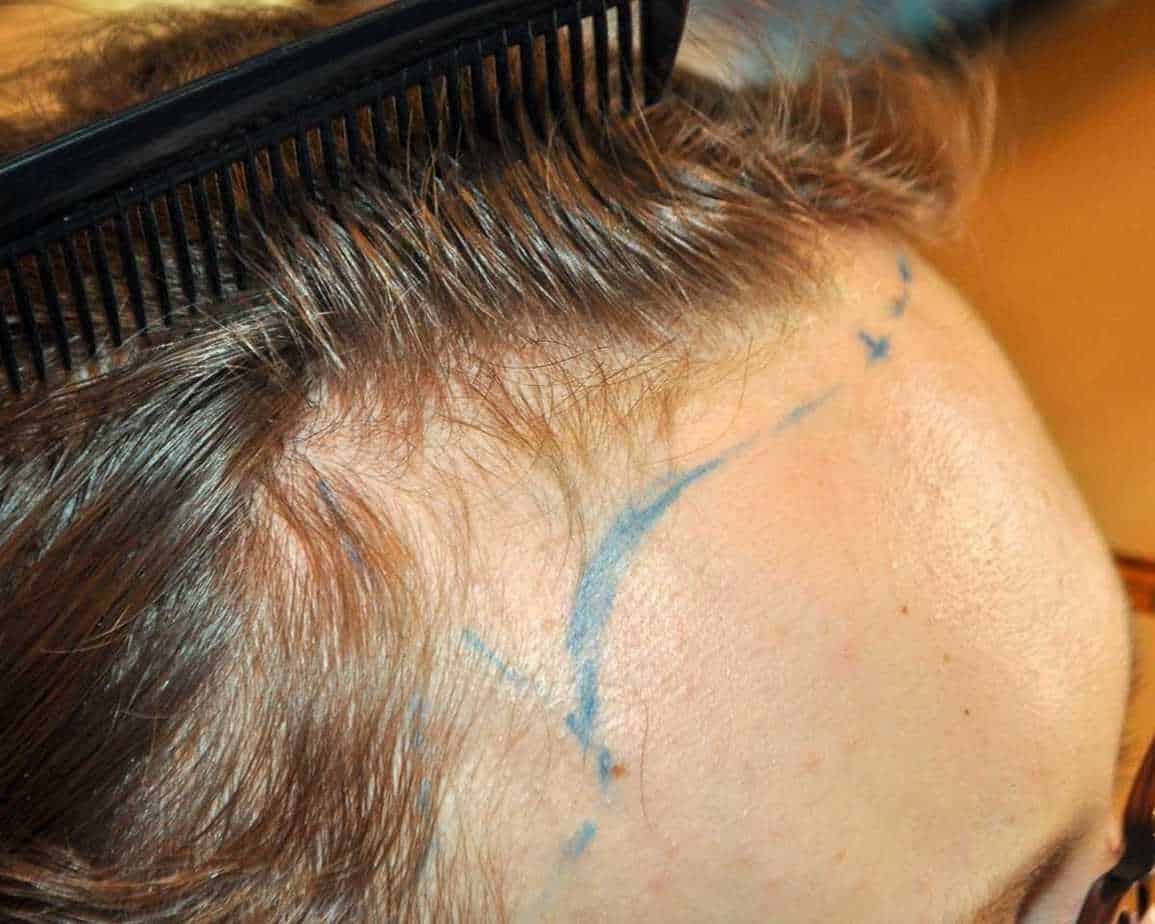 Temple hair loss is a key symptom of male pattern baldness. But it can be a symptom of other conditions, too.
Causes of frontal balding
There are several potential causes of frontal hair loss. Here are some of the most common.
Male pattern baldness
Male pattern baldness, also known as male androgenetic alopecia, is the most common type of hair loss in men [2]. This type of hereditary hair loss affects 30-50% of men under the age of 50. Because it's a progressive condition, older men are affected even more.
Here's what frontal balding caused by male pattern baldness may look like: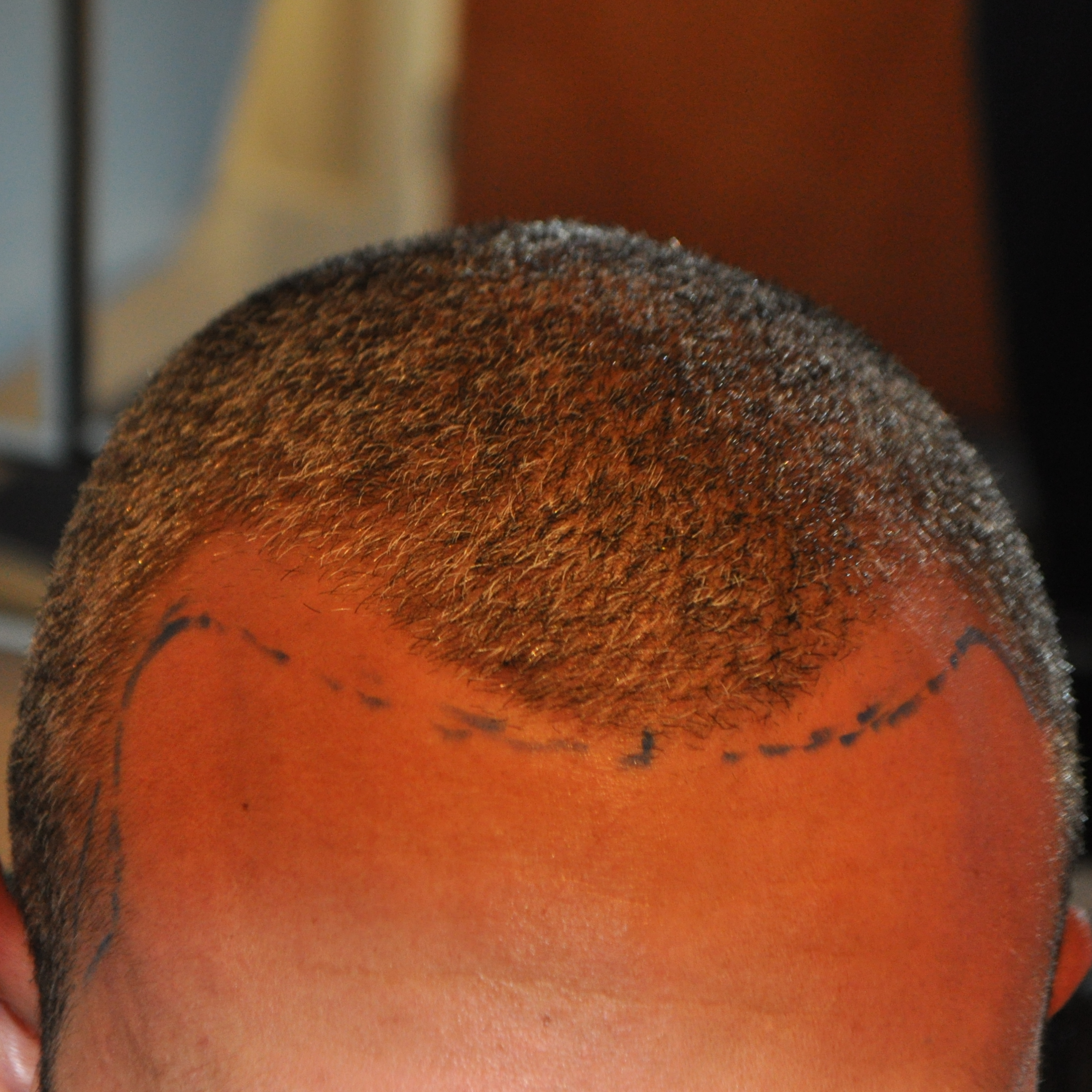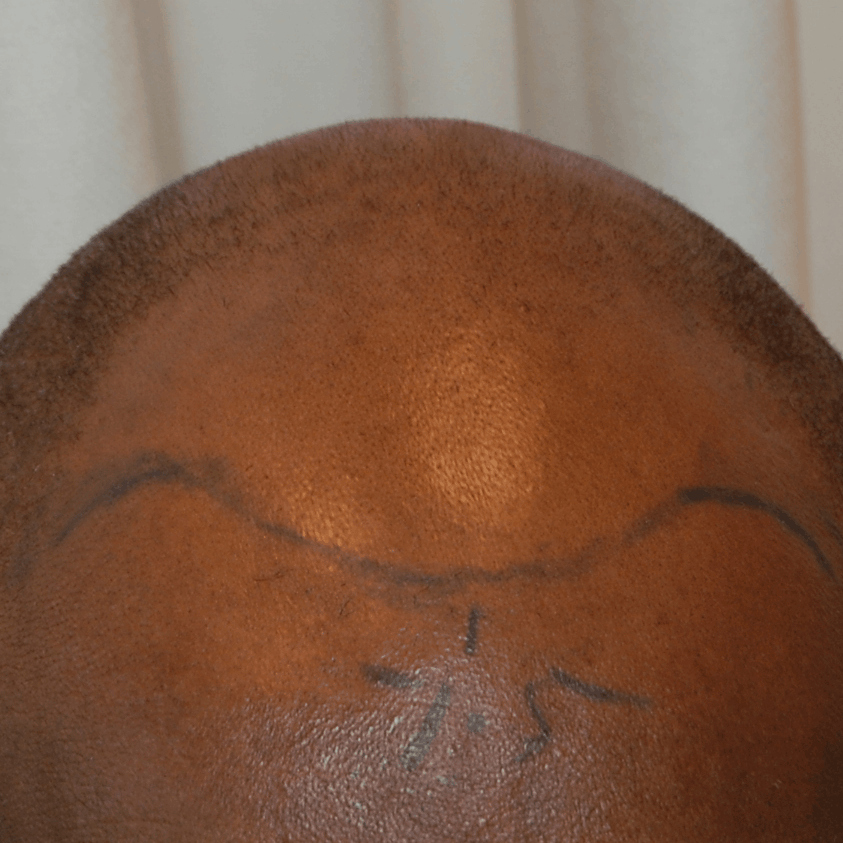 Male pattern baldness often begins at the hairline before progressing into a bald spot on the crown. Eventually, these two thinning areas will meet, causing widespread hair loss across the top of the head.
This pattern of progression is shown in the Norwood Scale, which is used to measure and assess male pattern hair loss:
Frontal fibrosing alopecia (FFA)
Frontal fibrosing alopecia is a type of scarring alopecia. It affects women as well as men. In men, it's sometimes misdiagnosed as male pattern baldness, as both are characterised by a receding hairline.
Eyebrow hair loss is common in people with FFA, so this can help distinguish between the conditions [3].
Here's what frontal balding caused by FFA can look like:

Traction alopecia
Traction alopecia is a hair loss condition caused by excessive pulling or trauma to the hair follicles. It's usually temporary, but can become permanent if you don't take steps to reverse the effects.
Traction alopecia is typically caused by wearing your hair in certain hairstyles, such as:
Dreadlocks
Tight or heavy braids.
This patient has significant frontal hair loss due to traction alopecia: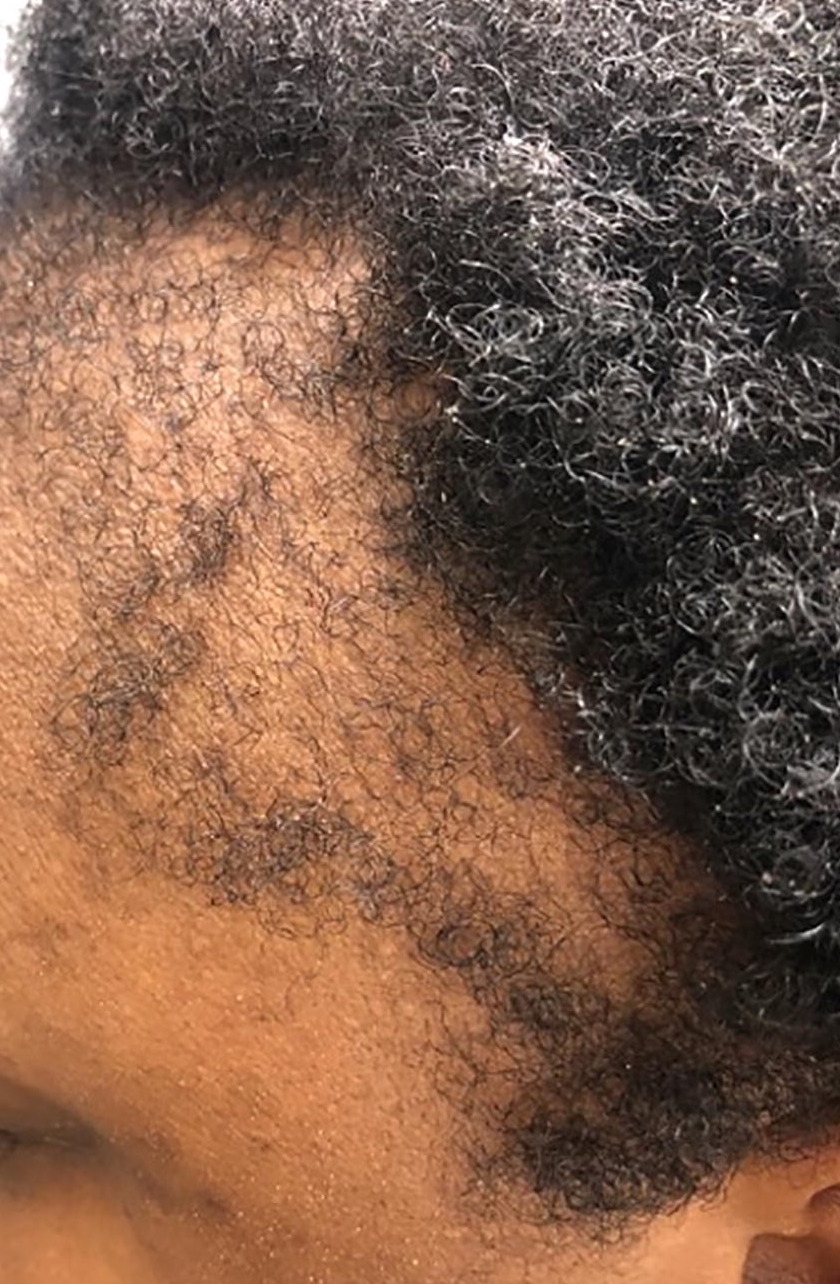 Styles that tug on the follicles at the front of the hair, such as tight ponytails, are more likely to cause frontal baldness.
Myotonic dystrophy
Myotonic dystrophy is a condition that causes progressive muscle loss. This condition is relatively rare, affecting just 0.01-0.05% of the population [4-5]. One study suggests it may be underdiagnosed and more prevalent than previously thought [5].
Frontal baldness is a symptom of myotonic dystrophy type 1 [4, 6]. This image shows a male patient experiencing myotonic dystrophy-related frontal alopecia: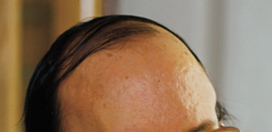 Myotonic dystrophy is a very rare cause of frontal baldness. But if you have other symptoms — such as facial weakness, drooping eyelids, muscle atrophy, or cataracts — it's important to get a diagnosis from your doctor.
Mature hairline
Not all frontal baldness is due to a medical condition or poor haircare. Sometimes it's a simple matter of getting older. Most men will find that their hairline matures as they age. This is usually a very slow process — you probably won't even notice it.
Find out the difference between a mature vs receding hairline.
How to stop frontal balding
When you know what's causing your hair loss, you can find the right treatment. Here are some of the most commonly prescribed treatments for frontal balding.
Minoxidil for frontal balding
Minoxidil is effective for frontal hair loss caused by male pattern baldness, with oral Minoxidil in particular showing good results [7-8]. Topical Minoxidil works best for crown and mid-scalp regrowth. It may also help stimulate regrowth in those with temporary hair loss conditions like traction alopecia.
Learn more about whether Minoxidil works for a receding hairline.
Finasteride for frontal balding
Finasteride is a popular treatment for male pattern baldness. 70% of men treated with Finasteride prevented further hair loss after a year of use [9].
Find out more about Finasteride in our series:
Other medications
Treating FFA can be difficult. Steroids and antimalarials are sometimes prescribed to reduce inflammation, while immunosuppressants can minimise the body's immune response.
Hairline transplant for frontal balding
A hairline transplant is often the most reliable way to reverse frontal baldness. It's not suitable for everyone; those with FFA, temporary hair loss, or hair loss related to myotonic dystrophy are unlikely to be eligible. But most people with frontal baldness are good hair transplant candidates — so you can get a permanent fix for your hair loss.
Find out more about the cost of a receding hairline transplant, and decide whether FUT or FUE is right for you.
Frontal balding FAQs
Find out more about tackling your frontal balding in these FAQs.
Will frontal hair loss grow back?
It's rare for any type of hair loss to grow back without intervention. At the very least, you need to remove the triggers that cause hair loss in the first place. In some cases — such as with genetic hair loss — treatments like Minoxidil, Finasteride, or hair transplantation are required to restore hair.
What's the best haircut for frontal baldness?
For men, the best haircut to hide thinning hair at the front of your head is to grow the top of your hair long and sweep it forward over your forehead:
Avoid pompadour and other slicked-back hairstyles, as these can emphasise your frontal balding. These styles are better for hiding crown or mid-scalp hair loss, including balding around a double crown.
What causes frontal balding in women?
FFA and traction alopecia are the most common causes of frontal hair loss in women. Female pattern hair loss is rarely a cause, as this is more likely to manifest as diffuse thinning across the scalp.
Where can I get a hair transplant for frontal balding?
The Wimpole Clinic provides free, impartial advice for anyone considering a hair transplant. Book your free consultation to speak to our trichology team about your frontal hair loss, and get the right diagnosis and treatment plan.
Sources:
The Wimpole Clinic offers FUE Hair, Beard & Eyebrow Transplants & Trichology.
Talk to a specialist ☎
020 7935 1861
.
Blog search
Book a consultation
Simply fill in your details in the form below and we'll get in touch with you shortly.