Ludwig Scale: Causes, Stages & Treatment
Female pattern baldness is the primary cause of hair loss in women [1]. But it has many symptoms in common with other conditions, such as chronic telogen effluvium and alopecia areata, so it can be tricky to diagnose. The Ludwig Scale helps hair loss specialists diagnose and suggest treatments for women experiencing female pattern hair loss.
Learn more about the stages of female pattern baldness according to the Ludwig Scale, and how trichologists use the scale to treat hair loss in women.
What is the Ludwig Scale?
The Ludwig Scale was proposed in 1977 to classify the progression of female androgenetic alopecia [2]. Like the Norwood Scale for male pattern baldness, the Ludwig Scale remains one of the most popular female pattern baldness classification charts in modern trichology.
According to the Ludwig Scale, female pattern baldness advances in 3 distinct stages. People with this condition usually see diffuse hair thinning that starts along the hair parting and spreads evenly across the scalp. Hair is usually retained around the sides, back, and front of the head.
The 3 stages of female pattern baldness
The 3 stages of women's hair loss according to the Ludwig Scale. Image credit: Classifications of Patterned Hair Loss: A Review
Stage 1
Hair begins to thin, most visibly along the parting and around the crown of the head. Hair loss doesn't affect the back and sides of the head. It also typically stops 1-3cm before the front hairline.
Stage 2
Hair loss is more substantial and widespread across the top of the head. The parting appears wider. The lengths of the hair may also feel thinner, thanks to decreased hair density.
Stage 3
The most advanced stage in the Ludwig Scale describes severe hair loss affecting the same areas as seen in stages 1 and 2. The crown of the bald may be completely bald. Often the hair at the front, back, and sides of the head has normal hair density, despite extensive hair loss across the top of the head.
How is the Ludwig Scale used in hair loss treatment?
The Ludwig Scale helps trichologists define and diagnose hair loss in women. Because there are some similarities between female pattern baldness and other conditions, a classification chart is useful for identifying the unique characteristics of female pattern baldness. These include:
A front hairline relatively unaffected by hair loss
No regrowth in balding areas
Negative hair pull test (i.e. hair is not easily dislodged from the follicle)
Understanding the cause of hair loss is essential for treating it. Conditions like telogen effluvium are temporary, so the hair usually grows back when you've addressed the underlying issue. However, female pattern baldness is permanent — so by diagnosing it using the Ludwig Scale, your trichologist can help you determine the best way to address your hair loss.
Can you stop your hair loss advancing to further Ludwig stages?
Yes. If you start to lose hair, it's important to see a hair loss specialist as soon as possible. The sooner the cause of your hair loss is diagnosed, the sooner it can be treated, reducing the risk of your hair loss advancing into the latter Ludwig stages.
Treatments for female pattern baldness
While female pattern baldness is permanent, non-surgical treatments like Minoxidil have been shown to promote hair growth in women experiencing female pattern hair loss [3]. These tend to be more effective in the early stages of hair loss. They're also suitable as a supplementary treatment after FUT or FUE hair transplant surgery. Learn more about the difference between FUE & FUT.
Anti-androgen medication is also sometimes prescribed to treat genetic female pattern hair loss. While research suggests a strong link between androgens (typically male sex hormones) and male pattern baldness, the link with female pattern hair loss is still unclear [4, 5]. Despite this, certain anti-androgen medications like cyproterone acetate and spironolactone have been shown to reduce hair loss and even promote growth in those with female pattern baldness [4].
While non-surgical treatments are successful for many women, if your hair loss progresses beyond the early stages, your trichologist may recommend a hair transplant. Hair transplants are becoming increasingly popular with women, as they offer a permanent, natural-looking solution for those experiencing advanced hair loss. Learn more about hair transplants for women, including costs, success rates, and how to choose the right clinic.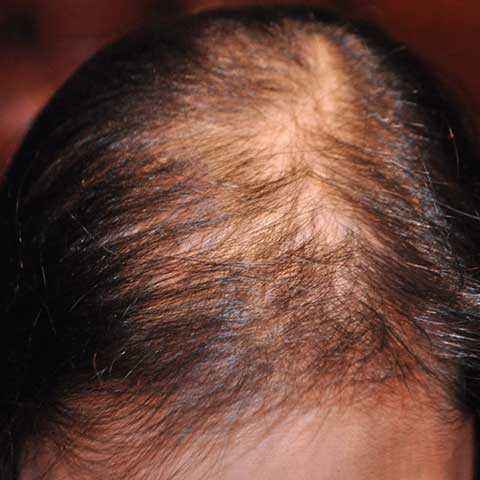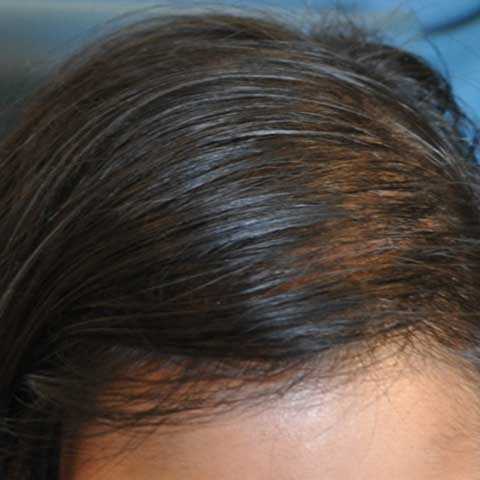 Female patient before and after hair transplant.
Find out more about treatments for women's hair loss
Hair loss can have a serious impact on your wellbeing. It can also be a sign of an underlying condition, such as an autoimmune disease or depression. So if you notice thinning hair or see clumps of hair falling out in the shower, it's time to get checked out.
Book a free consultation at the Wimpole Clinic and we'll help you find the right treatment to restore your hair.
Sources:
The Wimpole Clinic offers FUE Hair, Beard & Eyebrow Transplants & Trichology.
Talk to a specialist ☎
020 7935 1861
.
Blog search
Book a consultation
Simply fill in your details in the form below and we'll get in touch with you shortly.