Can Women Have Hair Transplants?
Female hair loss and hair thinning is an increasing concern — and not just for women of a certain age. 40% of women under the age of 50 experience hair loss, and women as young as 25 may be affected [1]. As a result, more women than ever are considering a hair transplant.
Just like men, most women can have hair transplants if they're needed. But unlike male pattern balding, it's not always obvious if a woman has genetic female pattern hair loss, or if there's a different underlying cause that needs to be addressed.
In this article, you'll learn about the difficulty in diagnosing female hair loss, see female hair transplant statistics, and learn why hair transplants are the most effective hair restoration methods for women in 2023.
Diagnosing hair loss in women
There are several potential causes of hair loss in women, from stress to poor haircare to genetics. But many conditions have similar symptoms — in particular, diffuse thinning across the scalp — making it hard for trichologists to properly diagnose hair loss in women.
As well as the Ludwig Scale, blood tests are one of the most common ways to diagnose female hair thinning. This can determine if there's an underlying cause, or if hair loss is due to genetic factors. Among other metrics, hair loss blood tests measure:
Not all hair loss conditions are suitable for hair transplantation. In most cases, only female pattern hair loss can be addressed with a hair transplant. That's why it's essential to get a proper diagnosis at a reputable clinic before opting for a hair transplant.
Why women are ditching wigs for hair transplants
Many women worry more about the effect of hair loss than the cause. They fear they may have to wear a wig every day to conceal their thinning hair, and that people will know they're wearing a wig or hairpiece [2].
Wigs are a temporary solution. When you go to bed or take a dip in the pool, you need to remove your wig and expose your natural hair. This can lead to a serious dip in confidence and how attractive you feel. 40% of women have reported problems in their marriage due to hair loss, and 63% say their career has been impacted [3].
Hair transplants offer a more permanent, realistic solution to hair loss. Female hair transplants are rising in popularity as women seek hair restoration treatment that makes them feel more confident about their tresses.
Female hair transplant statistics
Hair transplants are a male-dominated procedure — but a significant proportion of hair transplant patients (almost 13%) are women [4].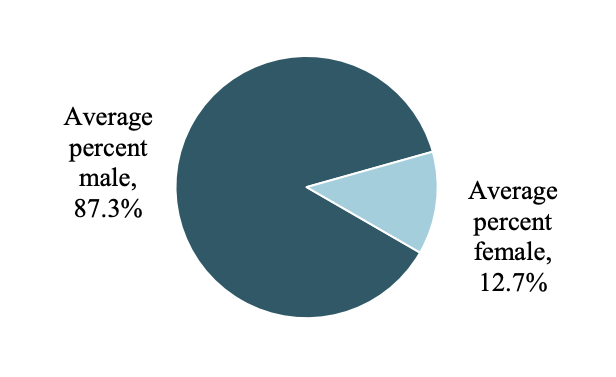 The majority of female patients were aged 40-49. However, patients ranged from younger than 20 to older than 60 — so age isn't always a factor in eligibility. It's more likely to depend on your hair loss condition and the amount of hair you've lost.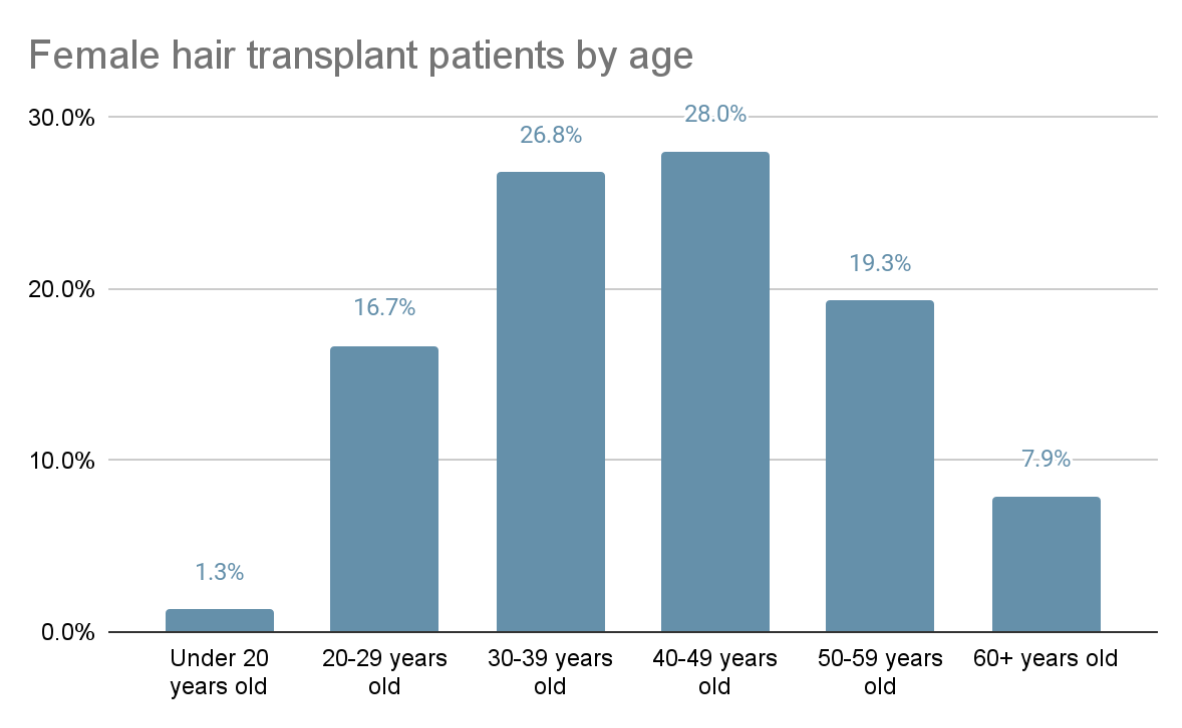 Many types of hair loss can be addressed with non-surgical treatments like Minoxidil, especially in the early stages. More than 37% of non-surgical hair loss patients are women.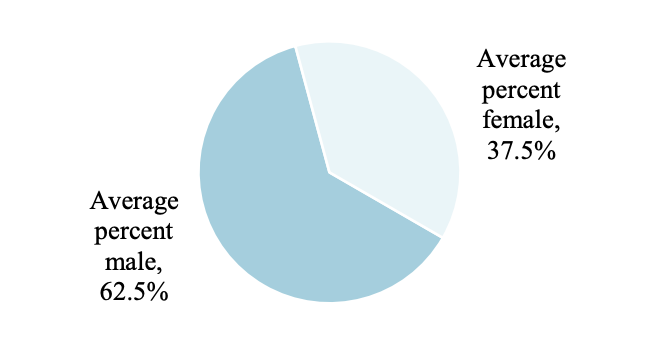 Almost all female hair transplant patients seek scalp hair replacement. The second most popular type is an eyebrow transplant, followed by scar repair and black market transplant repair. Choosing an experienced, high-quality clinic in the first place can help you avoid the need for hair transplant repair.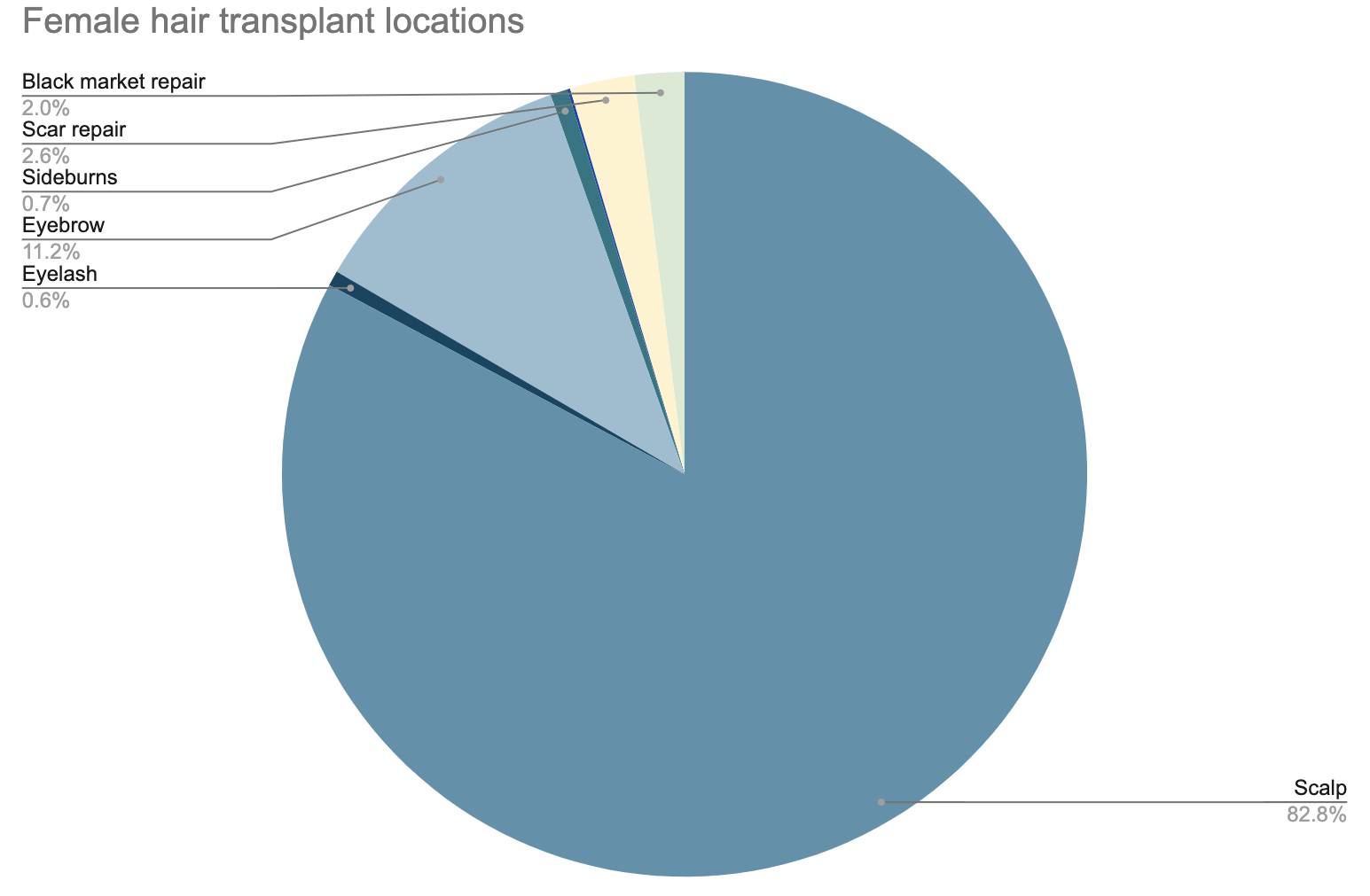 Why aren't female hair transplants as popular as male hair transplants?
The majority of men will experience some degree of male pattern baldness in their lifetime. It's the most common type of hair loss by some distance — so it makes sense that more men turn to hair transplants.
But hair transplants for women are equally as effective. Famous women including Ricki Lake and Stephanie Davis have turned to hair transplants to thicken their tresses and straighten their hairlines. See these female celebrities with hair loss to learn more.
Forehead reduction surgery is more popular with women than with men. This involves changing the shape or height of your natural hairline to make your forehead appear smaller.
How do hair transplants for women work?
At your initial consultation, your consultant will assess your hair loss type and see if you're eligible for surgery. This may include taking blood tests to check for any underlying causes. Note that some clinics are overeager to get patients in the chair, so we recommend you consult with multiple clinics to find the right team to perform your hair transplant.
Most eligible female hair transplant patients can have either FUT or FUE surgery. Many women choose FUT as it's cheaper, and longer hair easily hides the FUT scar. Both offer exceptional results. The process takes around 5-10 hours depending on how many hair grafts are needed. You'll be given a local anaesthetic to make the procedure as painless as possible.
After surgery, you'll follow a comprehensive aftercare process as recommended by your transplant care team. Adhere to this as closely as possible to make sure you get the results you want.
Hair transplant alternatives for women
A female hair transplant isn't the only hair restoration option. Some women are looking for a less invasive or more affordable solution (although hair transplants are available on finance). Alternative hair loss treatments offer painless, non-surgical intervention. A hair loss consultation will help you find the best course of action.
There are also some prescription and over-the-counter medications that can help. Minoxidil can be very effective for women with hair loss, as these Minoxidil before and after photos show. However, some commonly prescribed medications such as Finasteride aren't suitable for women, so it's important to see a specialist before starting a course of medication. Learn more about Finasteride for women.
Book a consultation to get a free hair loss diagnosis
Many women can and do have highly successful hair transplants. At the Wimpole Clinic, we have an unrivalled track record of helping hundreds of women restore their hair.
Take a look at our before and after hair transplant gallery to see our previous patients. Then book a free consultation with an experienced trichologist at the Wimpole Clinic to diagnose and treat your female hair loss today.
Sources:
The Wimpole Clinic offers FUE Hair, Beard & Eyebrow Transplants & Trichology.
Talk to a specialist ☎
020 7935 1861
.
Blog search
Book a consultation
Simply fill in your details in the form below and we'll get in touch with you shortly.