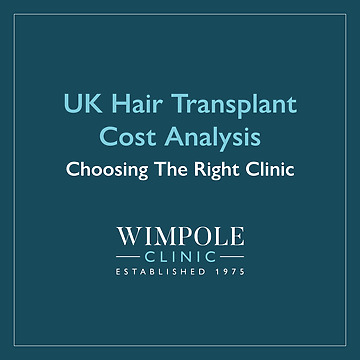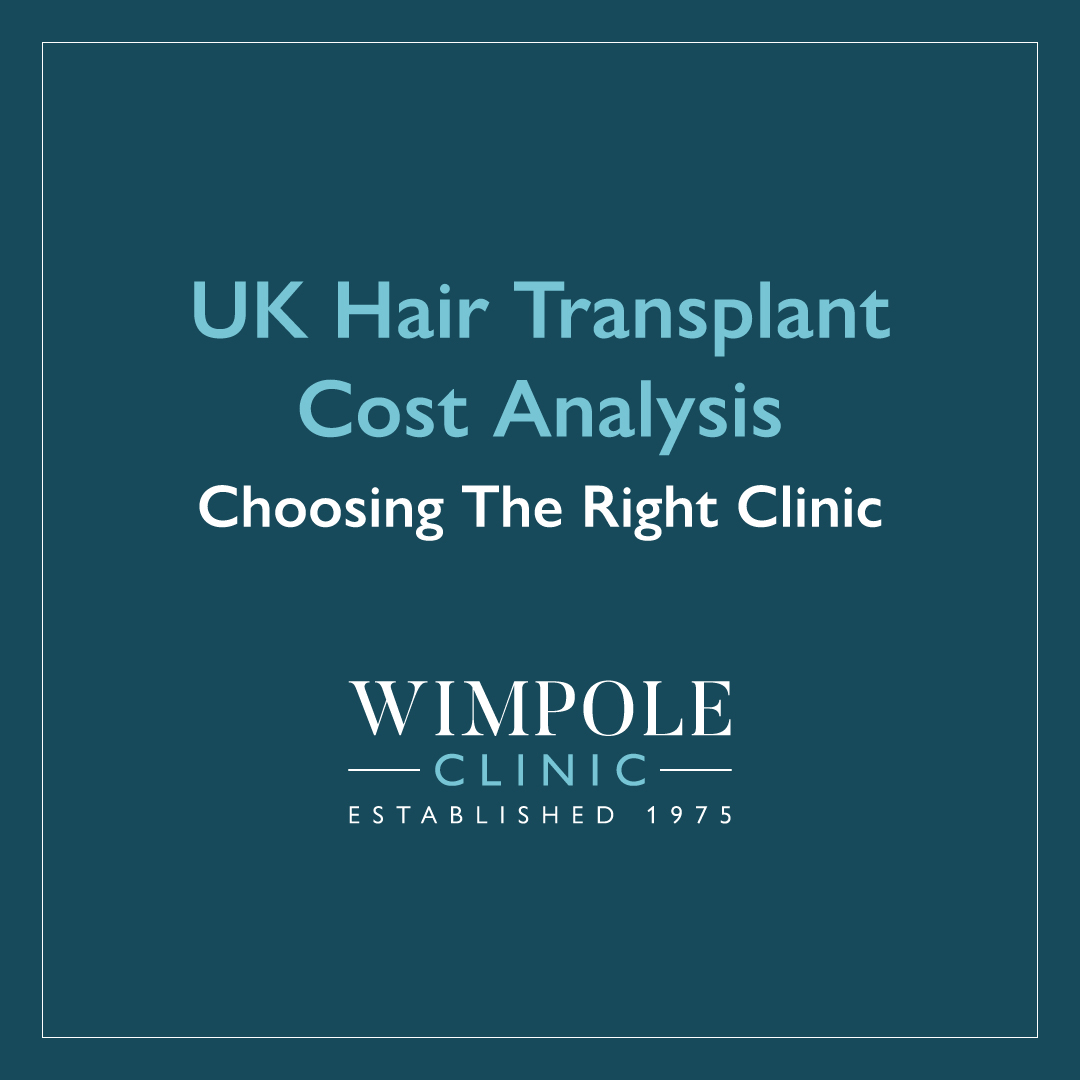 UK Hair Transplants Cost Analysis: Choosing the Right Clinic In 2023
To uncover the true cost of a hair transplant in the UK, we sent 104 UK clinics the same photographs with the same desired result. In this exclusive, we reveal the state of hair restoration treatment across the country: from the price you should be paying for your hair transplant, to the red flags you need to look for when finding your hair transplant surgeon and team.
Losing your hair is difficult, which is why hair transplant surgery is so transformative. Hair loss is a natural part of ageing, and it affects millions of people around the world. In fact, two-thirds of men — and around a third of women — will be affected by hair loss at some point in their lives.
But that doesn't make it any easier to deal with when it happens to you.
Hair loss often leads to low confidence, loss of identity, and even anxiety and depression. It can put a serious dent in your joie de vivre, causing problems when it comes to socialising, dating, and even progressing at work.
Hair transplants have been increasing in popularity for many years now as more people turn to cosmetic surgery to restore their confidence. But the UK has seen a recent rise in the number of shady hair transplant clinics in operation. These clinics are inexperienced at best and unlicensed at worst. They take advantage of the low confidence and high anxiety that stem from losing your hair, promising huge results at extortionately high or suspiciously low prices.
A hair transplant should be a last resort
We believe hair transplants should be a last resort. With preventative hair loss treatments such as Minoxidil & Finasteride increasingly available, there are other options to try before you book in for surgery — but it's easy to see why you might be tempted to give clinics like these a shot.
Choosing a hair transplant clinic in the 'Follicular Wild West' can be a challenge. Inflated prices make clinics appear more competitive; low prices feel like a risk worth taking.
But jumping the gun without doing your research may make a procedure with a 97% and above success rate a complete disaster or worse – lead to medical complications. As hair transplant patient Spencer Stevenson found out, inexperienced clinicians rarely give you the results you're looking for. In pursuit of an affordable, successful solution, Spencer ultimately spent £40,000 on 13 hair transplant procedures over a 20 year period.
In this guide we'll show you how to identify great clinics from not-so-great ones, so you can find a reputable surgeon who'll deliver the results you deserve. You'll find out how cost can serve as a good indicator of quality and reveal the red flags you need to look for when finding your hair transplant surgeon & team.
FUT & FUE: types of hair transplant surgery
Follicular Unit Transplantation (FUT) and Follicular Unit Extraction (FUE) are the two major types of hair transplant surgery. According to the 2022 ISHRS Practice Census, 66.2% of patients worldwide opt for FUE surgery, while 31.5% choose FUT. 2.35% of patients choose a combination of the two.
Both FUE and FUT can be used for scalp transplants, beard transplants, and eyebrow transplants — but there are significant differences between FUT vs FUE.
In FUT, the surgeon removes a thin strip of skin from your donor area and divides it into smaller sections, then transplants the individual grafts into the balding areas. In FUE, each follicle is extracted individually, which is more time-consuming — but ultimately means less scarring and faster healing. The follicles are then transplanted into the thinning areas.
Why more people are opting for hair transplants in 2023
Image and identity are now a huge part of people's self-worth. It's why social media can be so detrimental to people's mental health. And it's part of the real reason for the boom in hair transplants around the world to treat hair loss. Feeling confident in how you look can help you take control of your social life, your love life, and your career.
Even the rich and famous aren't immune to the hair loss confidence-knock. But a number of high profile celebrities have opted to surgically enhance their hairlines in recent years, helping to reduce the stigma around hair transplants.
Arsenal footballer Rob Holding underwent a successful hair transplant with the Wimpole Clinic. Beforehand, Rob's hair loss seriously impacted his self-confidence. But by choosing an experienced, reputable clinic, he managed to win it back. "Wimpole Clinic treated me so well and I am so happy with the results. I could not recommend them enough."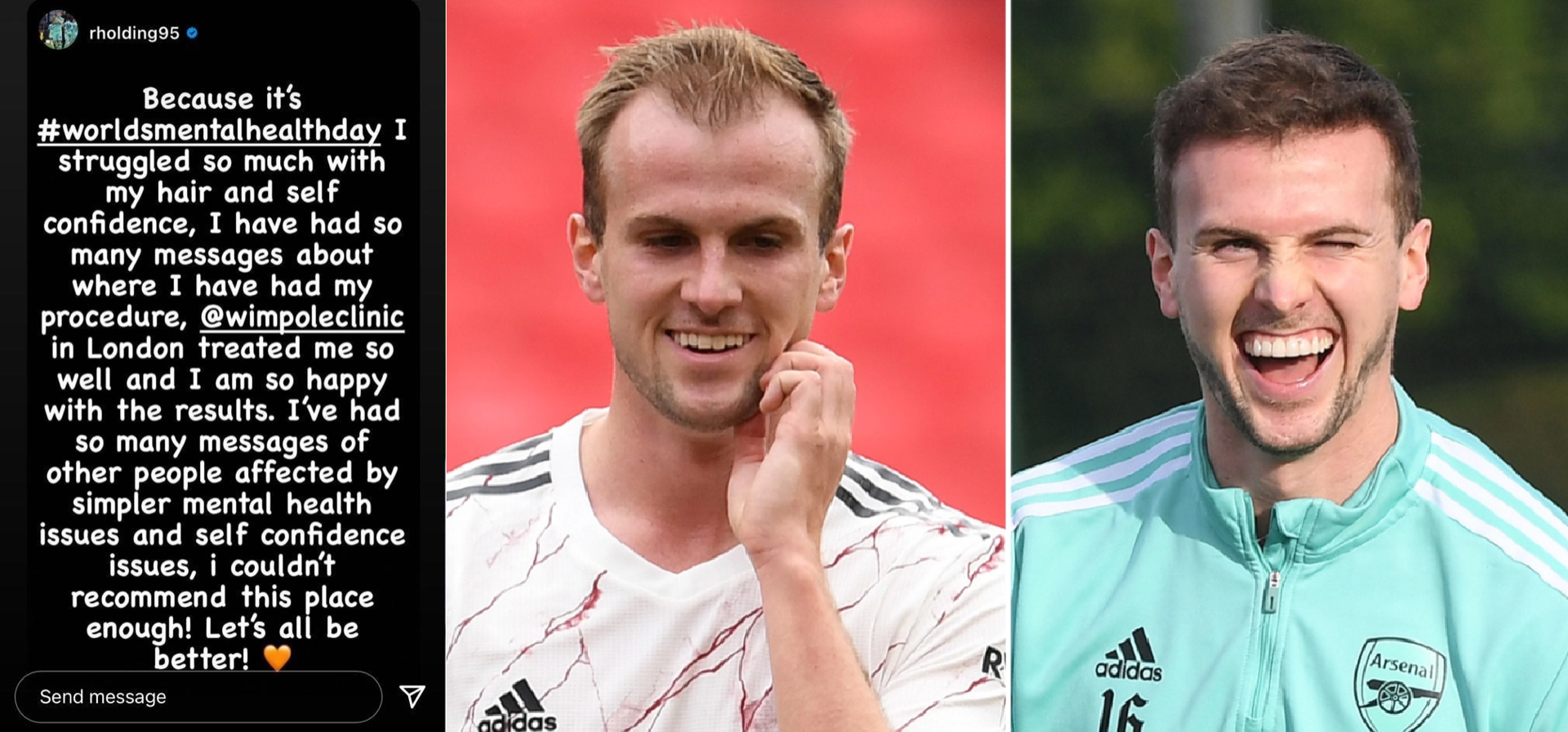 Prospective patients now have a much better understanding of the hair transplant procedure. When you know what's involved in a hair transplant, and how good the results can be, it's much easier to make the decision. Modern patients know hair transplants are:
Here's the Google Trends data from Jan 2012 to Jan 2023

Hair transplants have been growing in popularity for the last 45 years. This mainly stems from social media pressures, changing attitudes towards male grooming, and, fundamentally, the success rate of the procedure.
According to the 2020 ISHRS Practice Census, Europe alone saw a 234% increase in hair transplant procedures between 2008 and 2019, with the majority of patients being men. Hair loss is more common in men than women, so men are 5.3 times more likely to seek surgical hair restoration treatment.
Other findings show that:
71% of patients chose to have a hair transplant to improve their social lives, dating, or careers

It's most common for men to opt for hair transplant surgery between the ages of 30 and 39

It's most common for women to opt for hair transplant surgery between the ages of 40 and 49

Women are more likely to choose non-surgical hair restoration treatment than men

This infographic shows a summary of the 2022 ISHRS Practise Census: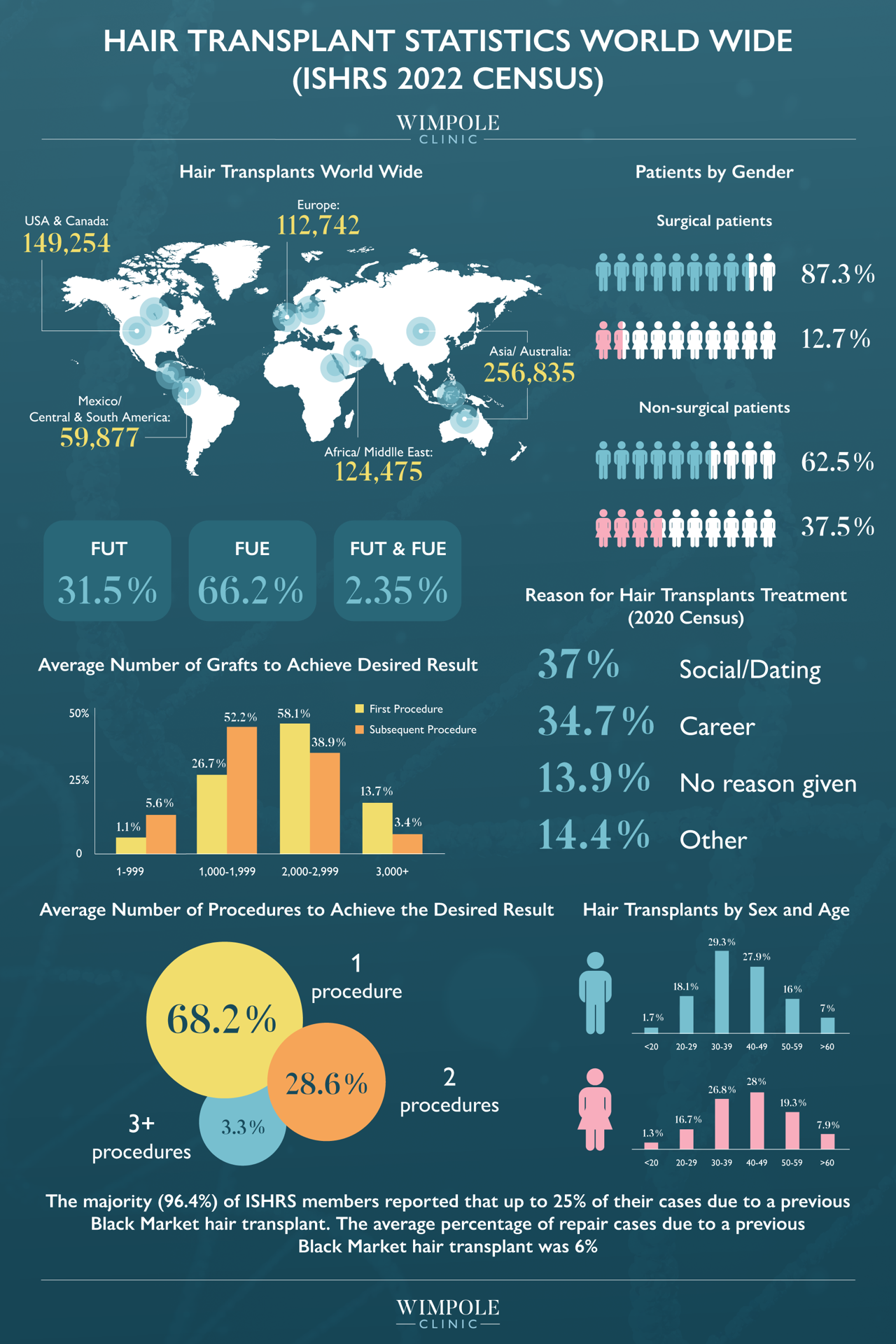 How much does a hair transplant cost in the UK?
We sent the same photograph — a male patient with Norwood stage 2 to 3 hair loss — with the same desired result to 104 clinics around the UK. We wanted to discover the difference in pricing, experience and practice of hair transplant clinics and surgeons.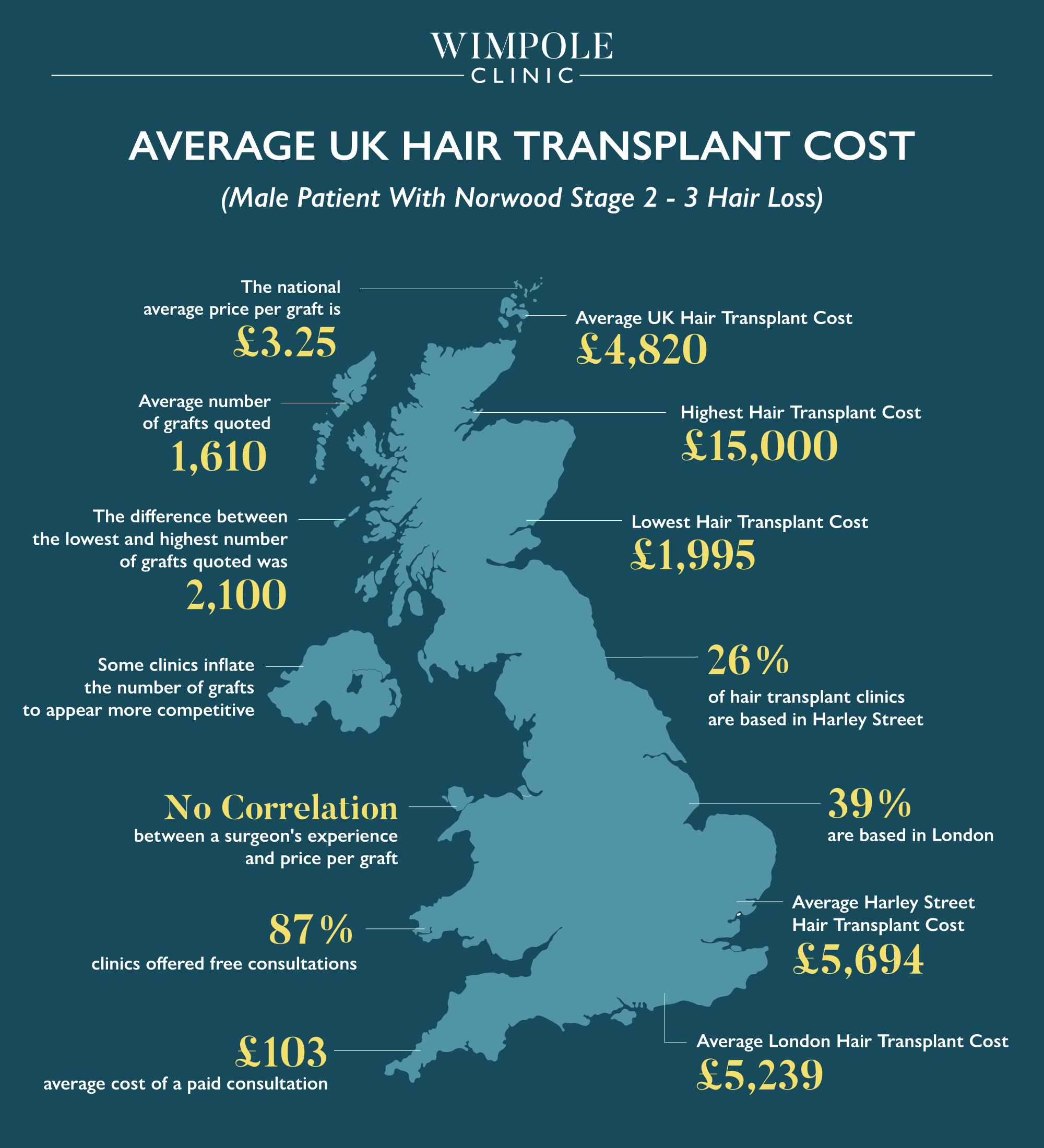 Hair Transplant Costs UK. (You are allowed to share this image.)
Here's what the data shows:
The

average cost of a hair transplant in the UK is £4,820

The lowest quoted price was £1,995, while the highest was £15,000 — leaving a huge

difference of £13,000 for the same procedure

We were quoted an average of

1,610 grafts

for this procedure

There was a

2,100 gulf

in the number of hair grafts quoted to achieve the desired result — with some clinics inflating the number of grafts needed to justify their price

In many cases, the number of grafts recommended were inflated and the price per graft reduced to appear more competitive

There was no correlation between price and a surgeon's experience or the clinic's location

39% of clinics are based in London, and 26% are based in Harley Street — and you'll

pay a slight premium for hair transplant services on Harley Street
87% of clinics offered a free consultation — where the consultation was paid, the average cost was £103.
Required grafts & norwood scale
Hair transplant prices are mainly determined by the number of hair grafts that need to be relocated. The Norwood Scale is used to determine the stage of hair loss. It helps clinics make suggestions for hair restoration services.
As the chart below shows, Norwood 2 – 3 stage hair loss usually requires a 500 graft hair transplant to a 1500 graft hair transplant, depending on the client's needs, density required and available donor area.
The cost of a crown hair transplant may also be higher, as the balding area tends to be greater than along the hairline. Learn more about the cost of a hairline transplant.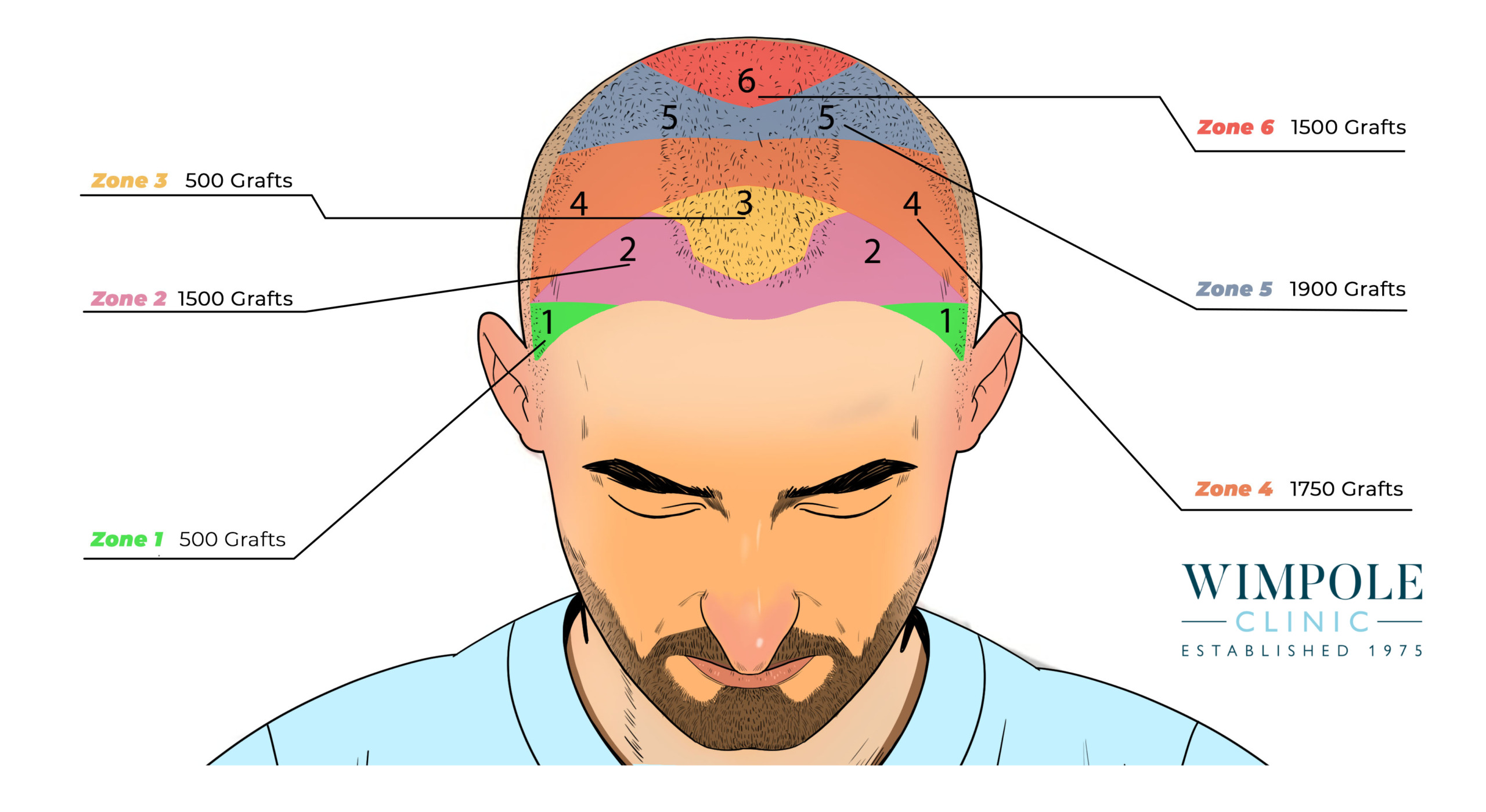 Norwood Scale
Area
of Scalp
Number Of Grafts
Front
Number Of Grafts
Crown
1
N/A
–
–
2
500 – 800
–
2a
Centre
500 – 1000
–
3
Front and temples
1000 – 1500
–
3a
Front and crown
Front:
1000 – 1,500
Crown:
500 – 1000
4
Front and crown
Front:
1,200 – 1,600
Crown:
800 – 1,100
4a
Front
Front:
1,700 – 2,500
5
Front and crown
Front:
1,800 – 2,200
Crown:
1000 – 1,500
6+
Front and crown
Front:
1,800 – 2,500
Crown:
1500 – 1700
In our results, however, the highest number of grafts a clinic recommended for this procedure was 3,000. See what a 3000 graft hair transplant looks like. 7.7% of respondents quoted a 2,000 graft hair transplant or more.
And that wasn't the only disparity our survey revealed. In fact, many of the results didn't fill us with confidence about the consistency of quality and value in hair transplant clinics across the UK.
We surveyed 104 clinics whose details are listed on Google and we received and used data from 58 clinics. We based our results on their quotation estimates, since the nature of the survey prevented us from consulting with them in detail. Where a graft or cost range was given, we've used the average in our results. (You can find out more about our survey data in the footer of this article.)
There are only 42 surgeons registered with the British Association of Hair Restoration Surgery — so the fact that there are more than 100 clinics in operation is a little ominous. In some cases, surgeons work with multiple clinics. In others, surgeons work with businesses that are clinics in name only. These businesses are essentially sales reps who connect patients with surgeons for a referral fee.
A number of the clinics we surveyed offered consultation in the UK, but the surgery actually took place abroad. We extracted these clinics from the data, so they're not represented in our findings. But it shows the importance of having an open conversation with your hair transplant consultant before any money changes hands.
While going abroad may be a viable option, we strongly recommend you familiarise yourself with the risks. Medical tourism is on the increase, thanks to lower costs and more accessible travel. And there are many reputable hair transplant clinics in the best countries for hair transplants.
But the BAHRS highlights the rise of inexperienced clinics in countries where regulation is limited. These clinics promise guaranteed results for extremely low prices, so it's crucial that you research your chosen clinic and understand the risks of such procedures.
Average hair transplant cost by UK city
Location
Average
Cost
Bedford
£3,500
Belfast
£4,500
Birmingham
£4,498
Bournemouth
£3,500
Brentwood
£5,000
Chiswick
£5,250
Dublin
£5,500
Essex
£3,175
Glasgow
£5,500
Harley Street
£5,692
Hertfordshire
£2,999
Leicester
£4,500
Liverpool
£5,239
London
£4,467
Manchester
£6,599
Nationwide
£3,335
Newcastle
£3,999
Nottingham
£3,175
Portsmouth
£7,000
Sheffield
£2,999
Some cities have fewer hair transplant clinics than others, which is reflected in these average prices. Portsmouth, for example, is home to just one hair transplant clinic. This may explain why the average cost here is higher than in other towns and cities.
Hair transplant cost London & Harley St.
Location
Average
Price / Graft
Average
Cost
Avg.
No. Grafts
Avg.
Surgeon's Experience
UK
£3.04
£4,467
1627
10
London
£3.44
£5,239
1581
14
Harley St
£3.74
£5,692
1565
17
You might expect to pay more for a hair transplant in London. This is especially true on Harley Street, where surgeons are generally more experienced. High experience levels and higher operating costs often lead to premium prices.
Surprisingly, though, we found very little correlation between a surgeon's experience and the cost of a hair transplant.We decided to take a closer look at the data. We excluded clinics and lead generation websites that acted purely as referral sources. To maintain objective results, we identified and classified these as clinics that didn't feature a specific surgeon on their website.
27 of the websites we surveyed (26%) did not include a surgeon on their site. When we excluded these from our data, the results were very revealing:
Location
Average
Price / Graft
Average
Cost
Avg.
No. Grafts
Avg.
Surgeon's Experience
UK
£3.70
£5,135
1530
13
London
£3.77
£5,111
1586
15
Harley Street
£3.92
£5,361
1595
17
Among reputable clinics who displayed their surgeons on their website, the prices were pretty similar.
Harley Street prices went from being more than £1,200 higher than the rest of the UK, to less than £250 higher. This equates to an average price hike of around 4%, with a 30% increase in experience.
It's important to note that these results are based on averages. Prospective patients should examine each clinic individually, as there are some very good clinics offering reasonable prices throughout the UK.
With such big differences in the cost and the number of grafts quoted, how do you know you're going to get the results you want at the right price?
We've delved deeper into our data so you can find out how to spot inflated prices and disreputable clinics.
Prices of 'websites' without a visible surgeon
As demonstrated above, sites that don't list a surgeon cost much less than those that do — but you don't know who will be drafted in to perform your surgery.
Even if they mean well and have positive reviews, there is no guarantee you will get the same surgeon as the person who left the positive review or recommendation.
There's nothing wrong with a surgeon having a working relationship with a clinic and subcontracting their services out. But from a patient's perspective, it's great peace of mind to know that the clinic has a principal surgeon on-hand to make sure the surgeon is professional and accountable.
It's also important to be mindful of exaggerations. One affiliate site reported that their surgeon had performed over 3,000 surgeries, while their marketing material suggested it was 4,000. Both these figures are unfeasible given the amount of time the surgeon in question has been practising. Make sure to find out exactly who your surgeon will be, and how long they have been practising, to ensure the stats add up.
Reputable clinics appear to price their services similarly.

Cost is an indicator of quality
It's clear that cost is a strong indicator of the quality and reputation of a hair transplant clinic. The cost of the procedure should depend on the number of grafts you need and your procedure type, rather than whether or not an affiliate clinic is taking a cut.
That's why it's important that you consult with multiple clinics. Our study shows that some clinics charge as little as £1,995 or as much as £15,000 for a procedure that costs £4,820 on average. By speaking to multiple clinics, you can get an idea of the average cost for the result you're looking for.
Ask them the reason behind their recommendations and let them know about quotations from other clinics. Remember, you're in control. If staff become annoyed by your questioning, this is a tell-tale sign they're more interested in your money than delivering the desired result.
Don't necessarily be tempted by the cheapest option — more and more hair transplant clinics are cutting corners (and quality) in an attempt to profit from a growing interest in hair transplant surgery.
A clinic that quoted one of the lowest prices turned out to be operating out of a house rather than a surgical environment — a pretty strong warning sign. But equally, you don't need to spend £15,000+ at a clinic just because they did a celebrity's hair.

87% of clinics offer a free consultation, so take advantage of this. Make sure you ask about the surgical team's experience, their aftercare service, and their success rate. When so many clinics offer free consultations, paid appointments are rarely worth the money.
The dangers of cheap hair transplants
Low-priced hair transplants may seem too good to be true — and that probably means they are. Low-cost hair transplants are synonymous with affiliate or referral websites that don't always have the patient's best interests at heart.
The majority (96.4%) of ISHRS members reported that up to 25% of their cases were repair cases due to a previous Black Market hair transplants. The average percentage of repair cases due to a previous Black Market hair transplants was 6% (2022 ISHRS Practice Census).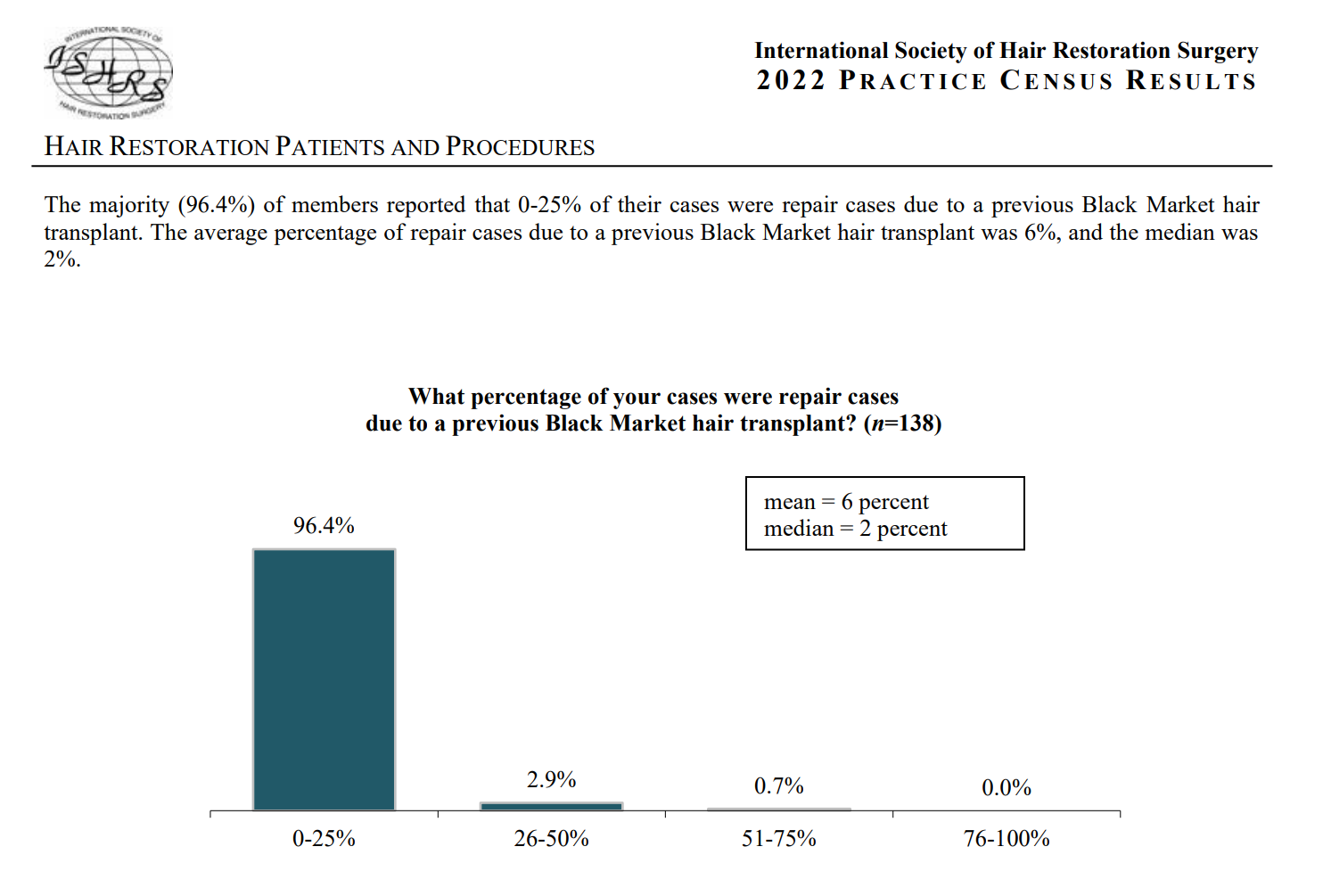 Lower prices from these referral clinics often accompany lower quality procedures, less experience, and a less ethical approach to hair restoration. Each of these attributes can result in a poor quality transplant which isn't worth the money you've saved.
Plus, if your treatment is unsuccessful, there is a danger that future treatment may not be possible. Overharvesting of hair follicles can destroy your donor area, making it more difficult for you to undergo further treatments if they're needed.

Reputable clinics will never push to get you into surgery. They know that a hair transplant should be a last resort, and will recommend the right course of action to help you maintain or restore your hair — whether or not that includes surgery.
Many patients who undergo treatment abroad face this pressure, since the clinicians know they're unlikely to see the patient again.

Hair transplant restoration surgery is very safe and there have been no reported deaths in the UK. Sadly, there have been a few deaths abroad, most notably in Turkey and India where the surgery was performed by unqualified technicians.
How many hair transplants can you have?
You can have as many hair transplants as you need until you run out of follicles in your donor area — but obviously the fewer procedures you have, the better.
Only 68.2% of patients achieved their desired result after 1 procedure, which suggests that many surgeries don't have a glowing success rate after a single procedure.
Transplant failure and continued hair loss are the two major reasons you might need multiple hair transplants. While hair transplants are permanent, it's important to note that you can still lose hair from other areas even after a successful hair transplant.
For this reason, a reputable clinic will ask you if you're still experiencing hair loss during your consultation. This is so they can best advise you on whether this is the right time for surgical intervention. Hair transplants should be seen as a last resort, after your clinician has done everything they can to prevent further hair loss.
If a clinic prescribes you a course of action you should embark on before having a hair transplant in the future, they most likely have your interests at heart. It will also shine a light on who just wants to get you into the chair.
What causes hair transplants to fail?
Only 0.1% of transplants fail after 3 procedures, but it's a costly endeavour if you don't see the results you want. Plus, even one extra procedure can double the cost of your treatment, making it hard to stay on-budget.Your hair transplant can fail to give you your desired results for any of the following reasons:
Inexperienced or unlicensed transplant surgeon or team
How much of your donor area has been used for previous transplants
Continuing hair loss as a result of being rushed into surgery sooner than you should have been
Hair transplant infections caused by lack of aftercare
Permanent scarring
Partially effective or ineffective procedures leaving less-than-desirable results
To minimise the risk of falling foul of these dangers, take a look at the red flags you should look out for when choosing a hair restoration clinic to work with.
10 red flags to look for when choosing a hair transplant clinic
Cost is the biggest factor you should consider when choosing your hair transplant clinic, as it can be the tell-tale sign of an affiliate or referral clinic. But it's not the only giveaway. Increase the chances of a successful hair transplant by considering these 10 factors when selecting your hair transplant clinic.
1. Low success rate
A clinic with a low success rate is charging too much, no matter what its rates are. A good success rate is anything from 97% upwards, so make sure you know what standards your clinic is working to.
Take a look at the reputation of your chosen clinic. If they don't have a gallery of before-and-after photos or a series of glowing reviews, they probably don't have the experience you should be looking for to get great results. Before-and-after photos should show a comparable view, so you can see the true result.
You should also speak to friends and people you know who have undergone hair transplant surgery themselves. They'll be able to make recommendations and tell you about their experiences.
2. Marketing gimmicks
Clinics everywhere claim to be the "leading" hair transplant clinic — but unless they have the achievements and experience to support this, don't fall for it. The same goes for "guaranteed" results, or "scarless" outcomes. The long-term recovery time means there are no guarantees with any hair transplant, so it's important to understand this before you pay any deposits. There are a number of marketing strategies used by clinics good and bad, so make sure you know what's true, and what's just clever wording.
This also extends to discounts and freebies. Time-limited offers — whether on their own websites or on discount sites like Groupon — are a sure-fire sign that a clinic doesn't necessarily have its patients' best interests at heart.
3. Lack of qualifications & governing body endorsements
Before anything, you should check that the clinic is registered with the Care Quality Commission. Experienced surgeons like Dr. Michael May, is the founding member and former president of BAHRS and ESHRS, and member of the ISHRS, created these organisations to improve the industry so that patients can be sure they're getting high quality care from their hair transplant clinics.
According to the British Association of Hair Restoration Surgery, nobody should suggest they are qualified unless "they are able to support this with a qualification such as that provided by the American Board of Hair Restoration Surgery, or another qualification recognised by BAHRS and the ISHRS."
4. No free consultation
Clinics should be willing to give you as much advice and information as they can for free. As our analysis revealed, 87% of the clinics we surveyed offer a free consultation. After all, hair transplant surgery is just that — surgery. It's not something to be entered into lightly, so choose a clinic that offers free consultation so you have all the information you need to make an informed decision.
5. Lack of expertise across the team
Your surgeon's experience is crucial to your hair transplant experience. If a clinic is cagey about who the surgeon performing the procedure will be, this is a big red flag, so make sure you ask who will be performing the surgery. Some clinics also use unqualified non-medical personnel to make clinical decisions, so don't be afraid to ask about the qualifications of any staff who advise or support you through the process.
But it's not just about the surgeon. The technicians and surgical team play a huge part in ensuring your surgery is a success. A clinic is only as strong as its weakest link, so make sure you're satisfied that everyone knows what they're doing.
A team that has been together for a long time will most likely outperform technicians or surgeons who have been drafted in and don't know each other. See how to find the best hair transplant surgeon.
6. Poor management of your donor hair
Your donor hair area is finite, so it needs to be properly managed. Inexperienced or disreputable clinics have been known to use up all the donor hair to achieve the results they've promised, leaving the donor area unusable if future procedures are needed.
7. No/limited aftercare recommendations
From pain management to pillow protection, choose a clinic that's thought of everything when it comes to hair transplant surgery aftercare. This should include follow-up appointments to ensure your recovery is progressing well, and advice on what to do in case of questions or concerns.
8. They don't ask about your current rate of hair loss
Your consultant should ask you about the current hair loss you're experiencing, so they can plan for potential future procedures. If you're losing hair, good clinics will recommend preventative hair loss medication before they opt for surgical intervention. It's all about doing what's best for the patient.
9. They haven't been in the business for long
Hey, everyone has to start somewhere. Not all hair transplant surgeries will have 45 years' experience. But you need to decide if you want to be the guinea pig for a new or inexperienced clinic.
According to BAHRS anybody proclaiming 'experience' should have "practised this method of Hair Transplant Surgery for at least 5 years (the minimum time most surgeons take in higher surgical training to completion of specialist training in the NHS is six years)."
10. They're keen to get you into surgery
A good hair transplant clinic should never want to rush you into surgery. They should make sure you have all the information you need to make the right decision for you — whether it's preventative hair loss medication, FUT, FUE, or embracing the Jason Statham look.
Thousands of successful hair transplants take place in the UK every year — so it's clear there are many reputable clinics in operation. But to make sure you get the results you want from your hair restoration treatment, it's important to recognise the risks of signing up with shady or affiliate clinics.
Disreputable clinics are likely to prioritise expensive surgical treatment over accepted best practice for hair loss prevention and treatment. While affiliate clinics aren't necessarily disreputable, they tend to carry the most risk, which usually means they work out to be more expensive than working directly with a clinic who has a registered in-house surgeon — and you won't necessarily be paying for experience or care.
We hope this has been extensive enough as a guide and has helped you. If you would like to begin obtaining one of many free consultations then please reach out to us and one of our patient advisors will be happy to help and answer any questions that you may have. If you'd like to come prepared with the right questions to ask your hair loss specialist, take a look at our list of questions you really want to ask about hair transplants.
This study is intended as a general guide. We acknowledge that there are gaps in the study, particularly created where clinics were not forthcoming in their responses or gave no response.
Of the 104 clinics we surveyed, 8% wouldn't provide prices or make recommendations on the number of grafts without a free consultation, while 7% would only provide this information in a paid consultation. Two clinics needed to see the patient in person before they could give a quotation. 21 clinics didn't respond.
We surveyed each of the UK-based clinics and affiliate lead generation websites we could find online. Each clinic was given the opportunity to respond to our survey. As a result, while we acknowledge gaps in our data, we believe this is an accurate reflection of current operations and costs of hair transplants in the UK.Please also note:
Harley Street includes neighbouring streets in the famous medical industry. This includes (but is not limited to) Wimpole Street, Welbeck St, and New Cavendish Street.

Where a clinic gave us multiple prices for different locations or different surgeons, we counted both. This resulted in 104 clinics surveyed overall.

Not every clinic responded to all of our questions. For example, where they may have told us the cost per graft, they may not have provided the number of grafts. This occurred in 10 cases.
The Wimpole Clinic offers FUE Hair, Beard & Eyebrow Transplants & Trichology.
Talk to a specialist ☎
020 7935 1861
.
Blog search
Book a consultation
Simply fill in your details in the form below and we'll get in touch with you shortly.