Wimpole Clinic Hair Transplant Aftercare
The first few days and weeks after your procedure can be make or break for hair transplant success. With unparalleled aftercare from the Wimpole Clinic, you'll get all the advice, care, and support you need to ensure you get the best possible hair transplant results.
Award Winning Customer Care
The Wimpole Clinic is renowned for its dedication to customer care. Whether you're seen at our Harley Street HQ or one of our nationwide clinics, all procedures take place in our pristine transplant theatres. We use only the best, most advanced instruments and techniques to ensure your hair transplant looks natural and makes you feel your best. If you're worried about any aspect of your procedure, we'll do everything we can to put you at ease.
After the procedure, we'll dress your donor area and your new hair grafts. Your surgeon will also run through the post-op procedure and give you an aftercare pack containing everything you need to care for your transplant. We'll also schedule a hair wash for 3 days after the procedure, so we can check your progress and cleanse your hair and scalp.
Learn everything you need to know about aftercare at the Wimpole Clinic.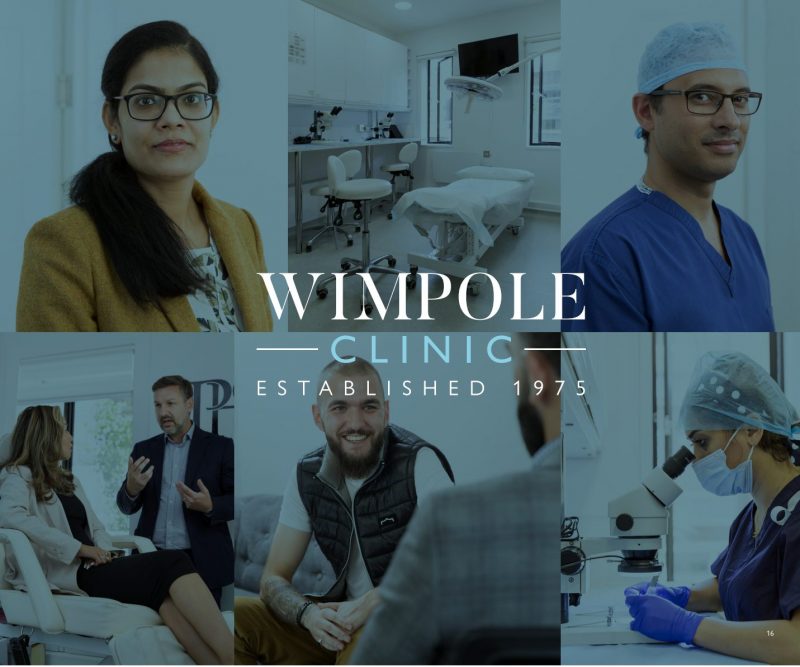 What Patients Think of Our World Class Aftercare
5 star review for this top notch clinic. James Walton has been terrific in the advice and the guidance pre and post op. The operation went very well, and I felt very comfortable and was made to feel at home. The surgeons and staff were all so friendly and helpful. I would definitely recommend the Wimpole Clinic and would definitely come back again!

Quick and flexible appointment times. The whole treatment process explained in detail. Consultation in less than two weeks on a Saturday (free of charge) met Dr Lucciano and Marie. Pre- Surgery, Post surgery and aftercare support exemplary. Surgical team were amazing and it was a great day. Only regret is I couldn't thank them enough. Great experience and would recommend Dr Lucciano, Marie and the wider surgical team to family/friends.

My experience at Wimpole Clinic was great. Matt assisted me through the whole process and was free to answer all of my questions before and after the surgery, night and day. I felt welcomed and in safe hands. 2 months has now passed and my head has healed nicely with lots of little hairs emerging. I am looking forward to seeing the end result. I would recommend this clinic to anyone seeking a hair transplant.

I had a hair transplant at the Wimpole clinic yesterday and I am extremely pleased with how smoothly it went. I had a relatively bad experience at another hair transplant clinic last year but after talking to James Walton I was sure that I wanted to go ahead with another procedure, this time with Dr May and his team. They made me feel extremely comfortable all the way through and after the initial injections I felt no pain at all. Waking up this morning I feel like my normal self and I look forwards to seeing how the results turn out over the coming months. Special mention to James for arranging this for me.

Hair Transplant Aftercare Pack
Every Wimpole Clinic patient is given an aftercare pack. This pack contains everything you need for a swift recovery and successful hair transplant growth. Follow the instructions and use the products as directed to give your hair transplant the best chance of success.
3 day post-procedure clinic visit for a hair wash and check-up

24 hour surgical aftercare hotline for emergency advice

Specialist shampoo to promote healing and prevent infection

Hair blood test

Neck pillow to help you heal while you sleep
Pillow cover to protect your pillowcase while you sleep

Medication including painkillers and anti-swelling tablets

Post-operative care notes to refer to whenever you need them

Baseball cap to keep your hair transplant under wraps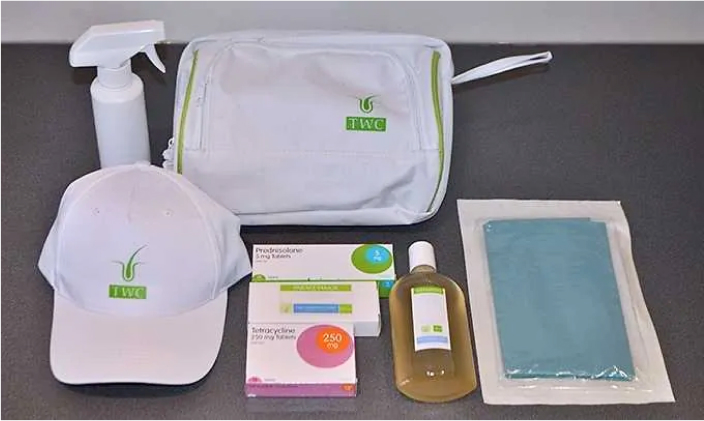 Post-hair transplant medication
What medication will I need to take following a Hair Transplant?
All patients will be given medication to take for the first few days after your hair transplant. This includes:
Paracetamol — a mild painkiller to manage any post-op pain

Prednisolone — a tablet to reduce swelling
You should also spray your hair transplant with a saline solution at least three times a day, starting the day after your procedure. This keeps the area clean, preventing infection and promoting healing.
Depending on your treatment plan, you may also be given Finasteride or Minoxidil to prevent ongoing hair loss. If you're using these, follow your surgeon's instructions to a T. Don't start rubbing Minoxidil into your scalp the day after surgery — you could dislodge your grafts and undo your surgeon's good work.
Learn more about medications to take after a hair transplant.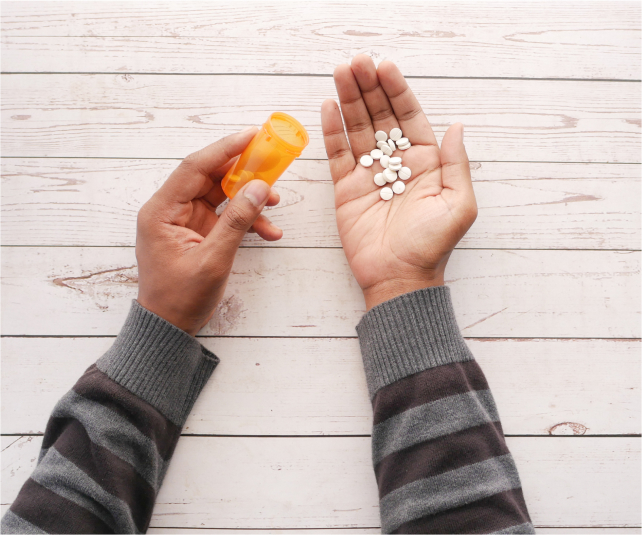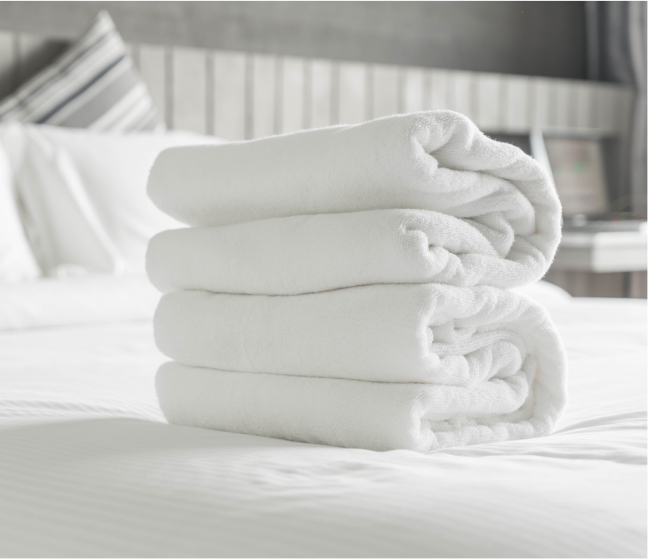 Sleeping after a hair transplant
Try to sleep with your head elevated for the first 4-5 nights after your procedure. This can reduce swelling, and protect the stitches or scabs in your donor area. We'll give you a neck pillow to make this more comfortable, but you can also use your own pillows or a rolled-up towel to support you while you sleep (some people even choose to sleep in a chair).
You should also use a pillow protector to keep your sheets clean. Your hair grafts might weep or bleed for a night or two, so we recommend covering your pillow with a towel or the inco sheet provided.
Learn more about sleeping after a hair transplant.
How to clean your hair after a hair transplant?
Over the first few days of recovery, your hair transplant may weep, ooze, or bleed as scabs start to form. This is totally normal (although if it seems excessive, don't hesitate to give us a call).
Spray your transplanted area with a saline solution — a mixture of water and salt — to keep the area clean. Do this at least 3 times a day — the more you spray, the faster your transplant will heal.
You can come back to the clinic for a hair wash 3 days after your procedure. We'll make sure everything's healing well, and gently cleanse your hair and scalp.
When you wash your own hair for the first time, use the shampoo from your aftercare pack. Mix it with some warm water, then pour it over your head. Let it sit for a few minutes, then rinse with clean water. Don't rub or massage your scalp until at least a week after your procedure to avoid dislodging your grafts.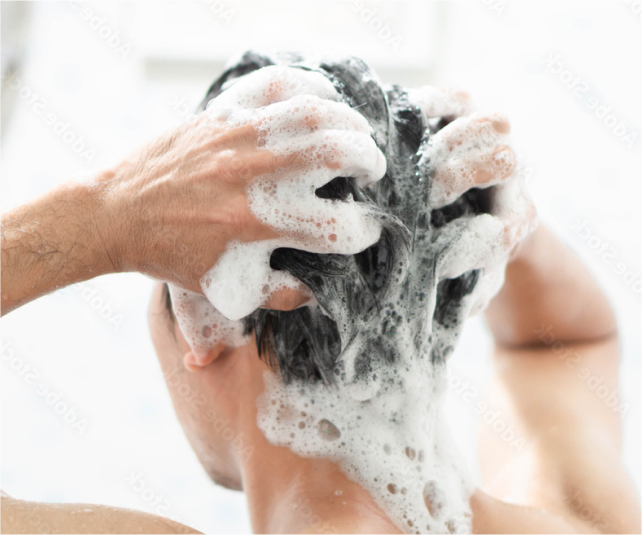 Day 1
Spray your head with saline solution at least 3 times. Ideally, you should spray it every 30 minutes when you're awake. Take anti-swelling medication as prescribed and paracetamol if you need it.
Day 2 - 4
Visit the clinic for a post-op hair wash. We'll make sure your hair transplant is progressing well. Continue spraying with saline solution and taking medication as needed.
Day 4 - 5
Wash your own hair for the first time. Mix the shampoo provided with warm water, then pour it over your head. Do this twice in the same sitting.
Day 6 - 7
Continue spraying and washing your hair using the same method. Most side effects should have gone by now, although you may still feel some tingling or numbness.
Day 8 – 14
Begin lightly massaging your hair grafts while you wash them to soften any scabs and encourage them to fall off. Don't be tempted to pick at scabs, spots, or ingrown hairs.

James' Hair Transplant Journey
Since having the hair transplant it's made such a positive impact on my life. I am much more confident in how I look, how I feel, being a dad, being a husband – it's just made a really positive impact!
"I've always been a confident person but there was something that did concern me and that was my hair. During my 20s I could start to see my hair receding and it just got worse and worse. I didn't realise how much of an impact it was making on my life."
How James' Hair Transplant Changed His Life
"Since having the hair transplant it's completely changed how I feel and I'm proud of the hair that I have – it doesn't embarrass me. Being able to go down to the beach and swim, play with my daughter and go on nice holidays, it's made my life so much better!
Having gone through the surgery myself I know how straightforward the procedure is and it has very minimal time to recover, so if you are thinking of having a hair transplant I recommend taking 2 weeks off work.
Since having the hair transplant it's made such a positive impact on my life. Those insecurities that just used to creep into every day life. You don't realise, the eating out, the wind blowing, the hair getting wet, the hair dressers, the things we have to do. I am much more confident in how I look, how I feel, being a dad, being a husband, it's just made a really positive impact!"

Outstanding service and customer care
From start to finish, the service and patient care which I received was outstanding. I had been negatively impacted for many years by my receding hairline. Despite being a positive, glass half full kind of person, I felt let down by my diminishing hair. Deciding to have a hair transplant was the best choice I could have made. I did my research, saved my money and went for it! Now 5 weeks since the procedure, I'm excited by what I feel and can already see! I know I will have to be patient however, I'm so glad that I chose the Wimpole clinic for my procedure; the entire process was professional, caring and tailored specifically to me as a patient.Dr. Moussa, his team and the amazing Marie provided the best experience I could ask for! Thank you so much for being part of this life-changing experience!
– Diane Collins (Trustpilot)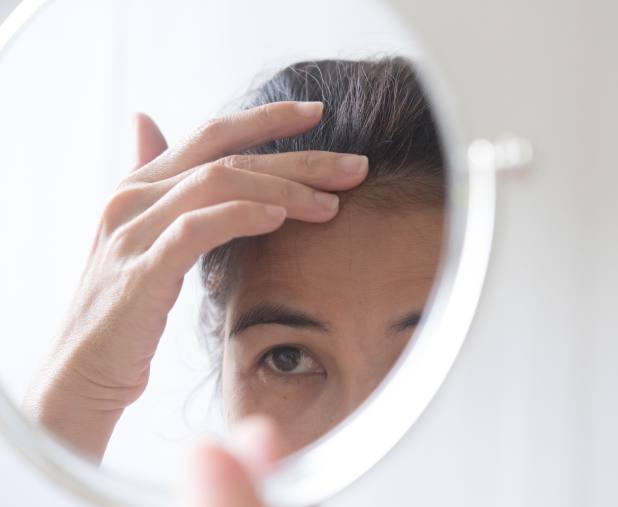 Hair transplant recovery time
Your recovery time depends on the type of procedure you have, though the timeframe for seeing results is similar with both FUE and FUT.
With FUE, you can usually return to your regular routine 5-7 days after your procedure. If you have FUT, it can be 7-14 days before you can resume your normal activities.
Regardless of the procedure type, most patients start to see results 4-6 months after surgery, with final results becoming visible after 12-18 months. Learn more about the hair transplant recovery timeline.
Most hair transplant patients experience a few mild side effects after surgery, including soreness, tightness, numbness, and itchiness around the graft area. These tend to go away by themselves after a few days and you can learn more about hair transplant side effects here.
Following your aftercare guidance closely can alleviate these side effects and make sure your transplant heals quickly without complication.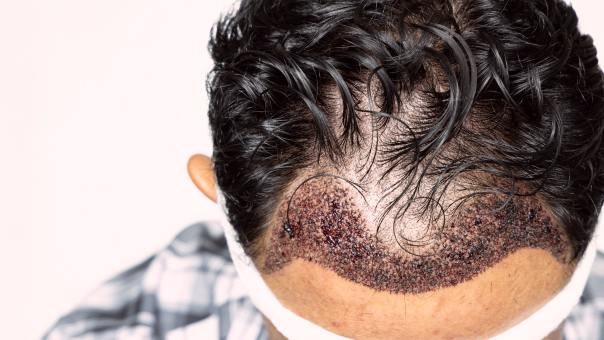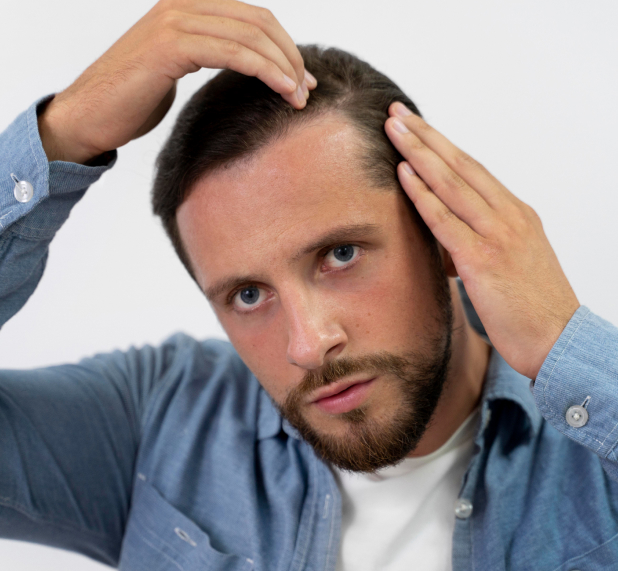 You might notice that your new hair starts falling out 1-2 weeks after your procedure. This is known as post-transplant shedding, and it's a normal part of the recovery process.
The hair shafts shed to make way for new hair. As the follicles take root in their new positions, your blood vessels supply them with nutrients and oxygen so they can produce new, permanent hairs.
There have been rare cases of shock hair loss following hair transplant surgery. Shock hair loss is when your natural existing hair falls out due to scalp trauma or damage. Choosing a skilled, experienced surgeon can reduce the risk of excessive trauma and shock hair loss. Fortunately, shock hair loss is a temporary condition — your hair will regrow within a few months.
When Can I Have a Haircut Following a Hair Transplant?
Getting a hair transplant will disrupt your normal haircare routine. You shouldn't brush, comb, or cut your hair for at least 10 days after your procedure, as this can easily dislodge your grafts. When you do start to brush your hair, be extremely gentle.
You can get a haircut 3-4 weeks after your procedure, when all the scabs, swelling, and redness have disappeared. If your hair transplant has fully healed, you can have any style you like, including a buzzcut. Some people choose to shave their head at this stage so their grafts grow at the same rate as the rest of their hair.
Avoid heat styling tools like straighteners and hairdryers for at least 6 months after your procedure. It's also a good idea to avoid chemical treatments, including hair dye and bleach. These can damage your existing hair and compromise your transplant, so give your hair a break for at least a few months.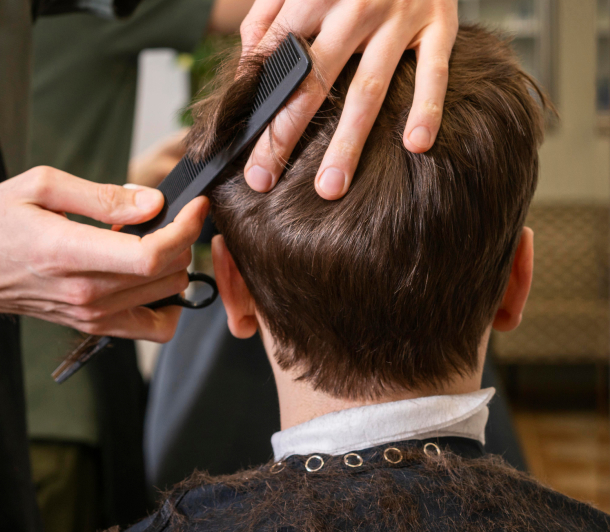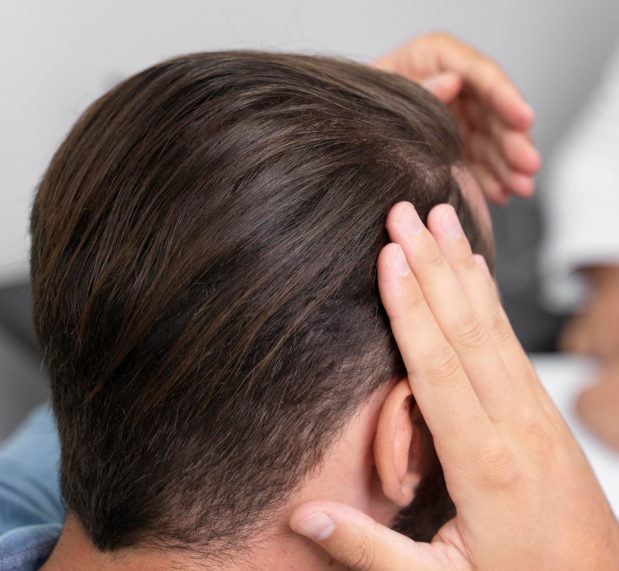 When will I see my hair transplant results?
Your new hairline will be visible immediately after your transplant. But you'll need to wait a few more months before you can see your final results.
Most people start to see sustained hair growth after around 4-6 months, with the final results visible 12-18 months after surgery.
Hair transplant growth can be slow, but it's worth the wait — your end result is sure to restore your confidence and make you feel fantastic.

Daniel's Aftercare Reivew
"I have had a fantastic experience with the Wimpole Clinic from start to finish, which has culminated in a great result from the transplant and I couldn't be happier. From the very beginning my initial consultation with Matt Devlin (who deserves a special mention) was friendly, informative and not at all sales-y/pressured. I took a number of weeks/months to decide to go ahead and in the end Matt made me feel comfortable enough to press ahead with what was a big decision for me.
He was always available whether that be on the phone or via WhatsApp, and he had all the time in the world for me.
My transplant was led by Dr Malkani who had a fantastic bedside manner and again also made what is a long procedure, very bearable. I can't speak highly enough about the fantastic technicians also who are a marvel for standing over my head for 8 hours!
A few specific things to mention:
-The clinic is considerably better value than a lot of the offerings on Harley St. The crazy prices were why I was considering the riskier option of going to Turkey. Initially I was sceptical about Wimpole because they were such good value, but in the end I can tell you that they are exactly just that…great value. Yes, you are not in the jazziest building on the street, and may not get freezing cold Perrier water on arrival served to you by a nice blonde, but that isn't worth the extra £5k to me! Everyone was incredibly welcoming and warm and made it a great experience.
-The aftercare from Matt has been exceptional. 18 months later and he is still in regular contact with me, checking in on my progress and regularly expressing his delight at my results. What more could you ask for.
-I have since recommended Matt and the clinic to about 6-7 friends who have all now taken the plunge too. There is no better review than that."

John's FUE Hair Transplant Journey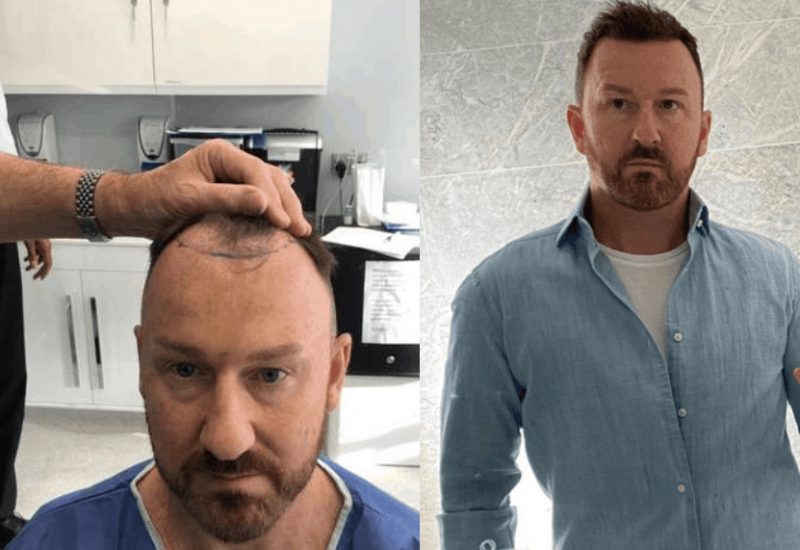 I am delighted with my results to date and am repeatedly complimented on how natural my hairline looks. I have recommended the clinic to several close friends, a number of whom have also now had the procedure and again experienced exceptional results. 5 stars!!"