Female Hair Transplants
Female hair transplants are one of the most popular hair restoration procedures worldwide. Every year, thousands of women with hair loss and visibly thinning hair opt for FUE or FUT hair transplant surgery to recover their lost tresses.
Voted Hair Transplant Clinic of the Year for a third year running, we've helped hundreds of women along the way diagnose and restore their natural hair and beauty. We know how important your hair is for your self-esteem — which is why we offer the highest quality care to create the best possible results.
Our surgical team has been instrumental in developing the modern FUT and FUE techniques. So if you're a woman looking for the most experienced hair transplant practitioners on Harley Street and around the UK, visit one of our nationwide clinics. See how we can enhance your hair loss with a female hair transplant below.
Female Hair Transplant Success Stories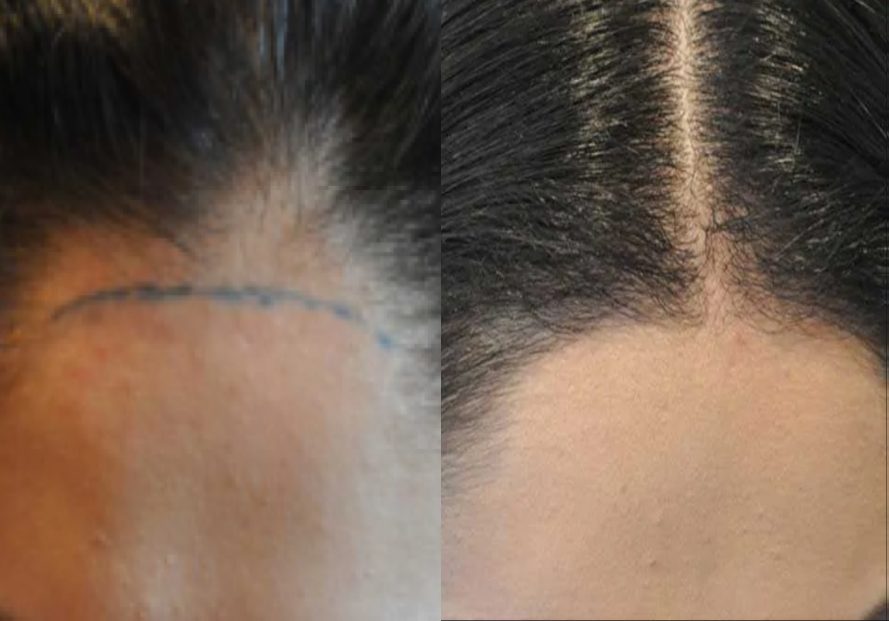 "My experience at the Wimpole clinic has been great so far. I am a female and had a FUT transplant in order to lower my hairline. My surgery was smooth and easy thanks to the help of Matt, Dr. Malkani and all the staff at the clinic. My recovery so far has been great, I was provided with lots of information surrounding after care and have been in regular contact."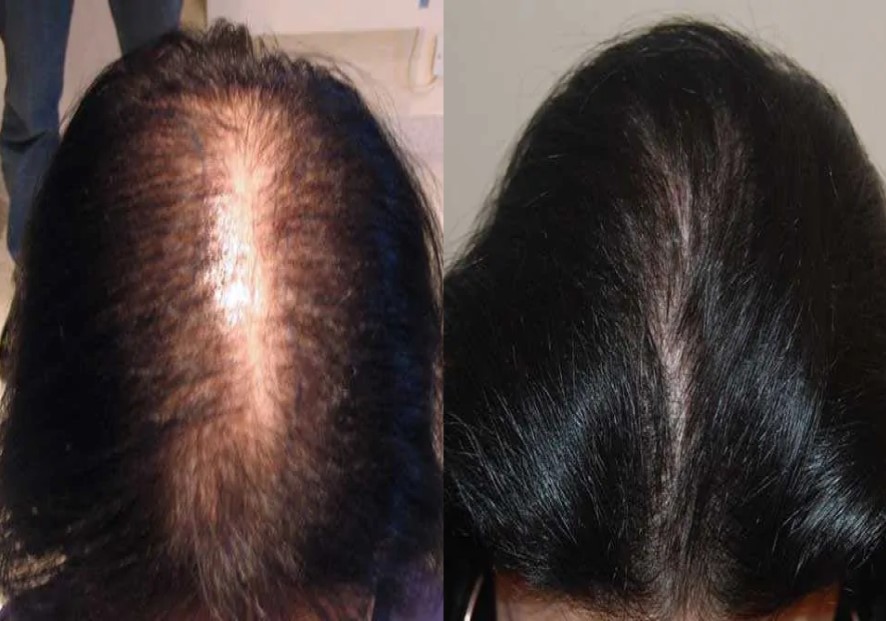 "Never have I rushed to write a review before! I had the best experience by far at the Wimpole Clinic. Carly was extremely knowledgable and felt so looked after throughout. She talked me through her personal experiences so give me as much comfort around anyone treatments discussed. The Dr who advised me was wonderful."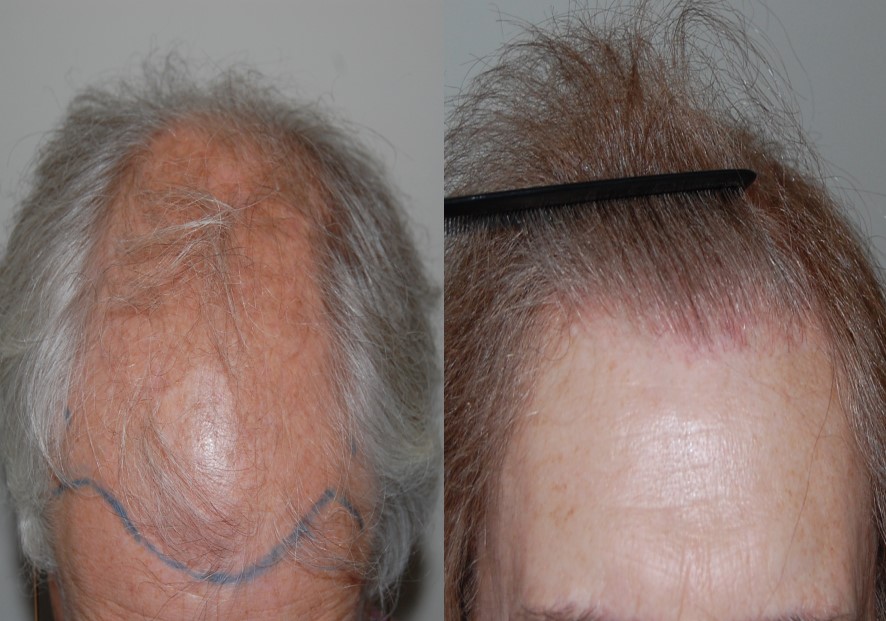 "I had a great experience with Marie-Royce and Doctor Sciacca. I was able to voice every little concern I had and she was quick to respond. She was a caring and approachable person who put me at ease. The communication hasn't stopped with Marie, including all of my aftercare questions and concerns. I think this is what sets the Wimpole Clinic apart from most other clinics.
About Hair Transplants For Women
What is a female hair transplant?
While hair transplants are usually seen as male-dominated procedures, they're also a fantastic choice for women affected by hair loss. Almost 13% of hair transplant patients worldwide are women.
Hair transplants for women are an effective treatment for female pattern baldness, as well as certain other hair loss conditions. Using advanced follicular unit transplantation and follicular unit extraction techniques, skilled surgeons can restore your hair to its original fullness.

How female hair transplants work
Female hair transplants are performed using one of two techniques: FUT and FUE. Both procedure types are very effective; at the Wimpole Clinic, we have a success rate of more than 97% — giving you confidence in our ability to restore your hair.
FUT is also known as strip surgery. It involves removing a sliver of skin from the back of your head, then slicing this into individual hair grafts. FUE, meanwhile, is performed with a micro punch, which extracts follicular units from the donor area individually.
FUT is popular with women. It tends to be slightly more expensive than FUE, as it's more invasive and requires a larger surgical team. FUT also leaves a small scar, which is usually covered by longer hair. Some women still prefer to have FUE as it leaves very little scarring in your donor region. At the Wimpole Clinic, we use an unshaven FUE technique (UFUE) which also means you won't need to buzz your hair before your transplant.
Should you have a hair transplant?
Feeling self-conscious about your patchy or thinning hair? A female hair transplant could be the ideal treatment for you. If you choose the Wimpole Clinic, you can expect:
Success rates of up to 100%

Confidential, honest advice from our experienced consultants

Fantastic facilities and the highest standards of patient care

Surgery completed in less than one day

New hair growth from 4-6 months after surgery.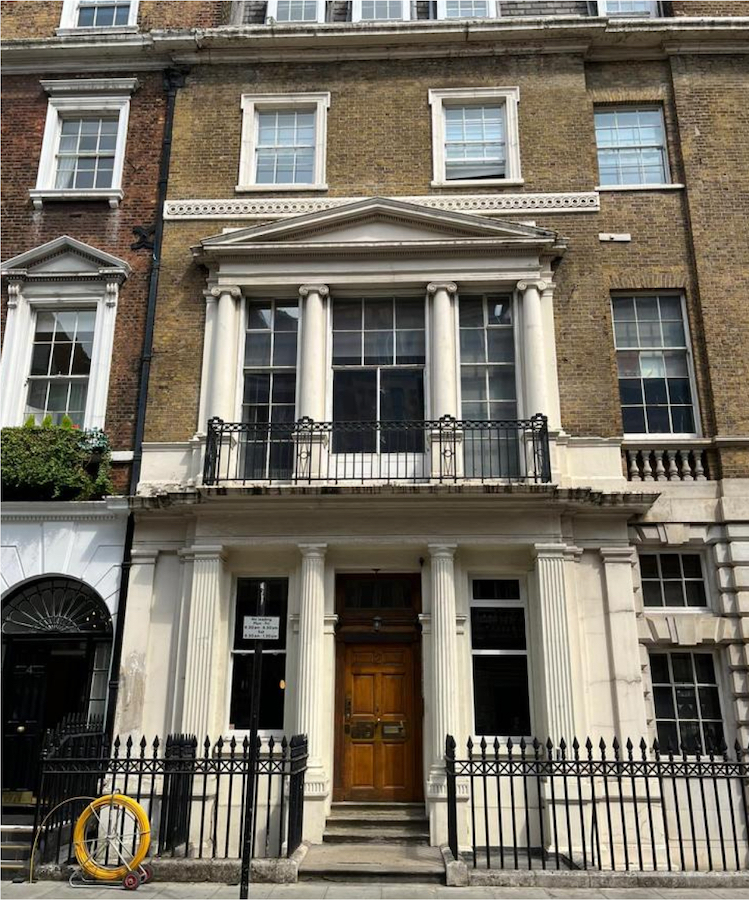 Jessica's Hair Restoration Journey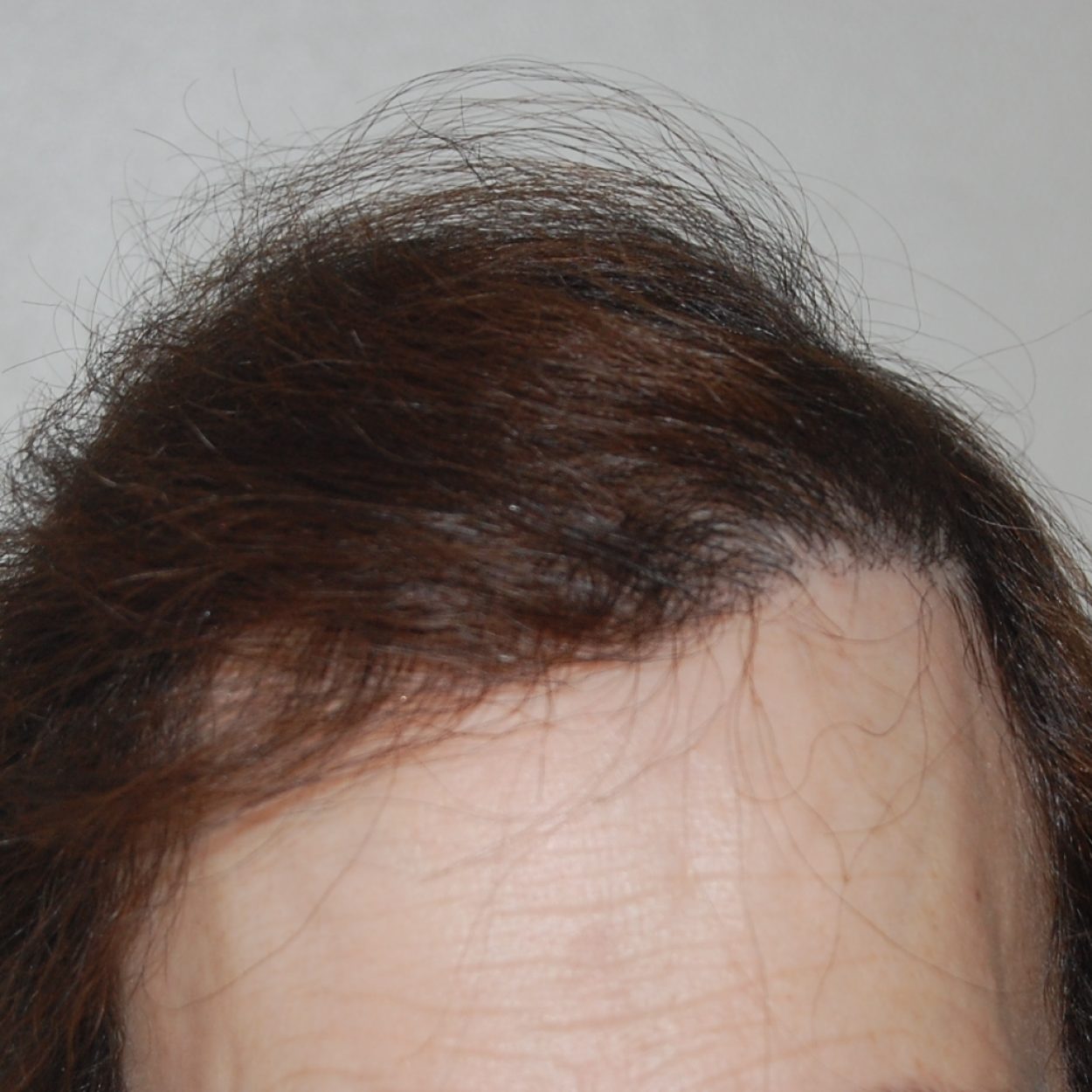 I can only thank god for Wimpole Clinic's help and laying the facts on the table and allowing me to decide my own future – for better or worse. They really were a god send. James, Dr. May, Carley, Billie, everybody at the clinic – they will always be in my heart. If you are worried about anything, just know you are working with some real angels x
Jessica's Hair Transplant Testimonial
"I had given up. For many years I tried to resolve my hair loss with alternative hair treatments, plasma therapy, minoxidil, dietary supplements, medications, the list just goes on. Nothing worked. When I tried to have surgery I was rejected several times and told I wasn't a suitable candidate. I literally gave up. I guess God just wanted me to wear a wig. While it had its perks I was never free of worry – is it sitting on my head correctly? Will if it fall off? What if it rains? You can't imagine how many situations make wig wearer nervous and how this impacted my quality of life.
One day I came across Wimpole Clinic on the internet and noticed they had been around for a very long time – and thought what do I have to lose?
I spoke to James Walton and Dr. May and they were both very understanding of my situation. They did some analysis of my hair and donor area and said it was possible for me to restore my hair. Dr. May was very honest – he said that I may not see all of my hair restored, but given my age, sufficient restoration would be possible to make me look and hopefully feel normal again. No more wigs. Imagine! He said I would also need to take it step by and step and require multiple hair transplants spanning 2-3 years before I could even begin to see some decent results.
Dr. May emphasised that I take some time to think about things, and we joked about the cost effectiveness of my wig – that was the first time I was able to joke about wearing a wig. I knew immediately that Wimpole Clinic were genuine and I felt really safe and decided to go for it.
And what a great choice! Even though initial growth was painstakingly slow – I really bought into the process and trusted Dr. May and his team 200%.
James was a real gentleman – he was always available to answer my questions and give me the reassurance that I needed to keep believing – even when I wobbled a couple of times. Looking back I understand why other clinics were reluctant to help me. It had nothing to do with my suitability for a hair transplant, but everything to do my risk and being 'too much work'.
I can only thank god for Wimpole Clinic's help and laying the facts on the table and allowing me to decide my own future – for better or worse. They really were a god send. James, Dr. May, Carley, Billie, everybody at the clinic – they will always be in my heart. If you are worried about anything, just know you are working with some real angels x
Hair Transplant Clinic of the Year
Corporate Live Wire LONDON & SOUTH EAST PRESTIGE AWARDS
General female hair transplant FAQs
How much does a female hair transplant cost?
Our female hair transplant prices start at £3,499. FUT procedures are often slightly more expensive than FUE.
Hair transplant prices vary between clinics, often depending on the skill and experience of their surgical team. Choosing a cheap hair transplant clinic may save money — but it can also mean you're not getting the best care or results. Find out how much you should be paying in our analysis of the cost of a hair transplant in the UK.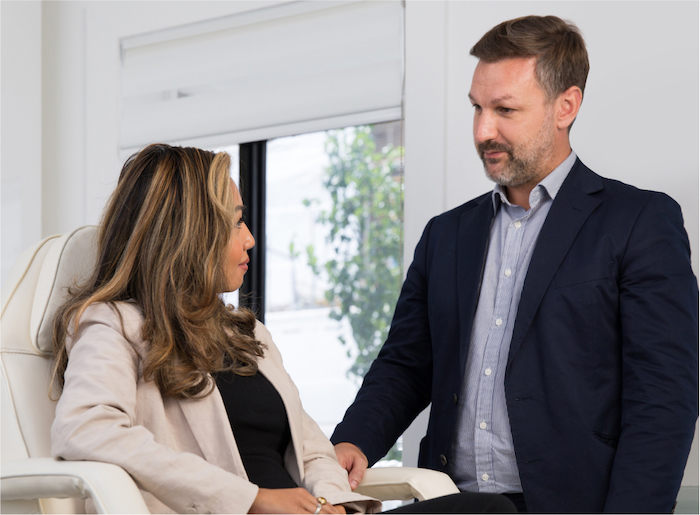 Destiny's Female Afro Hair Transplant Experience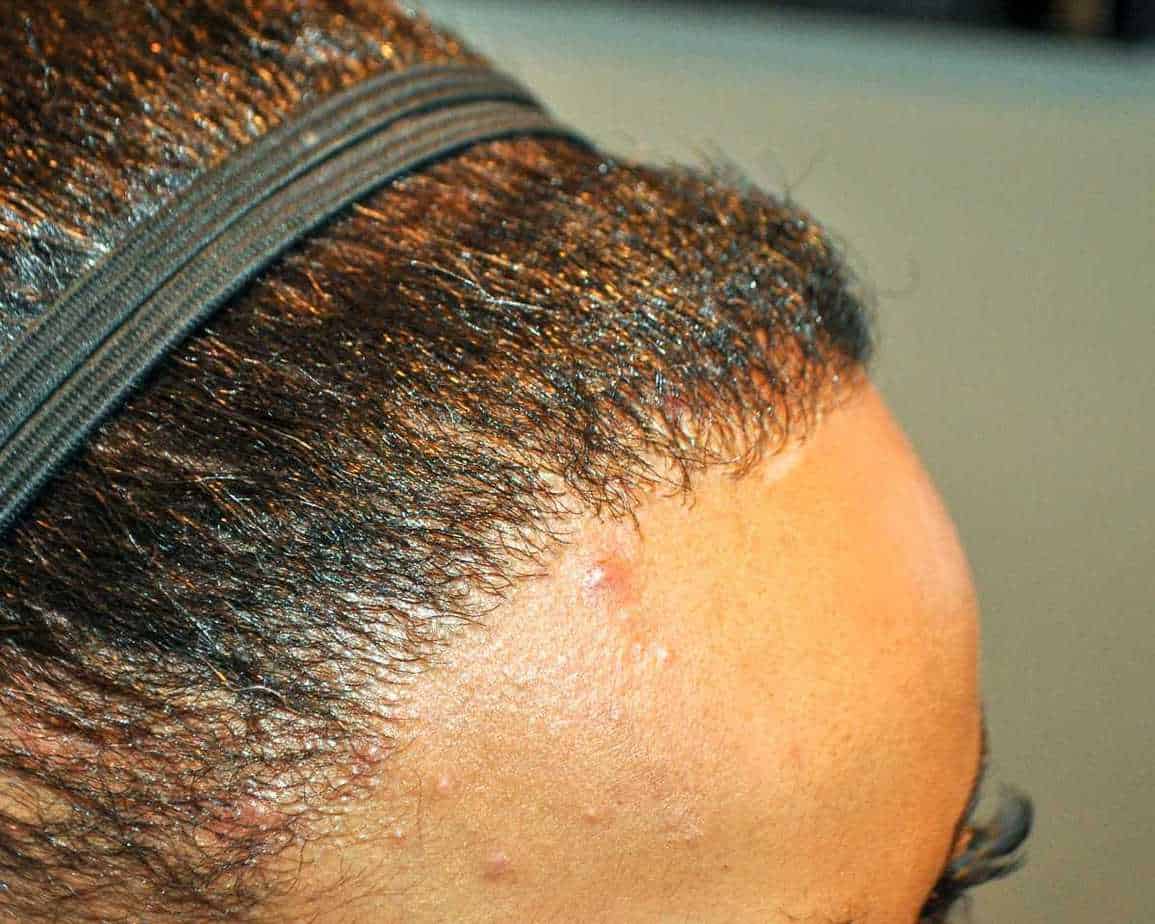 I left the clinic very satisfied with the whole experience, and now 8 months on I just can't thank the team enough! I highly recommend Wimpole Clinic, they walk the walk and they demonstrated class from start to finish
"It has been 8 months since my surgery, and while I was extremely happy with the service and treatment from the Wimpole Clinic I am over the moon now with the results too! Marie has been excellent throughout the entire process, even long after my surgery making herself available any time I wanted to speak to her or have any questions. I have never seen a company walk the walk like Wimpole Clinic thank you so much."
Destiny's Experience On The Day
"I couldn't help but notice how friendly everybody was, not just to me, but too each other – you can really feel the bond between all the staff – they were like a family. I felt at ease throughout the experience. On the day of the surgery I met Dr. Ismail who did an excellent job with my hairline and ensuring a natural appearance.
I left the clinic very satisfied with the whole experience, and now 8 months on I just cant thank the team enough! I highly recommend Wimpole Clinic, they walk the walk and they demonstrated class from start to finish!

A special thanks to Dr. Ismail and Marie who is always there for me, even now with any questions I have!"
Hair Restoration Procedure
Women can expect fantastic results from their Wimpole Clinic hair transplant. Our surgeons have the technical skill and experience to ensure your new hair looks fabulous and completely natural. Find out more about FUE and FUT below.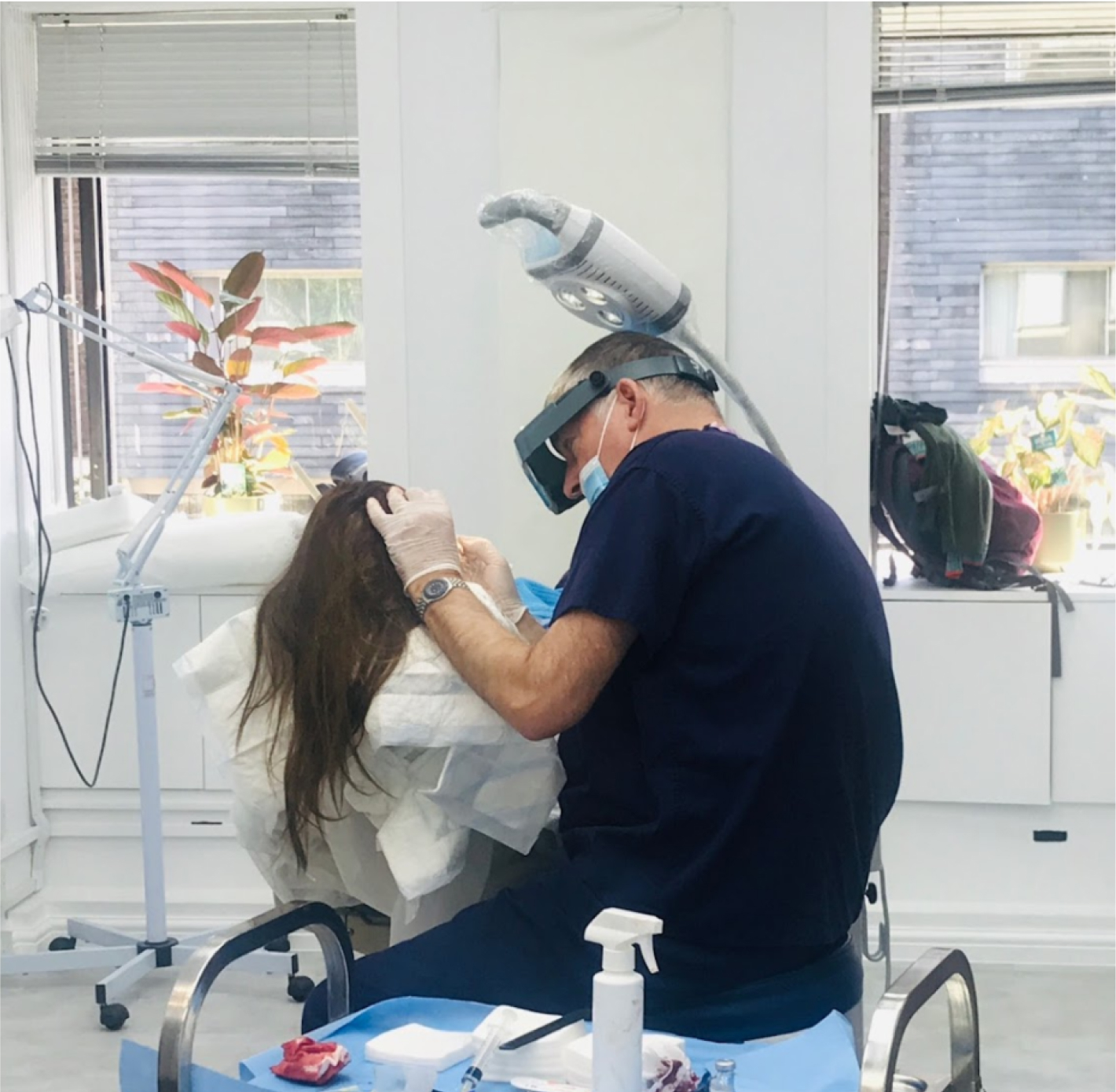 Female hair transplant procedure FAQs

Sherrie Bates' Hair Transplant Review
I have been considering having a hair transplant for the last 10 years but was always worried it would look unnatural. After visiting other clinics in Manchester I heard about the Wimpole Clinic in London. I travelled down for a consultation with James Walton who was really friendly and had also had a recent hair transplant, he showed me photos of what he looked like before and it was very similar to myself. His looked very natural which is what I wanted. He introduced me to the surgeon Ahmad Moussa who used to be a brain surgeon which confirmed to me this was the right decision. On the day Doctor Ahmad gave me 2400 grafts I didn't feel much pain at all and was fit and well enough to travel back to Manchester the same evening. I'm just over 2 weeks in and my hair is already starting to come through. James has been fantastic at keeping in regular contact with me to make sure everything is as it should be. I'm very pleased with the results so far and can't wait to see how it will look in a few months.
What Results Can I Expect From A Hair Transplant?

Amy Monk's FUT Transplant Review
I chose to have an FUT transplant to lower my fivehead down to a forehead. I chose FUT as I felt it more appropriate having longer hair so as not to have too much shaved, and the slight scar will be easily covered. I was nervous on the day but James the consultant made me feel entirely at ease and talked me through everything thoroughly. The surgeons then took the time to design my hairline exactly how I wanted it and made sure I was happy before continuing. The incision of the donor area was virtually pain free thanks to the anaesthetic, as was the rest of the procedure. I wish I could fast forward a few months to see the result, and can't wait to feel confident in myself with my new hairline. I'd like to especially thanks James, Dr Ahmed, Billi, Claire and Carolina for making me feel so welcome, comfortable and looked after. I cannot recommend this clinic enough.
Female Hair Transplant Aftercare
We know that hair transplant surgery can be daunting. That's why we put patient care above all else. Our unrivalled aftercare service includes regular check-ups, impartial guidance, and an aftercare pack, so you'll have all you need for speedy recovery and amazing results.

Your aftercare package includes:

24 hour aftercare hotline

Medicated shampoo

Paracetamol, antibiotics, and anti-swelling tablets
Baseball cap

Post-operative care notes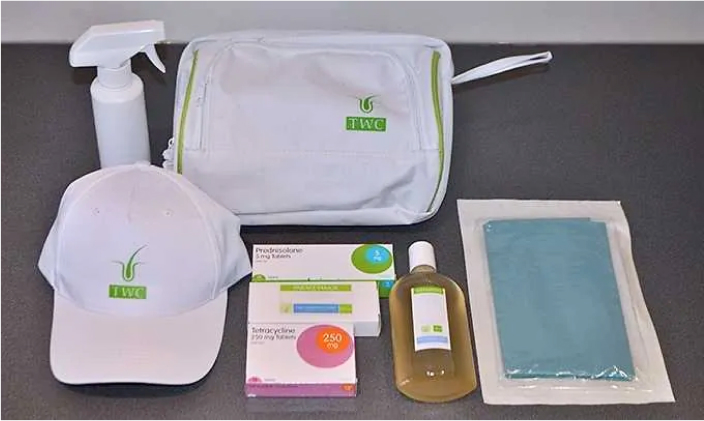 Why Choose The Wimpole Clinic?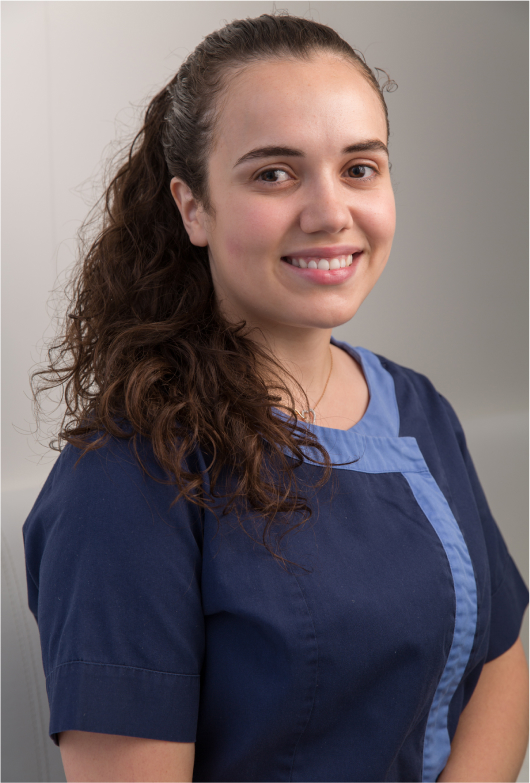 A woman's hair can make or break her confidence. We know how important it is for you to feel happy with your hairline — which is why we offer a suite of treatments to get your hair looking thick, glossy, and natural again. We'll always offer honest, impartial advice so you can make the best treatment choice for your hair.
FUE and FUT are both highly effective for female hair transplant patients. And with our patient-first approach to surgery, you'll see fantastic results if you choose to go down the hair transplant route. But non-surgical options like low laser light therapy and Minoxidil are also popular with women. Whether you're looking for a hair transplant or non-surgical alternatives, you'll find the right treatment path at the Wimpole Clinic.
Tailored hair loss treatments for every woman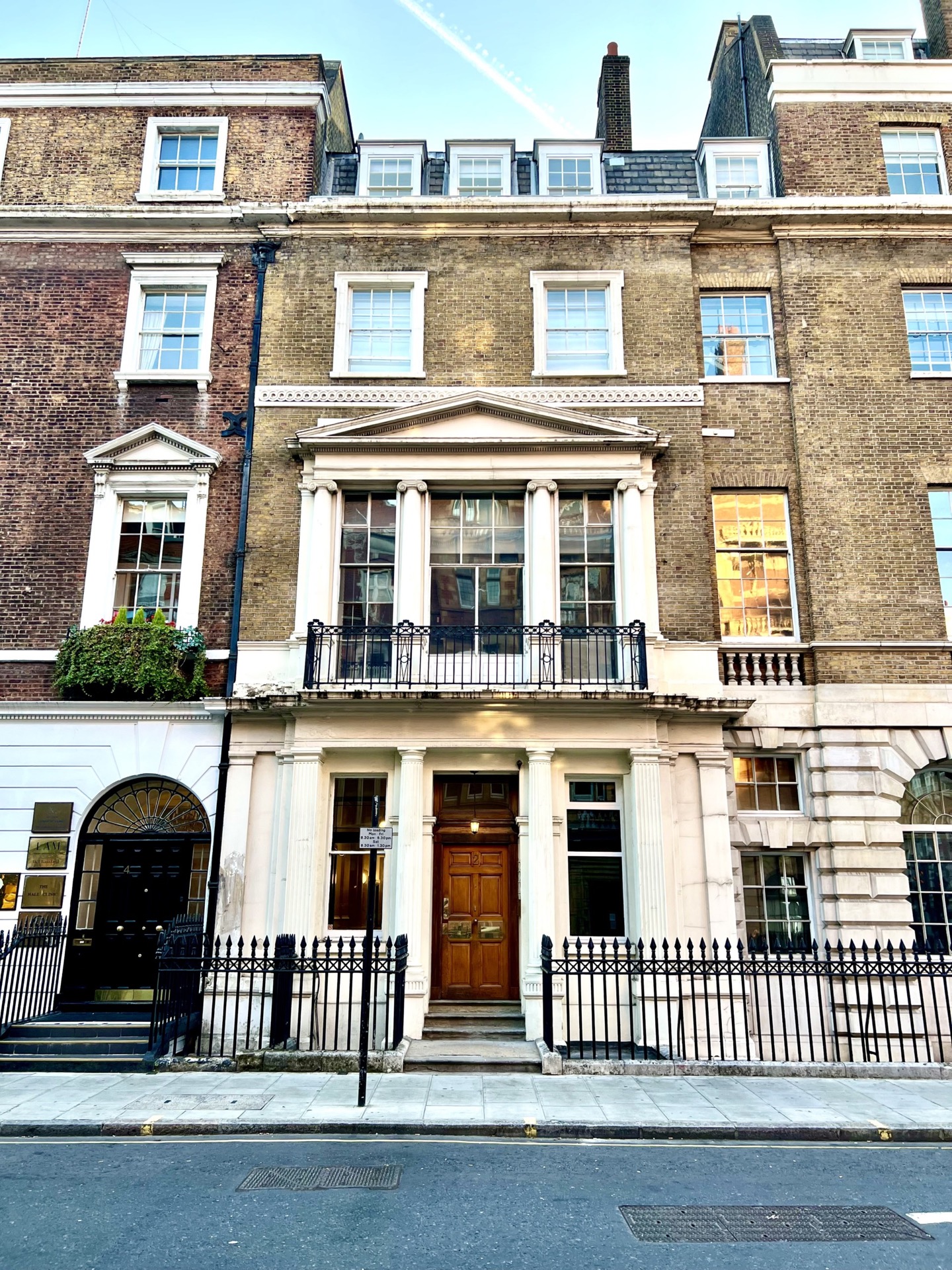 No. 2 Harley Street, London (Head Quarters & surgery)
2 Harley Street
London WIG 9PA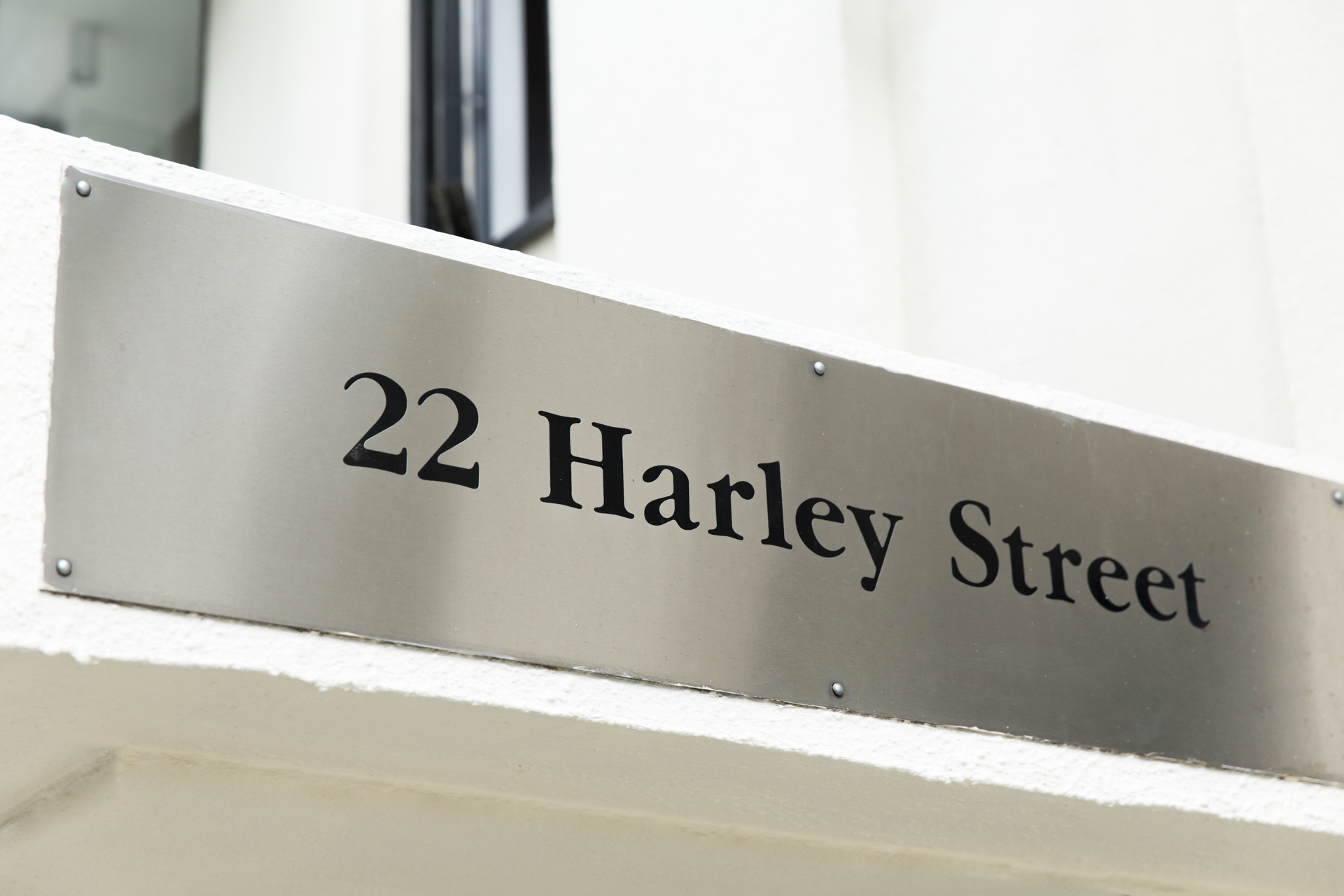 No. 22 Harley Street, London
(Surgery)
22 Harley Street
First Floor, London, WIG 9PL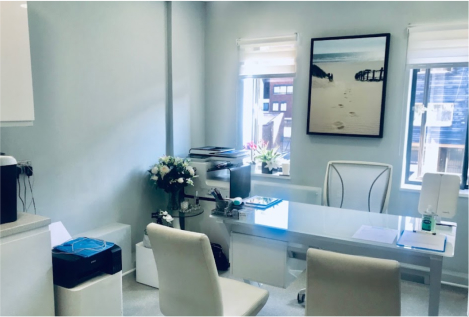 21 St George's Rd
Bristol, BSI 5UU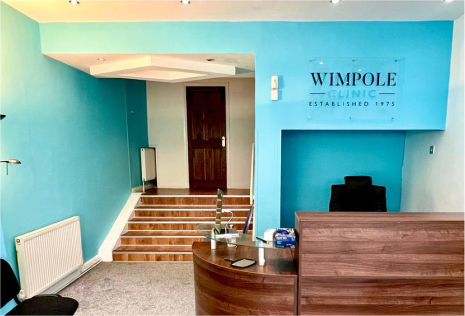 Leicester
(Pre & Post Op)
17-19 Rutland Street
Leicester, LE1 1RB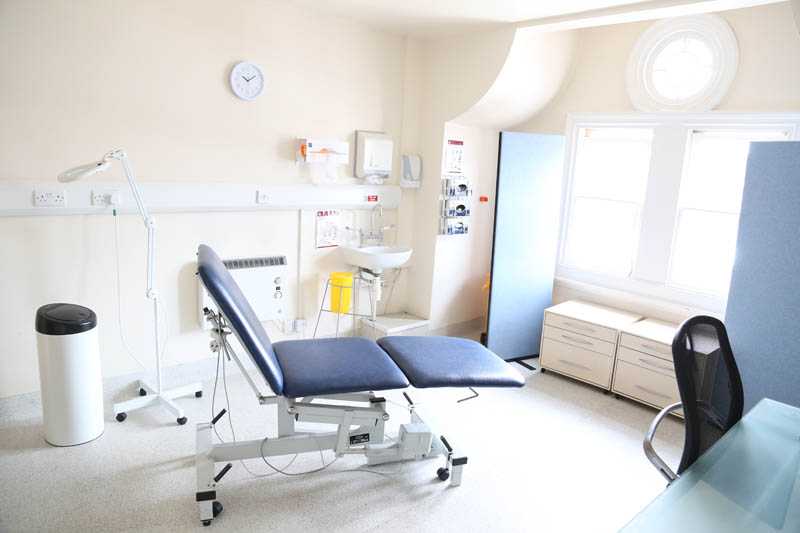 214D Hagley Rd
Birmingham, BI6 9PH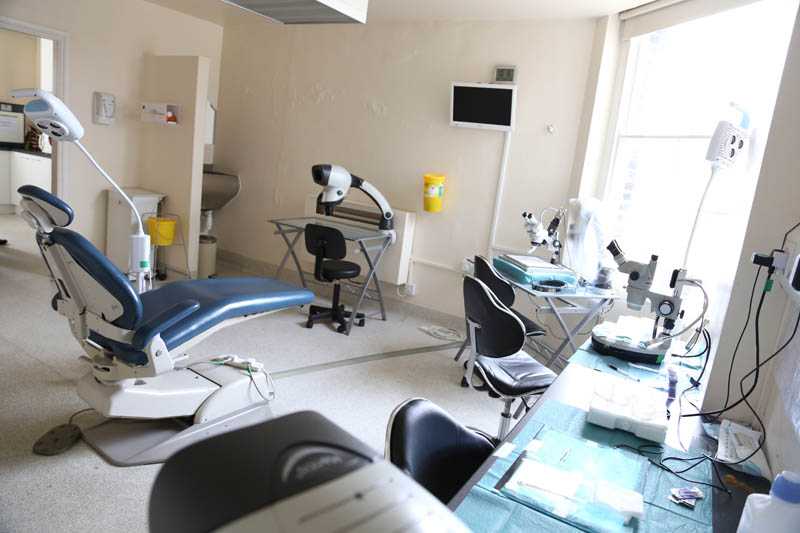 27 Middle St
Brighton, BN1 1AL