Dutasteride Guide: Uses, Results & Side Effects
Dutasteride is a DHT hormone-blocking drug used to treat male pattern baldness. It's often prescribed if you haven't seen success with other male hair loss treatments, such as Finasteride.
Male pattern baldness affects up to 80% of men by the age of 70 [1]. Men with progressive or advanced hair loss are more likely to see results from a powerful DHT blocker like Dutasteride.
In this article, you'll find out everything you need to know about Dutasteride for hair loss, including how it works, the risks and side effects, and the results you can expect.
What is Dutasteride and how does it work?
Dihydrotestosterone, or DHT, is a male sex hormone, and it's one of the major contributors to male pattern baldness [2]. DHT binds to androgen receptors in your hair follicles, causing follicle miniaturisation. When your follicles shrink, they stop producing hair.
Dutasteride can slow, stop, and even reverse this process. Like Finasteride, Dutasteride belongs to a group of drugs that are known as 5-alpha reductase inhibitors, or 5-ARIs.
The 5-AR enzyme facilitates the conversion of testosterone to DHT. As a 5-AR inhibitor, Dutasteride stops this enzyme from converting as much testosterone. This leads to lower levels of DHT throughout the body, and ultimately reduced hair loss.
Dutasteride is an oral tablet that can also be used to treat benign prostatic hyperplasia (BPH), also known as benign prostate enlargement, in men who have an enlarged prostate gland. It's only available on prescription and is commonly available under the brand name Avodart. You can also buy it as a generic drug.
Does Dutasteride work for hair loss?
Yes, Dutasteride is one of the most effective non-surgical male hair loss treatments.
There have been many studies into the efficacy of Dutasteride, mainly in comparison to one of the most popular hair loss medications, Finasteride.
In one research review, experts analysed data from three studies that compared the efficacy of Finasteride vs Dutasteride [3]. The findings concluded that although both medications could successfully be used for treating male pattern baldness, Dutasteride was the most effective hair loss treatment.
Another study found that Dutasteride was able to increase hair count, hair width, and hair growth more effectively than Finasteride [4]. Side effects were similar for both drugs.
Dutasteride can also give you good results in the long term, especially among older patients with more advanced hair loss. One South Korean study found that Dutasteride was more effective than Finasteride over three years of use [5]. This study also found patients experienced fewer side effects with Dutasteride.
One of the reasons Dutasteride is thought to be so effective is that it has a long half-life of five weeks [6]. That means it takes up to five weeks for the amount of Dutasteride in your body to reduce by half. In fact, Dutasteride can be detected in your body up to six months after your last dose.
Dutasteride has also shown positive results as a treatment for frontal fibrosing alopecia [7]. But as FFA mainly affects women, there are limitations on when Dutasteride should be used, as it's not usually recommended for women.
One research paper reviewed three studies, which contained a total of 576 male participants aged 18 to 50 [3]. All participants had a minimum of Norwood stage 3 male pattern hair loss. The review found that the mean change from baseline in both the subjects' and investigators' hair loss assessment scores was significantly higher in test groups that took Dutasteride.
A study from the American Academy of Dermatology analysed the differences between Dutasteride and Finasteride in a sample of 917 men aged between 20–50 who were all suffering from hair loss of varying degrees [4]. Dutasteride 0.5 mg significantly increased hair count and width in a 2.54cm diameter after 24 weeks.
A South Korean study examining the effectiveness of Dutasteride included 600 adult male patients [5]. Among patients treated with on-label dosing, 86% of Dutasteride patients with a basic M-shaped hairline saw improvements after 36 months of treatment, compared with 45.5% of Finasteride patients.
A study into Dutasteride for frontal fibrosing alopecia included 224 participants, 222 of which were women [7]. After one year of use, hair loss was stabilised by up to 91%, compared with ~64% using other systemic therapies and ~41% without systemic treatment.
Does Dutasteride work for facial hair?
Dutasteride is only proven to be effective at preventing hair loss on your head, not your beard.
The hair on your scalp is very sensitive to the levels of DHT in your body. So when you're taking Dutasteride it will impact the hair follicles on your head and encourage new hair growth.
Beard hair follicles aren't as sensitive to DHT levels. So the amount of DHT in your body won't have much of an impact on your beard hair growth.
There are other treatments you can take to improve your facial hair, including Minoxidil for beard growth and beard transplants.
Who can take Dutasteride for hair loss?
For treating hair loss, Dutasteride is usually prescribed to adult men who have already tried other milder hair loss treatments. It's a prescription drug, so it's only available from a doctor or licensed hair loss clinic.
Dutasteride isn't usually recommended for women or children because it can interfere with fetal and child development. Postmenopausal women may be able to take it in limited circumstances, but only under medical supervision.
How do I use Dutasteride?
Dutasteride is an oral tablet that comes in an 0.5mg (500 micrograms) dosage. Most patients should take one tablet once a day unless otherwise prescribed. Taking less than the recommended dosage of Dutasteride may limit the effects.
It doesn't matter what time of the day you take Dutasteride. You can take it in the morning, afternoon, or evening, and it won't impact the efficacy of the drug. However, you should aim to take Dutasteride consistently at the same time each day to get the most benefit.
If you miss a dose, don't double up. Just wait and take your next dose as normal after a missed dose.
Before you start taking the medication, read the patient information leaflet that comes with your Dutasteride prescription. Ask your consultant, GP, or pharmacist if you have any questions.
How long does it take Dutasteride to work?
Your first dose of Dutasteride will lower your DHT levels. But it takes a little longer for this to translate into reduced hair loss and visible regrowth.
Here's what you can expect to see at each stage of the Dutasteride timeline:
Dutasteride at 1-3 months
Immediate reduction in DHT production
Hair growth cycle catches up with DHT changes
No visible hair regrowth or hair loss cessation
Some continued hair shedding
Dutasteride at 3-6 months
Early results start to become visible
Hair loss slows
Early signs of regrowth, especially on the crown
More substantial hair growth than Finasteride by month 6
Dutasteride at 6-9 months
Hair loss stops
Noticeable signs of hair regrowth
Fuller, denser hair across the crown
Dutasteride at 9-12 months
Final results start to emerge
Significant improvement in hair density
Fuller, denser hair across the crown
Straighter, lower hairline
The results you get from taking Dutasteride will only last as long as you're taking the medication. When you stop taking the drug, hair loss will eventually resume.
What results can I expect from taking Dutasteride for hair loss?
Dutasteride is usually recommended for men who haven't seen results from Finasteride and other non-surgical hair loss treatments. But its effectiveness depends on how much hair you've already lost.
Men at earlier stages on the Norwood Scale tend to see better results than those with advanced hair loss. These real Dutasteride results show what you might expect: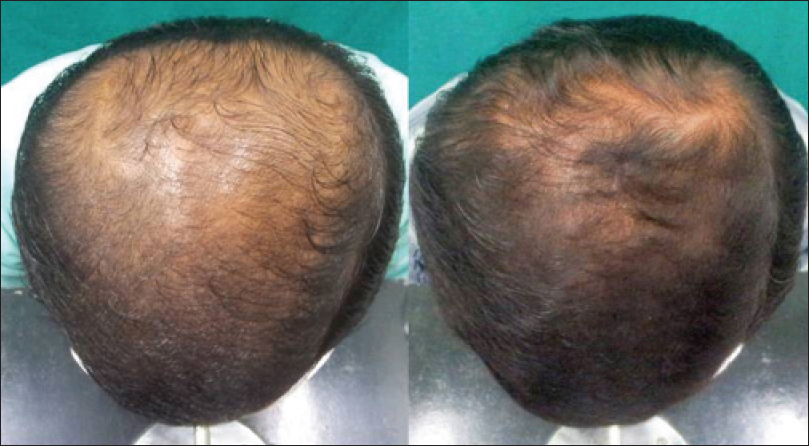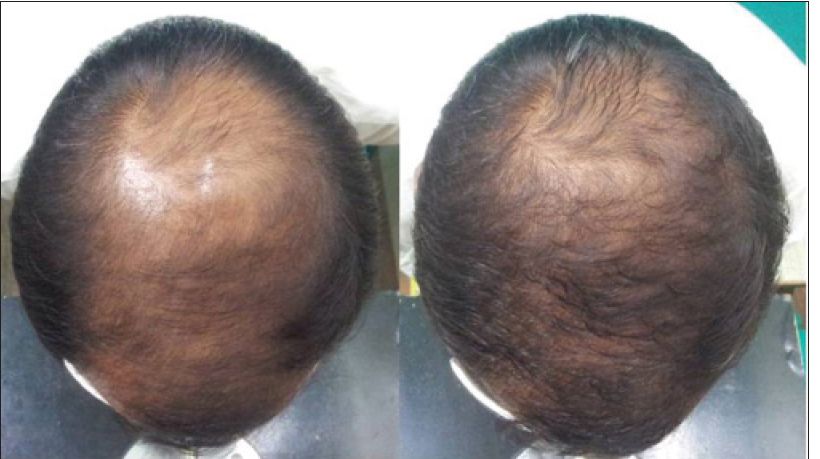 Are there any Dutasteride side effects?
The side effects of Dutasteride are similar to those that have been observed in patients taking Finasteride, with no greater frequency.
Reported Dutasteride side effects include [8]:
Lower sex drive
Problems with ejaculation
Erectile and sexual dysfunction
Skin disorders, including acne, eczema, and skin folliculitis
Other less common side effects include a low sperm count, breast tenderness, and testicular pain.
Most studies confirm that Dutasteride is a safe and well-tolerated drug, though it does carry risks patients should consider [8]. One study found 4.7% of male Avodart users experienced erectile dysfunction, 3% suffered from decreased libido, and 1.4% experienced problems ejaculating [9].
Some researchers have suggested there is a link between 5-ARIs like Dutasteride have also been linked with and high-grade prostate cancer [108]. However, more recent research suggests there's no increase in the incidence of prostate cancer when using these hair loss medications [8]. There's a higher chance that prostate cancer may be high-grade (fast-spreading) if cancerous cells are detected.
It's important to note that many of the more common adverse effects are only experienced for as long as you take Dutasteride. Side effects are usually reversible and will stop when you discontinue the medication.
Does Dutasteride interact with other medications?
Dutasteride can interact with other medications. So it's important to be aware of any possible interactions before you start taking it, as this may result in negative side effects, or reduce the efficacy of one or both drugs.
Known drug interactions with Dutasteride include:
HIV drugs (like atazanavir, darunavir, fosamprenavir, and indinavir)
Fungal infection drugs (like itraconazole, ketoconazole, and posaconazole)
Blood pressure drugs (like verapamil and diltiazem)
Cimetidine, an acid reflux medication
Ciprofloxacin, an antibiotic
How much does Dutasteride cost?
Branded Dutasteride (Avodart) tends to be more expensive than generic Dutasteride. Prices start at around £22.00 for one month of generic Dutasteride tablets.
Prices vary depending on:
Where you get Dutasteride from
Dosage
Pack size/prescription length
Are there any alternatives to Dutasteride?
Yes, there are several alternatives to Dutasteride for tackling hair loss. Many of these are recommended before you try Dutasteride, as this is a relatively strong drug with substantial systemic effects.
The most popular alternatives to Dutasteride are:
Finasteride — another 5-ARI that inhibits DHT production
Minoxidil — a topical treatment that works for several types of hair loss
Ketoconazole shampoo — an antifungal treatment that's been shown to reduce hair loss in pattern baldness patients
Platelet-rich plasma (PRP) therapy — treatment in which platelet-rich plasma is extracted from your blood and injected into thinning areas
Hair transplants — FUT and FUE surgical hair restoration techniques are among the most successful and popular ways to tackle male pattern baldness.
What can I do if Dutasteride doesn't work?
Dutasteride is a proven, popular alternative to hair transplants. It's also generally used as a more advanced non-surgical treatment if other options like Finasteride and Minoxidil haven't given you the results you want.
But although Dutasteride is proven to reduce hair loss and promote regrowth in many cases, it's not certain to work for everyone.
If you're not satisfied with your regrowth results after taking Dutasteride, you may have exhausted your non-surgical treatment options (although these are still important for stopping hair loss). So you may want to think about surgical hair restoration at this stage.
Hair transplants are one of the most popular and effective ways to treat hair loss and balding. Whether you choose FUE or FUT, a hair transplant procedure can result in long-lasting, natural hair growth.
Book a hair transplant consultation with the Wimpole Clinic
The Wimpole Clinic is one of the most trusted and longest-running hair transplant providers in the UK. We've been helping people tackle hair loss using cutting-edge techniques for more than 45 years.
No matter what the next stage is in your hair restoration process, we're here to discuss your options with you. Whether you're considering a course on Dutasteride, or looking for information about hair transplant surgery, we can help.
Our professional team has carried out thousands of hair transplants, as shown in our extensive before and after hair transplant gallery and hair transplant reviews.
Book a free consultation for a no-obligation meeting, either in person or by video chat. We'll discuss all your treatment options with you and help you create a personalised treatment plan to tackle your hair loss.
Book a free consultation at the Wimpole Clinic to find out more.

The Wimpole Clinic offers FUE Hair, Beard & Eyebrow Transplants & Trichology.
Talk to a specialist ☎
020 7935 1861
.
Blog search
Book a consultation
Simply fill in your details in the form below and we'll get in touch with you shortly.