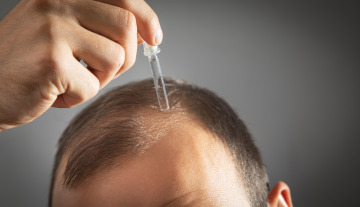 Topical Dutasteride Guide: Uses, Results & Side Effects
Dutasteride is one of the most effective non-surgical hair loss treatments for male pattern baldness [1]. As a 5-alpha reductase inhibitor, it blocks production of the hormone responsible for male pattern hair loss, dihydrotestosterone, or DHT.
Topical Dutasteride is currently undergoing clinical trials as an alternative to the traditional oral drug for treating androgenetic alopecia in men [1]. So what do we know about topical Dutasteride as a hair loss treatment so far?
Here, we'll explore:
If and how topical Dutasteride works

Before and after photos of topical Dutasteride users

The potential side effects of topical Dutasteride.
What is Dutasteride and how does it work?
Oral Dutasteride prevents the 5-alpha reductase enzyme in your body from converting testosterone to DHT. This leads to lower levels of DHT throughout the body, so the hormone is less likely to bind to androgen receptors in your hair follicles and cause them to shrink.
This is the same process behind oral Finasteride, though Dutasteride is generally said to be more effective [1]. Multiple studies have shown that topical Finasteride also works, by reducing DHT levels in the area it's applied (namely, the scalp) while also creating fewer systemic side effects [2-3]. So can topical Dutasteride have a similar effect?
Does topical Dutasteride work?
Early research on the effectiveness of topical Dutasteride is limited but promising. Topical Dutasteride is currently undergoing phase 2 clinical trials in the US to establish its safety and effectiveness for men with male pattern baldness [4]. The study is planned for completion in April 2024.
In the meantime, a handful of smaller studies have found some encouraging data to suggest that topical Dutasteride does work for pattern hair loss.
One study explored the effectiveness of using topical Dutasteride alongside microneedling to stimulate hair growth [5]. 53% of participants using topical Dutasteride had a marked improvement in hair growth after 4-5 months, compared with just 18% of those using a saline solution (both groups also used microneedling). Marked improvement was defined as improving by one full level on the Norwood Scale.
In addition, patients using topical Dutasteride had slight improvements in hair thickness and density. This suggests that topical Dutasteride is more effective for hair loss than microneedling alone.
Another study found that combining topical Dutasteride with topical Finasteride and Minoxidil significantly improved hair growth in 90 days [6]. This could be reduced more quickly by supplementing treatment with Propecia and ketoconazole shampoo.
Due to the combination of active ingredients, it's difficult to establish the exact contribution of topical Dutasteride for these patients. But it suggests it can at least play a supplementary role in hair regrowth.
Phase 2 clinical trials are testing the effectiveness of 0.15% w/w topical Dutasteride over 7 months [4]. The study includes 45 men aged 18 or over ​​who are not currently undergoing hair treatments, and have not undergone any in the last three months.
The microneedling study involved using a 2.5mm penetration depth microneedle across the affected areas before applying a 0.01% topical Dutasteride solution [5]. Patients were advised not to shampoo their hair for 12 hours after treatment. This study included 37 men aged 18-65 who were randomised to receive the topical Dutasteride or saline solution alongside microneedling.
The final study tests a novel topical combination of Finasteride, Dutasteride, and Minoxidil, which is blended in a hypoallergenic lotion [6]. It also compared the effectiveness of this lotion with other treatments, including ketoconazole shampoo, oral Finasteride, and Rogaine foam. The study included 15 male participants, all of whom saw significant hair regrowth within 90 days of treatment.
Topical Dutasteride before and after
These patients show the impact of using topical Dutasteride for hair loss: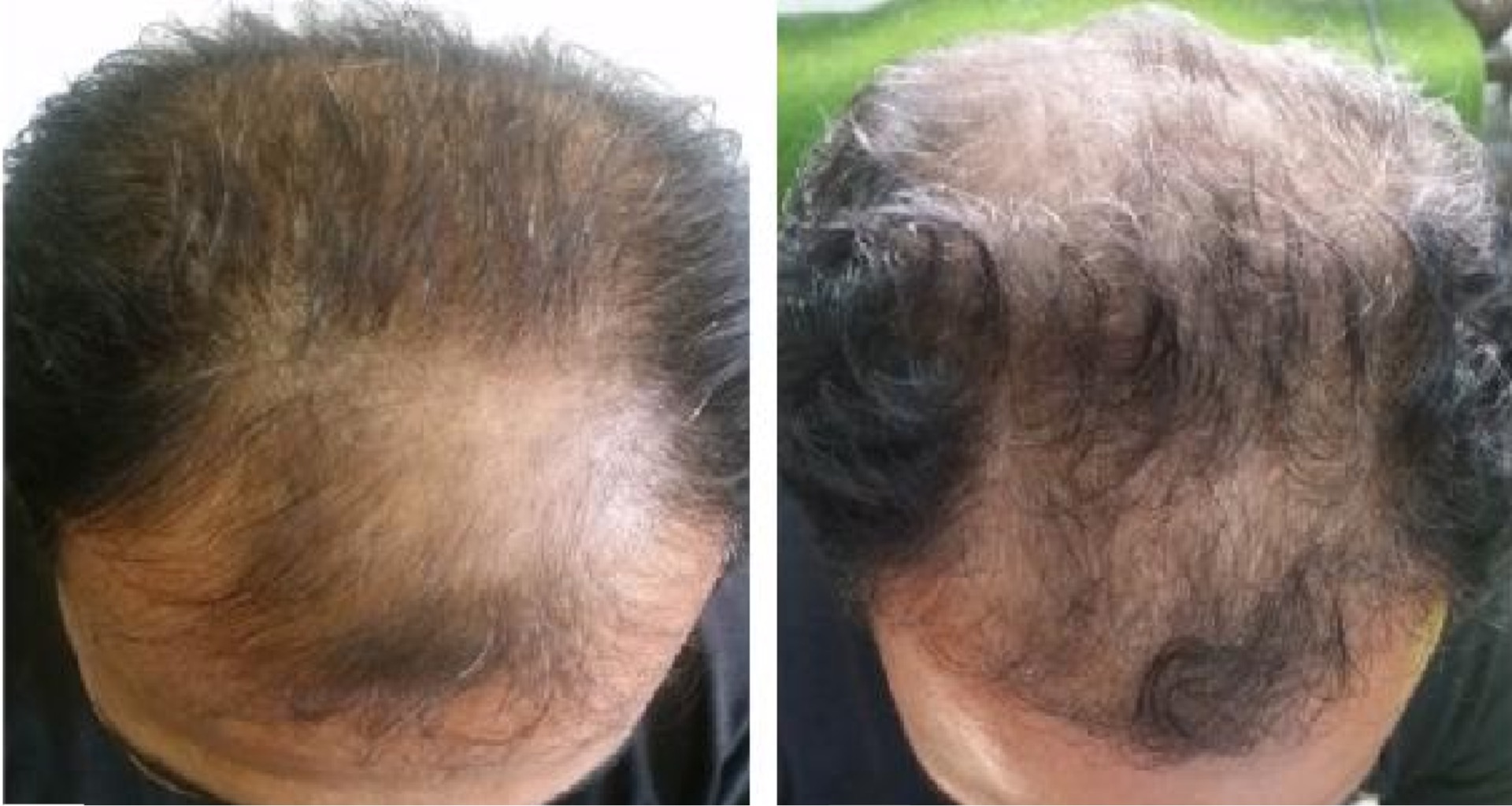 Topical Dutasteride side effects
The side effects noted from the limited studies into topical Dutasteride include:
These side effects were reported in a study that also used microneedling [7]. So it's unclear which aspect of treatment has caused these side effects.
Other side effects you may experience include:
Flakiness and dryness

Scaling

Hair colour or texture changes

Skin irritation

Increased sun sensitivity
Does topical Dutasteride go systemic?
One of the main arguments for using topical Dutasteride is to avoid the systemic side effects of 5-alpha reductase inhibitors, such as erectile dysfunction and low libido.
However, some people worry that topical application can eventually lead to systemic side effects. There's no research yet to establish whether this is the case.
We can make a few educated guesses, though, based on the more extensive research for topical Finasteride. This suggests that topical Finasteride is a good way to get the hair regrowth benefits without the systemic side effects [2].
It's also important to note that serious side effects are extremely rare with both Finasteride and Dutasteride [8-9]. So using a topical formulation may help lower the risk even further.
How to apply topical Dutasteride
Topical Dutasteride usually comes in a dropper bottle, so it's easy to apply. Here's what you need to do:
Wash and dry your hair

— application is easiest and most effective if the area is clean and dry.

Apply the prescribed amount using the dropper

— don't exceed the amount recommended by your doctor or trichologist.

Spread solution across the balding areas

— use your fingers to move the solution across the affected area (but don't rub it in).

Repeat as prescribed

— repeat these steps as recommended by your doctor or trichologist.
As current studies show topical Dutasteride to be effective alongside microneedling treatment, this can also form part of your application process. Microneedling can increase the ability of the Dutasteride solution to penetrate the skin [9].
How to get topical Dutasteride
Topical Dutasteride is still in clinical trials, so it's not yet widely available. However, a trichologist may be able to prescribe it to you as an off-label hair loss treatment.
To find out if topical Dutasteride is a suitable hair loss treatment for you, book a free consultation at the Wimpole Clinic. We can find and prescribe the right treatment to help you manage your hair loss.

The Wimpole Clinic offers FUE Hair, Beard & Eyebrow Transplants & Trichology.
Talk to a specialist ☎
020 7935 1861
.
Blog search
Book a consultation
Simply fill in your details in the form below and we'll get in touch with you shortly.