Hair Transplant Costs In Turkey & Is It Worth The Risk?
The global hair transplant industry is worth more than $6 billion — and a sixth of this value comes from Turkey [1].
Turkey is a popular hair transplant destination, thanks to its cut-rate hair restoration treatments. You only need to spend a couple of days in the centre of Istanbul to see a swarm of bandaged heads buzzing around Taksim.
But Turkey has a notoriously poor safety record when it comes to cosmetic surgery — including hair transplants. A 2021 survey of the British Association of Aesthetic Plastic Surgeons found that 100% of complications following cosmetic surgery occurred in Turkish clinics [2].
While there are some good hair transplant clinics in Turkey, there are also many unlicensed surgeons offering black market hair transplants. These fraudsters prey on people with low confidence and low budgets — but ultimately people who have a hair transplant on the black market can end up paying far more. Globally, a staggering 96.4% of ISHRS members reported that up to a quarter of the hair transplant repairs they performed last year were due to a previous black market hair transplant.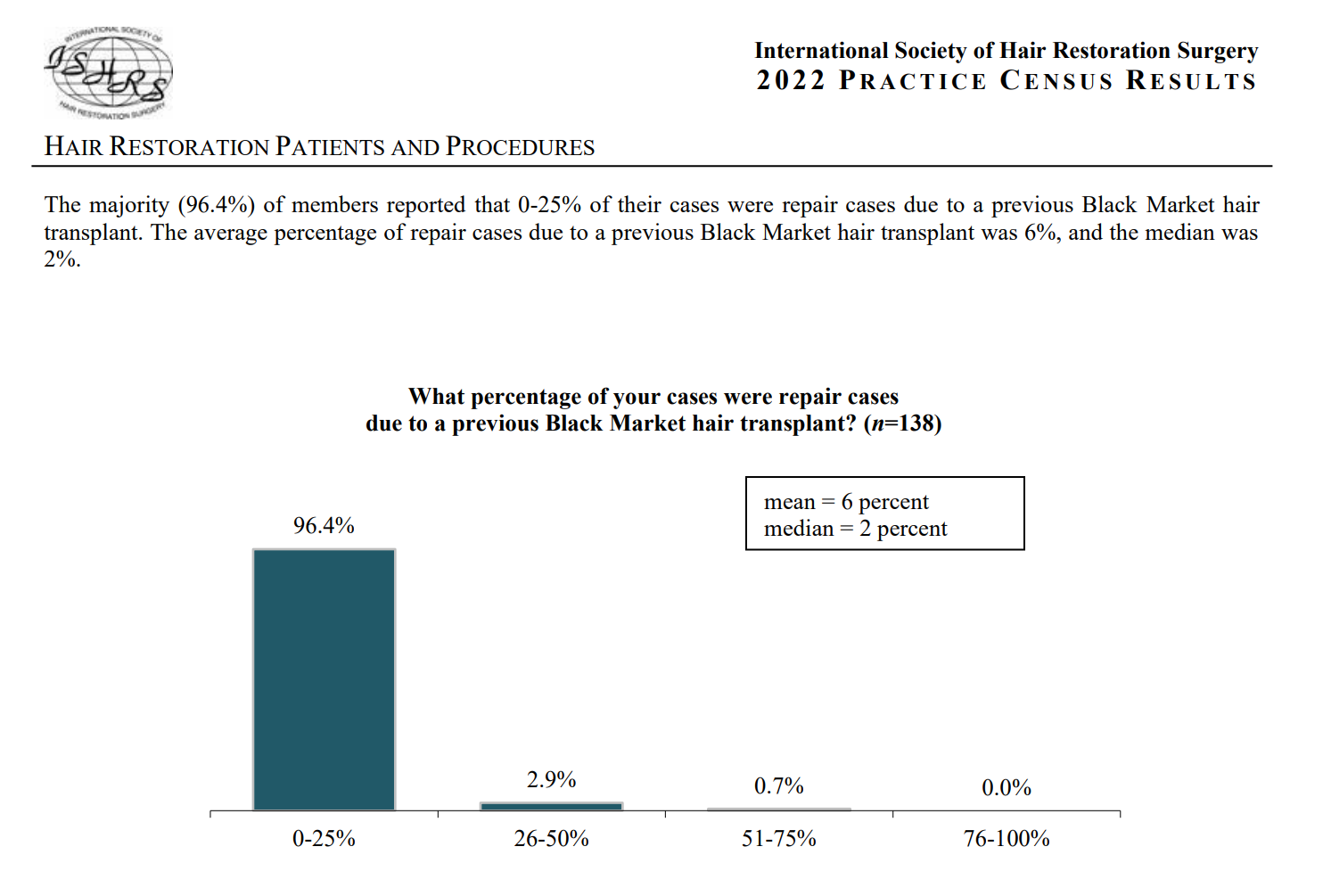 Even the larger, more established hair transplant clinics in Istanbul don't always adhere to the legal requirement to have a doctor carry out the hair transplant procedure. [3] Ricardo Meija, MD, reports that demand for hair transplants is so high that in some cases taxi drivers and refugees are conducting hair transplant surgery [4]. And with some clinics estimated to perform up to 50 surgeries a day [5], this can lead to thousands of unsuccessful transplants — or worse, medical complications.
Is a hair transplant worth it, and is it worth the risk in Turkey? And how can you tell if your hair transplant surgery abroad will be safe and successful?
To find out, we've conducted a survey of 87 hair transplant clinics in Istanbul to find out whether these low-cost hair transplants are truly worth the risk.
How much does a hair transplant cost in Turkey?
We surveyed 87 hair transplant clinics to analyse the true cost and value of the hair transplant industry in Turkey. Our research focused on clinics offering Follicular Unit Extraction (FUE) in Istanbul only, since this is Turkey's central hub for international tourism.
We wanted to compare the results to the findings of our hair transplant costs UK study, so we requested quotes using the same photographs (male patient with Norwood Stage 2-3) for both studies.
Here's what our hair transplant research in Turkey shows:
The average hair transplant in Istanbul costs £1,464 / €1,745 / $1,840
The cheapest price we were quoted was £850 / €1,000/ $1,050, while the highest was £2,490 / €3,000 / $3,150
The average price per graft was £0.55 / €0.46 / $0.69
90% of quotes included a minimum of 2 nights' accommodation
100% of quotes included airport transfers to and from your hotel
On average, surgeons have 12 years' experience in completing hair transplant surgery
19% of the emails we sent bounced without reaching the recipient — suggesting that almost a fifth of the clinics advertising transplants are no longer in operation.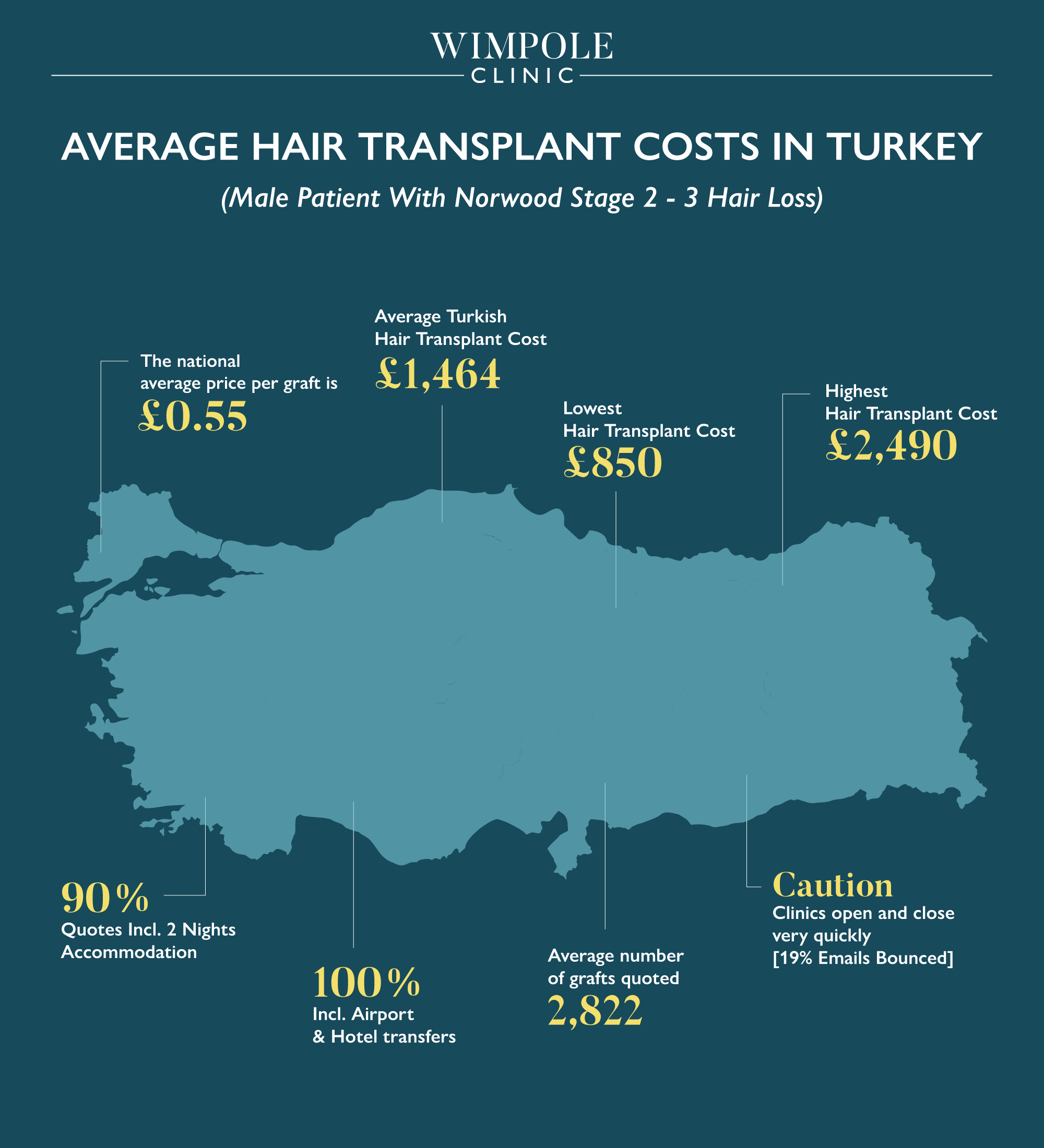 Comparing costs with the United Kingdom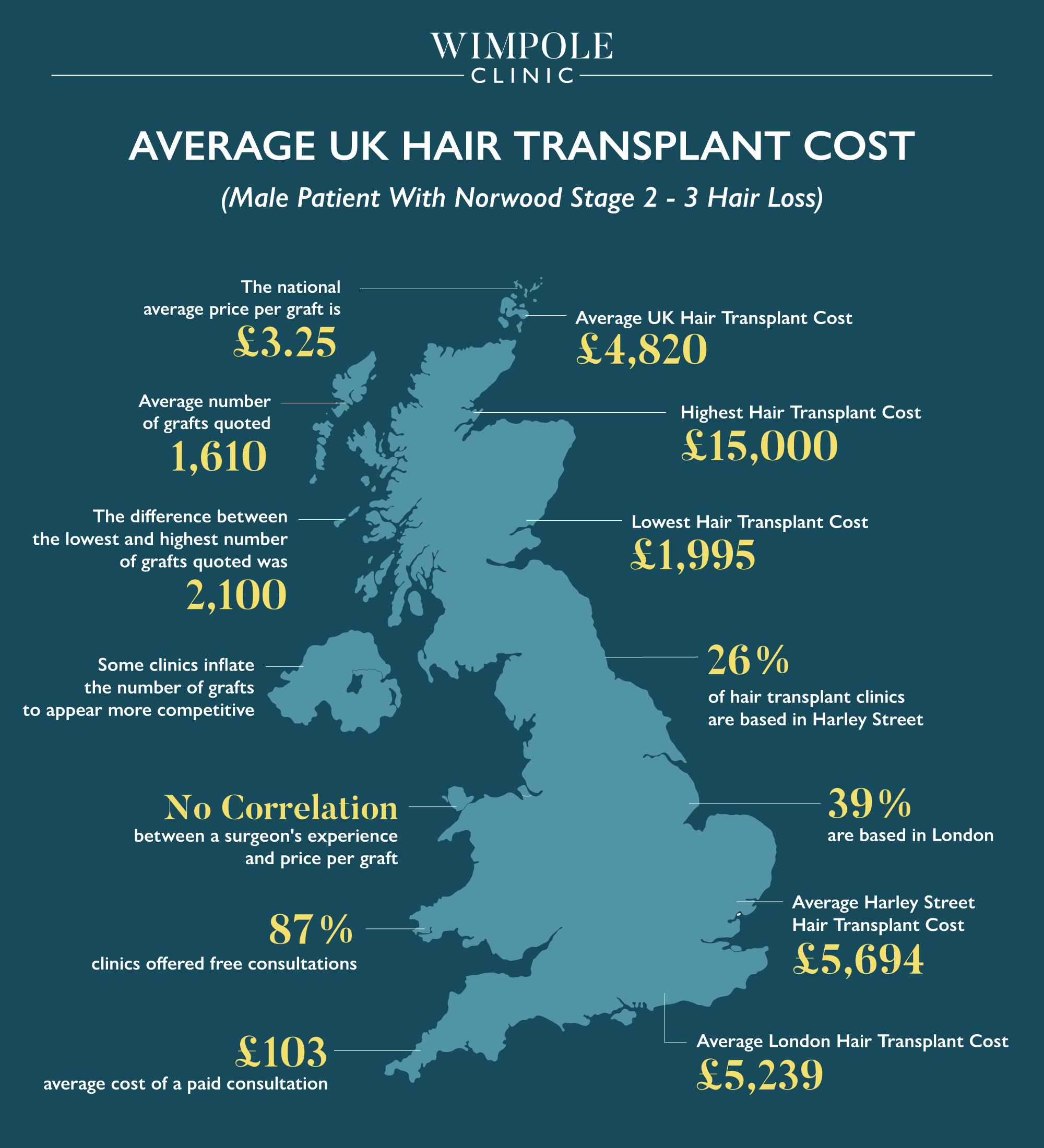 Compare these findings with our UK hair transplant cost analysis at a glance:
| | Turkey | UK |
| --- | --- | --- |
| Average price | £1,464 | £4,820 |
| Lowest quote | £850 | £1,995 |
| Highest quote | £2,490 | £15,000 |
| Average surgeon experience | 12 years* | 13 years* |
| Average cost per graft | £0.55 | £3.25 |
| Average number of grafts recommended | 2,822 | 1,610 |
It's clear why hair transplants in Istanbul are so tempting. The cost per graft is 83% lower in Turkey than in the UK. So if you have advanced hair loss and need a large number of grafts, travelling to Turkey for your surgery may substantially reduce the cost of your transplant.
But the high number of grafts quoted in comparison with UK clinics should ring alarm bells for prospective patients. Turkish clinics quoted 75% more grafts than UK clinics for the same procedure — which puts you at high risk of overharvesting. That means you may not have enough donor hair left if you need future procedures (either to fix a bad transplant or if you have continuing hair loss).
It also raises questions about who's assessing your hair loss, and how accurately they can do so without inspecting your scalp in the flesh. This also means that while the cost per graft is low, you could be quoted a higher number of grafts than you actually need — artificially inflating the price of your transplant.
Matt Devlin advises against cut-price clinics
Matt Devlin advises against cut priced clinics, "You see a lot of adverts for cut priced hair transplant clinics, often located abroad. My advice would be to avoid these deals that offer the world at bargain prices. You need expertise for these procedures to truly look natural."

What to consider if you decide to have a hair transplant in Turkey
For many people, getting a hair transplant in Turkey is the right choice. They find licensed clinics with scrupulous health and safety measures and get a quality, lasting hair transplant. But to ensure this is the best decision for you, there are a few questions to consider:
What are the health and safety standards like? Safety should be the top priority for you and your surgical team. Check patient reviews and conduct thorough research to be certain the clinic follows high health and safety standards.
How keen are they to get you in the chair? In our research, one clinic was so eager for business that they offered to pay for our flights. This is a cause for concern, as clinics must be cutting costs somewhere to pay for these added extras.
Who's assessing your hair loss, and how? It's difficult to properly assess hair loss on a video call or photographs alone. So the number of grafts you're quoted may not be accurate — especially if your consultant is inexperienced or unqualified.
Are the added extras really worth it? All-expenses-paid trips may sound luxurious. But in reality a taxi ride from the airport to the centre of Istanbul will set you back about £15. Accommodation is also reasonably priced, with a 2-night stay at a 4-star hotel costing around £100.
What can they do to fix your transplant if it goes wrong? From infections to grafts that don't take, hair transplants can go wrong. When you have surgery at an overseas clinic, you can't go back for advice or aftercare — so you may end up paying a UK hair transplant clinic to fix it for you at a higher price.
What action can you take against the clinic if your transplant goes wrong? In our research, 19% of emails sent to hair transplant clinics in Turkey bounced — almost a fifth of the total. Clinics open and close very quickly, which leaves you with little to no recourse if they botch your hair transplant.
What kind of aftercare will you receive? Hair transplant recovery is a long process, and many patients have questions and concerns throughout. An overseas surgeon will be unable to examine your transplant if you have concerns about your recovery.
Will there be communication barriers? When it comes to your health, communication is everything. You'll probably have a lot of questions for your hair transplant consultant, so you need to be sure that you're understood, and that you understand how the surgery will work.
What happens if you're unhappy with your long-term results? The data suggests Turkish clinics tend to harvest more grafts than they need. This may compromise the hair in your donor area for future transplants if needed. You may also see more significant scarring if your surgeon is inexperienced or unlicensed.
Below we have shared a video of ISHRS members discussing (January 2023) some of the dangers of having a hair transplant in Turkey, where they claim there are 300 low cost clinics – the majority of which do not have a qualified medical professional on site.
While this can lead to a botched hair transplant that requires fixing (if it can be fixed) it can also sadly be fatal as one hair transplant-related death was reported in Turkey in 2021. Thankfully there have been non in the United Kingdom.
Getting a hair transplant in Turkey vs the UK
There are many factors to consider when you're choosing the right FUT or FUE hair transplant clinic. Here are some of the key factors, and the differences between Turkey and the UK.
Health and safety
All hair transplant clinics should be registered with a medical body that oversees compliance with local health and safety standards. In Turkey, this is the Turkish Medical Association or Ministry of Health. In the UK, the Care Quality Commission regulates clinical practices and surgical safety.
It's a huge risk to consider a hair transplant with any clinic that isn't registered with the local health authority, so we suggest you avoid this altogether. If you're in any doubt about the safety of the procedure or the environment, you can walk away at any time. It's better to have spent money on a trip than to live with the results of a botched hair transplant.
Consultation
In the UK, you can travel to potential hair transplant clinics and meet your clinical team before you sign up for surgery. This ensures you're happy with the hygiene standards and staff medical credentials. But you'll also get a thorough hair and scalp exam in advance, giving you a highly accurate graft quote.
Unless you're prepared to make multiple trips, your consultation with a clinic in Turkey will probably take place online. While you can chat with your surgeon and ask any questions, they probably can't get the most accurate assessment of your current or continuing hair loss patterns.
Cost
Turkey wins this round, hands-down. But while it's certainly cheaper to get a transplant in Turkey, your overall experience may not be worth the savings. Safety should trump cost every time. And if you don't get good results, you may end up paying more to fix your transplant.
Hair transplant pricing isn't always transparent in the UK. This can make it hard for patients to know if they're getting good value for money. Take a look at our hair transplant cost analysis to see how to get a quality transplant for the best price in the UK.
Results
Each clinic differs in its hair transplant success rates, no matter which country they're based in. So you should ask your consultant how successful their operations usually are. It's also a good idea to find testimonials from previous patients.
If you don't get the results you want, a UK clinic is accessible for in-person consultations and supportive treatments. However, with a Turkish clinic, you'll need to spend time and money flying back out to the clinic. Alternatively, you can go to a UK clinic and restart the process.
Aftercare and recovery
It can take up to 18 months for you to see the final results from your hair transplant. You may need support and advice during this time, especially if you have concerns about infection or shedding. If your clinic is in Turkey, it may also be more difficult to access aftercare and support services.
Should you travel to Turkey for your hair transplant?
Medical tourism can offer excellent value for patients on a budget [6]. Some of the best countries for hair transplants offer high quality care at reasonable prices. But there are stark warnings about the risks of travelling abroad for a hair transplant from both the BAHRS and ISHRS [4][7].
This hair transplant cost analysis is designed to help you decide if travelling to Istanbul for a cheap hair transplant is worth the risk. While it's certainly cheaper, there are dangers associated with medical tourism. At best, your hair transplant may be unsuccessful; at worst, unregulated clinics can put you at risk of infection, which can become life-threatening if left untreated [8].
While they're generally more expensive, UK clinics ultimately give patients greater peace of mind. If your surgery doesn't give you the results you want, you can easily revisit the clinic for support and advice. If you'd like to learn more about the costs of getting a hair transplant in the UK, reach out to our Harley Street hair transplant team.
Sources:
The Wimpole Clinic offers FUE Hair, Beard & Eyebrow Transplants & Trichology.
Talk to a specialist ☎
020 7935 1861
.
Blog search
Book a consultation
Simply fill in your details in the form below and we'll get in touch with you shortly.