Cheap Hair Transplants: Why Cheaper Isn't Always Better
Hair transplants are one of the most effective and long-lasting solutions to extensive hair loss caused by pattern baldness, or androgenetic alopecia. So it makes sense that more people are seeking cost-effective hair transplants since you can't get a hair transplant on the NHS.
Cheap hair transplants may seem too good to be and they usually are. Hair transplantation surgery is a medical procedure that requires significant skill and experience to get right. Good clinics charge based on their surgeons' quality, skill, and experience, as well as the time and effort it takes to design, create, and care for a hair transplant.
With cheap hair transplants, meanwhile, corners may be cut on safety, skill, aftercare, or all three.
In this article, we'll explore the risks and rewards of choosing a cheap hair transplant in the UK or abroad, and outline ten ways to find an affordable hair clinic that will give you great results.
What are the risks and rewards of cheap hair transplants?
The obvious reward of a cheap hair transplant is that it might improve your self-confidence for a minimal cost and some lucky people have a good experience at cheaper clinics. However, it should be noted that these are the exception rather than the rule.
The risks of a cheap hair transplant operation often outweigh the potential benefits. Let's explore some of the most common concerns, risks, and complications associated with cheap hair restoration procedures.
1. You're more likely to encounter safety issues
Hair transplants are extremely safe when they're performed in sanitary conditions by a skilled, qualified professional.
But in some cheap overseas clinics, safety standards are often neglected. One doctor, Ricardo Meija MD, has reported that in some countries taxi drivers and unqualified refugees are performing hair transplants to meet demand [1].
This increases the risk of complications like infections, sepsis, necrosis, and excessive scarring. Some hair transplant deaths have even been reported outside the UK [2].
This practice is becoming so widespread that the International Society of Hair Restoration Surgery (ISHRS) has set up a campaign to raise awareness of the problem [3].
Patient safety should be any clinic's number one concern and it should be yours, too. Avoid taking risks with any clinic if you have a glimmer of doubt about their priorities.
2. There's a greater risk of failure with a cheap hair transplant
Even a £700 hair transplant can feel pretty expensive if you don't get the results you want. Cut-rate hair transplants are one of the most common reasons for your hair transplant going wrong.
This usually happens due to a lack of surgical skills. Unqualified or inexperienced surgeons can't extract and place healthy hair grafts with the finesse of skilled surgeons, and they often have limited skill when it comes to hairline design. So you end up with overharvested donor areas, unnatural results, and ultimately a failed hair transplant:
3. A cheap hair transplant surgery can become an expensive repair
Repair hair transplants are becoming more common. More than 96% of ISHRS members said a quarter of their hair transplant procedures in 2022 involved repairing damage from previous black market hair transplants [4].
This patient had a cheap hair transplant at a black market clinic in Turkey, which ended in failure:
The clinic quoted him a 5,000 graft hair transplant, despite never having seen photos of his hair. One doctor oversaw four other hair transplants at the same time as his but didn't perform any of them.
They extracted too many hair follicles from his donor area, leaving him with hair loss at both the front and back of his scalp, making him feel worse than before the transplant. He also reported a lack of anesthesia, making the hair transplant procedure much more painful than it should have been.
Ultimately he needed repair surgery at another, better clinic, making his cheap hair transplant a lot more expensive:
Having had one botched transplant and surgery to repair it, the patient said:
"My advice to anyone who's considering a hair transplant is to make sure you research the doctor and their clinic, so you don't make a mistake that will cost you money and time."
4. You might not be able to have future treatments
The patient above was lucky in one respect: even though the cheap hair transplant depleted a lot of his donor area, he was still able to have a repair transplant.
Some patients aren't so fortunate. Extreme hair transplant overharvesting can make it impossible for you to have future procedures.
Overharvesting happens when too many grafts are taken from your donor area, leaving it bare or sparse.
For those who need a repair transplant, or even a second or third procedure, overharvesting can be dangerous.
5. Cheap hair loss clinics aren't always ethical
No medical procedure should be purely about profit, and that includes hair transplants. Doctors have a duty to recommend the right procedure for your personal circumstances or they shouldn't aim to get you in the chair.
Unethical hair transplant clinics often charge a low cost per graft, then artificially inflate the number of grafts you need so they can charge you more, thus making your overall hair transplant cost much more expensive.
This patient went to a black market clinic with Norwood stage 1-2 hair loss, which would typically need around 500-1,000 grafts. The clinic performed a 4,200 graft hair transplant, implanting healthy hair follicles in areas that weren't balding, ramping up the cost of his hair transplant: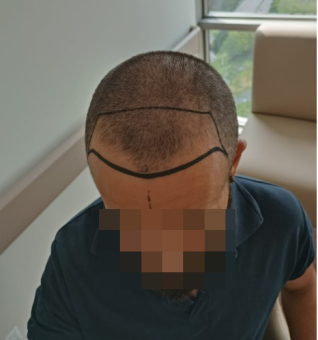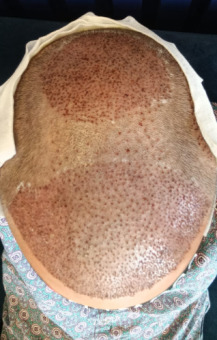 Sadly, the patient now regrets his hair transplant:
"It's still early to see definitive results, but the process was horrible and I wish I had never gone through it. Since my hair was grafted in a hurry, I think that I will also have problems as the new hair grows, such as misdirection of the implants or the doll hair effect due to hair implantation without taking into account the thickness of the frontal hairline. It remains to be seen, but I currently have no hope of seeing a natural result."
Why are hair transplants so cheap in Turkey?
Most things cost less in Turkey than in the rest of Europe, including rent, surgical materials, and wages. There's also a high exchange rate difference between the Turkish lira and the British pound, which makes surgery in Turkey cheaper than in the UK.
But there's also a dark side to why Turkey offers such cheap transplants. Demand is high (and getting higher) so many charlatans have started their own clinics to take advantage of this. They don't have the skill or surgical experience needed to perform a successful hair transplant. However, with the help of stylish websites and the false promises of glowing social media reports, a lot of patients don't realise the hair clinic isn't reputable until they get there.
A survey of British Association of Aesthetic Plastic Surgeons (BAAPS) council members found that 100% of cosmetic surgery complications came from Turkey in 2021 [5].
Not all Turkish clinics are bad or dangerous. However, it's much more difficult to tell which ones you can trust when you live thousands of miles away, and only have a handful of social media posts to go on.
Can you get a cheap hair transplant in the UK?
While most of the cheapest hair transplants take place overseas, it is possible to find relatively cheap clinics here in the UK.
In our analysis of UK hair transplant costs, we found that clinics that don't list a specific surgeon on their website tend to be much cheaper than those that do.
These are referral sites. That means the referrer takes a cut of whatever you pay for your procedure.
There's no real ethical or medical problem with this but most patients want to know exactly who's going to perform their procedure before they hand over any money. This allows you to check the surgeon's qualifications and experience before you let them at your scalp with a scalpel.
Be mindful of marketing tactics, too. Don't take the clinic's social media page promises as gospel: do your own research on third-party review sites to find out as much as you can about a clinic before you decide to work with them.
How to find a good, affordable hair transplant clinic
So cheaper isn't always better. In fact, it's often worse when it comes to hair transplants.
Instead of looking for cheap hair transplants, it's a good idea to focus on value. As well as reducing the risk of paying for a repair transplant, there's value in boosting your self-esteem. So while hair transplant costs will always be a factor in whether a hair transplant is worth it, it's more important to seek affordable quality.
Here are 10 things to look for when choosing a quality but affordable hair transplant clinic.
1. Know the value of a hair transplant
Just because cheap hair transplants are risky, it doesn't mean you need to pay crazy amounts, either. Reports of celebrity hair transplants like Wayne Rooney's costing £30,000 or more may have skewed public perception about the expense of a good hair transplant. The Wimpole Clinic's Dr. Luciano Sciacca says:
"I think this is where a lot of misconceptions come from. Unfortunately, I feel Wayne may have been a victim of his public profile. I don't see a reason why anyone would pay so much if the reports are true."
According to our hair transplant costs analysis, a Norwood 2-3 hair transplant in the UK costs £4,820 on average.
With hair transplant finance options also available, the FUE hair transplant method (Follicular Unit Extraction) and FUT (Follicular Unit Transplantation) are less expensive than you might think. So there's no need to take risks on cheap, low-quality hair transplants.
2. Shop around
Get quotes from several clinics. This gives you a chance to scope out the clinic, talk to their consultants, and see which one you trust most.
This is much easier if you choose a UK clinic because you can:
Visit the clinic and meet your surgeon in person.

Avoid any language barriers. This is especially important when discussing your health and medical services.

Find the most affordable option from a range of excellent clinics.
Ask these hair loss consultation questions to get the right information from your clinic.
3. Research safety standards
If you're still considering getting a hair transplant abroad, research the country's legal safety standards and make sure your clinic meets them. It's much easier for clinics in some countries to operate without meeting these standards. So before you put any money down, make sure you're certain of:
The surgical environment (there should never be more than one patient in the room at once).

Your surgical team's qualifications.

The team's knowledge of donor area management and natural hairline design.
4. See cost as an indicator of quality
Up to a point, cost tells you a lot about the quality of a hair transplant clinic. That's not to say extremely expensive clinics are better than more affordable ones. Some, like hair transplants in Los Angeles, take advantage of their location to ramp up the costs of a transplant. A hair transplant that costs £4,820 in the UK may cost around £9,200 in LA.
But clinics that undercharge for their services tend to be cutting corners somewhere. So aim to find a mid-range clinic with an excellent success rate and safety record.
5. Check out each clinic's previous work
Look at the results and hair transplant reviews of each of your shortlisted clinics to see what kind of results you can expect.
Consider any endorsements from previous patients, as well as the professional memberships and qualifications of the surgical and medical team. Look for surgeons that are members of professional bodies, such as:
General Medical Council (GMC)

Fellowship of the Royal College of Surgeons (FRCS)

Membership of the Royal College of Surgeons (MRCS)

Membership of the International Society of Hair Restoration Surgery (MISHRS)
6. Don't be wowed by added extras
Many cheap clinics try to lure you in with bonuses like free airport transfer and accommodation. An all-expenses paid trip sounds glamorous, but these clinics are still turning a profit. The cheaper your transplant, and the more extras thrown in, the more corners could be cut.
7. Find out who your surgeon will be
Sites that don't list a surgeon tend to be much cheaper than those that do. This may not seem like much of a risk, but not knowing who your surgeon is means you're going in blind. You could be their first-ever patient (we all have to start somewhere — but why take the risk?).
Before any money changes hands, try to find out who will be performing your surgery. This gives you a chance to research their credentials and see their previous work.
8. Know your finance options
Although great hair transplants are more affordable than you might realise, they're still a bit of an investment. Not everyone has the means to pay for it upfront.
Many clinics now offer hair transplant finance options that allow you to spread the cost of your transplant over several months. This can make paying for a hair transplant much more affordable.
9. Think about aftercare
Good hair transplant aftercare is essential for a successful hair transplant procedure. It's much harder to get post-operative care and advice even from good overseas hair transplant clinics, due to the distance and potential time difference.
It should be noted that black market clinics often don't give any aftercare advice, and won't be able to help or manage problems if things go wrong. This is how some patients end up in the hospital and, sadly, worse.
Choose a local clinic led by an experienced surgical team who will be able to manage any aftercare problems quickly and professionally.
10. Understand cost vs value
Most people who get a hair transplant do so to boost their confidence and self-worth. Many of those who get cheap black market transplants report actually feeling much worse after their procedure:
"As time went by, I was worse than before I had the surgery. Instead of giving me a solution, they gave me a much bigger problem, because I had to figure out how to cover the big holes that they made with a robotic machine. Because of my work and social life, people would look at my hair and it was very uncomfortable. It affected my self-esteem and other aspects of my life."
Ultimately, only you can put a price on your self-worth, and only you can know the risks you're willing to take. But to avoid bad experiences and dangerous complications, we recommend that you don't compromise on a cheap hair transplant.
Hair transplant prices at the Wimpole Clinic
Find a quality UK hair transplant clinic with reasonable prices that will restore your confidence and give you a hairline you can be proud of.
Our hair transplant prices start from £3,499 for both FUE and FUT, with the latter tending to cost a little more. View our hair transplant gallery to see the success we've had with previous patients.
Contact us today for a free and no-pressure initial consultation to discuss your hair restoration needs.

The Wimpole Clinic offers FUE Hair, Beard & Eyebrow Transplants & Trichology.
Talk to a specialist ☎
020 7935 1861
.
Blog search
Book a consultation
Simply fill in your details in the form below and we'll get in touch with you shortly.