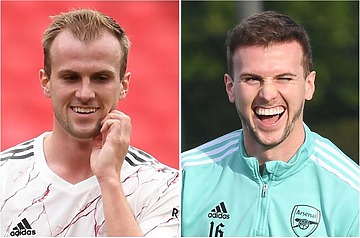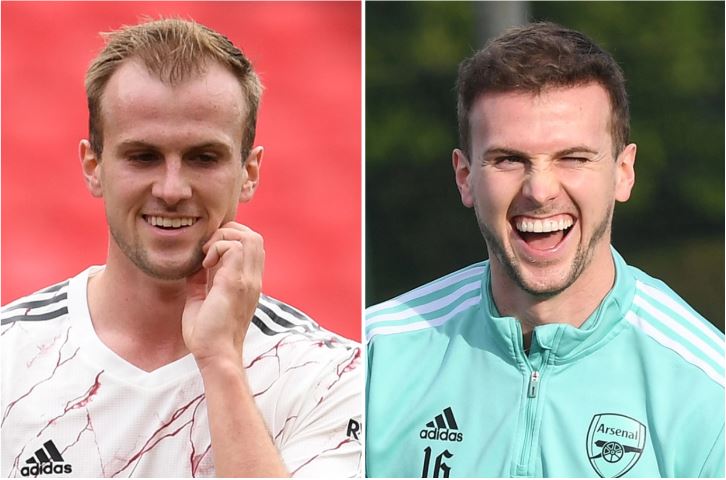 Celebrity Hair Transplants Before & After
Wondering how so many celebrities have a thick, full head of hair well into their 50s, 60s, 70s, and beyond? Especially when their hair used to look thinner than it does now?
Money and fame don't make you immune to male pattern hair loss. Lots of male celebrities have gone under the knife to restore their hairlines. Even before Wayne Rooney popularised the procedure for millennials, celebrities like Elton John and James Nesbitt transformed their looks with hair transplant surgery.
Because hair transplants are often associated with the rich and famous, many people believe you need to spend tens of thousands on a successful hair transplant — but this isn't the case. Our UK hair transplant cost analysis shows that the average cost of hair transplant in the UK is £4,820.
Wayne Rooney isn't the only celebrity who's confirmed his hair transplant rumours. Fellow Premier League footballer Rob Holding had a hair transplant at the Wimpole Clinic in 2021, and is thrilled with his results.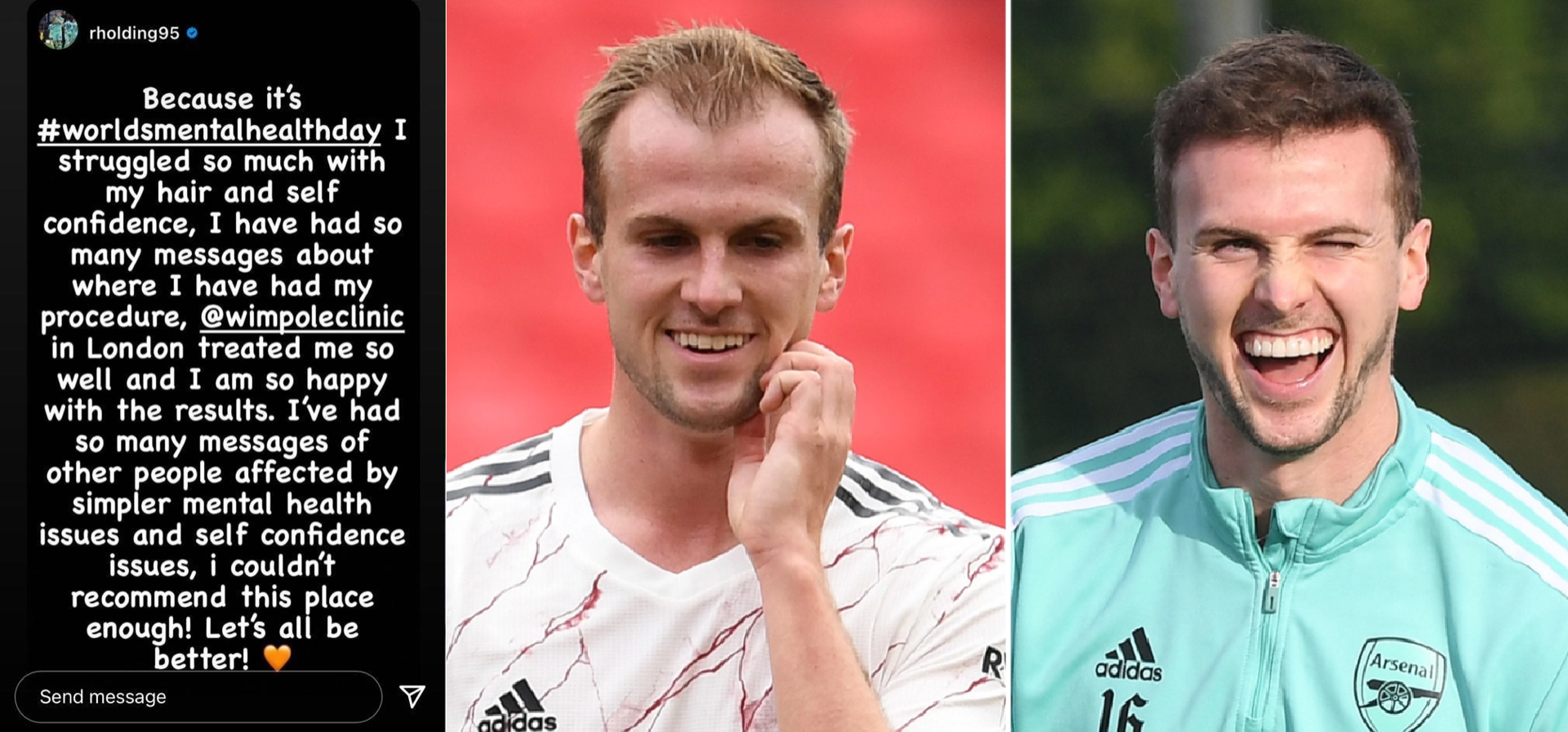 Last year, our principal surgeon Dr Michael May appeared on GB News to appraise celebrity hair transplants before and after:
Getting a hair transplant without anyone knowing is much more difficult when you're in the limelight. Thanks to Wayne Rooney's hair journey, and other high-profile hair transplant patients, many more once bald celebrities have now come out and confirmed their own hair restoration treatment.
But other celebrities with alopecia have avoided revealing whether their hairlines have been surgically enhanced, despite sporting much healthier hair than they once did.
So which other celebrities have had a confirmed or rumoured hair transplant — and how do they look months or years after the procedure?
Famous hair transplants: how do they measure up?
With everyone from Premier League players to the Hollywood elite getting their hairlines adjusted, it's clear that this once-infamous procedure is now mainstream (even if not all celebrities have admitted to their surgical hairline enhancements).
These 30 celebrity hair transplants before and after photos show just how popular hair transplant surgery has become.
1. Wayne Rooney's Hair Transplant — confirmed
Wayne Rooney is often credited with popularising the hair transplant for a whole generation of men — including future England captain Harry Kane, who's also rumoured to have had a hair transplant. Rooney's first confirmed hair transplant took place in 2011, at the height of his Manchester United playing career. He's also had at least one top-up transplant to keep his hair in mint condition.
2. James Nesbitt's Hair Transplant — confirmed
Actor James Nesbitt has also confirmed he's had a hair transplant, with career worries a key motivating factor. This is the second most common reason people choose a hair transplant, with 34.7% of patients citing their career as a reason to get a transplant in 2020 [1]. Dating and social life concerns are the most common reasons for getting a transplant.
James Nesbitt's hair transplants have been a success. He's had multiple hair transplants over the years to keep his hair looking great. See what his hair transplant looks like after 10 years.
3. Elton John's Hair Transplant — confirmed
Elton John has described his early hair transplant experiences as "agonising" — and sadly his initial hair transplants failed. But fortunately techniques have moved on since Elton first opted for hair transplant surgery, and modern methods like FUT and FUE have high success rates, excellent safety records, and usually cause only mild discomfort.
Learn more about Elton John's hair transplant.
4. Antonio Conte's Hair Transplant — confirmed
The difference between Antonio Conte's hair in his playing days versus his managerial career speaks volumes. While Antonio hasn't commented on his hair transformation, the Spurs manager has certainly had at least one hair transplant to restore his previously sparse hair to its current thickness.
5. Jimmy Carr Hair Transplant— confirmed
Like many men, Jimmy Carr took advantage of the pandemic lockdowns to address his hair loss, as you can see in his celebrity hair transplant before and after looks. His uneven hairline has been lowered and straightened, making his famous quiff more even. See more before and after shots of Jimmy Carr's hair transplant.
6. Robbie Williams' Hair Transplant — confirmed
Robbie Williams underwent hair transplant surgery in 2013, despite sporting a surprisingly thick head of hair just one year earlier. Unfortunately, Robbie has been a little unlucky with his results. He's recently said he's turned to hair loss injections to prevent further hair loss [2].
7. John Cleese's Hair Transplant — confirmed

In 2008, John Cleese revealed he'd undergone hair transplant surgery around the age of 68, suggesting it's never too late to have a hair transplant. He revealed he'd had an FUT procedure because of the shape of his "pointy" head [3].
8. Calum Best's Hair Transplant — confirmed
As the son of follically-blessed footballer George Best, Calum Best chose to have a hair transplant in Turkey to address his hair loss. He's also declared he's actually had 3 hair transplants in total. Multiple procedures aren't uncommon, with more than 30% of patients requiring 2 or more transplants to achieve their desired results [4].
9. Louis Walsh's Hair Transplant — confirmed
Ex-X-Factor judge Louis Walsh famously revealed his hair transplant in 2011, reportedly after Simon Cowell joked about his hair loss [5]. His celebrity hair transplant before and after photos show him sporting a lower, more even hairline. Louis has said that concerns over his appearance on TV contributed to his decision to undergo a hair transplant.
10. Jamie Laing's Hair Transplant — confirmed
Reality TV star Jamie Laing first sported his platinum locks on Made In Chelsea in 2011, and decided to opt for a hair transplant procedure a few years later at the age of 29. Since his new hair growth, Jamie has continued to bleach his hair, which can cause breakage — so let's hope he's treating his transplant to regular conditioning treatments.
11. Anton Du Beke's Hair Transplant — confirmed
Strictly star Anton Du Beke said his hair transplant "immediately transformed [his] life" — a sentiment that's been echoed in many hair transplant patient testimonials [6]. Lack of confidence is a key reason many people choose hair restoration surgery, and it's clear from Anton's remarks that his hair transplant has had a huge impact on his self-esteem.
12. Joe Swash's Hair Transplant — confirmed
Actor Joe Swash has said he got a hair transplant due to fears he would lose work as he lost his hair [7]. But despite these fears, in his pre-transplant days, Joe went on to win the eighth series of I'm A Celebrity… Get Me Out Of Here! — showing that a receding hairline isn't necessarily make-or-break for your career.
13. Stuart Hogg's Hair Transplant — confirmed
Rugby union player Stuart Hogg has been upfront about his hair transplant experiences. Following his first procedure, he bleached his hair too soon after the transplant — and his new hair grafts quickly fell out [8]. He went on to have a second hair transplant, which he seems to be taking much better care of.
Fellow rugby player Jonathan Joseph has also confirmed his hair transplant, which was performed at the Wimpole Clinic. Learn more about Jonathan Joseph's hair transplant.
14. Jurgen Klopp's Hair Transplant — confirmed

Back in his Borussia Dortmund days, now-Liverpool manager Jurgen Klopp had a well-publicised hair transplant. Though he wore his hair long, it's clear to see that his hairline was higher up his forehead than it is these days. Jurgen's hairline is now much straighter and lower than it used to be.
Which celebrities might have had a hair transplant?
The Hollywood rumour mill never stops turning when it comes to have-they-haven't-they hair transplants. These 5 celebrities crop up again and again — and while none of these celebrities have confirmed if they've had a hair restoration procedure, the dramatic changes in their hairlines suggest they may have had hair loss treatment of one kind or another.
15. Gordon Ramsay's Hair Transplant — rumoured
Gordon Ramsay doesn't appear to have substantial hair loss. But he was pictured leaving a Los Angeles hair transplant clinic with his hair covered by a surgical scrub cap in 2010, leading to persistent rumours that he's had a hair transplant. Gordon has never officially confirmed his hair transplant, but newer photos showing him with an undercut in 2014 suggest he may have actually had more than one procedure.
16. Rob Brydon's Hair Transplant — rumoured
Comedian Rob Brydon is rumoured to have had a hair transplant in recent years. Where his hairline once receded in a pattern typical of male pattern baldness, his hair is now thick and full across his head, with his hairline now lower and straighter than before. Dr Michael May describes it as an "appropriate hairline" — it's a completely natural shape for Rob's age.
17. John Travolta's Hair Transplant — rumoured
John Travolta's look has changed a lot over the years, from Danny Zuko's Elvis-inspired hair in Grease to Pulp Fiction's long swept-back look. But photos of John with a shaved head show that, like many men, his natural hair is receding. More recent photos show a much straighter, lower hairline, suggesting he may have opted for surgery to restore his hair.
18. Lewis Hamilton Hair Transplant — rumoured
Lewis Hamilton's current hair looks undeniably thicker and healthier than it used to — but Lewis has denied having a hair transplant. Instead, he attributes his improved hair to educating himself about how to look after his hair, and using the right products for his hair type. And while Lewis's hair used to look a little thin on top, the change to his hairline has been minimal. Read more about Lewis Hamilton's hair transplant.
19. Jude Law's Hair Transplant — rumoured
Jude Law is another celebrity who's often rumoured to have had a hair transplant. But this is up for debate — while longer growth hides some of his hair loss, the hairline itself may not actually have changed. He still appears to have a slightly receding hairline that indicates pattern hair loss.
20. Elon Musk's Hair Transplant — rumoured
Tesla CEO — and the world's richest man — Elon Musk has never publicly said he's had a hair transplant, but his thick, full head of hair speaks volumes. Photos of a younger Elon show substantial thinning across the top of his head, as well as a receding hairline. So it looks like some of his fortune has been spent addressing his hair loss.
Find out more about Elon Musk's hair transplant.
21. David Beckham's Hair Transplant — rumoured

David Beckham was responsible for a series of noughties male hair trends, including his famous bleach-blonde ponytail and introducing a generation of teenagers to Brylcreem. While unconfirmed, it's unsurprising that a man who's had such an impact on male hairstyles in recent years would turn to a transplant to address his own thinning hair. Find out more about David Beckham's hair transplant.
22. Andros Townsend's Hair Transplant — rumoured

There's no denying that Andros Townsend's hairline has changed recently. Where it had clearly started to recede, he now has a full head of hair and a much straighter hairline. Whatever kind of hair restoration treatment Andros has had, his new hairline makes him look much younger. Learn more about Andros Townsend's hair transplant.
23. Steve Carell's Hair Transplant — rumoured
Steve Carell's breakthrough role in The Office (US) has a lot to do with the rumours around his supposed hair transplant. Klutzy office manager Michael Scott has a slicked back hairline in the first series, which made Steve's hair look much thinner. But this photo is taken from a film premiere the same year the series launched, and it doesn't show much thinning or hair loss. Over the years, Steve's hair has greyed and still looks thick — but whether this is due to a hair transplant is up for debate. Learn more about Steve Carell's hair transplant.
24. Floyd Mayweather's Hair Transplant — rumoured

Boxing icon Floyd Mayweather has spent most of his career with his hair so closely cropped you can hardly tell where his hairline begins. So it was a surprise to a lot of people when he began sporting a full head of hair last year. Many people have since speculated that a hair transplant is responsible for Floyd's new look.
25. David Silva's Hair Transplant — rumoured
Like many Premier League players, David Silva's look has changed a lot over the years. Known for his mid-length locks as a younger player, his shaved head in 2017 revealed an M-shaped hairline typical for men with male pattern baldness. Since then, his hairline has been substantially smoothed out — almost certainly as a result of a hair transplant. He may even have had a buzz cut after his hair transplant so his hair regrows at the same length.
26. Xherdan Shaqiri's Hair Transplant — rumoured
While it's never been confirmed that Xherdan Shaqiri has had a hair transplant, rumours suggest that not only has he had one — he opted for a mid-season transplant, even though he couldn't head the ball for at least 6 weeks after surgery [9]. Any prospective patient should know what to expect when you're recovering from hair transplant surgery.
27. Sadio Mane's Hair Transplant — rumoured
Sadio Mane is leaving Liverpool with more than just an illustrious career behind him — he has a new hairline, too. Previous photos show his hair to have receded significantly. But in more recent photos, the areas of hair loss seem to have been filled in, leaving him with a fuller head of hair and a lower hairline.
28. Paddy McGuinness's Hair Transplant — rumoured
Paddy McGuinness claims that Jimmy Carr's hair transplant is one of the best he's seen. In fact, he thinks it looks so good, it could inspire him to get one himself [10]. But while Paddy has recently been experimenting with his hair — recent photos show him with a bleach-blonde makeover — his hair still seems to be a little thin, especially around the temples. So while Paddy may not have had a hair transplant just yet, it may be on the cards in future.
29. George Groves's Hair Transplant — rumoured
George Groves has had a major hair transformation since his boxing days, with his hairline looking lower and more even than before. While he hasn't officially confirmed that he's had a procedure to adjust his hairline (unlike former rival James DeGale), it's likely George has had some kind of professional help to restore his hair in preparation for his punditry career.
30. Jordan Peterson's Hair Transplant – rumoured
Jordan Peterson cuts a controversial figure — but if there's one thing most people agree on, it's that his hairline is looking a lot healthier than it used to. There's some speculation that managing his autoimmune condition has contributed to his increased hair count, which may have helped restore his hair [11]. But his straight, even hairline is likely to have been created by a skilled surgeon.
30. Sebastian Vettel's Hair Transplant – rumoured
Despite the absence of an official statement from Sebastian Vettel himself regarding his possible hair transplant the available evidence indicates that he may have undergone surgical treatment.
Do you have male pattern baldness?
If you're concerned about your own hair loss, find out more about the signs of male pattern baldness. The Norwood Scale can also help you determine how far your hair loss has progressed, and whether you're a good candidate for a hair transplant.
If you're considering hair transplant surgery, book a free consultation with the Wimpole Clinic team on Harley Street. We've helped many celebrities address their hair loss, and our experienced surgeons can help you tackle yours, too.
Sources:
The Wimpole Clinic offers FUE Hair, Beard & Eyebrow Transplants & Trichology.
Talk to a specialist ☎
020 7935 1861
.
Blog search
Book a consultation
Simply fill in your details in the form below and we'll get in touch with you shortly.