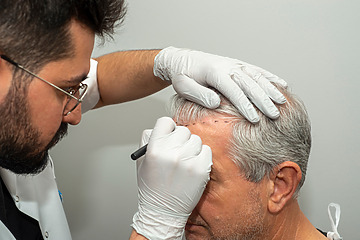 Are Hair Transplants Safe? Risks, Complications & Safety Measures
With high success rates and few serious complications, hair transplants are one of the safest types of cosmetic surgery [1-2]. As well as being very safe, they create natural-looking hairlines that are indistinguishable from the rest of your hair. At the Wimpole Clinic, our hair transplant success rate is 97-100%.
But there are certain caveats. Hair transplants are usually only safe if they're performed by a qualified, experienced surgeon in a surgically clean environment. And while many clinics appear to be the real deal, more than a few patients have been duped by referral websites and clever marketing.
So how can you tell if your hair transplant will be a safe, successful procedure? In this article, you'll find out:
the risks of hair transplant surgery and how to avoid them
how to identify black market hair transplant clinics
how we ensure every Wimpole Clinic hair transplant is safe and effective.
Are hair transplants safe for everyone?
While hair transplants are usually safe, they're not suitable for everyone. This includes patients who have [3]:
For some of these patients, hair transplants are simply ineffective. But for others, they can be unsafe. Your consultant should ask about your medical history and examine your hair and scalp during the consultation to determine whether you're a good candidate for surgery.
What are the risks of hair transplant surgery?
All surgical procedures come with risks. When it comes to cosmetic procedures like FUT and FUE, it's up to the patient (and, to some extent, the surgeon) to decide if the benefits outweigh the risks.
Hair transplant failure — in a minority of cases hair grafts don't survive, leaving patients with the same hairline they had before surgery
Unnatural looking results — poor hairline design or outdated methods like hair plugs can result in an unnatural look
Hair transplant infection — unclean environments and surgical instruments put you at risk of developing an infection
Hair transplant overharvesting — taking too many follicles from the donor site may mean you can't have more than one hair transplant procedure if needed
Post hair transplant folliculitis — hair follicle inflammation is one of the most common hair transplant side effects
Hair transplant scars — this is particularly common with FUT surgery, and usually happens when an unskilled surgeon performs the procedure
Necrosis — severe infection can cause your skin to turn black and leathery as the scalp tissue dies
Hair transplant swelling — swelling is very common, and won't cause problems in itself, but can have consequences if you can't open your eyes due to serious swelling
Adverse reaction to anaesthetic — some patients have an allergic reaction to local anaesthetic, which can cause anaphylaxis.
Certain risks won't compromise the safety of your hair transplant — but they will have an adverse effect on your results. Others, however, have the potential to develop into more serious conditions. Untreated infections can lead to sepsis, a life-threatening condition. Large or unsightly scars can impact your confidence and self-esteem. So it's essential to do everything you can to avoid these risks and prevent your hair transplant going wrong.
How can I avoid these risks?
Fortunately, most hair transplant complications are avoidable with the right technique and care [2]. So how can you make sure your hair transplant is safe?
Choose an experienced surgeon and a reputable clinic
This is the number one way to ensure a safe hair transplant. Working with a qualified surgeon who has an excellent track record of successful hair transplants is far safer than risking it with an unknown or underqualified physician.
This also extends to your clinic. Avoid black market hair transplant clinics, as they rarely meet the safety standards required by law. By choosing a hair transplant clinic on Harley Street, you can be sure you're working with some of the best consultants and technicians in the UK.
Learn how to find the best UK hair transplant surgeon.
Choose a clinic in your home country
While hair transplants in Turkey and other countries abroad are often cheaper than those in the UK, this can be a false economy. Cheap hair transplants usually means corners are being cut — sometimes in safety standards and technical skill. So you may ultimately pay more to get your hair transplant fixed.
Getting a hair transplant in your home country is also a good idea in case of complications. It's much easier to follow-up with a local clinic than if you opt for a hair transplant abroad.
Find out if it's safe to have a hair transplant abroad.
Have an in-person consultation
More than half of all ISHRS members agree that it's more effective to have an in-person consultation than a video call [4]. At an in-person consultation, you can have a full hair and scalp exam to determine why your hair is falling out. This helps your consultant give you an accurate graft quote and tailored treatment plan.
Follow your aftercare advice carefully
Take all your hair transplant medication as prescribed and take special care of your new grafts, especially in the days immediately after surgery. You should also schedule some downtime after your hair transplant to protect your grafts.
Learn more about hair transplant recovery:
How to identify black market hair transplant clinics
In a worldwide survey, more than half of ISHRS members report black market hair transplant clinics operating in their city [4]. A further 20.5% are unsure if there are local black market clinics. So they're not as rare as you might think.
Black market clinics are more likely to result in severe complications (including fatalities, in extremely rare cases. Learn more about the hair transplant death rate).
Fortunately there are a few telltale signs of black market hair transplant clinics:
Cost — many black market clinics cut costs by compromising on safety and skill, while others artificially inflate prices so you end up paying more than you should
Registration with medical bodies — in the UK, all clinics should be registered with the Care Quality Commission to ensure they have high standards of care and safety
Hair transplant clinic reviews — reputable clinics should have a large number of positive reviews from their patients; look for impartial reviews on sites like Trustpilot
Before and after hair transplant photos — check your surgeon's track record by looking at their previous results
Named surgeons on their website — most referral sites and black market clinics won't know who's going to perform your surgery, so they don't name a surgeon on their site.
Learn more about finding a safe hair transplant clinic at the right price in our UK hair transplant cost analysis.
How do we keep our patients safe during hair transplant procedures?
At the Wimpole Clinic, patient safety is our top priority. Here's how we maintain the highest safety standards to ensure you have a safe, successful hair transplant:
Ongoing support and aftercare, including a follow-up visit to the surgery to check your progress
Support for and discussion of hair transplant alternatives, so you know all the options available to you
Free in-person consultation, so you can meet your consultant and ask any questions about your procedure
Find out about our clinical staff online, so you know exactly who will be taking care of you on the day
Qualified, professional surgeons — our principal surgeon, Dr Michael May, has carried out more than 8,000 procedures
We're rated Good with the Care Quality Commission
We support patients who may have reservations about surgery, such as fear of needles or trypophobia
We create a tailored treatment plan for all patients based on the cause, rate and extent of your hair loss.
Book a free consultation at our Harley Street clinic
If you want to learn more about getting a hair transplant, book a free consultation at the Wimpole Clinic. Our team can answer any questions you have, help you decide which procedure is most suitable for you, and find out if you're eligible for a hair transplant. If you are unsure about what to ask the hair loss specialist, take a look at our list of questions you really want to ask about hair transplants.
Sources:
The Wimpole Clinic offers FUE Hair, Beard & Eyebrow Transplants & Trichology.
Talk to a specialist ☎
020 7935 1861
.
Blog search
Book a consultation
Simply fill in your details in the form below and we'll get in touch with you shortly.