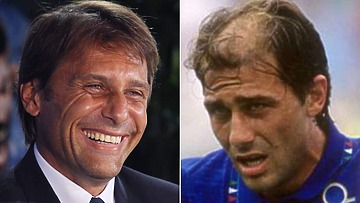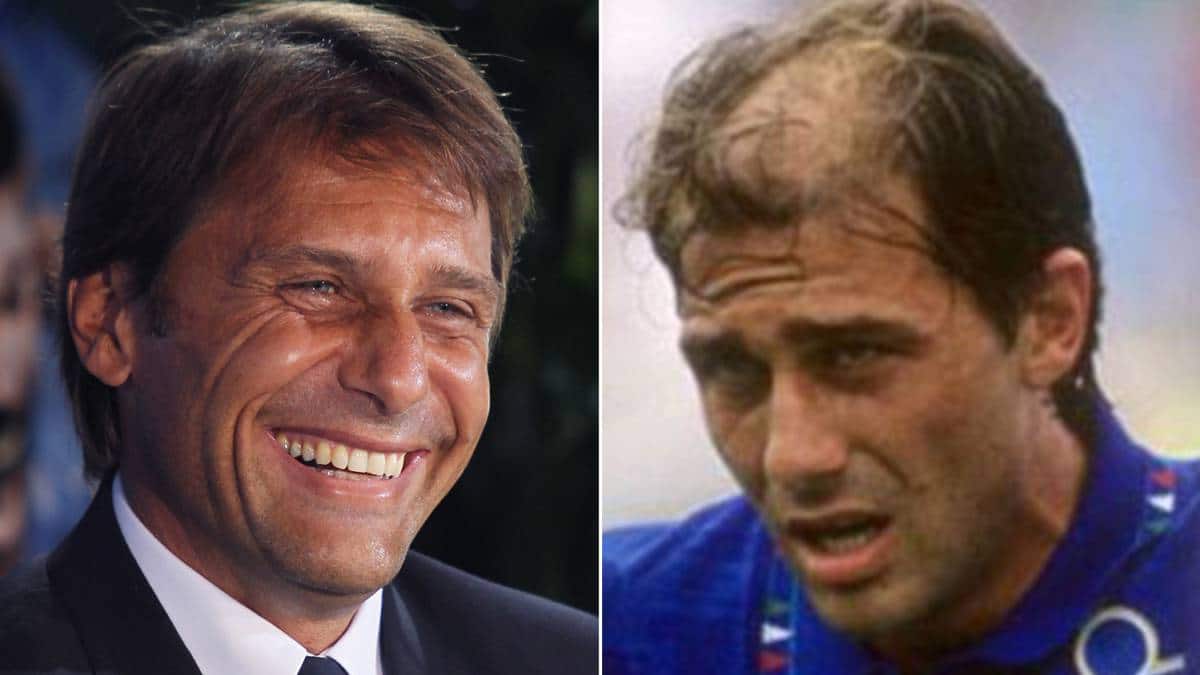 Antonio Conte Hair Transplant: Everything You Need to Know
Former premier league footballer Antonio Conte is known for his tactically diverse skills, and his high-profile career as manager of Premier League club Tottenham Hotspur. He's not just known for his football skills, however. Throughout his career, there's been extensive speculation as to whether or not he's had a hair transplant.
According to hair transplant statistics, 34.7% of people worldwide have a hair transplant for career reasons. (1) Antonio Conte may have felt self-conscious being in the public eye and going bald early on in his career. The 53 year old Italian made his debut at the age of 16 for local club Lecce, before going on to play for Juventus. Antonio Conte also played for Italy in UEFA Euro 2000, and the 1994 FIFA World Cup – all high-profile roles.
The photographic evidence of his hair regrowth certainly seems to suggest he's undergone treatment, whether that's minoxidil, finasteride, or another hair loss solution.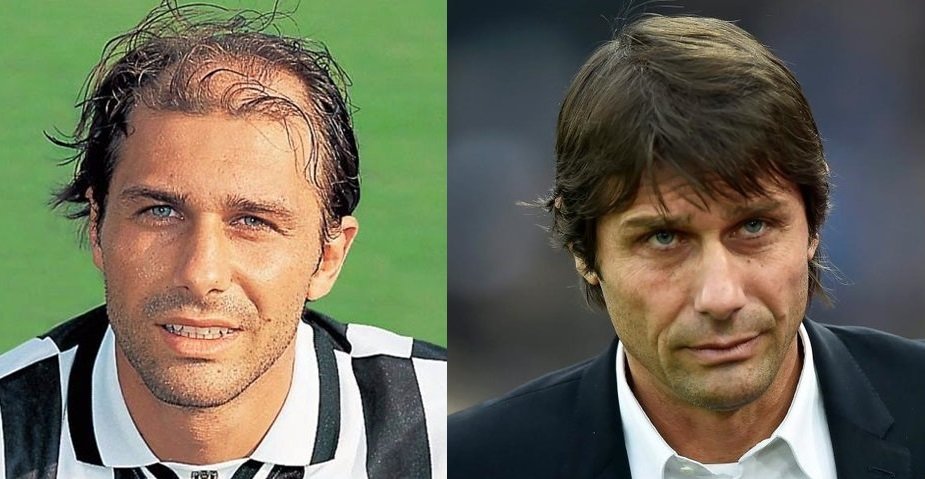 Antonio Conte's dramatic hair transformation over the years – from balding to thick and luscious.
In this article, we will look at:
Antonio Conte's hair timeline over the years

Possible causes of his hair loss

Whether Antonio Conte has had a hair transplant

The kind of hair transplant he may have undergone
Antonio Conte's hair timeline
1988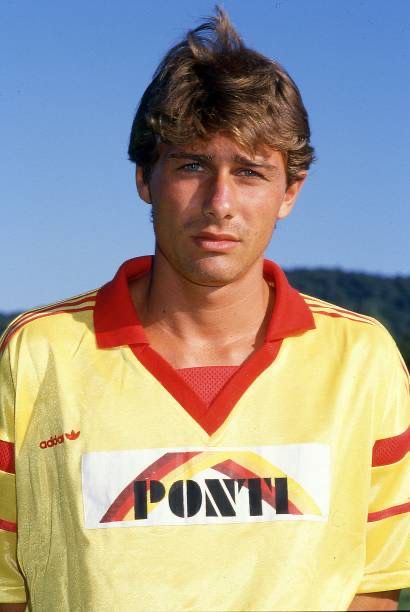 In this 1988 club photo of Antonio Conte making his debut for Lecce – his hometown – he has a thick head of hair. He doesn't look like someone who would require a hair transplant, but in a few years, that all changes.
1994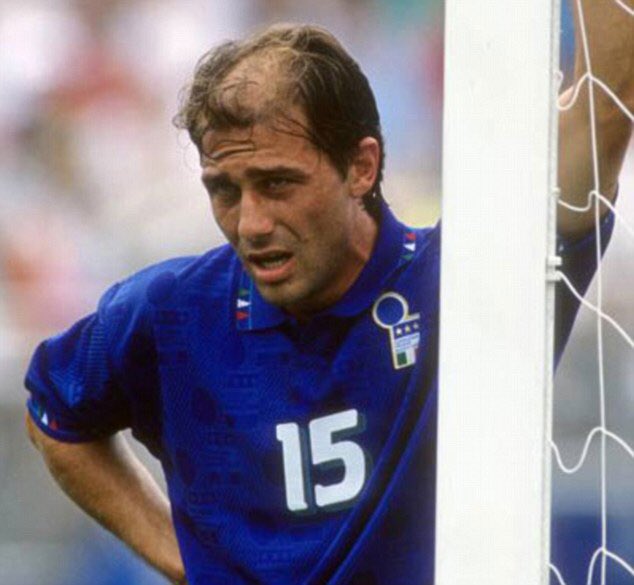 6 years later – Antonio Conte is just 26, but he's already beginning to show the signs of male pattern baldness. Male pattern baldness is the most common type of hair loss experienced by men. Its scientific name is androgenetic alopecia, and it affects up to 80% of all men.
You can see his scalp showing through his remaining hair, and it looks like he's dramatically accelerated through a few stages of the Norwood Scale.

The Norwood Scale of Hair Loss
The Norwood scale is used to measure hair loss in men, and it appears that he's at level 5 or 6. From this image, Antonio Conte looks like an excellent candidate for a hair transplant.
Though Antonio Conte is only 26 in this photograph, it appears that he's joined the ranks of men suffering with hair loss in their mid 20s. It's a lot more common than you may think. Around 25% of men with male pattern baldness will have hair loss by the age of 21.
1996 – 1997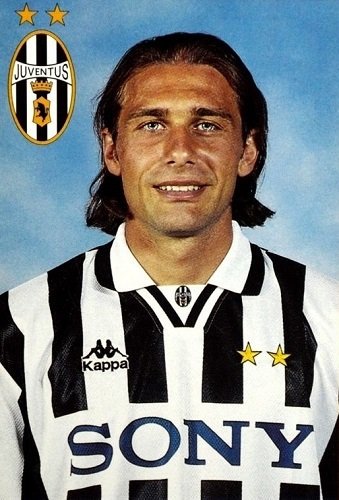 Just a couple of years later, however, Antonio Conte's hair is looking thick and full again. In this postcard from Juventus, there's no visible hair loss at his temples or a receding hairline. Could he have already had a hair transplant here? It's certainly possible, but it could also be due to clever styling skills and slicking back his hair. There are ways to hide thinning hair with different hairstyles, especially in photographs.
2007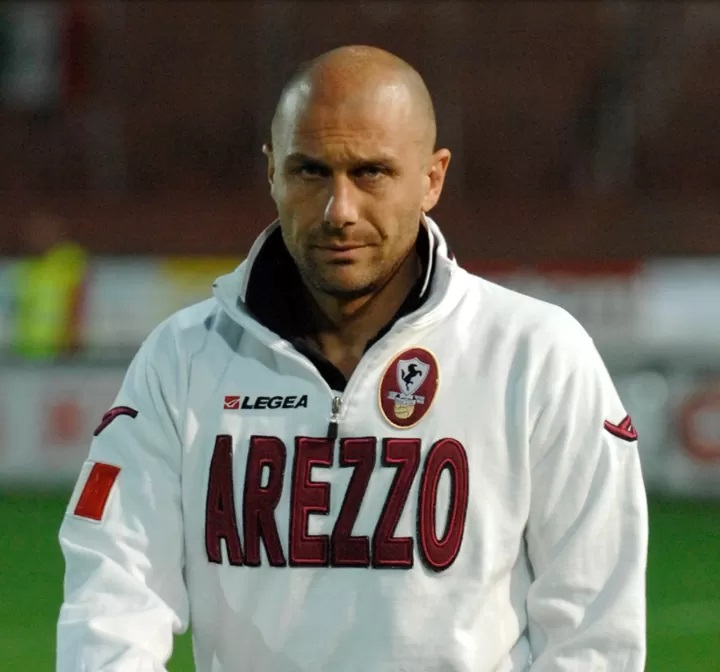 Moving forward to 2007: Antonio Conte is now manager of Arezzo. He's rocking a shaved head – quite well, we have to say – for his first football manager role. It seems like he's embracing the shaved head as many men do when suffering from male pattern baldness.
But, like fellow PL manager Jurgen Klopp's hair transplant, Conte may have undergone a hair transplant as he transitioned to management. If you look closely at his scalp, there are signs he's had a hair transplant. There appears to be regrowth across the whole of his scalp. With no scars visible, it seems likely he had a FUE (Follicular Unit Extraction) hair transplant. This one day hair transplant procedure leaves no visible scarring, unlike FUT (Follicular Unit Transplantation), which is slightly more invasive.
2012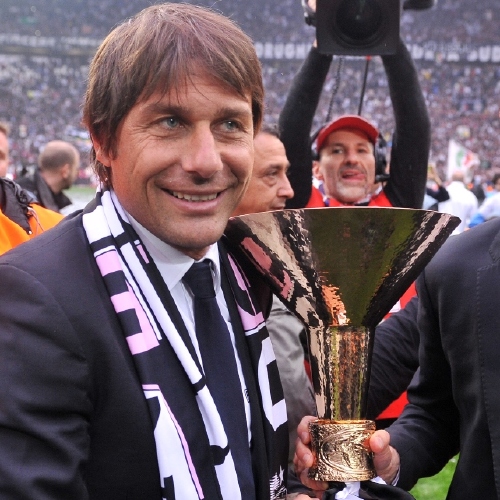 Seen here celebrating after Juventus's 3-1 win against Atalanta in the Serie A match, Antonio Conte is now sporting a full head of hair. Compared to his significant hair loss in 1994, he now has a thick mane of hair that rivals his hair at the age of 20. In our expert opinion, he's pretty likely to have undergone some sort of hair transplant procedure by 2012. Otherwise, that's a very miraculous level of hair regrowth.
2016
Antonio Conte is seen here in 2016, celebrating the beginning of his tenure as Chelsea's manager in 2016. Chelsea will go on to win the Premier League just a year later. Antonio Conte's hair is still thick and full here, with no signs of any baldness or thinning. At the age of 47, that's pretty unusual. According to one study, 53% of men aged 40-49 experience male pattern baldness (2), so he'd be in the minority among his peers.
Possible causes of Antonio Conte's hair loss
The four main types of hair loss are telogen effluvium, alopecia areata, male pattern baldness and female pattern baldness. Which one is Antonio Conte likely to suffer from? From the progression of his hair loss through the years prior to the rumoured hair transplant, it appears that Antonio Conte is suffering from male pattern baldness.
While it's primarily thought to be caused by genetics, there can also be environmental factors involved. Smoking can be a cause of hair loss, as well as stress and anxiety, and nutritional deficiencies.
Worried about thinning hair? Speak to one of our specialists for an expert opinion on your hair loss.
Has he had a hair transplant?
If Antonio Conte has had a hair transplant, he'd be in good company. Many other footballers have undergone hair transplant procedures, including Andros Townsend, Wayne Rooney, Xherdan Shaqiri, and Rob Holding. Rob Holding struggled with hair loss in his early 20s, deciding to undergo a successful FUE hair transplant at the Wimpole Clinic: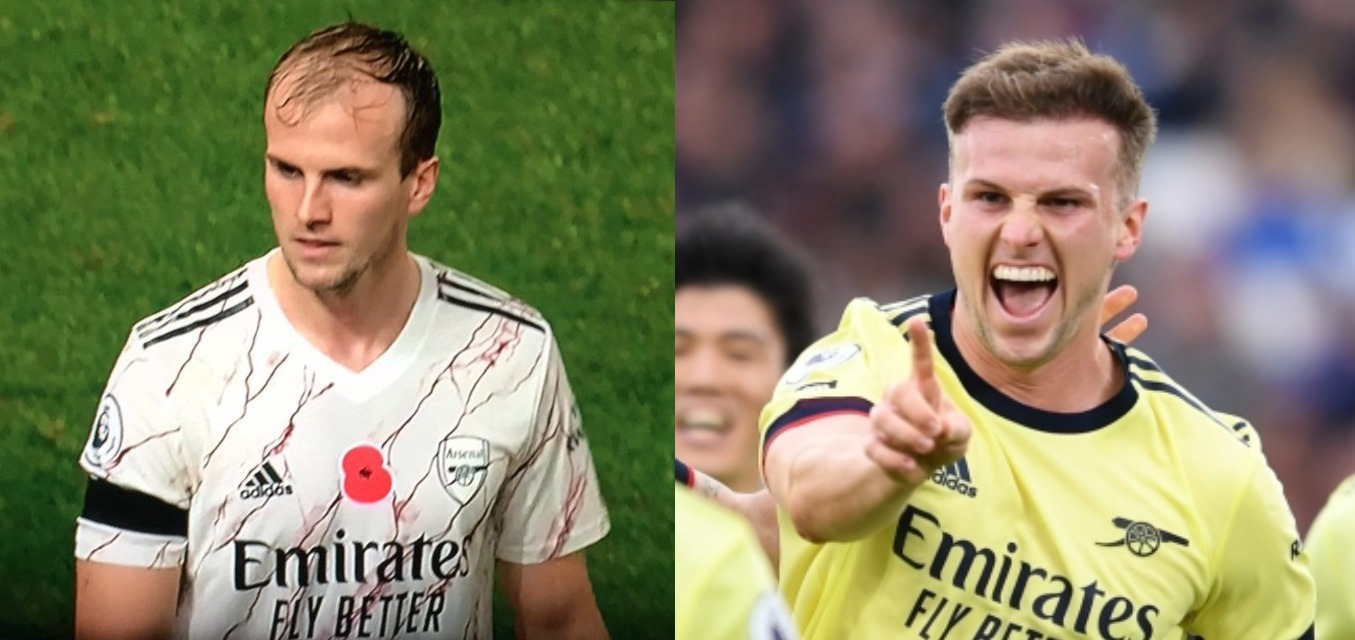 David Beckham has never confirmed his hair transplant, but according to the photographic evidence it looks likely. Even Tottenham's own Harry Kane is rumoured to have had a hair transplant. Take a look at our list of 30 celebrities who are rumoured – or who've confirmed – their hair transplants.
It is rumoured that he may have had multiple hair transplants to get his desired results.
Worried you've left it too late to have a hair transplant? Antonio Conte's full head of hair at the age of 53 certainly proves otherwise. Looking at a 2020 census, there was a 234% increase in hair transplant procedures in Europe between 2008 and 2019. Our hair transplant cost analysis found the average costs of a hair transplant in the UK is £4,820. With some saving, that's not out of reach for many people.
Types of hair transplant and other treatments
Though we're pretty sure his full head of hair is down to a hair transplant, Antonio Conte could have undergone an alternative hair loss treatment to regrow his thinning hair.
Some of the most popular treatments include topical over the counter medications like minoxidil. Suitable for both men and women, if you're looking for a less invasive hair loss solution than a hair transplant, this could be the perfect solution. Minoxidil reactivates hair follicles that have shrunk and increases their size. The follicles then gain more volume, so hair density and length improves.
Some other non-surgical therapies Antonio Conte could have undergone include Low Level Laser Hair Therapy (LLLT). This painless treatment uses lasers to trigger cellular activity on the scalp, helping to increase blood flow to the hair follicles.
He also could have had vitamin infusion therapy. In traditional vitamin supplementation only 10% of the vitamins are absorbed. Vitamin infusion therapy allows for 100% absorption. Passing directly into the bloodstream, the vitamins can then work their magic on any deficiencies you may have.
What are the different types of hair transplants?
Antonio Conte's hair transplant method is a subject of a lot of debate online – sometimes more than his managing skills. Looking at the evidence, we think it's more likely he had a FUE hair transplant. As we saw above, Antonio Conte shaved his head entirely in 2007. There was evidence of hair regrowth across his scalp, but the small scar from a FUT procedure couldn't be seen.
The other type of hair transplant procedure is a FUT hair transplant. FUT is the lower cost option, which works even if you've experienced significant hair loss. However, it does leave a scar, so it's a better option for men who wear their hair long.
Antonio Conte may have had a FUE hair transplant, which has a faster recovery time than FUT. FUE involves taking groups of healthy hair follicles from the donor area – for Antonio Conte, this could have been the back of his head, where his hair was still present – and reimplanting them into the balding area. As FUE doesn't leave a scar, it's a better option for men who wear their hair short. Find out more about the difference between FUT and FUE.
Interested in a FUE hair transplant? The Wimpole Clinic has a 97% – 100% success rate for the procedure. In fact, we were voted FUE Hair Transplant Clinic of the Year in 2021 and 2022. Take a look at our guide to how long it takes to see results, and what to expect when you're recovering from hair transplant surgery.
If you'd like to find out more about hair regrowth options or have any burning questions that you really want to ask about hair transplants, book a consultation with one of our specialists here.
Sources:
The Wimpole Clinic offers FUE Hair, Beard & Eyebrow Transplants & Trichology.
Talk to a specialist ☎
020 7935 1861
.
Blog search
Book a consultation
Simply fill in your details in the form below and we'll get in touch with you shortly.