David Beckham Hair Transplant: Everything You Need To Know
Hair transplants are a rite of passage in the Premier League. Wayne Rooney's had a hair transplant. Rob Holding's had a hair transplant. Even the Godfather himself, Antonio Conte, has had a hair transplant (while he's never officially confirmed the rumours, Conte's upgraded hairline speaks for itself).
But it's David Beckham's hairline that has dominated the Premier League. Since he burst onto the scene in the mid 90s, he's popularised everything from curtains to man buns. And with his hair (usually) looking as thick and full as it did in his early 20s, there are lots of rumours about a David Beckham hair transplant.
So are the rumours true? In this article, we'll discuss:
David Beckham's hair transplant timeline
Whether David Beckham has had a hair transplant
Which type of hair transplant David Beckham has had.
David Beckham hair transplant timeline
1996-2005: David Beckham's natural hairline
Like most people, David Beckham has never had a perfectly straight hairline. In fact, photos of him in his early days at Manchester United show him with a distinctive widow's peak:
A widow's peak is a natural hairline that affects almost half of men [1]. Unlike a receding hairline or M-shaped hairline, it's not always a sign of male pattern baldness — so a hair transplant for a widow's peak isn't always the right choice.
David Beckham is one of those lucky men whose hairline stays pretty much intact throughout his twenties. His ever-evolving hairstyles raised the Brylcreem generation — and made Becks one of the first male hair style icons in the UK.
Losing your hair in your mid 20s? Find out if it's too soon for a hair transplant.
2008-2013: the LA Galaxy years
But even style icons aren't immune to androgenetic alopecia (the fancy name for male pattern balding). And around the time David Beckham moved from Real Madrid to LA Galaxy, his hairline took a slight turn for the worse:
Though his frontal hairline is still straight, the hair at his temples is receding. His hair loss has progressed along the Norwood Scale by this point, approaching stage 3 of the scale. This is usually the stage that men begin to consider hair loss treatment:
David Beckham was used to being in the limelight by the time he joined LA Galaxy. But perhaps moving to Los Angeles — a city notorious for its focus on appearances — caused him to turn to hair restoration therapy to address his receding hairline.
"David Beckham is probably on some medical therapy by this time," says Dr Michael May, the Wimpole Clinic's principal hair transplant surgeon. "He's likely on a combination of Minoxidil and Finasteride treatment. He could also be using other non-surgical hair restoration treatments, like PRP or laser light therapy."
2017-2019: post-playing career camouflage
Following his retirement, David Beckham's hair thinning became a lot more obvious. Media speculation suggests he had a hair transplant around this time — though there's little evidence to confirm this [2].
But his hairline has definitely receded further. Dr May notes, "When you compare David's hair from the profile view, you can see the recession in his hairline clearly. The birthmark on his right temple, which was once hidden, is now clearly visible beyond his hair."
While the David Beckham hair transplant rumours are unsubstantiated, there's definitely some kind of camouflage afoot here. It's likely he's using hair fibres to create the illusion of fullness, as well as choosing a hairstyle that hides thinning hair.
2020-2022: David Beckham's hair thinning
In recent years, David's hair has chopped and changed so many times it's hard to keep track. But a photo taken in 2020 displays the full extent of his thinning hair: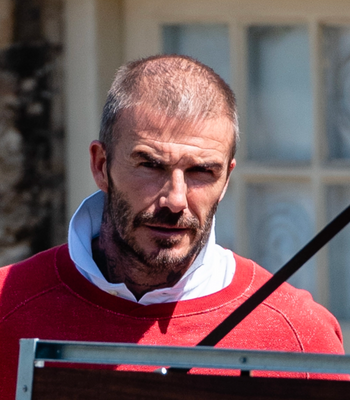 This thinning definitely didn't happen overnight. And David's hair always looks thick and full at events where he's sure to get papped — it's only in candid shots that his thinning is more noticeable.
So has he had surgery to top up his hair, or is it just a case of clever camouflage?
Has David Beckham had a hair transplant?
David Beckham has never revealed if he's had a hair transplant. And, unlike with other celebrity hair transplant before and after images, it's not easy to tell.
While David is certainly seeing hair thinning across his scalp, his frontal hairline has changed only marginally since his early 20s. This type of hair loss is easy to hide with hair thickening sprays, so perhaps he's just a master of disguise.
But some experts believe there's only one way to get a head of hair as luxurious as Becks's in 2022 — and that's with a hair transplant.
Does David Beckham use hair fibres?
If David Beckham hasn't had a hair transplant, hair fibres are almost certainly behind his hair glow-up. These minuscule fibres use a static charge to cling to your existing hairs, creating a naturally thick look. Wayne Rooney is rumoured to have used them to enhance his hair during the 2016 Euros.
Hair fibres can help you hide thinning hair — but they're far from a permanent solution. As well as treatments like Minoxidil and Finasteride, a hair transplant is the only way to permanently restore your receding hairline.
David Beckham's hair transplant: when, where, and which type?
David Beckham has always been a champion of male grooming. So a hair transplant definitely isn't off the table. And if he has had a hair transplant, he's almost certainly had FUE surgery.
FUE surgery leaves much less hair transplant scarring than FUT surgery. Other high-profile hair transplant patients — Elon Musk, we're looking at you — have obvious FUT scars that are visible through their hair. But David shows no signs of any hair transplant scarring at the back or side of his head:
With a reported net worth of approximately £376 million, David Beckham's hair transplant was probably an expensive affair. It's likely he visited a Los Angeles hair transplant clinic or Harley Street hair transplant clinic for his procedure. The world's best hair transplant surgeons work out of these locations, so it's the obvious choice for one of the world's most stylish men.
That said, it's not necessary to pay over the odds for a hair transplant. The average cost of a UK hair transplant is £4,820 — and 87% of clinics offer free consultation. Learn more about how much you should be paying in our UK hair transplant cost analysis.
Upgrade your hairline with an FUE hair transplant
Ready to get the Becks treatment for your barnet? Get an FUE hair transplant at the Wimpole Clinic. We've helped hundreds of hair transplant patients regain a look they love. Check out our hair transplant clinic reviews and before and after hair transplant gallery to see our previous patients.
Book a consultation for a free hair loss diagnosis and hair transplant eligibility check. We're happy to answer any questions you really want to ask about hair transplants and create a treatment plan made especially for you and your hair restoration goals.
Sources:
Widows Peak: No Significant Gender Bias in Expression of this Morphogenetic Character in Concern to Rigid Social Structure in India
The Wimpole Clinic offers FUE Hair, Beard & Eyebrow Transplants & Trichology.
Talk to a specialist ☎
020 7935 1861
.
Blog search
Book a consultation
Simply fill in your details in the form below and we'll get in touch with you shortly.