Xherdan Shaqiri's Hair Transplant: Everything You Need to Know
Many footballers have taken the step to restore their hair by undergoing a hair transplant; though they may not come out and openly talk about it, the results seem to speak for themselves when we look at players such as David Beckham, Harry Kane, Wayne Rooney, and most recently Xherdan Shaqiri.
Shaqiri seems to have experienced male pattern baldness; (androgenetic alopecia) which is the most common form of hair loss in men, and affects a staggering 80% of males, anytime after puberty [1-2]. Shaqiri was in the minority of men that begin to lose their hair due to male pattern baldness before they turn 21.
Though not many footballers who have hair transplants will talk about them, we know that hair restoration is not something to be kept in the dark, as there are a plethora of benefits, physically and mentally, that come with it [3]. Rob Holding, however, was very public regarding his mental health issues following his hair loss, until his hair transplant with Wimpole helped to restore his confidence.
In this article, you'll find everything you need to know about the Shaqiri hair transplant.

Xherdan Shaqiri's Hair 2018-Now
Looking at Shaqiri's hair over the years, we can clearly see the formation of hair loss begin in his early twenties; it looks as though the football star began to experience a receding hairline early on in life, which is something many men experience in their lifetime.
When referring to the Norwood Scale; before and up to 2018, Shaqiri sat at Norwood stage 1 to 3 on the scale, while 2019 saw Shaqiri's hairline qualify as a 3-4 on the scale. At level 3 of hair loss on the scale, we start to see dramatic receding of the hairline, creating that 'M' shape around the crown and temples, along with thinning in certain areas or in harsher cases, around the whole head.
Norwood stage 4 shows an extensive amount of hair loss around the crown and the hairline. Shaqiri seems to be edging on stage 4 in 2018. Compared with photos from 2020, his hair is denser, and fuller around the crown and hairline, diminishing that 'M' shape that male pattern baldness tends to create.
Image showing the 7 stages of male pattern balding according to the Norwood scale. Image credit: Healthline
In late 2019, it was reported that Shaqiri had a calf injury that put him out of the game for 2 months; it was during his time on the sidelines that Shaqiri's hair transplant was most likely performed, as it was also reported that he couldn't head a ball on his return, which tells us how new his transplant was, and which type it was likely to be.
When he returned, making his debut in 2020, we saw a significant change in his hair. Of course, the player hasn't confirmed whether he actually underwent surgery, however, we can certainly draw conclusions from the visible thickness of his hair now, compared to early 2019 and before.
What Type of Hair Transplant Did Xherdan Shaqiri Have?
In 2021, the ISHRS reported that ¾ hair transplant patients opted for an FUE procedure [4]. Given the appearance of Shaqiri's hairline, which is where the majority of his hair loss occurred, after his return to the pitch, people were quick to speculate the kind of hair transplant that he had opted for.
It is most likely that Shaqiri underwent an FUE surgery. FUE transplants are newer, and quicker and therefore gaining popularity, however, there are a number of reasons why he would receive FUE treatment. One of the biggest reasons that people prefer to opt for an FUE is that the procedure holds a significant amount of advantages over FUT Strip treatment [5].
Opting for an FUE transplant is certainly more efficient when it comes to recovery and healing, as the procedure is less invasive compared to FUT transplants, which is a longer and more invasive procedure. An FUE is performed by taking individual follicles from places with a surplus of healthy hair, which is then inserted into the area where the transplant is needed.
Overall, FUE has a high success rate, minimal scarring, and a quicker prospective healing time- perfect for someone like Xherdan Shaqiri and his high-demand job.
Has Shaqiri's Hair Transplant Been Confirmed?
Though Xherdan hasn't confirmed whether he has undergone surgery or not, it is evident when we compare pictures from 2018 and 2020; the new thickness of the hair is noticeable, and the hairline is no longer receding.
Of course, Shaqiri does not have to confirm or deny his hair transplant, as it can be a very personal thing to some people; however, being open about hair transplants can help other people who are feeling self-conscious or low about hair loss.
What's Wrong With Shaqiri's Hair Transplant?
Looking at this picture, we can see the difference in the fullness of the hairline compared to 2018 and prior, however, we can also see that the hairline has taken on a 'zig-zag' appearance. The grafts have been planted unevenly, causing a skewed hair growth pattern. Shaqiri's hair still looks good, despite the fact that his hairline looks slightly unnatural due to the graft placement, however, this could be the look that he was going for.
Opting for an FUE transplant can be a great decision that completely changes your confidence when done right, however, sometimes hair transplants can be done poorly, leaving hairlines looking anything but consistent or natural. Our hair transplant cost analysis can help you to avoid shady clinics, bad results, and overpayment.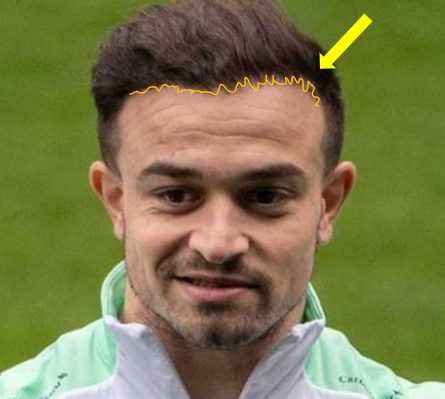 Shaqiri Hair Transplant Healing
The only downside to Shaqiri's hair transplant is that the procedure would have required a period of rest; even if your job is not physically demanding, your surgeon may recommend up to a week of downtime during the critical healing period when the grafts are not secure, and you are susceptible to swelling and infection, so running, diving, and colliding on the football pitch is less than ideal.
The critical portion of the hair transplant recovery timeline takes place within the 2 week period [6]. After the second week, the new hair grafts should be established, and scabbing should have cleared, however for someone like Shaqiri whose job is highly physical and demanding, returning to work after the healing period is a lot riskier. Though, most of Shaqiri's hair loss seemed to be around the hairline, meaning he didn't need to shave his whole head for the procedure; this means the procedure probably wasn't too intense, and his healing period may have been a little easier.
One thing that you are advised against is physical exertion; working out during the healing period is not good for your healing scalp, and sweat glands build up bacteria which could then lead to infection, scarring, and the need for another hair transplant.
Some fans have speculated that a hair transplant was the real reason that Shaqiri took 2 months away, however it seems pretty evident that he had a calf injury. Nevertheless, the 2-month resting period was very convenient for his transplant to heal and for the grafts to be safely secured. Unfortunately, though, he had to be honest about the fact that he definitely couldn't head the ball on his return!
How Many Hair Grafts Did Shaqiri Need?
An area with small amounts of hair loss usually needs around 600 hair grafts, while a larger loss can need up to 3000 grafts; given the amount of hair loss that Shaqiri experienced, and using our graft calculator, we estimated that he most likely needed around 2,000 to 2,500 grafts.
The average cost of 2000 grafts can range from around £2,000 to £15,000, which may be a good indication of the price Shaqiri paid; of course, we don't know where his transplant was performed, and different clinics charge different prices. The average hair transplant cost in the UK is £4,820.
Thinking About Starting Your Own Hair Journey?
If you're worried that you're experiencing hair loss, or that hair loss is having a negative effect on your life, you should consult your doctor first. Once your doctor has ruled out any underlying issues, you can start your hair restoration journey.
At Wimpole Clinic, we've been performing expert hair restoration procedures for over 45 years, giving our leading hair loss team a significant advantage when it comes to providing our patients with outstanding services.
We offer a range of services, from FUT / Strip and FUE Hair Restoration to help with hairlines, thinnign crown areas, as well as eyebrows and beard areas.
If you're unsure about where to begin, our Trichologist team is on hand to provide advice and to guide you in the best direction. You can book your free consultation here.
Sources:
The Wimpole Clinic offers FUE Hair, Beard & Eyebrow Transplants & Trichology.
Talk to a specialist ☎
020 7935 1861
.
Blog search
Book a consultation
Simply fill in your details in the form below and we'll get in touch with you shortly.