Hair Transplant Gone Wrong? An Expert's Advice On What to Do Next
Modern hair transplants are not only impressive in terms of results and success rates — they're also a safe and simple procedure with very short recovery times. At the Wimpole Clinic, 97-100% of our FUT and FUE hair transplants surgeries are successful.
In the vast majority of cases, patients return to their normal daily lives within a few days of the operation, with minimal ongoing care required to help their skin and scalp to heal from the surgery.
However, as with any type of surgery, there can occasionally be complications that require additional attention. These tend to be very minor and easily treatable. Experienced teams can also remedy problems if they've already helped a variety of patients. More serious cases are very rare.
It can be helpful to know about any potential risks or side-effects beforehand. Dr Michael May, Medical Director and Principal Surgeon of our Harley Street hair transplant clinic, discusses some of the factors to be aware of if you are considering any type of hair transplant.
What can go wrong with a hair transplant?
According to Dr May, there are usually two types of problems that can occur after a hair transplant: medical and aesthetic.
Medical issues: Although hair transplants are an incredibly safe and relatively simple procedure, they are still a form of surgical operation and as such carry some risks. There may be medical issues that arise during the surgery itself, such as excessive bleeding, tachycardia, and fainting [1]. These are rare if conducted with highly trained and experienced surgeons. There could also be complications that develop in the days or weeks after the procedure. For example, infections of the scalp around the transplant site, or excessive soreness (usually due to the overharvesting of follicles).
Aesthetic issues: Although not a health or safety concern, a hair transplant can be classed as a failure if many of the donor follicles fail to take in their new site, or if the new hair growth doesn't look natural and blend in well with the rest of the hair.
The most common hair transplant problems
Botched hair transplants can occur for a number of reasons, and can result in serious hair transplant regrets. Here are some of the most common issues to be aware of when researching surgeons and clinics to perform your hair transplant.
Excessive harvesting
In any hair transplant, skill is required not only during the procedure itself, but in planning how much hair is to be harvested and the areas of the scalp to harvest from. In cases of poor quality transplants, your surgeon may overestimate how many hair grafts you need. Harvesting too many hair grafts causes undue pain and discomfort during the procedure and the recovery period [1]. Removing too much hair can also leave more unsightly wounds. This may make returning to work or normal social life more difficult. It can also make it difficult to have another transplant in future if needed.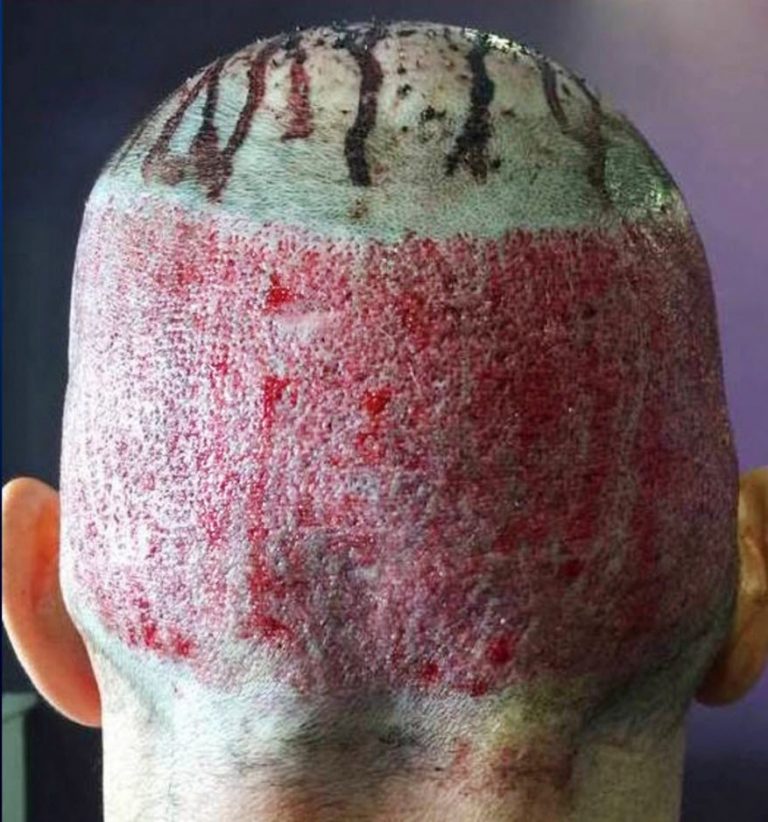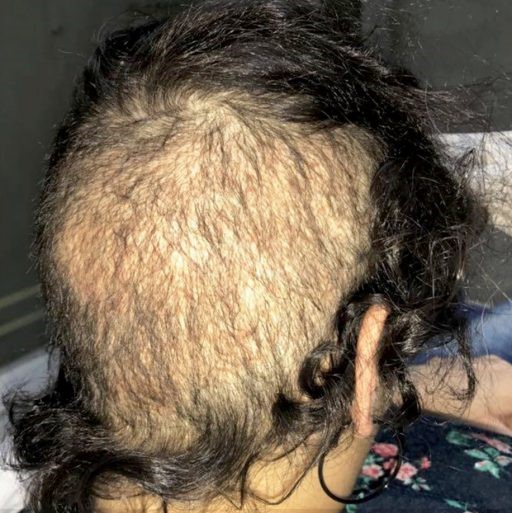 Unnecessary or significant scarring
The best hair transplant surgeons are experts at providing the desired results with the least amount of hair transplant scarring. Less experienced providers may leave you with unnecessary scarring. This can be in the donor areas of the scalp as well as the transplant area. It's important to note that FUT procedures are more likely to leave you with visible scarring than FUE surgery.
Hair transplants can help cover up scars on your face or scalp. Learn more about how getting a hair transplant on scar tissue works.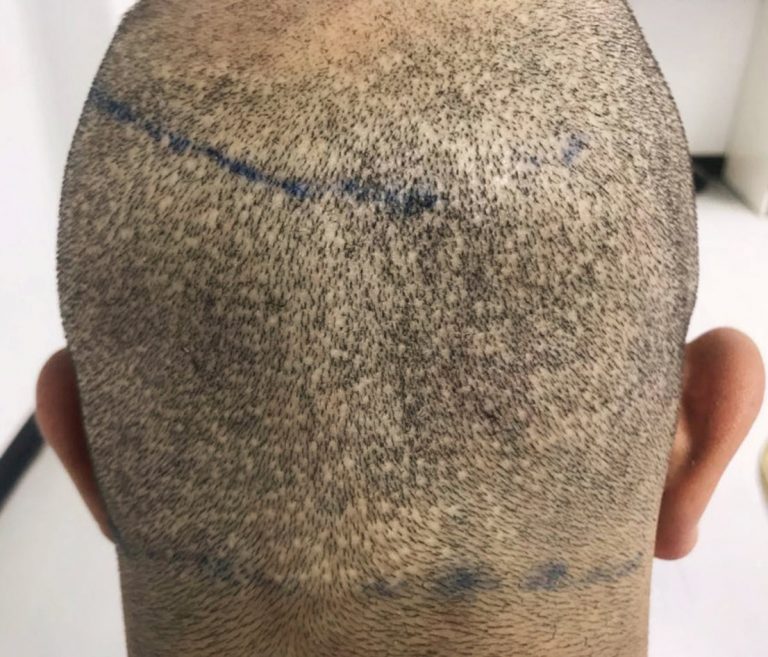 Skin or hair infections
When hygiene practices and medical standards are substandard, infections can occur in the skin on the surface of the scalp, and in the hair follicles. Although these occur in less than 1% of surgeries [2] and are usually easily treatable, they are unnecessary and unpleasant side-effects of the operations. Symptoms of infection include abscesses, pus, redness, itchiness, and excessive hair transplant swelling [3].
If left untreated, infections can ultimately lead to life-threatening conditions like sepsis. At least one hair transplant patient has died due to sepsis. Learn more about the hair transplant death rate. So if you suspect your transplant may be infected, it's important to get it examined as soon as possible.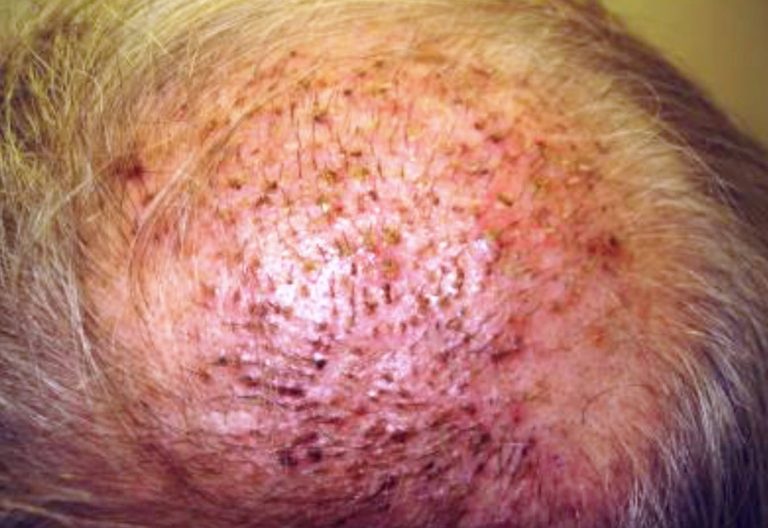 Necrosis and tissue damage
Necrosis happens when blood flow to the skin is cut off. The tissue dies and becomes black, leading to significant scarring. Necrosis can occur as a result of infection, or poor wound management.
Administering too much epinephrine to stem excessive bleeding is known to cause necrosis [5]. To minimise the risk of necrosis, choose a qualified surgeon operating out of a clinic that meets the highest hygiene standards. Ensure they're using modern surgical methods that won't cause excessive bleeding.

Transplant failure and poor growth
Even if all safety standards are adhered to, an unskilled surgeon may lack the expertise required to ensure the follicles are transplanted properly. Transplanted hairs failing to take successfully is one of the common outcomes of inadequate training or an inexperienced surgeon.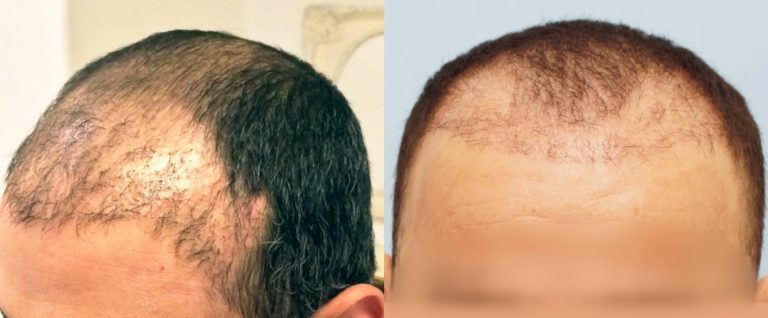 Unnatural results
Poor transplant techniques can result in unnatural-looking transplants that make you feel more self-conscious than you did before your transplant. Poor hairline design and misdirected hair transplantation are often to blame when you end up with unnatural results.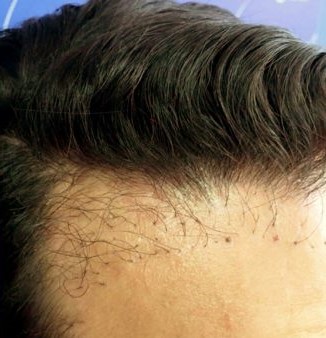 Outdated hair transplant techniques
All good hair transplant clinics use modern surgical techniques known as FUT and FUE. Performed safely and successfully, these methods have excellent success rates and cause minimal scarring. But some clinics rely on outdated hair transplant techniques, which are usually less safe and less successful.
Hair plugs used to be the industry standard hair restoration method. Hair plugs use a punch trumpet to remove large clumps of follicles, which are then transplanted elsewhere on the head. This creates an unnatural "doll's hair" effect. The donor area also undergoes significant trauma with this method, increasing the risk of infection and extending recovery time. Images like below can make one trypophobic.

Learn more about the history of hair loss treatments.
Why do problems occur in hair transplant surgery?
As Dr May points out:
There are a number of reasons why medical problems may occur. In most cases, the issue will simply be down to the inherent risks of any surgery, such as how the patient will respond to the treatment, and how well they recover and heal.
But hair transplants carry fewer medical complications and side effects than other surgeries. As a result, part of the problem may be due to the increase of clinics operating at lower standards than they should. Increased demand for hair transplants in recent years has led to a number of unlicensed clinics cropping up all over the world, offering cut-rate hair transplants on the black market. 96.4% of ISHRS members reported that up to a quarter of the hair transplant repairs they performed last year were as a result of previous black market hair transplants. [6] That's why it's important to find a reputable clinic with an excellent safety record and high success rates.
In terms of aesthetic problems, these are invariably due to a lack of expertise on behalf of the surgeon or the clinic team, or poor communication between the clinic and the patient leading to a mismatch of expectations and results [4].
Turkey hair transplants gone wrong
Turkey is a popular destination for medical tourism. With hair transplants offered at a fraction of the price of UK clinics, it's understandable that many patients take the risk of getting a hair transplant in Turkey.
But Turkey is also home to dozens of clinics that use unlicensed surgeons and poor safety practices. A 2021 survey found that 100% of complications reported by BAAPS patients occurred in Turkish clinics [7]. And with doctors claiming that taxi drivers are drafted in to perform hair transplant surgery, it's no surprise that certain Turkish clinics are responsible for many hair transplants that have gone wrong [8].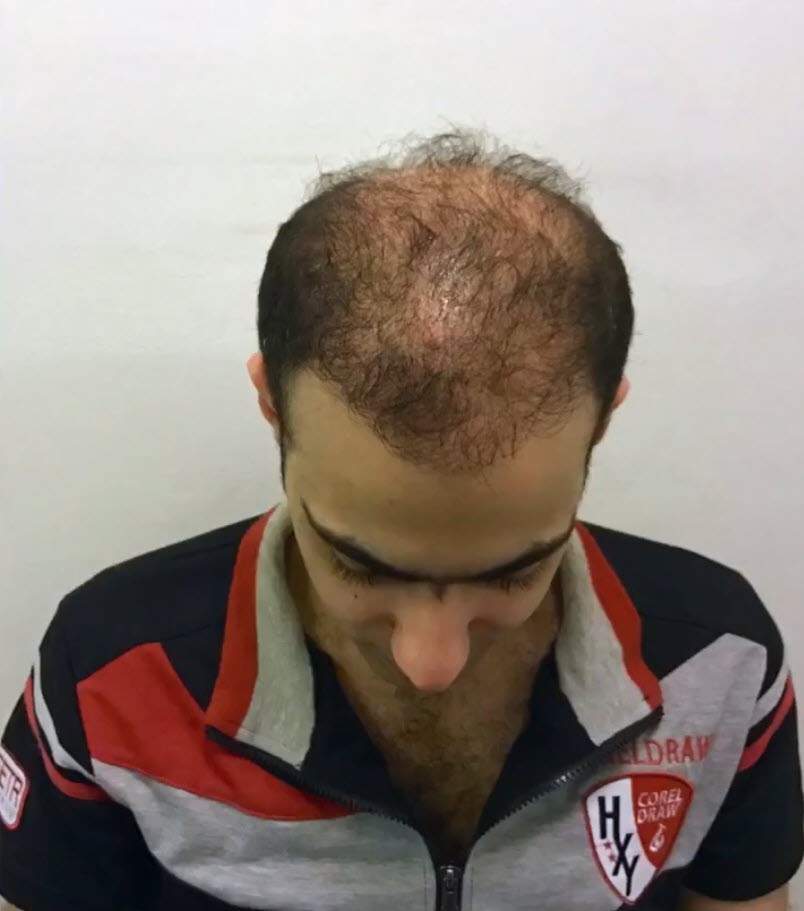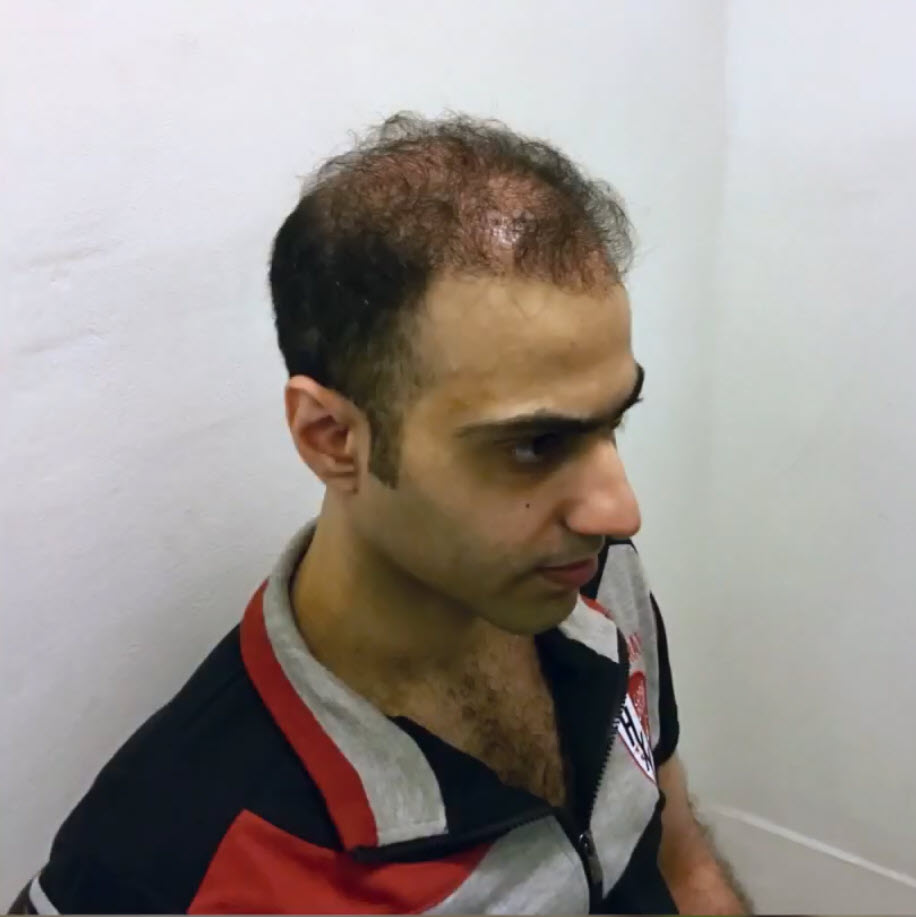 This patient was quoted 5,000 hair grafts — despite the fact nobody at the clinic had seen a photo of him. The hair transplant wasn't performed by a doctor (which is illegal in Turkey) and they overharvested follicles from the donor area. They didn't use enough anaesthesia to numb the scalp during the procedure — resulting in a painful, unsuccessful hair transplant [9].
Another patient reported severe folliculitis and acne stemming from a botched beard transplant in Turkey. Again, a doctor didn't perform the transplant, and he ended up with patchy beard hair, significant bruising, and sore, irritated skin [10]. The transplant ultimately required multiple corrective surgeries to fix.
Celebrity hair transplants gone wrong
We are all too familiar with celebrity hair transplants, but even the rich and famous aren't immune to botched hair transplants. Wayne Rooney's hair has thinned and regrown since he famously had his first hair transplant in 2011. He's had more than one hair transplant to combat his continuing hair loss.
Male pattern baldness is permanent and irreversible. So while a hair transplant can fill in the areas where hair has already been lost, it won't stop you from continuing to lose hair. Instead, other treatments, such as Minoxidil, Finasteride, or Dutasteride, should be used to minimise continuing hair loss. This can give you a thick, natural-looking head of hair.
Wayne Rooney is reported to have paid around £30,000 for his hair transplant treatments. Whether this figure is accurate is up for debate — but it's important to recognise that it's not usually necessary to pay that much for a successful hair transplant. In our UK hair transplant cost analysis, we found that the average cost of a hair transplant is £4,820.
That means you don't need to be on a professional footballer's wage to opt for a hair transplant. But repairing bad hair transplants can increase the cost of your hair restoration treatment, as you may need multiple corrective surgeries to fix a botched transplant.
To avoid paying over the odds for your transplant, choose a reputable clinic with strong success rates from the start. You'll find that fantastic results — such as Rob Holding's hair transplant — can be achieved at a much more affordable price.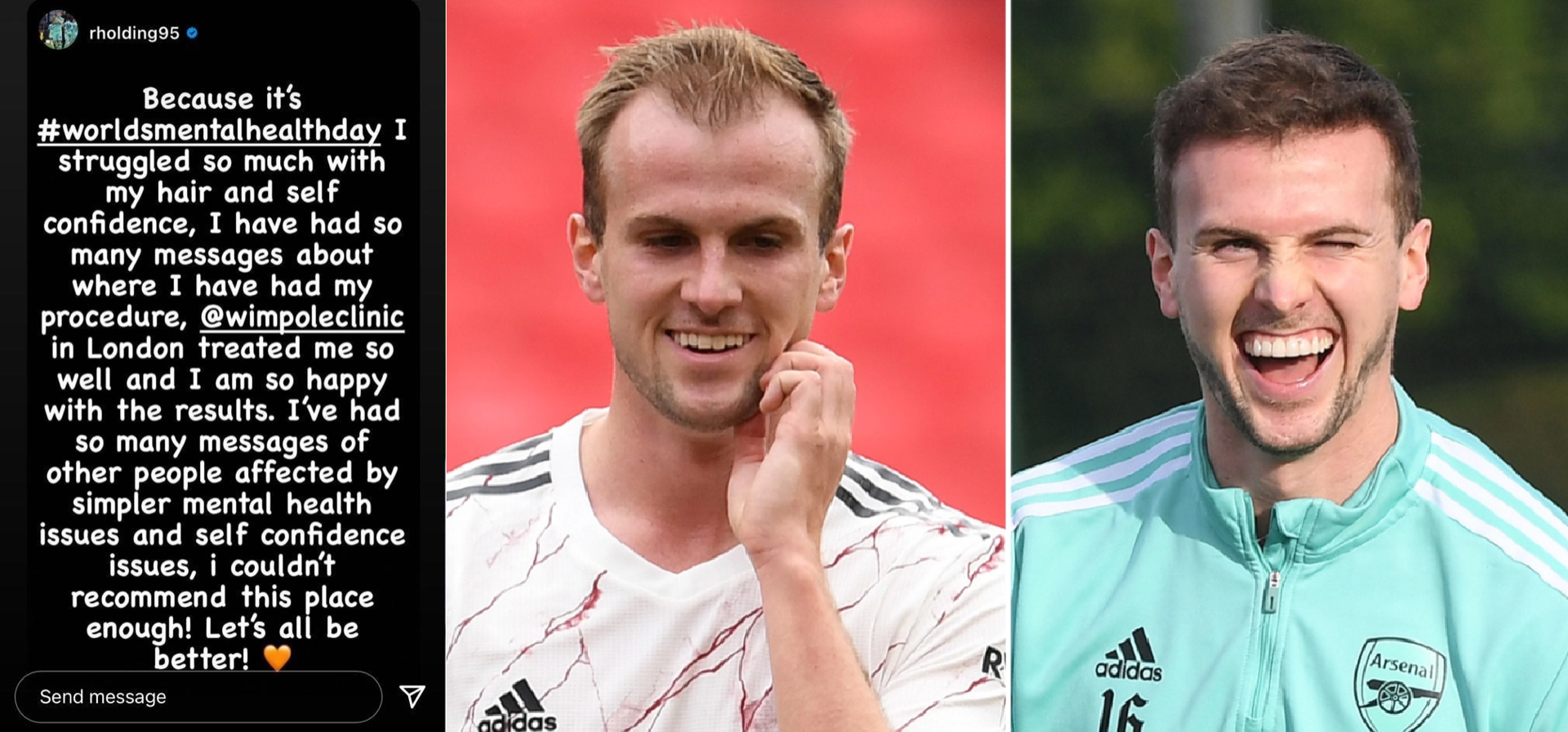 What to do about a botched hair transplant
We created a similar advice piece on beard transplants gone wrong. What does Dr May suggest if something does go wrong with your beard transplant?
In the first instance, contact your clinic and ask for their recommendations. Most reputable clinics will have in place a comprehensive follow-up service that can prevent or address any problems that develop after the surgery. Having a point of contact to keep in touch with, lead up to the surgery and post-care, is very important. Often this is the consultant and he or she should be accessible to you.
They will be familiar with the most common problems, and will be able to assist with any queries. They can either advise you over the phone or make an appointment for you to return for an assessment. If this person is not available, you may need to consider other options.
If going back to your original clinic is not an option – for example, if you travelled to a hair transplant clinic abroad – schedule an appointment with a good reputable local clinic. They will be able to assess your situation and advise you accordingly. Good surgeons will also be able to remedy or repair any failed or bad hair transplants.
If severe health issues develop outside of normal office hours, always seek immediate medical attention. Depending on the urgency of the problem, contact your GP or local A&E services.
Learn more about the best countries for hair transplants.
Preventing problems with your hair transplant
One final point Dr May is keen to highlight;
The vast majority of hair transplants are highly successful procedures that result in patients recovering quickly and well, and being delighted with their results.
The best way to prevent any undue problems down the line is to ensure you choose a reputable clinic. Your clinic should adhere to the highest medical standards and includes a comprehensive aftercare and follow-up service.
Learn how to find a reputable hair transplant clinic that will support you to get the transplant results you want and take a look at our list of questions you really want to ask before getting a hair transplant.
The Wimpole Clinic offers FUE Hair, Beard & Eyebrow Transplants & Trichology.
Talk to a specialist ☎
020 7935 1861
.
Blog search
Book a consultation
Simply fill in your details in the form below and we'll get in touch with you shortly.