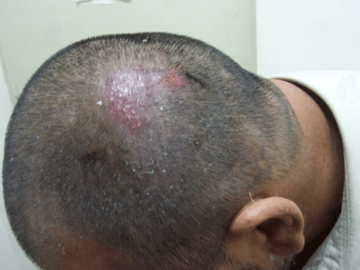 Folliculitis After Hair Transplant: Causes, Symptoms, Treatments
Folliculitis is one of the most common hair transplant side effects. One study found that folliculitis occurred in 1% of hair transplant patients [1]. So while it's relatively rare, you still need to recognise the signs and symptoms of this condition if you've had or are considering FUE or FUT surgery.
In this article, we'll explore:
The causes and risk factors for folliculitis after a hair transplant

The symptoms of folliculitis (plus see real patient photos)

How to prevent and treat folliculitis after a hair transplant.
What is folliculitis?
Folliculitis is inflammation of the hair follicle often caused by a bacterial infection. But even if there's no hair transplant infection present, irritation from regrowing hairs can trigger sterile folliculitis.
Since hair transplants put you at slightly higher risk of infection and will (hopefully!) stimulate substantial regrowth, it's unsurprising that hair transplants are sometimes linked with folliculitis. Folliculitis can happen any time from a few days to six months after hair transplant surgery [2].
While one or two inflamed follicles aren't usually a cause for concern, if you see lots of inflammation in the same area, you may have folliculitis.
Will folliculitis harm my hair transplant?
One study found that most patients who experienced folliculitis after a hair transplant had satisfactory results after 12 months [2]. So folliculitis isn't guaranteed to harm your chances of regrowth.
However, in rare cases, folliculitis can cause delayed or inhibited growth of transplanted hair [3]. Plus, it's often itchy and unsightly. So it's important to recognise the symptoms and minimise the risk of developing folliculitis.
Causes of folliculitis after hair transplant
The main causes of folliculitis after a hair transplant are [4]:
Poor hygiene and

aftercare

Preexisting skin conditions such as acne

Badly dissected hair grafts

Poor graft placement
Some causes relate to how well you care for your transplant, while others depend on the skill of your surgical team. That's why it's so important to choose the best hair transplant surgeon for your hair type.
There are also some genetic and age-related factors that can put you at greater risk of developing folliculitis after a hair transplant. This includes having:
Very curly hair [1]

Black hair types [1]

A hair transplant when you're young [2]
Symptoms of folliculitis after hair transplant
The most common symptom of folliculitis after a hair transplant are:
Pimples around the transplanted follicles

Small yellow crusts forming on the affected area

Itchy, hot, or burning skin

Painful or sensitive skin in the affected area

Redness and inflammation
In more severe cases, you may also see pus-filled blisters that weep and scab over.
Can you get folliculitis decalvans after a hair transplant?
Folliculitis decalvans is a type of chronic folliculitis that leads to scarring alopecia. Unlike other types of folliculitis, it's caused by unusually high levels of neutrophilic white blood cells, which leads to long-term inflammation.
Hair transplants don't affect your white blood cell count, so they're not responsible for folliculitis decalvans. In fact, one study found that hair transplants could effectively treat a patient with folliculitis decalvans [5].
What does folliculitis after a hair transplant look like?
These real patient photos of folliculitis after a hair transplant show the symptoms you might expect if you develop this condition after FUE or FUT surgery: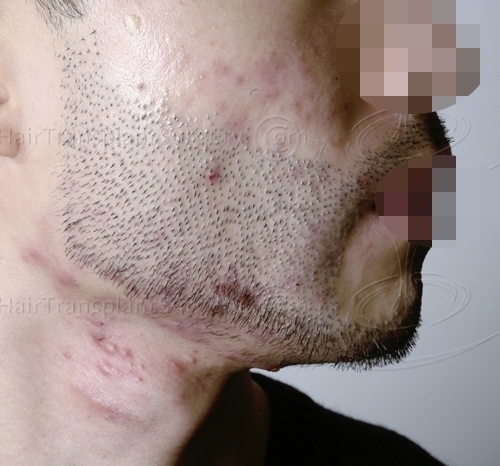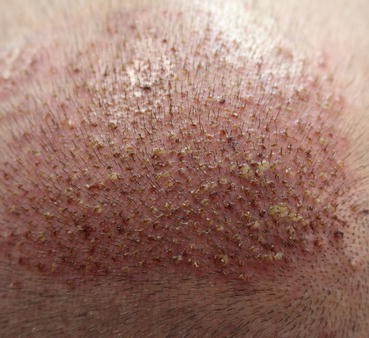 How to prevent folliculitis after a hair transplant
There are two key ways you can prevent folliculitis after a hair transplant:
Choosing a skilled, experienced hair transplant surgeon.

Following your hair transplant aftercare routine closely.
Choosing a good surgeon at a reputable clinic is the best way to minimise the risk of folliculitis. Many cases happen due to poor graft placement and substandard graft dissection in FUT [1]. You can avoid this by working with a surgical team that has the skill and experience to perform a high-quality transplant.
It's also extremely important to take good care of your hair transplant, particularly for patients who may be more at risk, such as those with curly hair types. Some research recommends shorter follow-up intervals for these patients to analyse and correct any ingrown hairs and signs of folliculitis [1].
How to treat folliculitis after a hair transplant
Mild cases of folliculitis will often clear up on their own without treatment. But it's best to get it checked out by your clinic, just to be on the safe side.
Fortunately, folliculitis is very treatable. So even if you don't manage to prevent it, there are ways you can tackle it. Treatments for folliculitis after a hair transplant include:
Warm compress

— Holding a warm damp cloth on the affected area can reduce irritation and encourage drainage of any pimples.

Topical and/or systemic antibiotics

— Antibiotics help fight bacterial infection, which is often the underlying cause of folliculitis.

Antibacterial shampoo

— Specialist shampoos will cleanse the area and help stop bacteria getting into the incisions.

Antihistamines

— If your folliculitis is itchy, antihistamines can help soothe any irritation.
Some clinics routinely prescribe antibiotics after a hair transplant to prevent hair transplant infection that can lead to folliculitis. If this is the case, make sure you take any drugs as prescribed.
What to do if you have folliculitis after your hair transplant
If you suspect you have folliculitis following a hair transplant, it's important to speak to your clinic. They can recommend a treatment plan to reduce your symptoms and get your hair growth back on track.
You can also get in touch with the Wimpole Clinic for free, impartial advice. Book a free consultation to review your hair transplant, or to discuss any worries you have about hair transplant side effects before your procedure.
Find out more about hair transplant side effects and complications in these recommended articles.
The Wimpole Clinic offers FUE Hair, Beard & Eyebrow Transplants & Trichology.
Talk to a specialist ☎
020 7935 1861
.
Blog search
Book a consultation
Simply fill in your details in the form below and we'll get in touch with you shortly.