What Is Hair Transplant Overharvesting?
There's a common misconception that the hair used in hair transplants is donated by a third party. However, the hair transplanted actually comes from your own body. This is called donor hair, and it's taken from areas that have healthy hair growth (such as the back of the head, or the beard).
Unfortunately, when too many donor follicles are taken, it can give you bad hair transplant results and prevent you from having future hair transplants. This is known as hair transplant overharvesting.
Learn more here about why overharvesting is damaging for hair transplants and how can you avoid it.
What is overharvesting of donor hair?
Overharvesting happens when surgeons overestimate how many hair grafts you need for a successful hair transplant. They extract too many follicles from the back of your head, leading to unnecessary scarring, patchy growth, and insufficient follicles for follow-up procedures. Learn more about hair transplant side effects.
Experts say surgeons shouldn't remove more than 1 in 4 follicular units for a hair transplant [1].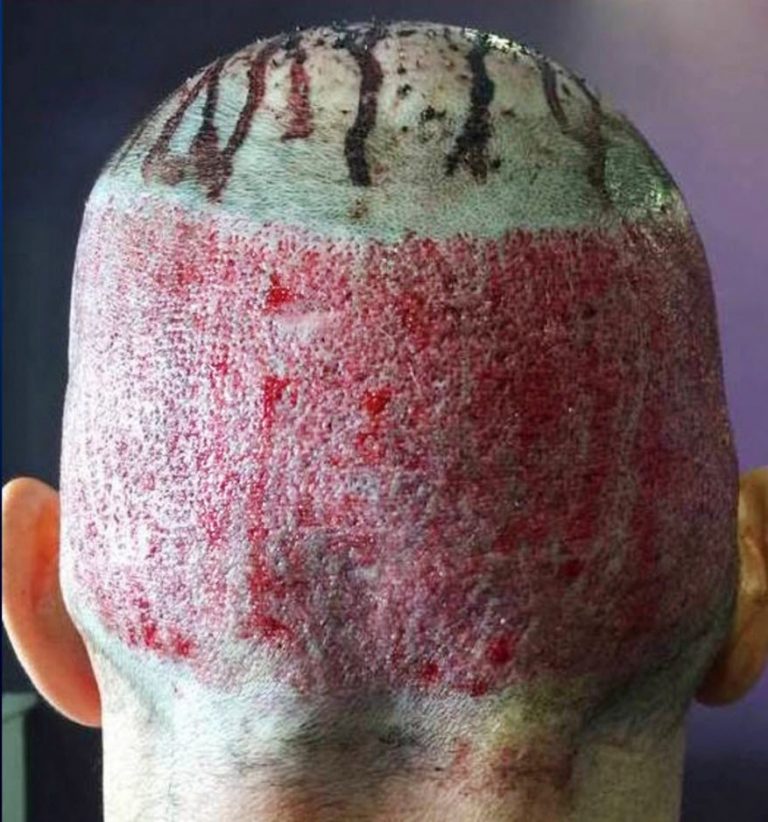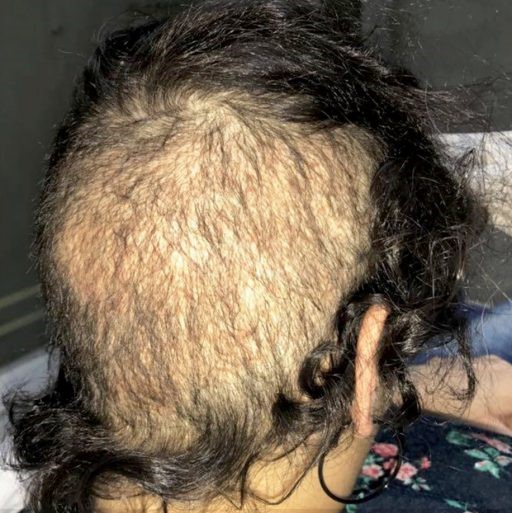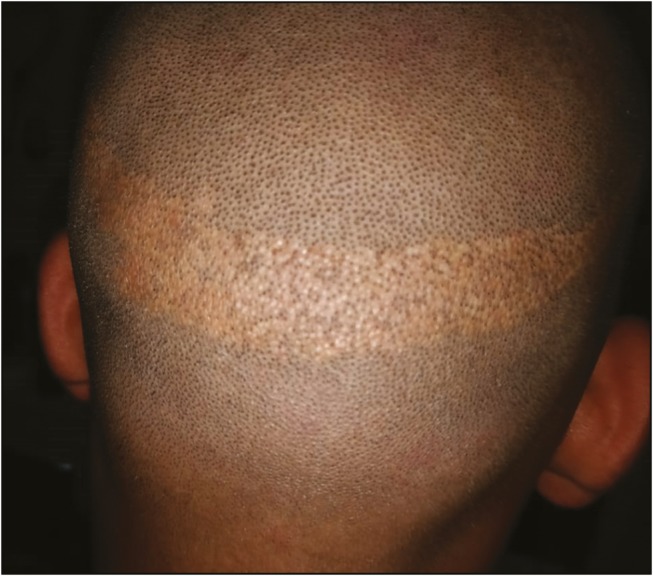 Image credit: ISHRS; ISHRS; Dr Aman Dua
Why does overharvesting happen?
The most common reasons for overharvesting include:
Lack of surgical skill, knowledge, or awareness of the risks of overharvesting
Increasing the cost of a transplant while offering a low price per graft
Attempting to meet unrealistic patient expectations
Improving the initial result without considering the need for future transplants
FUE surgery is a harvesting technique that requires the utmost precision and skill [2]. It's a physically demanding task for any surgeon — so it shouldn't be left to inexperienced or unlicensed practitioners.
Overharvesting is more likely to occur in clinics that fail to adhere to basic safety practices and medical regulations. Unfortunately, some clinics save time and money by using unlicensed technicians to perform hair transplant surgery. The chair of the ISHRS reports that some hair transplant clinics in Turkey have taxi drivers and other unqualified people performing surgery [3]. So it's easy to see how overharvesting can happen if you choose a subpar clinic.
When you have a hair transplant abroad, clinics don't usually expect to see you again after the surgery. By using overharvesting methods, they can boost your initial results and send you home a satisfied customer. But because transplant recovery is a long process (with permanent results not usually visible until a few months after the procedure) this may not indicate your actual results.
Most people who need corrective surgery then turn to more reputable clinics at home to get the results they want. If too many follicles have been harvested, follow-up procedures may be difficult or even impossible, even for experienced surgeons. Nearly all ISHRS members (96.4%) reported that up to 25% of their corrective cases were due to a black market hair transplant [4].
See hair transplants with healthy harvesting
Hair transplants are very safe if your surgeon manages your donor area well. If you're considering a hair transplant, take a look at the costs involved and the coverage you can expect with different hair graft quantities: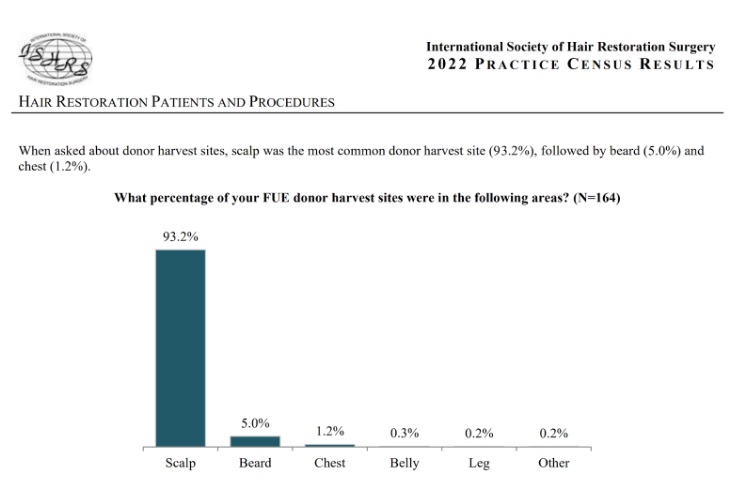 Why is it important to prevent overharvesting?
Damage to the donor area
Overharvesting often leads to permanent damage to the donor area [1]. This can result in hair transplant scars and lack of growth after your hair transplant. Not only is this aesthetically unappealing, it also makes it very obvious that you've had a hair transplant — something most patients are keen to avoid.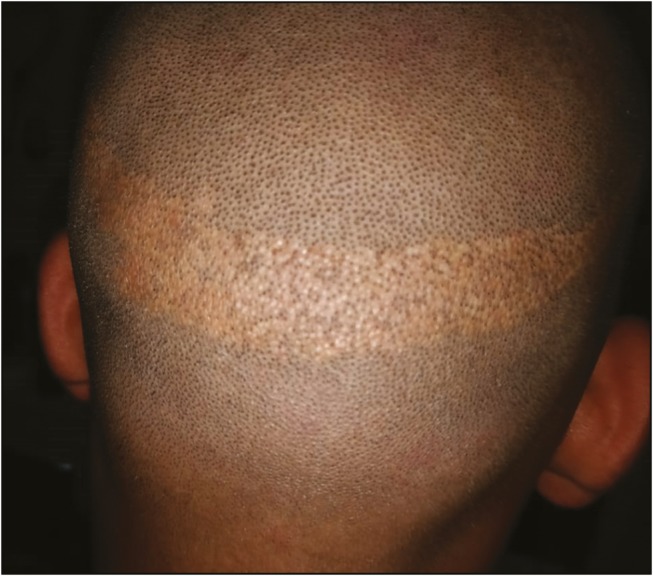 Image credit: Dr Aman Dua
Donor area management
Overharvesting also reduces the available follicles you may need for subsequent hair transplants. While most patients achieve the desired results within one procedure, 31.9% of patients require 2 or 3 surgeries to restore their hair [4]. This becomes impossible if there aren't enough follicles in your donor area to perform additional procedures.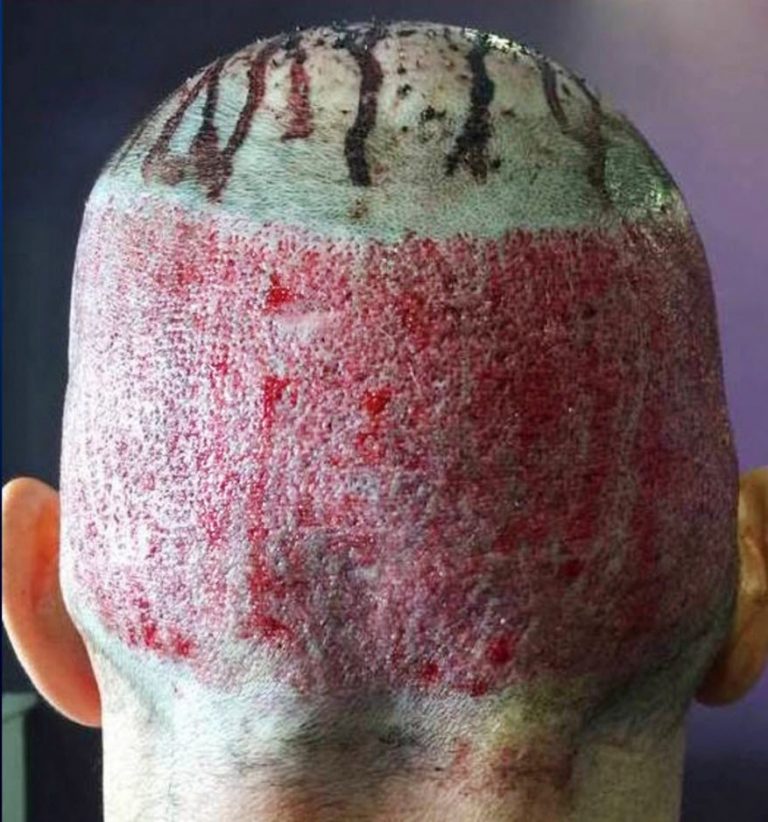 Image credit: ISHRS
Postoperative effluvium
Overharvesting can also lead to additional hair shedding. While transplant shedding is a normal part of hair transplant recovery, research has found that some patients lost additional hair in the donor area following follicular overharvesting [1]. In most cases, the additional hair loss was temporary, lasting just a few weeks.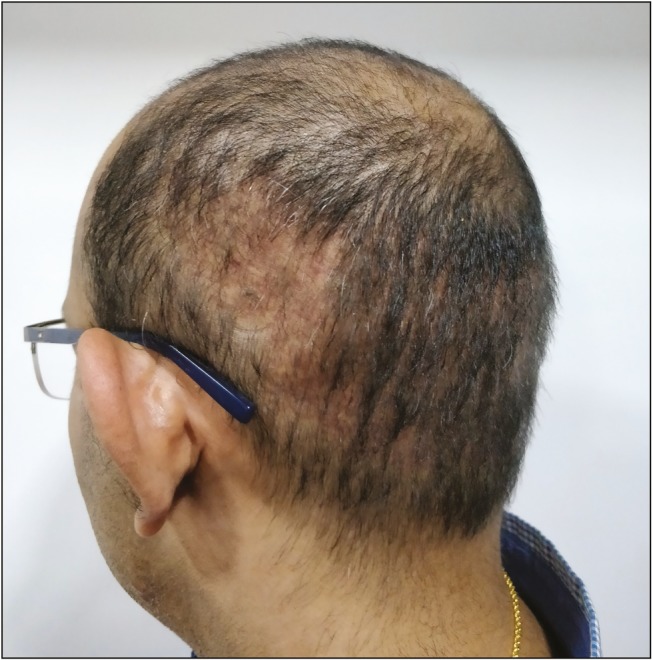 Image credit: Complications in Hair Transplantation
There are also medical risks to overharvesting, such as necrosis and infection. Hypopigmentation — a lightening of the skin tone in the affected areas — can also occur [5].
How patients can avoid follicle overharvesting
While it's up to your surgeon to use the correct procedures and techniques to prevent overharvesting, there are things you can do to ensure your donor area remains healthy after hair transplant surgery.
Work with a reputable clinic and an experienced surgeon
The best way to reduce the risk of overharvesting is to work with an experienced, licensed surgeon. Don't be duped by flashy websites and chauffeur-driven airport pickups. Instead, find out exactly who will be performing your surgery, what their success rates are, and what qualifications they have.
If possible, read testimonials from other patients and take a look at some before and after images to get a sense of the surgeon's knowledge and skill.
Have an in-person consultation
An in-person consultation is the best way to gauge the expertise of your chosen clinic. The consultant can fully examine the extent of your hair loss and give you an accurate graft quote based on this.
87% of UK clinics offer a free consultation, giving you the chance to ask as many questions as you like. Ask about the procedure itself, and find out how they minimise the risk of overharvesting. The donor area should always be mapped out on your scalp before any hairs are extracted, so you can see exactly how much hair will be taken.
We recommend you get graft quotes from a range of clinics, so you can be sure the number of grafts isn't being artificially inflated to boost the price of the transplant. We found instances of this in our recent UK hair transplant cost analysis — so do what you can to protect yourself from shady clinics operating both in the UK and abroad.
Follow a hair loss prevention treatment plan
Hair transplants are a very successful way to restore lost hair — but they won't prevent continued hair loss. For this, you normally need medication (such as Finasteride or Dutasteride) or a topical solution like Minoxidil. Applied regularly, these solutions can slow or even stop hair loss from male pattern baldness.
When your hair loss is under control, you may be less likely to need an additional transplant. So even if your surgeon takes a few too many follicles, there should be less impact on your overall results.
Prepare for future transplants
Most patients hope they'll see amazing results after just one procedure — but unfortunately hair transplants can sometimes fail. That's why it's so important to preserve your donor area and protect it from overharvesting.
Discuss the possibility of future transplants with your consultant and your surgeon. If they're aware of your concerns, they can take extra care to protect the follicles in your donor area, and only extract as many as they need. If a previous surgeon has already overharvested your follicles, they may discuss the possibility of an artificial hair transplant such as Biofibre.
Find a safe, successful surgery for your hair transplant
Hair transplants are one of the safest, most successful cosmetic procedures when performed by an experienced surgeon in a clean environment. If you're considering a hair transplant, read our hair transplant clinic reviews to see how the Wimpole Clinic prioritises patient safety and gets remarkable results.
The Wimpole Clinic offers FUE Hair, Beard & Eyebrow Transplants & Trichology.
Talk to a specialist ☎
020 7935 1861
.
Blog search
Book a consultation
Simply fill in your details in the form below and we'll get in touch with you shortly.