What Is An Artificial Hair Transplant?
The artificial hair transplant was a subject of debate during the 80s/90s as in 1983 a controversial procedure was banned by the FDA following unsafe, aggressive, and detrimental practices. But now an artificial transplant product, Biofibre, has a CE mark in the UK, making it a modern, safe, legal procedure that produces successful results [1].
Despite a controversial past around the name, the more modern approach to the artificial transplant widens the scope for those who do not have a donor site, or who have no possibility of undergoing a natural transplant. Hair loss patients may be denied natural hair restoration treatment (such as FUE restoration or FUSS) due to factors such as complete baldness, retrograde alopecia, and certain types of scarring alopecia. These types of conditions do not usually provide a healthy donor site from which to extract hair follicles.
In this article, you can expect to learn:
What an artificial hair transplant is and how it's performed
If an artificial hair transplant is safe
If you could be a candidate for an artificial hair transplant.
What is an artificial hair transplant?
The artificial hair transplant is a significant milestone within hair restoration practices. The procedure differs from a hair transplant as, instead of hair follicles being implanted into the affected area(s), synthetic fibres/hairs are used. These fibres last around 7-8 years and shed at a rate of 10% per year.
One of the main benefits of the process is that artificial hairs offer a more rooted alternative to natural hair transplants, going deeper into the scalp. These hairs create a natural appearance and offer immediate results, whereas natural hair procedures rely on hair growth time and can take up to 18 months to see results.

Before and after a Biofibre hair transplant
One study suggests that up to 600 synthetic fibres can be transplanted per hour [2]. Because there's no extraction process, an artificial hair transplant usually takes less time than a real hair transplant.
Touch-up surgeries will be required to maintain the fibres, and specific scalp care needs to be performed often.
Secure fixation of the hairs in the scalp takes around 20-30 days. During this time the fibres are susceptible to being moved, so patients are advised to take care and avoid excessive manoeuvres on and around the scalp for this length of time. Patients must also follow a strict aftercare regime to ensure proper healing, and to avoid hair transplant infection.
The fibres can be manipulated to give a long, short, or high hair density appearance, and are available in a wide range of colour choices. The patient will also be able to choose the texture of the hair, such as afro, curly, straight, etc. Learn more about Afro hair transplants.
How is an artificial hair transplant performed?
Performing an artificial hair transplant is more invasive than a natural hair transplant, as synthetic fibres are being implanted deeper into the scalp. To begin the process, your scalp will be anaesthetised so that you experience minimal discomfort. The surgeon will use a hook to insert the synthetic hairs, one by one, under the scalp. This is done until the desired hair density is acquired.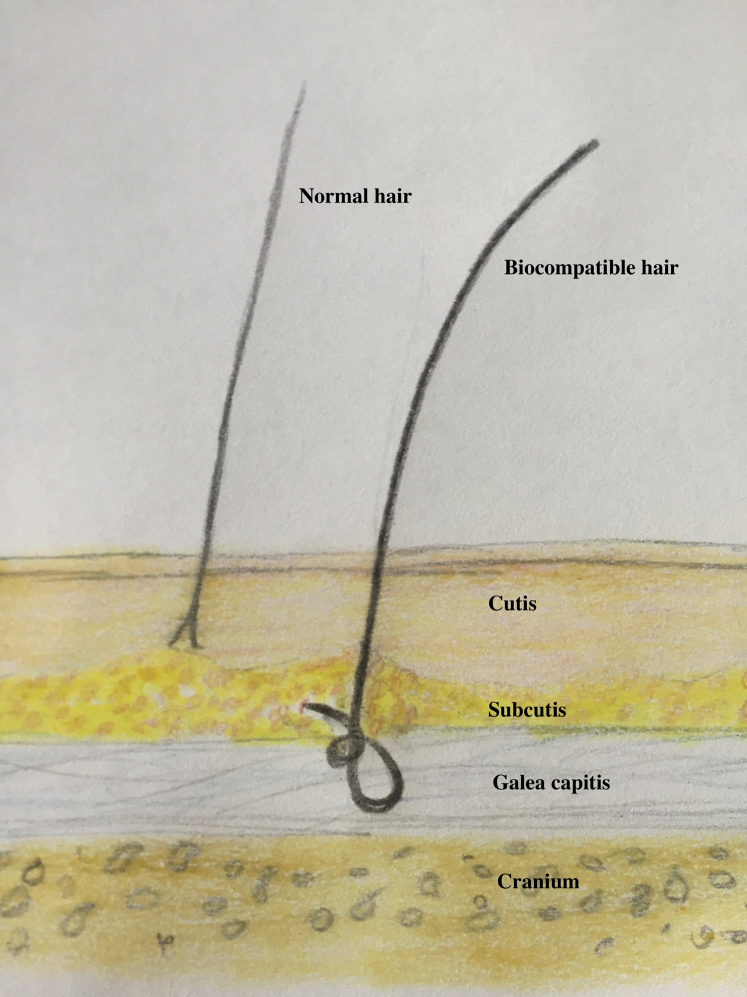 The difference between artificial (biocompatible) hair and a normal hair.
Synthetic hairs are implanted much deeper into the scalp than follicles in a normal FUE or FUT procedure. This is because there's no follicle at the root. Instead, the process relies on embedding the fibre firmly under the skin to prevent large amounts of hair shedding. It's inevitable that some of the fibres will eventually come away when you brush, so unlike a permanent hair transplant, you'll need regular top-up treatments.
Is an artificial hair transplant safe?
The short answer is yes. People often confuse the modern procedure with the aggressive, controversial hair plug procedure from the 80s, however, these are not related.
Not only is an artificial hair transplant safe, but it produces good results for those who are unable to undergo a natural hair transplant, albeit with more upkeep required than a standard transplant. The fibres used are of maximum safety grade VI in the medical polymer scale. The roots are reversible for safety reasons.
Though the process is labeled as a hair transplant, it is actually an implant. This is because you are not transplanting hair from other parts of the body. Instead, foreign bodies are implanted into the scalp. Because of this, patients must take care to follow aftercare advice. You may also be prescribed a 7-day course of antibiotics after the surgery.
Of course, like any procedure, there are some side effects. According to two studies, two women who received the treatment did not undergo a tolerance test beforehand to ensure they would not react to the fibres. This caused infection in both individuals [3].
Where 95-98% of implants are successful, studies show that 2% of cases called for the extraction of fibres due to inflammatory or infectious incidents [4]. Due to this, it is essential to receive a tolerance test before the surgery. This should be common practice in reputable hair clinics.
Am I a candidate for an artificial hair transplant?
An artificial hair transplant is recommended for people with male pattern baldness, female pattern baldness, and some conditions that do not allow for a natural hair transplant to be carried out.
People who would not be considered for an artificial transplant are those who suffer from scalp diseases, and those with autoimmune conditions such as HIV, hepatitis, and lupus. This is because these conditions may cause complications with the transplant recovery process. Failing the tolerance test beforehand is another reason you may not be accepted for the procedure.
You are generally accepted for the surgery if you are:
In good health generally, and have good scalp health
Pass the tolerance test with no sensitivity
Are prepared to follow the proper scalp aftercare and hygiene guidelines
Understand that you may need to undergo touch-ups in order to maintain the hair.
Artificial vs real hair transplants
Artificial hair transplants can offer fantastic results if you're not eligible for a standard FUE or FUT procedure. They also give immediate results, so you won't need to wait for the follicles to regrow. But if you can have a real hair transplant, they can be a preferable option. Here's why:
Your natural hair will perfectly match your existing hair in terms of colour and texture — synthetic hair can be a close match, but not exact
You can't usually bleach or use permanent chemical treatments on synthetic hairs, which can limit your styling options
You'll need regular top-up treatments to replace shed hairs, as these will be permanently lost
If you need a large number of implants, you'll probably need multiple sessions, which can prolong recovery
If you cut the fibres, they won't grow back, which means you'll need to stick with the same hairstyle
Artificial hair won't age in the same way as natural hair, so you may see colour and texture differences as you age.
Learn more about available hair restoration treatments
If hair loss is having a negative effect on your life, we are here to help. At the Wimpole Clinic, we've been providing expert hair restoration services for over 45 years, being awarded 'Hair Transplant Clinic of the Year' in 2022.
Our leading team of trichologists is on hand to answer any questions or concerns you may have. We offer a range of services, including crown hair transplants, beard transplants, eyebrow transplants, and alternative treatments. Book your free consultation with our team to find out more.
Sources:
The Wimpole Clinic offers FUE Hair, Beard & Eyebrow Transplants & Trichology.
Talk to a specialist ☎
020 7935 1861
.
Blog search
Book a consultation
Simply fill in your details in the form below and we'll get in touch with you shortly.