Book a Consultation
Simply fill in your details and we'll get in touch with you shortly.
Beard Transplant
Harley Street, London
• 1 DAY PROCEDURE
• NO VISIBLE SCARRING
• NATURAL LOOK
Beard Transplant
Harley Street, London
• 1 DAY PROCEDURE
• NO VISIBLE SCARRING
• NATURAL LOOK

Book a Consultation
Simply fill in your details and we'll get in touch with you shortly.
What is a beard transplant
Almost 50% of males find it difficult to grow a full, healthy beard or sideburns with even growth and no patchy areas. A beard transplant is a simple solution to this problem that alleviates bald patches, creating a full healthy beard or even a well-shaped goatee.
Loss of facial hair can be immediately apparent and is hard to disguise, leading to even the smartest of men appearing somewhat ungroomed.
There are a number of reasons why it may be considered advantageous to grow a beard; a facial hair transplant makes it possible to grow and maintain sideburns, a beard or even a moustache, giving a very masculine appearance.
Whilst facial hair fashions often change, the wish for many men to develop a beard or sideburns will always exist. However, for some men, even those who take good care of their appearance and consume a healthy diet, this can be an issue. This could be down to genetic hair growth patterns, or even as a result of damage.
A beard transplant can completely alter the appearance of your face, giving it a more contoured line and a fuller, more neatly shaved look.
How does the beard transplant process work?
Hair Preparation
The donor area is prepared by washing and shaving an area from the side or back of the head normally ear to ear. A local anaesthetic is applied to reduce discomfort whilst the beard transplant surgeon uses a state of the art electronic punch to extract the individual hair grafts. An antiseptic dressing is applied to the donor area which can be removed the following day.
Hair Extraction
The grafts are extracted using a 0.9mm electronic punch and categorised into grafts containing one, two or three hairs. Once selected by Wimpole's technicians, the hairs are then prepared for transplantation to the new hairline area. The hair extraction process typically takes between 1 to 3 hours depending on the number of grafts to be extracted.
Placing Beard Implants
The new boundary for your beard is marked before small incisions are made shortly before the graft commences. The hair grafts are placed evenly into the small openings to match your existing beard pattern, angle and desired density. A typical beard placement procedure can take between 1 to 3 hours and the results will be instantly noticeable.
The Aftercare Plan
An aftercare pack is provided that contains special shampoos and information on how to care for your transplanted hair. You'll have a hair examination after 1 month to check the progress of your hair transplant. This will be followed up with a complimentary high-frequency laser treatment session that will promote hair growth. You'll also receive advice on how best to care for your new hair.
Beard Transplant Procedure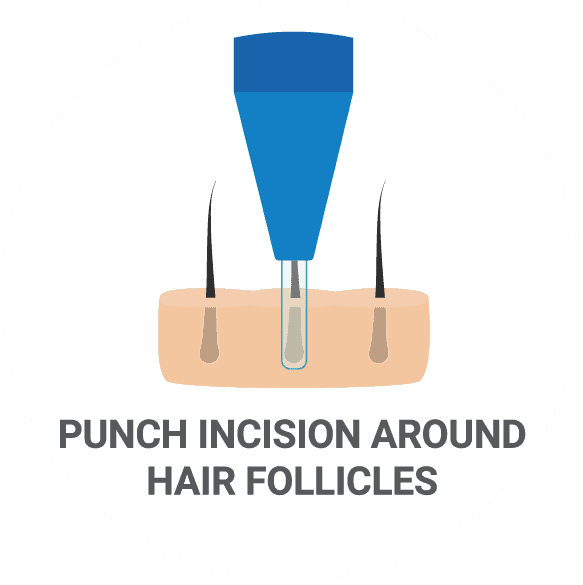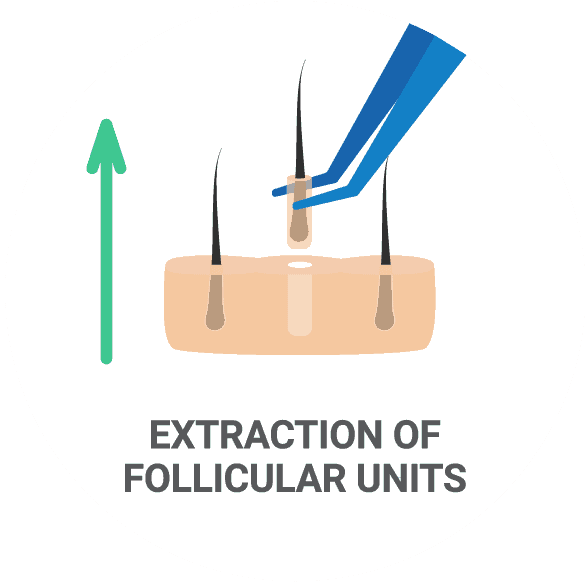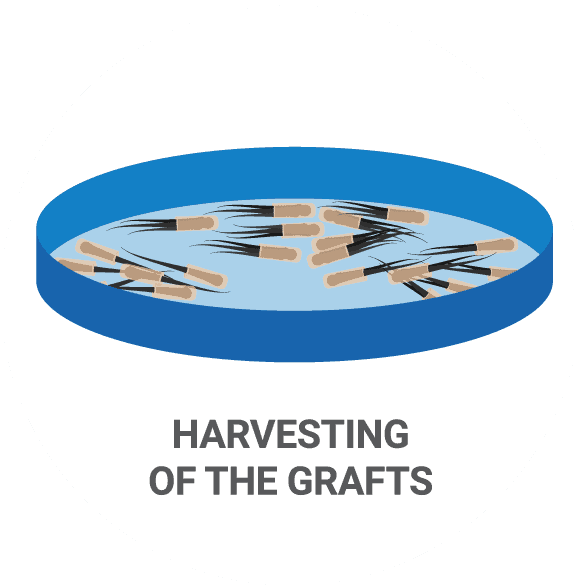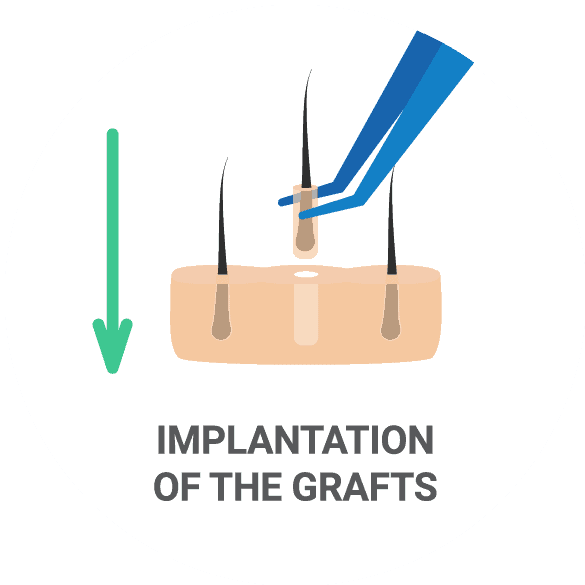 Am I a suitable candidate for beard transplant?
If you are missing patches of beard hair, a facial hair transplant will give you back a full, thick beard, sideburns, moustache or goatee. The principles are the same as a regular hair transplant to your scalp. After a beard procedure, you will be able to shave and style your facial hair however you wish.
The number of grafts can range from a few hundred to a few thousand. To provide a natural appearance, the hairs are transplanted as individual (and sometimes two hair) grafts. Great care is taken to assure natural growth and appearance including the careful placement of the grafts at the exact angle and direction of typical growth. Once placed, the microscopically dissected grafts of a beard transplant are permanent. The procedure is essentially painless as is the recovery period.
Here's an indicative timeline of the recovery period:
Days 1-5:

Care is needed to keep the transplanted area absolutely dry. You might feel some discomfort for the first couple of days.

Day 2:

You can resume non strenuous activities.

Day 14

: The transplanted hairs will fall out after about 2 weeks

Day 90

: Hairs start to re-grow and will continue to grow for a lifetime.
A beard transplant can conceal scarring (such as acne) or trauma (such as scars, burns or accident). The new growth will not fall out and will require normal trimming, shaving or styling.
Beard Restoration Methods
The beard restoration procedure starts with the extraction of the donated hair follicles; this is carried out using either FUE (Follicular Unit Excision) or FUT (follicular unit transplant).
FUE
FUE works by directly taking the donor follicles from the head, a tiny semi-circular shallow cut is made which allows each follicle to be removed directly from the head. This is then grafted straight onto the beard area.
FUT
FUT is a innovative technology which requires the hair follicles to be carefully collected and then working under a microscope many tiny, natural-looking grafts are created ready for implantation.
With both FUE and FUT, scarring to the donor area is kept as slight as possible, giving hair the chance to grow through the scar tissue and ensuring there will be no hair loss in this area. These procedures have been proven to offer excellent results, but finding the treatment that's right for you will depend on your specific needs and desires.
What is FUE?
FUE or Follicular Unit Excision is where individual hair grafts are harvested directly from the donor. A circular incision is made in the skin around the upper part of the follicle which is then extracted (pulled) directly from the scalp leaving a small open hole. The advantage of FUE is that it leaves no linear scar. FUE is reasonably pain free and has very rapid recovery. Professional sportsmen generally have this as it allows them to quickly return to their training regime.UE or Follicular Unit Excision is where individual hair grafts are harvested directly from the donor. A circular incision is made in the skin around the upper part of the follicle which is then extracted (pulled) directly from the scalp leaving a small open hole. The advantage of FUE is that it leaves no linear scar. FUE is reasonably pain free and has very rapid recovery. Professional sportsmen generally have this as it allows them to quickly return to their training regime.
Is the surgery painful?
No. The procedure is performed under local anaesthetic and mild sedation. This means that both the donor and recipient sites are totally desensitised. You will experience a discomfort when the anaesthetic is initially applied. Surprisingly patients feel very little discomfort and can watch TV, listen to music or chat during the procedure. Some patients experience some discomfort 1-3 days after the surgery which is easily controlled with mild pain relief such as Paracetamol.
How long will the operation last?
An average session will take 6-10 hours. You should set aside one full day and not make any arrangements on the day of surgery. If you are having a larger session of FUE (over 1500 FUE grafts) then you will need to attend for two consecutive days of surgery.
Are there any bandages after the procedure?
No bandages are worn, full postoperative instructions are given and many patients who live in the London area come back to the clinic for routine washing and after care. If you have FUE then a small dressing will be applied to the back of the head where the hairs have been taken from.
What are the risks and side effects of a beard transplant?
Very few. As hair is only being moved from one area of the head to another, it is a very safe, minor cosmetic procedure. There are no medical risks associated with the surgery. You will answer a medical questionnaire at consultation and full disclosure is required.
FUE Hair Transplant
Angled To Follow Hair Pattern
Most Popular Technique
No Visible Scaring
Stimulating Laser Session
FUT Hair Transplant
Aftercare Checkups
Less Expensive Than FUE
Fine Linear Scar
Stimulating Laser Session
Beard Transplant
Moustache To Full Beard
FUT & FUE Procedures
Fill In Bald Patches
Increase Beard Density
Eyebrow Transplant
Angled To Follow Hair Pattern
Restore Eyebrows
Increase Eyebrow Density
Aftercare Included
Will I need time off work after my facial hair transplant?
This depends on your work and your choice of FUE. It also depends on your type of work. If you don't have a physical or strenuous job, medically you can generally go back to work after just a couple of days, otherwise it is best to take 7-10 days.
When will my new facial hair grow?
Within the first few weeks following a transplant most of the newly transplanted hair will fall out. The hair then enters a resting phase. The new hair will begin to grow some 6-12 weeks after. At six months it will be 1-2 cm long but will continue to grow up to 12 months following your transplant. It takes at least 9-12 to fully mature and to see the full results of your transplant.
Will my new beard look natural?
Yes. Hair is carefully and strategically placed with microscopically dissected follicular units (the gold standard of individual and naturally occurring groups of 1-4 hairs). The gold standard yields the highest number of transplanted hairs in such a fashion that creates the most pleasing and natural looking hair. It is impossible for those who do not know to detect transplanted hair from your existing or natural hair.
Beard Transplant Before & After
What should I expect during a facial hair consultation?
Examination of hair and scalp
During your initial consultation you will be asked about your medical history and your hair and scalp will be examined microscopically.
Hair density evaluation
Your hair density will be evaluated and we will look to compare the amount of fine hair to thick ones; we assess the degree of miniaturisation of your hair strands caused by shrinking hair follicles and the diminishing of each hair's diameter and length.
Transplant planning
You will be advised on the best way to achieve the required end results and final look.
Procedure explanation
You will be given a full explanation of the entire beard transplant procedure, including any associated risks. There will be time to answer any questions or queries you may have and photographs will be taken.
It is advised that you bring a family member / friend or partner to your consultation as they can give a useful and added perspective.
How many grafts will I need?
When you have your consultation with the surgeon before hair replacement surgery he will suggest how many grafts are available for your first procedure and any subsequent procedures. This number will be based on your present balding pattern and will take into account the predicted future of hair loss together with how much donor hair is available.
Is there a surgery booking fee?
Yes. There is a non-refundable deposit of £500 when you book your surgery.
Book a Consultation
Simply fill in your details in the form below and we'll get in touch with you shortly.
Google Reviews
Friendly. kind and profesional. There is a parking in front of the clinic.
I Balaburov
13:42 13 Aug 18
Jonny is always helpful and willing to answer any problems or questions, awaiting procedure so will update again after this
Jacob Kelly
14:21 10 Feb 18
Thank you everybody at The Wimpole Clinic. My hair transplant is fantastic. I had 2711 grafts inserted into my scalp. In the initial stages a mild scalp infection, which was quickly and easily treated, slowed matters down somewhat but I didn't give up. With help and advice from Dr May and Paru I have managed to get to one year post-op and the results are unbelievable. Thank you also to Derek and Jonny, and all the nurses who kept my spirits up. Christine
Christine Goodwin
12:20 07 Feb 17
Very happy with friendly atmosphere and staff makes you feel at home. Dr. May is a real gem, Derek, manager - makes every possible effort to help patients and staff. Rest of the team is just incredible. I highly recommend this clinic.
Paru Shukla
11:03 20 Sep 16
I had a hair transplant at the Wimpole Clinic in January, a method they call the FUT, this was done by Dr Michael May and his team, I am so Pleased with the results and would certainly recommend if you are looking at restoring your hair to meet Dr Michael May and his team the relaxed atmosphere certainly put me at ease..Derek
Derek Bailey
12:28 21 Nov 16
Two years ago I went for my 1st hair transplant with Mr DSouza and this was done on the crown of my head, everything that was explained to me about the process and what would happen, I followed the aftercare plan I was given to the letter. I said that if it was successful I would go back to have the front done. Well two years on and the results was a great success, so I decided to go back to Mr DeSouza and have him do the front. Again so far all has gone to plan, already things are looking much better and i know I still have a bit of a way to go yet before the final results from this time, but already seeing a vast improvement and have every faith in Mr DeSouza and his team. They looked after me, arranged a overnight stay before my Surgery, so that took away the stress of getting to the clinic on time on the morning of the op. Mr DeSouzas team were fantastic, friendly, we were talking and they all made me feel comfortable as possible during the procedure. Would I recommend The DeSouza Clinic, goes without saying definitely, without any doubt.
Dean Humphreys
20:19 28 Nov 18
From start to finish the A team excels so much. Nice to know all around high quality still exists in UK which money cant buy
warren landmark
22:12 19 Mar 19
I couldn't have asked for a better result! I have to wear my head everyday, I wouldn't compromise my results for anything. I had lots of questions but right from start to finish I was made to feel comfortable and I felt that the staff would take good care of me. By surgery day, I knew exactly what to expect and what my results would be like. Best decision I ever made! Thank you Wimpole!
Susan Smiles
10:39 21 Mar 19
Consistently getting good service, welcoming staff, solid information and most importantly, results driven!
Michelle P
10:34 21 Mar 19
very professional outfit and very much customer focused. Jonny's consultation was very thorough and informative
Biruntha Vaheeswaran
22:21 29 Mar 19
After 6months my results have been really good...I could not have asked for a better outcome! Very pleased and would highly recommend Dr May and his team for their honesty and the smooth, relaxed process!
Michael Porter
08:26 04 Apr 19
Very informative and great communication
Peter Sears
09:16 05 Apr 19
I recently visited the Wimpole Clinic to receive 2,000 grafts as my early hair loss took its toll on me and my confidence. The service I received was exceptional.. I would like to thank Warren for his immaculate service throughout my consultation and then the handling of my account throughout the build up to my surgery. I would also like to note that Billie and her team were amazing, comforting, clearly highly skilled and their service lead on with the same excellence as that I received during my build up - leading to an amazing and seamless process. I honestly could not be happier with what I received on the day and prior, which led me to write such a passionate review. I am in service management at a senior level myself and I appreciate any excellence in the field and sincerely genuine people when I meet them.I look forward to seeing the results of my transplant develop and staying in touch with those at the winpole clinic!I spent some time researching this procedure and trying to find the right surgery for me. Anybody in the same boat, I highly recommend.Thanks again guys and apologies for being a fidget!
Eyebrow hair transplant I had an eyebrow tattoo many years ago where I did not have hair at the ends of my eyebrows. I visited many clinics in London for consultation and after long research, I decided to do the FUT transplant at Wimpole clinic. The process took around 8 hours.I experienced little bruising and swollen left eyebrow. The wound at the back of my head was painful but controlled by pain killers for around 7-10 days. Doctor May took a small part from the skin at the back of my head. Sandra prepared donor hair under microscope.And Billi was an artist and perfectionist in reshaping both eyebrows in a way that no one can tell that these ends are transplanted. They looked completely natural, thick and perfect. She also filled the gaps that showed the tattoo at the beginnings. Warren followed up with me day by day till the 10th day where I returned back to my work.That was my experience with Wimpole clinic. I highly recommend it and if time goes back, I will re choose it again for this procedure.Amazing consistent and professional team with 6 stars.
Having done some extensive research into getting a hair transplant I'm glad after all I heard about turkey I decided to be patient and go with these guys. After seeing some of the transplants friends and people I know have had done I went with these guys in March 2018, the first 3 pics are the results as follows Pic1 March 2018 Pic2 April 2018Pic 3 march 2019 (they don't happen overnight no matter where you go) . I had a full head of hair but was a bit thin in the place I was bald in the first place. I spoke to the consultant about this he told me not to worry and booked me straight back in at no extra cost and topped me up August 2019 (he was ready to do this when I first contacted him it was my choice to do it in August) It's a bit early stages to show you pics of the progress but pictures 4 and 5 shows he stuck to his word and did the top up for freeWarren who I was dealing with at this clinic is not a guy who wants to take your money his priorities are to get you results and see you happy
Bally Sagoo
09:11 27 Aug 19
Amazing result!I had a FUE surgery done and i can't be more happy for the result. Better than I expected! All the staff were so kind and professionals... always trying to make feel good and comfortable. They took a good care of me before, during and after the surgery. Thanks to Dr May and the girls to bring me back my confident. WELL RECOMMENDED!
peter slawinsky
08:44 28 Aug 19
I couldn't have asked for a better result! I have to wear my head everyday, I wouldn't compromise my results for anything. I had lots of questions but right from start to finish I was made to feel comfortable and I felt that the staff would take good care of me. By surgery day, I knew exactly what to expect and what my results would be like. Best decision I ever made! Thank you Wimpole!
Susan Smiles
10:39 21 Mar 19
From start to finish the A team excels so much. Nice to know all around high quality still exists in UK which money cant buy
warren landmark
22:12 19 Mar 19
Absolutely first class service. Just had the procedure so will update but after extensive research I have been blown away by the whole team and their professionalism. Its not even that pricey and Im so so glad I got it done in the UK. Better than I expected too and such lovely people. Really great work. I will recommend to my closest friends and family and return if I have too. It wasnt painful just a little uncomfortable at times but Im so happy I got it done. Surgey spotless and Im very happy with the results so far. Thank you everyone!
Tom Fuller
00:37 21 Sep 19
I have personally had a number of hair transplants at the Wimpole clinic since 2006, so I felt that I am a perfect candidate to write this review...Dr May and his team have always been fantastic to deal with and their expertise are second to none.The results I have had have been amazing!From the initial consultations through to the day or surgery And the aftercare, they are fantastic.I would recommend anyone that is either thinking about or going ahead with a hair transplant to go and see The Wimpole clinic... you won't be disappointed.Matt Devlin.
Matt Devlin
11:40 11 Oct 19
In my experience, retired Sales Director, everything flows from the top so I needed the facts. Dr Michael May, Principal, outstanding leader in this field for over three decades runs a Centre of Excellence, a benchmark of achievement. First, I visited Ron in Bristol and Warren in London, both also with decades of experience for the detailed facts, I got them. This was about my personal appearance so trust and confidence was needed before I could take that first step. Warren accompanied me for a Dr May assessment at the Wimpole Clinic which was entirely customer focussed. Only then was I ready to commit to a date. In the event, I have completed my third procedure, in total 5.6k follicles with FUT and, this one FUE. Dr May presides while Billie and her team, on this occasion Eva and Sonia, complete the procedure. I never feel like the patient but part of the team in a room full of care, kindness and compassion, totally customer focussed. Due to their expertise every procedure has been a complete success. I am hoping for a final procedure if this is deemed possible but, due to their integrity, they will only take what is safe to do so, it is all about the customer. Accordingly, I have no hesitation in highly recommending the Wimpole Clinic for your first step.
Scott McGuire
11:50 12 Oct 19
I didn't want to write a review straight away, I was keen to see what kind of results I would get. Overall the surgery was very smooth, a friendly team, good communication and great aftercare...But I guess the proof is always in the pudding. Month 9 since my hair transplant and already it is life changing for me. The growth has been really even and the direction of the hairs is near perfect! I am so excited to see how this continues...Thank you Wimpole Clinic, my only regret, I wish I did it sooner!
I recently had a beard transplant at Wimpole Clinic. I did all my research at different Clinics all over the world, I decided to go for Wimpole in London due to the long experience of the staff and professionalism shown at every turn. No corners were cut and all the right checks and balances were in place. (Plenty of paperwork to cover everyone!) My consultant was Matt and he was nothing short of fantastic, I wasn't pushed for anything and was given brutally honest advice and professional opinions. There was no hard sale and from start to finish everything was clear and handled without a complaint on my end. I was incredibly nervous with the procedure and I was made to feel at ease instantly. I am currently 6 days post-op and will surely update the review in a 6-12 months time. However I have taken to the procedure very well. My consultant - Matt - has been in contact directly, he was even willing to call me late on a Saturday evening to walk me through the do's and don'ts of my first shower. I am incredibly happy with the service and professionalism I was shown. Cannot recommend it enough to those looking for a hair transplant service. I am happy that I decided to go with an established Clinic in the UK rather than going for a cheaper option abroad. I have been invited back whenever I like for check ups and even complimentary hair washes. If I had to have another transplant - or to recommend friends/family for one - I would not hesitate in coming back to Wimpole.
Shipwreck JS
11:56 16 Dec 19
Experienced and highly knowledgable staff for hair related problems. Friendly service and swift action on issues.
Ram Ramanan
12:14 16 Dec 19
Really friendly and efficient process in a clean environment with good after care advice staying in contact every step of the way. I would highly recommend Wimpole clinic for anyone looking to undergo a hair transplant.
Jim Bristow
12:15 18 Dec 19
Had a procedure a year ago at another clinic outside of London and their is no comparison to Wimpole. From consultation to after care, the team at Wimpole were fantastic! Put me at ease, caring, thoughtful and above all, professional. Dr May and his team were superb throughout. Wished I'd had my previous procedure done at Wimpole. Five stars!!!
Glenn Simkins
00:53 25 Dec 19
The best choice for anyone considering hair transplant surgery. From my initial consultation I had no doubts I am in the right place.Warren as my advisor and the surgeon Doctor Michael May were so professional and trustworthy, provided me with informative and honest advice.The day of my procedure went by very smoothly and completely non-painful. Doctor May is a top-class surgeon and his entire team was so kind, warm and made me feel so comfortable.  After the procedure I was given a post-operative package which provided a clear set of instructions for the following week with a recommended shampoo and medications. Whenever I had any concerns, I contacted the clinic and got quick and efficient response.  It has been only 3 months since my procedure so I am looking forward to seeing the fully results in the next few months but so far all looks great! Thank you again to everyone at Wimpole Clinic. If I could, I would give more than 5 stars!
I am extremely pleased with my FUE procedure with Dr May at Wimpole Clinic and highly recommend it. I have visited 2 other clinics before final choice and there was no comparison between Wimpole Clinic and the others. From the initial contact over the phone to set up the consultation, to the actual procedure day and follow up the professionalism and care were top-rate. Eight months post op and I could not be happier with the results!
Great experience doing the FUT treatment. Doctor May and staff were very caring and knowledgeable. The scar from the transplant is so neat and hardly visible. Hair growth has exceeded my expectations. Very natural hairline. I highly recommend Wimpole Clinic to everyone looking for a qualified and professional experience.
It took me a bit of courage to make the first call to go for a hair transplant,, but from the first contact, and through many that followed, the team were approachable, down to earth, informal, and available to talk through absolutely everything I wanted to ask or clarify, over and over again. And on the day itself, they were relaxed, supportive and professional throughout. A 5 star team. Special thanks to Matt who has been an outstanding support throughout.
Beard Transplant Aftercare
Every Wimpole Clinic patient is provided with an aftercare pack that contains information on how to look after your transplanted hair. In addition to this, your beard transplant aftercare pack will also contain specialist products such as shampoos that will aid in the healing and recovery process.
We also include:
3 day post procedure visit for a hair wash
24 hour surgical hot line for aftercare
Advice on types of shampoo
Hair blood test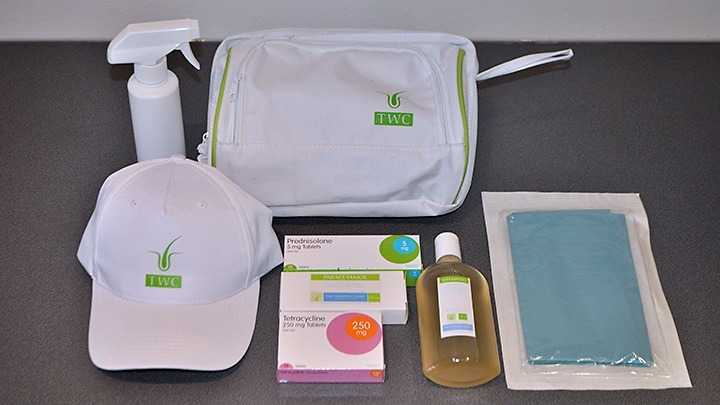 Our Specialists
About Michael May Mr Michael May is the Medical Director and Principal Surgeon of the Wimpole Clinic. He has 25 years experience in the field of hair transplant surgery has…
Iva has a degree in microbiology and chose to get involved in the art of hair restoration. She has been with us for the last four years as a very…
Bili, as she is known to her patients and colleagues, comes from a medical background in Cardiac and Thoracic surgery, and is a member of the ISHRS. For over 22…
Linda is the registered nurse at the Wimpole Clinic, and has been with the clinic since 1976. She was one of the first nurses to carry out hair transplant surgery…
Paru Shukla is a qualified trichologist from the Institute of Trichologists, London and received the John Mason award for excellence. She has been in the medical field since 2005 and…
Beard Transplant Articles