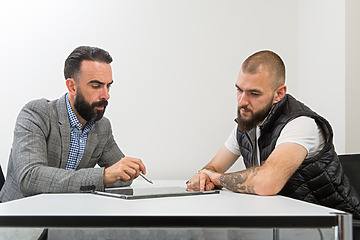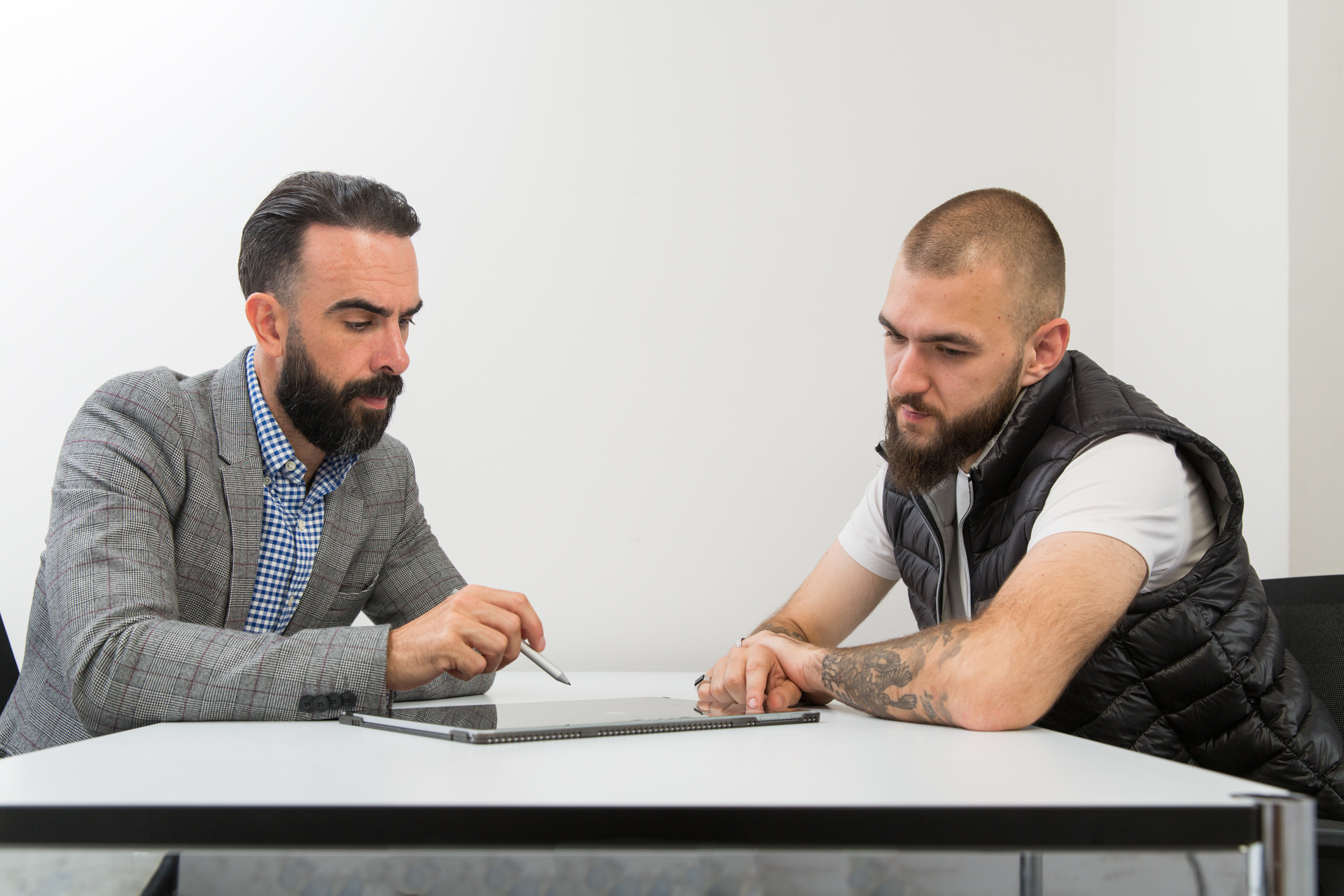 How Much Does A Beard Transplant Cost?
A beard transplant is an investment in your appearance and your self-confidence. It can give you incredible results that enhance everything from your self-esteem to your career. Jordan, a Wimpole Clinic patient, says:
"As a professional model my beard transplant has helped me land some great gigs and sponsorships and was a fantastic investment for me – my overall experience was A*. Thank you so much."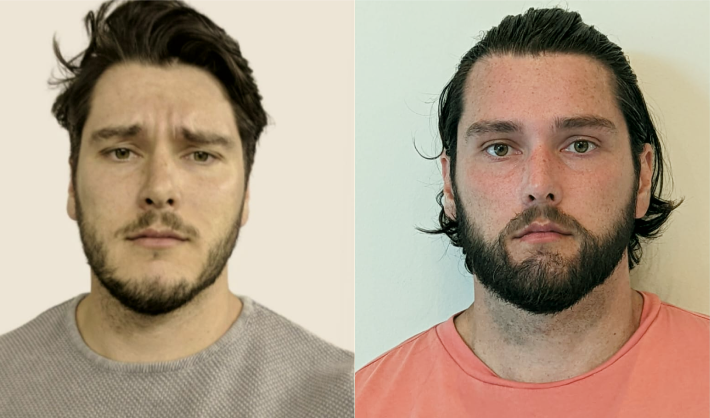 Not all our beard transplant patients are models: most are regular men who just want to feel a little more confident when they look in the mirror. But like any investment, you need to weigh up the cost of a beard transplant against the potential returns. In this article, we'll help you do just that. You'll learn:
How much a beard transplant costs

Beard transplant costs in the UK vs Turkey

How to find a quality beard transplant clinic

How to decide if a beard transplant is worth it.
What is a beard transplant?
A beard transplant is a type of hair transplant that focuses specifically on your facial hair. It's popular with many men who struggle to grow a full beard or fix their beard patches, including some transgender men.
Like hair transplants, beard transplants are both safe and permanent.
A beard transplant can enhance the thickness or shape of your natural beard by removing hair from elsewhere on the body (usually the side of the head) and implanting it in the bald areas on your neck and face.
How much does a beard transplant cost?
All clinics have their own pricing structure, but you can expect to pay between £3,000 and £8,000 for a beard transplant in the UK. At the Wimpole Clinic in London, our beard transplant prices start at £2,999.
The cost of a beard transplant usually depends on three factors:
How many hair grafts you need

— the more grafts you need, the more you'll pay.

The skill, reputation, and location of your clinic

— high quality clinics (or those in expensive areas like Harley Street) tend to charge more for their services.
It takes years of experience and training to perfect the beard transplant technique. Even in the UK, there aren't many surgeons who specialise in beard transplantation. So it's important to find a clinic that offers a high level of care and has a track record of excellent results. Without this, you're at a much higher risk of beard transplant complications or failure.
How many beard grafts will I need?
Most beard transplants require 500 to 3,000 grafts in total:
Moustache

: 300-600 grafts

Goatee

: 600-800 grafts

Sideburns

: 300-500 grafts

Cheeks

: 800-1,100 grafts
Your clinic will give you a graft quote when they give you a beard transplant price. Taking Jordan's example from earlier – he had 1,500 grafts to fill in patches around his chin, connect his moustache and increase density within the sideburns and cheeks.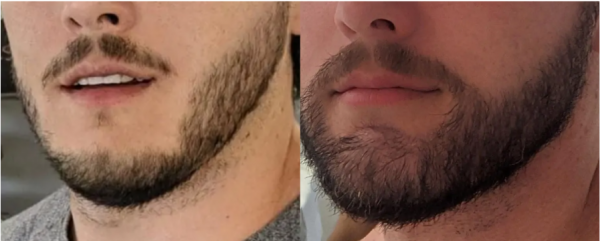 Is FUE or FUT better for a beard transplant?
Both FUT and FUE are equally effective for producing a thick, full beard. But there are a few differences that might make one more suitable than the other:
Cost

— FUT is typically more expensive than FUE.

Procedure time

— FUE often takes longer than FUT.

Recovery time

— most FUE patients have a faster recovery time than FUT patients.

Scarring

— FUT leaves a small visible scar, while FUE generally leaves no visible scarring.
Ask a surgeon at a reputable clinic for advice about whether they recommend FUT vs FUE for you based on your unique circumstances.
Beard transplants are often much cheaper in countries like Turkey, where it's easier for black market clinics to operate outside the law. In these clinics, you're more likely to encounter unqualified technicians performing hair transplant surgery, as well as unsanitary surgical environments. This can lead to your beard transplant going wrong: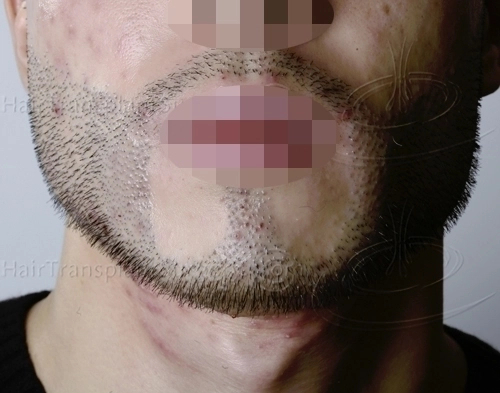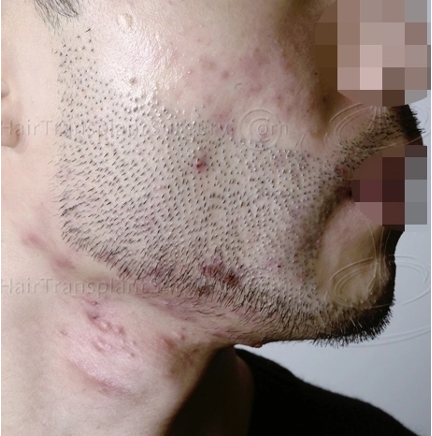 Unnatural graft placement and severe acne caused by poor technique [1].
How much does a beard transplant cost in Turkey vs the UK?
Turkey is a popular destination for medical tourism thanks to its low-cost procedures. Costs can be lower than in the UK and other European countries due to cheaper rents, equipment, and wages, as well as a favourable UK exchange rate.
Our research shows that the average hair transplant in Turkey costs £1,464. This is just over three times less than the average UK hair transplant cost of £4,820. Turkish beard transplants also tend to be much cheaper than those in the UK, with some clinics offering beard transplants for just €1,400 (around £1,200).
But these low prices are almost always too good to be true.
Many Turkish clinics overpromise on what they can deliver, leaving patients feeling despondent or even depressed about their experience and lack of results. Following a bad experience in a Turkish clinic, one patient said, "I wish I'd paid more money to go somewhere that's more reputable [2]."
The patient noted that misleading social media claims, promises of VIP treatment, and pressure from the clinic led him to choose this clinic in the first place, and advises potential patients to do as much research as possible before choosing a cheap hair transplant.
How to find the right beard transplant clinic
With so many clinics now offering facial hair transplants, it can be tricky to find a beard transplant clinic you trust. Use this guidance to find the right clinic for you:
Look for quality over cost

— While good beard transplants are indistinguishable from your natural hair, a bad beard transplant will be noticeable. So you need a clinic that can give you great results. Look at

before and after beard transplant

photos that show patients' final results, and read

beard transplant reviews

from trustworthy sources — not just influencer ads.

Find a fair price

— Avoid scrimping on the costs, but don't pay over the odds. You can get a great beard transplant in the UK without spending tens of thousands of pounds.

Seek out finance options

— Many clinics will offer you

hair transplant finance

with good terms to help you spread the cost of your beard transplant over several months.

Be wary of graft quote inflation

— Some clinics seem cheap because they have a low cost-per-graft. But they may unnecessarily inflate your graft quote, putting you at risk of overharvesting and overcharging. Avoid this by getting quotes from multiple clinics and avoiding any clinics that offer an unusually high graft quote.

Find out who your surgeon will be

— Knowing who your surgical team will be allows you to find out about their qualifications and experience before you commit. If you're not sure who will perform your beard transplant, don't put any money down.

Check their registration

— All UK clinics should be registered with the Care Quality Commission, and surgeons should be registered with the General Medical Council or similar surgical body.
Ask lots of beard hair transplant consultation questions before you decide on a clinic. If it feels like there's a lot of pressure to make a decision, the clinic may have ulterior motives. At the Wimpole Clinic, our consultants will give you as much free impartial advice as you need to make your decision. Book a free consultation with our team to learn more.
Does a beard transplant last forever?
Beard transplants are permanent, so your freshly transplanted hair should last forever. Unlike scalp hair loss, beard hair loss isn't usually progressive, so once you've had a successful transplant, you may not need to take any further action.
Will I need another beard transplant?
Most beard transplants are completed in just one session. The only major exceptions to this are:
You've had a botched or failed beard transplant and you need repair surgery.

You need more grafts than can reasonably be transplanted in a single session.
These circumstances are relatively rare for people who've had a good quality first beard transplant. If you do need two transplants, this should be discussed before your initial transplant so your surgeon can manage your donor area and plan for two procedures.
Are beard transplants worth it?
There are lots of factors to consider when deciding to get a beard transplant. Ultimately, most patients agree a hair transplant is worth it, provided you get the results you want
Here's what our previous beard transplant patients have said:
"Wimpole did a great job on my beard – the results are just excellent. I was very impressed with the angulation of the hairs and I got a lot of great feedback from my friends and family!"
"I WAS one of those guys who could never grow a beard. As I got older I became a lot more conscious of it and decided to do something. Wimpole Clinic put an end to that for me."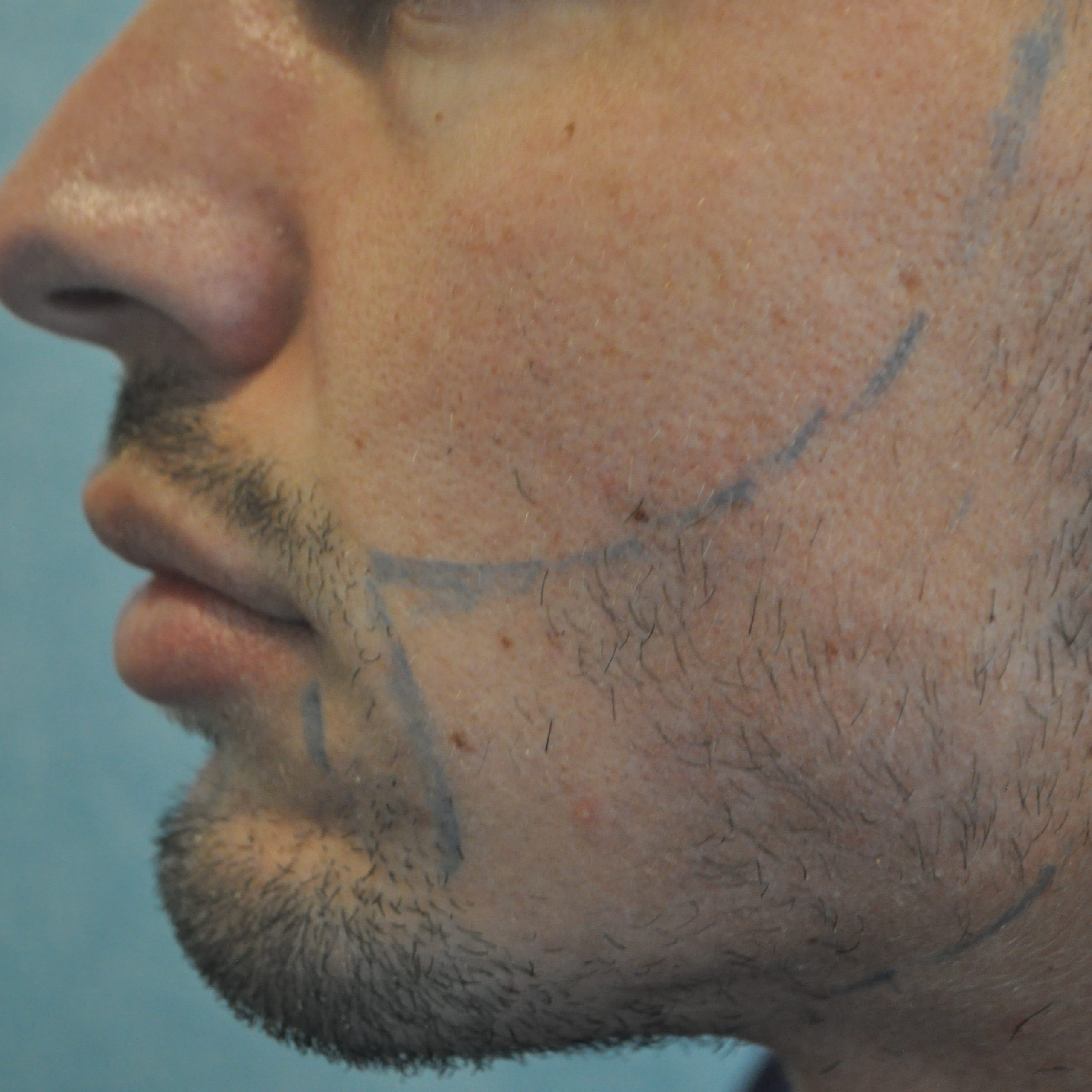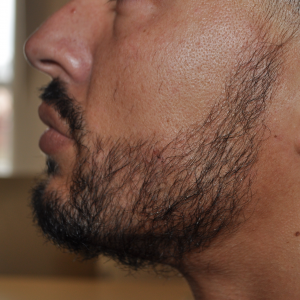 Beard transplant alternatives
If a beard transplant isn't right for you, there are several other options you can try. While these options might not give you the same density as a transplant, they can help stimulate beard growth:
Minoxidil for beard growth

—

Minoxidil

is a topical hair loss solution that can also improve facial hair growth.

PRP therapy

— a treatment in which your blood plasma is enriched with platelets and reinjected into your body to promote tissue generation.

Low laser light treatment (LLLT)

— a non-invasive treatment that uses low-intensity lasers to stimulate beard follicle cell function.
Book your beard transplant at the Wimpole Clinic
A full beard can make you look and feel more confident, and they're more affordable, accessible, and popular than ever.
Beard transplant costs in London aren't prohibitively expensive, with our prices starting at £2,999. Book a free consultation with the Wimpole Clinic to find out more about getting a beard transplant at one of our nationwide clinics.
The Wimpole Clinic offers FUE Hair, Beard & Eyebrow Transplants & Trichology.
Talk to a specialist ☎
020 7935 1861
.
Blog search
Book a consultation
Simply fill in your details in the form below and we'll get in touch with you shortly.