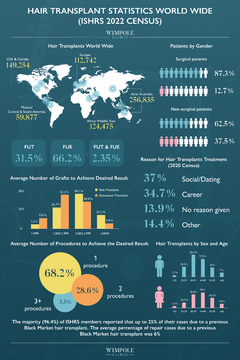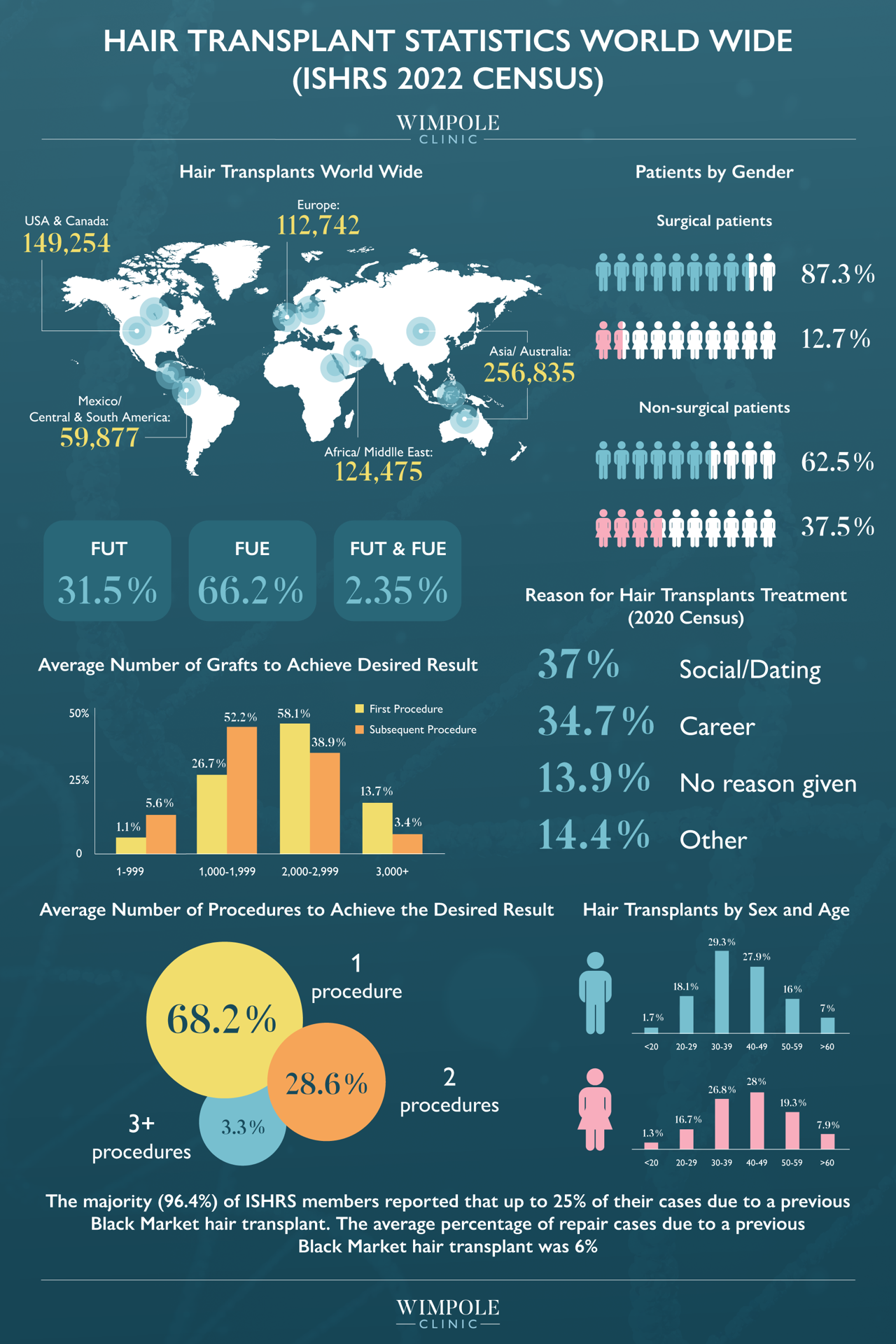 Hair Transplant Statistics (Updated 2023)
Thanks to celebrity hair transplant success stories and the growing business of male grooming, hair transplants are more popular than ever. And thanks to hair transplant statistics from the International Society of Hair Restoration Surgery, it's easy for hair transplant clinics to better understand their patients' needs. That means we can offer a straightforward surgical experience and fantastic results.

The ISHRS 2022 Practice Census breaks down the current state of the global hair transplant industry. Their data shows that hair transplant surgery is a booming industry — with size having increased 10% since 2016 [1, 2]. We've compiled some interesting facts and statistics about hair transplants that you may not already know. We have compiled a separate resource specifically for hair loss facts and statistics.
Key Facts And Statistics About Hair Transplants
87.3% of patients who get hair transplants are men, according to the International Society of Hair Restoration Surgery (2022).
Every 13

th

man has a hair transplant [3].
Men are 5.3 times more likely to seek treatment.
Only you can be your hair donor.
The market for hair restoration surgery has increased by 10% since 2016.
International hair transplant statistics
The ISHRS estimates that 703,183 hair transplant procedures were performed in 2021 — a 4% derease versus 2019. Unsurprisingly, there's some variation in the number of hair transplants performed around the world.
| Region | Number of hair transplants performed in 2021 (most to least) | Number of hair transplants performed in 2019 |
| --- | --- | --- |
| Asia/Australia | 256,835 | 196,630 |
| Africa & Middle East | 124,475 | 188,360 |
| USA & Canada | 149,254 | 182,025 |
| Europe | 112,742 | 106,949 |
| Mexico, Central & South America | 59,877 | 61,348 |
| Total | 703,183 | 735,312 |
*The ISHRS notes that this data should be viewed with caution as it was derived and extrapolated from fewer than 30 respondents.
34.7% of People Worldwide Have A Hair Transplant For Career Reasons
Many people are self-conscious about how they look at work. Our hair is one of the first things colleagues and peers notice and can have a perceivable impact on business success. As such, 34.7% of elective hair transplant procedures are undertaken by those looking for an edge [1].
37% Of World Wide People Opt For Surgical Hair Restoration To Improve Their Social Life
During their 2020 census, ISHRS physicians found plenty of information about hair restoration patients. For example, 37% of patients cited social or dating as their main reason for seeking treatment [1].
A UK Hair Transplants Costs £4,820 On Average
Hair transplants are a popular solution to hair loss. However, the price for these procedures can vary a lot. So to ensure you don't get over or under charged, you should check the prices and try and determine an average. The good news is that we have already analysed the prices of 104 clinics for hair transplantation surgery nationwide and found the average hair transplant price to be £4,820.
Costs will vary depending on how much hair has been lost and the treatment you choose. Not everyone will be suitable for hair transplantation surgery, and a reputable surgeon will tell you this. If this is the case, they will discuss other options available to you.
Repair Cases Due to Black Market Hair Transplants is 6%
The majority (96.4%) of ISHRS members reported that up to 25% of their repeair cases were due to a previous black market hair transplant, with the average across all ISHRS members reaching 6%. See what hair transplants gone wrong look like.
Hair Transplants Have A 97% And Above Success Rate
This type of procedure has a 97% and above success rate – for Wimpole Clinic, it is between 97% and 100%. However, we believe it should be a last resort. There are plenty of preventative hair loss treatments available and a reputable hair transplant specialist will want to ensure you have stopped losing hair before any surgical procedure takes place.
For a hair transplant to be successful, grafts must survive and adapt to the areas they have been transplanted. Many factors influence the success of your surgery, from suitability assessments and biopsy tests [4], prevention of further hair loss, the doctor's skill and correct after care and recovery management.

You should always do your research when opting for a hair transplant. Take a look at the available options and identify reputable surgeons who will deliver the results you want. Also, you can read up on the topic and find out what can potentially go wrong with hair transplants.
87% Of UK Hair Transplant Clinics Offer A Free Consultation
Thankfully it shouldn't be too hard to conduct some research as the majority of clinics in the UK offer a free consultation. You should take advantage of this as this will allow you to make a more informed decision.
Only You Can Be Your Hair Donor
Unlike other forms of body part donation, only you can be your hair donor. Surgeons usually use the side or back of the head as a donor area. However, some research has considered using other body parts as an excellent source [4].
A hair transplant with someone else's hair is impossible – even if closely related to you. This is because our immune systems would attack the donor hair follicles, and the transplanted hair would fall out straight away.
Click here to learn where hair transplant hair comes from.
Men are 5.3 Times More Likely to Turn to Surgical Hair Restoration
A recent estimate made by the 2020 /21 ISHRS Practice Census found that men are more likely to use surgical procedures for hair restoration [1,2]. Not only that, but the procedures are becoming more popular in the general population; Europeans saw a 234% increase in interest in hair transplants between 2008 and 2019.
The best candidates for hair transplants for either gender are those suffering from male or female pattern hair loss and who fit other criteria. These criteria include having enough healthy hair to transplant and the ability to grow transplanted hair [6].
42.7% Of Patients Require More Than One Hair Transplant In Their Lifetime
Even though most people need only one procedure to reach the desired results, a recent ISHRS survey showed that 33.1% need two procedures and 9,6% need three. Therefore, one hair transplant procedure is not always a lasting solution to hair loss.
The chances of multiple hair transplants will depend on the patient's age and the severity of the hair loss. Even if the patient requires further transplants, they should see new hair growth [7].
Within a few months of the procedure, patients should notice new growth. After six months, most will see 60% of new hair growth. Learn more about hair transplant results and their time frame.
Post Operative Care Is Vital
After having hair transplantation surgery, patients should always follow the surgeon's aftercare advice. In addition, you should wash your hair gently and avoid doing so until at least 48 hours after the procedure.
On average, aftercare and recovery can take up to 18 months before you see any conclusive results, which is why it might not be feasible and worth the risk having the procedure abroad in countries such as Turkey. This is why you need to plan and make sure you have the medical support to see the process through correctly. Otherwise, you can end up with bad results and disappointment.
Not following clear advice could lead to follicles shifting before they heal, affecting results. It is extremely rare to hear of a failed hair transplant which is why it is so important to follow any guidelines given to you.
When Should You Consider A Hair Transplant?
If you are experiencing hair loss and want to discuss treatments, then get in touch with the team at The Wimpole Clinic. We are happy to answer your questions and discuss your options as well as the treatments available to you.
We offer both FUT and FUE hair transplants. Hopefully, these facts and statistics about hair transplants have helped you learn more about them.
Contact us today to book a free consultation and check out our list of questions you really want to ask about hair transplants.

The Wimpole Clinic offers FUE Hair, Beard & Eyebrow Transplants & Trichology.
Talk to a specialist ☎
020 7935 1861
.
Blog search
Book a consultation
Simply fill in your details in the form below and we'll get in touch with you shortly.