Jurgen Klopp Hair Transplant: Everything You Need To Know
Jurgen Klopp's hair transplant is one of the most famous in the Premier League. Unlike many other footballers who've had hair transplants, Klopp has been candid about his procedure, first discussing it in German tabloid Bild back in 2013.
So has Jurgen Klopp's hair transplant been a success — and what does it look like now? Let's take a look at the Normal One's changing hairline over the years.
Has Jurgen Klopp had a hair transplant?
Yes. Jurgen Klopp revealed he was happy with his hair transplant results back in 2013, having had his procedure in spring 2012. He's said to have had his transplant at a clinic in Dusseldorf, Germany.
A German journalist asked Klopp about his hair transformation directly, to which he replied [1]:
"Yes, that's right, I've had a hair transplant. And I think the result turned out really cool, don't you?"
Mario Götze, who played under Klopp at Dortmund, claims Klopp even jokingly offered to save his hair transplant clinic's phone number for future reference [2].
Klopp's hair transplant predates his Premier League days. So what did he look like before his procedure?
Jurgen Klopp: pre-hair transplant
Before he was known as a prolific football manager, Klopp played for German club Mainz 05. Here's what his hair looked like back in 1996: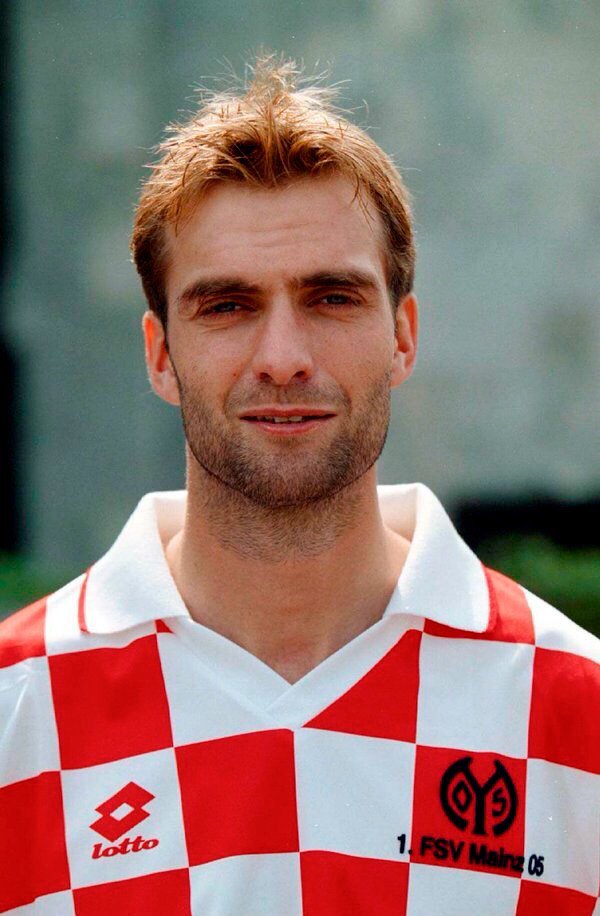 At the age of 29, Klopp's hairline was still relatively straight. Unlike other players, such as Wayne Rooney, who was losing hair in his early 20s, it appears that Klopp's hair loss didn't start until later on in his career.
Rooney has been credited with popularising and destigmatising hair transplant procedures for men after coming clean about his procedure in 2011, just a year or so before Klopp had his. Learn more about Wayne Rooney's hair transplant.
But by 2001, Klopp had a visibly receding hairline: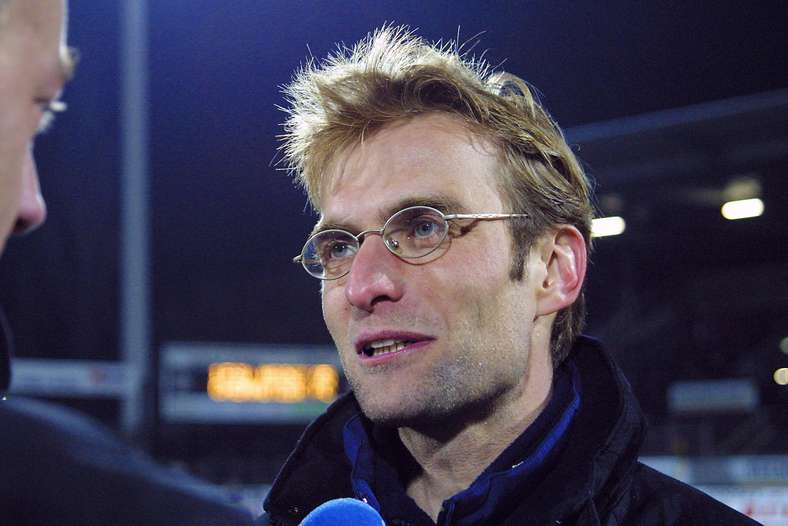 Hair loss to this extent isn't unusual for a man in his mid 30s. By the age of 35, two-thirds of men have visible hair loss [3].
By 2008, Klopp was wearing his hair longer, perhaps in an effort to hide his thinning hair. This longer look effectively disguises his temple hair loss: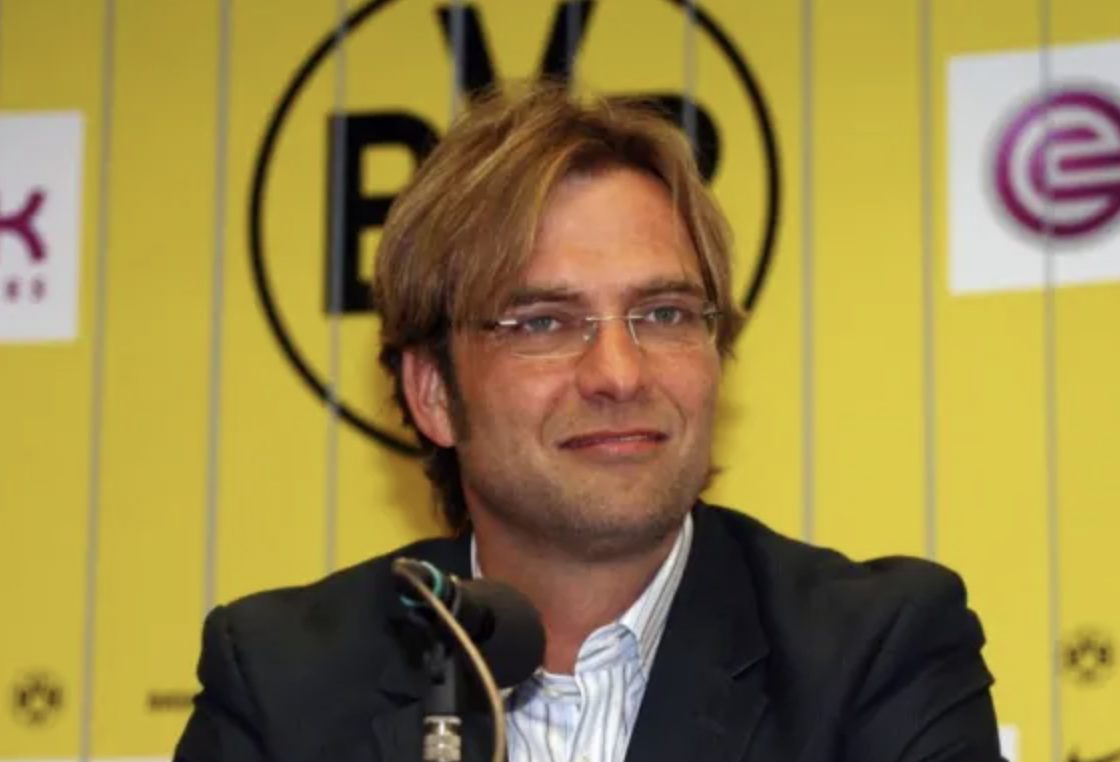 Like many other players and managers, Klopp has gone through multiple hairstyles throughout the course of his career. Here are some other famous football hair transformations:
Jurgen Klopp hair transplant before and after
These images following Borussia Dortmund's Bundesliga win in 2011 show the extent of Klopp's hair loss prior to his hair transplant.
Getting your hair wet can make hair loss more noticeable. Wimpole Clinic consultant and hair transplant patient James Walton said his procedure made him feel more confident when swimming and going on holiday.
After Klopp's hair transplant in 2012, his hairline was transformed. In May 2013, his hair appears thick and dense, even at a shorter length:
What type of hair transplant did Jurgen Klopp have?
Most experts agree that Klopp probably had an FUE transplant. FUE restoration involves removing individual clusters of hair follicles (also known as hair grafts) and implanting them in thinning or balding areas of the scalp.
FUE is the most popular and modern hair transplant technique. It's chosen by more than 75% of men worldwide [4]. So it makes sense for Klopp to have selected this virtually scarless technique to restore his hair.
Jurgen Klopp's hair 2021-2023
In 2021, Bild again reported that Klopp appeared to be losing hair. This time the thinning appeared to be across his mid-scalp and crown, rather than his hairline.

This often happens without measures to prevent ongoing hair loss. Finasteride is the most popular medication to reduce continuous shedding, but Minoxidil, caffeine shampoo, and Dutasteride can also help.
Nowadays, Klopp is rarely seen without his baseball cap. This suggests he may be unhappy with his current hair. But 10 years after his hair transplant, Jurgen Klopp's hair transplant still looks natural. While it has lost some density over time, this is expected. Even people with healthy hair lose hair density as they get older.
Klopp also wears his hair shorter these days, which can make it harder to hide those thinning areas. But in his Christmas message 2022, his hairline looks full and flattering.
More celebrity hair transplants this way…
Premier League footballers and managers aren't the only ones to surgically enhance their hairlines. Many other celebrity hair transplants have also hit the headlines in recent years, as hair transplant surgery becomes more popular and less stigmatised. Check out some of these famous FUE and FUT patients:
Sources:
The Wimpole Clinic offers FUE Hair, Beard & Eyebrow Transplants & Trichology.
Talk to a specialist ☎
020 7935 1861
.
Blog search
Book a consultation
Simply fill in your details in the form below and we'll get in touch with you shortly.