Steve Carell Hair Transplant: Everything You Need To Know
With more and more celebrities revealing that they've had a hair transplant, the procedure has begun to be talked about more openly and without stigma. Many well-known stars have opted for hair restoration, though not all have been open about their experience. However, Rob Holding had a hair transplant at the Wimpole Clinic in 2021, and the football star has been open about his experience with hair loss and mental health throughout.
Like Jimmy Carr, Steve Carell is another comedian who opted for a hair transplant. The restoration took place around 2006, during his role as Michael Scott in The Office US. Eagle-eyed fans noticed a change in his hairline throughout series 1-7, as it became fuller and neater.
Steve Carell was experiencing male pattern baldness, the most common cause of hair loss in men. It affects up to 80% of men [1]. This is typically diagnosed using the Norwood Scale, which categorises the 7 stages of male hair loss.
In this article, you'll find everything you need to know about Steve Carell's hair transplant.
Steve Carell's hair timeline: 2000-2005
Comparing photos from the early 2000s to 2006, you can clearly see Carell's hair loss progressing. During his time on The Daily Show, when he would have been in his late thirties, he seems to have a receding hairline. This is a typical sign of male pattern baldness, with 66% of men experiencing this type of hair loss by the age of 35 [2].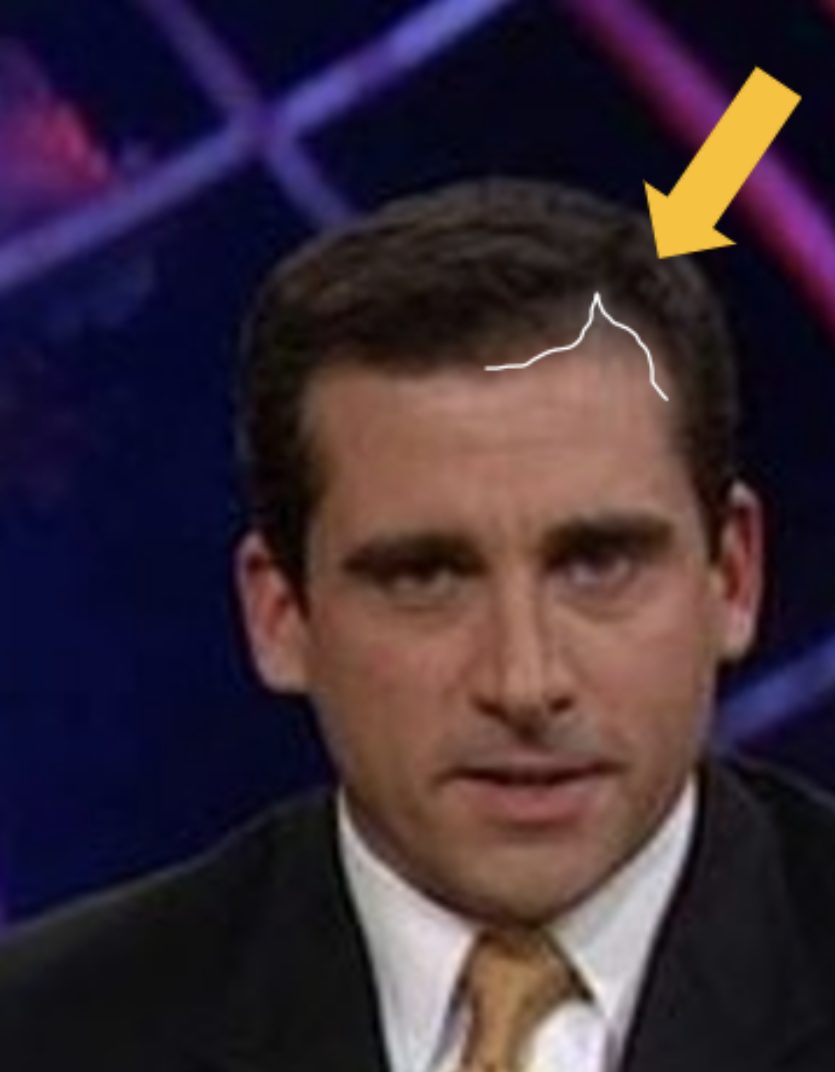 Steve Carell on The Daily Show, 2000
This photo shows Carell at around Norwood stage 1 to 2. At this stage you would see noticeable thinning around the hairline and temples, and in some cases, the crown. The thinning may create a slightly M-shaped hairline.
Norwood Scale
By 2005, Steve Carell had further hair loss on his hairline and temples. This put him at around Norwood stage 2 to 3 during the first season of The Office. After this, Carell's hairline appeared fuller, leading to rumours of a hair transplant. Many men opt to lower their hairline with a hair transplant, as a receding hairline is one of the predominant signs of male pattern baldness.
Steve Carell in the pilot of The Office US, 2005
Some men may experience hair loss more quickly and in other areas. Some men develop a bald spot on the crown. However, it seems that Carell experienced most of his hair loss along his temples and hairline.
Steve Carell's hair transplant: 2006-present
During mid-2006, it appears that Steve Carell opted for a hair transplant. From season 2 of The Office US onwards, Carell has a much neater, more youthful hairline.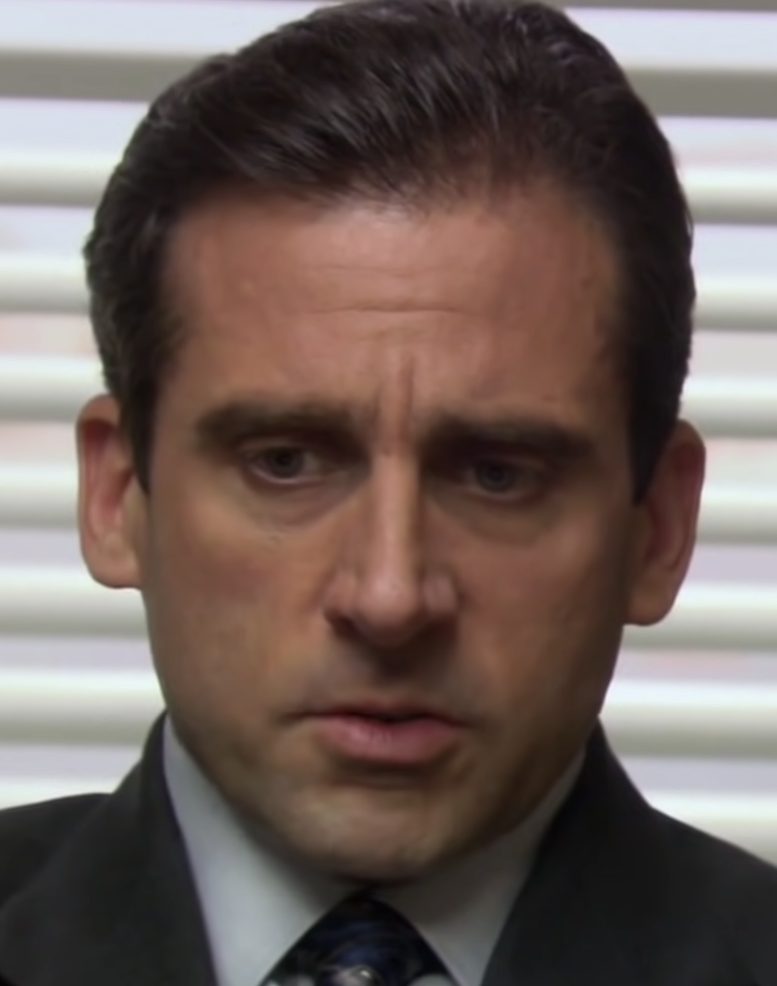 Steve Carell in season 2 of The Office US, 2006
The biggest change is the noticeable filling out of the thinning patch that sat at the front of his hairline during the first season of The Office US. A hair transplant can increase hair density, filling out thinner patches and halting the appearance of an ageing hairline, which is why many celebrities opt for a hair transplant.
With any hair transplant (except for artificial hair transplants) it takes time for new hair growth to show. The amount of time needed to see new hair growth depends on the procedure, and whether you use medications like Finasteride and Minoxidil to stimulate hair growth. However, the average amount of time to see new hair growth after a transplant can be anywhere from 6 to 18 months.
Steve Carell's hair transplant may have taken around a year to grow in. His procedure is said to have taken place in mid-2006. By 2007 – season 3 of The Office – his hairline was noticeably fuller and a lot more natural.
The hair transplant seems to have been incredibly successful for Carell, since 16 years on, his hair looks to be in good condition, with no signs of a receding hairline present.
What type of hair transplant did Steve Carell have?
The type of hair transplant that Steve Carell received has never been revealed. However it is speculated that he received an Follicular Unit Extraction transplant (FUE). Carell's long-lasting results have proved that his procedure was performed well, potentially at a renowned Los Angeles hair transplant clinic.
When it comes to FUE vs FUT, there are many benefits of an FUE transplant that outweigh those of an FUT strip transplant; however, it should come down to whichever suits the individual best [3].
Carell may have chosen an FUE over an FUT, as the procedure is significantly less invasive, produces less post-transplant scarring, boasts faster results, and allows a shorter hair transplant recovery time. It's ideal for someone who is in the spotlight. According to the ISHRS 2022 census, more than three quarters of male hair transplant patients chose to undergo an FUE transplant [4].
How many grafts were needed for Steve Carell's hair transplant?
The extent of hair loss measured against the Norwood Scale determines how many hair grafts are needed to complete a hair transplant. Using the Norwood Scale, we can calculate the approximate number of grafts needed for Steve Carell's hair transplant. As he was around a stage 2-3 on the Norwood Scale, this would call for between 1000 graft hair transplant to a 1500 graft hair transplant.
In the UK, prices for a 1500 graft hair transplant can start from anywhere between £3,250 and £4,875. Our UK hair transplant cost analysis is helpful when pricing procedures up, and can help you avoid shady clinics.
See more celebrity hair transplants
Thinking of starting your own hair transplant journey?
Hair loss can be mentally taxing, especially if it's a sudden occurrence. At the Wimpole Clinic, we've been providing outstanding hair restoration services for over 45 years. Our team of experts is on hand to provide leading customer service, answer any questions you want to ask, and guide you in the best direction for your unique hair restoration journey.
We offer a diverse range of services, from FUE and FUT/strip transplants to non-surgical hair loss treatments. Book your free consultation to get started and check out our list of questions to ask before hair transplant surgery to get the most out of your free hair loss consultation.
Sources:
The Wimpole Clinic offers FUE Hair, Beard & Eyebrow Transplants & Trichology.
Talk to a specialist ☎
020 7935 1861
.
Blog search
Book a consultation
Simply fill in your details in the form below and we'll get in touch with you shortly.