19 Best & Worst Male Hairstyles For A Receding Hairline
Finding a flattering hairstyle for a receding hairline isn't easy. Choosing the right style depends on lots of factors, including how much hair you have left, your face shape, and the hairstyle you actually want.
But there are lots of hairstyles that can work with a receding hairline. From buzzcuts to bleach, short styles to longer looks, here are the top 25 hairstyles for receding hairlines.
Top tips for finding the right hairstyle for a receding hairline
Ask your barber for advice. Your barber can take all the important factors into account to recommend a look that suits you.

Experiment with new styles. Be open to new ideas and styling suggestions. It's never too late to try something new.

Work with your natural hair type. Don't fight your natural hair texture. Find a style that complements your hair type, rather than trying to change it.

Avoid excessive heat styling. Heat can make hair loss worse, so avoid styles that require straightening, curling, or chemical treatments.

Consider hair regrowth solutions. Topical solutions like Minoxidil can give you more styling options and help stop a receding hairline from progressing.
Best men's hairstyles for a receding hairline
Tired of trying to achieve the perfect combover every morning? Here are 15 of the best hairstyles for a male receding hairline.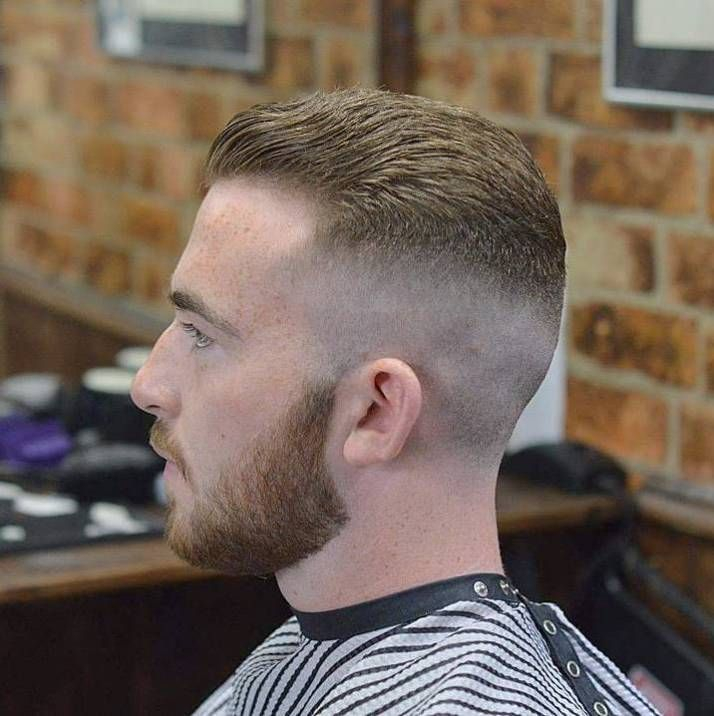 1. High fade
A high fade helps your hairline blend into the rest of your hair, opening up more styling options. Bald fades achieve the best blend.
Fades can be tricky to achieve at home, so head to the barber for this one.
When the fade's cut in, use your preferred pomade to style your hair forward or slick it back.

2.Slicked back
Slicked back styles are popular right now — and they can look great with a receding hairline or widow's peak. It works best if you have fairly limited hair loss.
How to style a slicked back cut
A slicked back look can hide hair loss well if styled properly. Using a little pomade or gel, comb your hair back and slightly to the side, over your temples.
If your hairline is only receding slightly, you won't need to worry too much about this.
Wear with a neat beard or shadow for an ultra modern look.

3. Textured brush forward
Brushing your hair forward is a surefire way to hide thinning hair at your temples. It works best if you still have good density across your mid-scalp.
Trim the back and sides of the hair, leaving a good crop on top.
Using pomade or wax, use your fingertips to push the hair forward, leaving it tousled and messy.

4. Tousled mid-length cut
Men with naturally curly hair may find that mid-length hairstyles effectively hide their receding hairline. The curls fall around the face, disguising any thinning.
This style may not work as well for men with naturally straight or fine hair, as you won't get as much natural coverage.
How to style tousled curls
Grow your hair out to your preferred length. Use a salt spray to create a textured, tousled effect.
Get regular haircuts to keep your hair neat and light. The weight of longer hair can reduce density around the forehead.

5. Buzzcut
Sometimes seen as a last resort, a buzzcut is actually a really strong look in itself (as many bald celebrities can attest). It's also really easy to maintain at home.

If a buzzcut will be a dramatic new look for you, don't feel you have to go fully bald from the off.
Opt for a number 2 while you're getting used to your new look. Then experiment with shorter styles when you're ready.

6. Brushed up quiff
A quiff is a bold look that can distract from any thinning or recession around your hairline. Choose a simple spiky style (left) or a bold bouffant (right).
Styling a quiff for a receding hairline
Use your preferred styling product to push the hair forward over your temples and upwards at the front. Longer hair will probably require more product.

7. Men's fringe
A fringe is the ideal hairstyle for a receding hairline. It works with curly or straight hair textures, and hides any hair loss around your temples.
Modern male fringes tend to finish a little way above the eyebrows. Visit your barber every 4 to 6 weeks to keep it tidy and out of your eyes.
Men with curly hair can use wax or pomade to create a tousled effect.

8. Beard balance
The beard trend isn't going anywhere, and it's a great way to detract from hair loss on your head. If your beard is patchy or thin, Minoxidil can help stimulate beard growth.
How to style a beard to balance hair loss
This look works best with thicker, longer beards. Keep your hairstyle short and simple, in a style you're comfortable with (buzzcuts and crew cuts work well).
Trim your beard regularly to keep it neat. Use beard oil to keep your hair soft and manageable.
9. Hairpieces and hair systems
Hairpieces have come a long way since the classic toupée. Modern hair systems can look indistinguishable from your natural hair, helping you achieve any style you want.
How to wear a hair system
Hair systems are best fitted by a professional. They can match it to your natural hair, then cut and style it however you like.
Hair systems aren't permanent. You'll need to get it reglued every 6 to 8 weeks.

10. Side-swept
The side-swept look is a modern favourite. It's easy to style on a daily basis, and looks great with or without a beard. You'll need good hair density across your mid-scalp to wear this look well.
How to style a side parting
Part your hair at the tip of your temple. Then, using pomade or wax, comb your hair back and to the side.

11. Sleek, straight hairline
Having Afro-textured hair gives you the option to cut in a new hairline altogether. Shaving your hairline back a few extra millimetres can make any recession almost unnoticeable.
This one's best left to the barber to achieve a sleek, straight hairline. Get a regular trim to keep your hairline razor-sharp.

12. Modern mohawk
Shaving down the sides of your hair with a stylish undercut can disguise your receding hairline, while a thick, tousled crop on top is the ideal distraction. You'll need good coverage across the crown and mid-scalp to pull off this look.
How to style a modern mohawk
Choose a close fade that undercuts the hair on top. Use wax or pomade to style your hair forward, covering the temples.

13. High and tight haircut
The high and tight (sometimes known as a military cut) is a simple, classic style. While it won't disguise your receding hairline, this shorter cut can be a good segue from long or mid-length hair to a buzzcut.
How to style a high and tight cut
This low-maintenance style just needs a regular trim now and then. Apply a small amount of wax to create a mini quiff or slightly slicked back look.
14. Bleach blonde
Bleaching your hair is a bold move, but it will detract from your hairline. If you have a lighter skin tone, it can also make your hair appear less visible. On the flip side, this hairstyle will stand out more against darker skin tones.
How to style bleach blond hair
Wear your bleached hair however you like. This bold look works best with a stylised modern cut, such as a quiff or brushed forward style.
15. The Jude Law
Many men look distinguished without trying to hide their receding hairline. Embrace the recession with an unfussy trim a la Jude Law.
How to style the Jude Law
Get your hair trimmed regularly. Use your preferred product to style your hair however you like.
Worst men's hairstyles for a receding hairline
Here are four no-go hairstyles for men with a receding hairline.
1. Combover
A high fade helps your hairline blend into the rest of your hair, opening up more styling options. Bald fades achieve the best blend.
The combover isn't seen much these days, and for good reason. If your hair is thinning along your hairline or mid-scalp, a combover can make it much more obvious.
That's why slicked back and side-swept styles require good density across the scalp, even if you have hair loss around your temples.
2. Pompadour
Pompadour styles are on-trend, but they draw a lot of attention to the hairline — especially if it's receding.
You need a lot of hair for this bouffant style, so those with thinner frontal coverage may find a pompadour hard to pull off.

3. Tight hairstyles
Man buns and tight updos can tug at the hair follicles and damage them. So if you want to make your existing hair last as long as possible, treat your follicles with care and avoid tying your hair back too tightly.

4. Dreadlocks
Dreadlocks put repeated stress and strain on the hair follicles, causing further hair loss. The longer and heavier your hair, the more your follicles are likely to be affected.
This can impact hair across the scalp, not just at the hairline.
Receding hairline regrowth tips
Struggling to achieve the style you want? Stimulate regrowth along your receding hairline with these tips.
Learn more about treating temple hair loss to address the underlying cause of your receding hairline.
The Wimpole Clinic offers FUE Hair, Beard & Eyebrow Transplants & Trichology.
Talk to a specialist ☎
020 7935 1861
.
Blog search
Book a consultation
Simply fill in your details in the form below and we'll get in touch with you shortly.