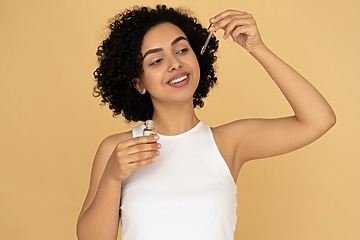 The Best Essential Oils for Hair Growth
Alternative therapies are only increasing in popularity in the Western world. $30.2 billion is spent annually on treatments developed outside of mainstream Western medicine, by over 30% of adults in the USA [1].
One such method is the use of essential oils as an alternative treatment for hair growth. Let's take a look at the best oils for hair growth, and the best oils for treating hair loss.
What are essential oils?
Essential oils are created by steaming or pressing plant extracts — such as the flowers, leaves or bark — to release chemical compounds which contain scent. These undiluted plant extracts can require huge amounts of each plant to produce the oil, as it's so concentrated.
Pure essential oils are the most effective kind. Some are mixed with alcohol or other chemicals, so ensure you look for oils that are 100% pure.
Best oils for hair growth and hair loss
Rosemary oil
Rosemary oil is considered one of the best oils for hair growth. In one study of patients with androgenetic alopecia, rosemary oil was compared to the topical hair loss treatment Minoxidil. The study found rosemary oil to be comparable with a regular application of 2% minoxidil – both groups experienced increased hair density after 6 months of use [2].
In a small study of patients with alopecia areata, an autoimmune hair loss condition which causes patchy, non-scarring hair loss, a blend of essential oils were massaged into the scalp daily. The blend of rosemary, thyme, lavender and cedarwood oils showed significant hair regrowth [3]. Hair transplants for alopecia areata are rarely recommended, so these essential oils offer another hair restoration option for patients with this condition.
Rosemary oil is thought to reduce the ability of testosterone to convert into DHT (dihydrotestosterone). DHT is a male sex hormone linked to hair loss in men, if they are genetically predisposed to androgenetic alopecia. More research in this area is needed.
Another study also found rosemary oil might kill some bacteria and fungi, so it could be effective in treating hair loss caused by common scalp problems like dandruff or infection [5].
Cedarwood oil
Cedarwood oil was produced by the Ancient Egyptians and Sumerians from the Cedar of Lebanon tree. Now, it's derived from distilling wood from different conifers from the pine and cypress families.
The only scientific literature regarding cedarwood oil and hair growth comes from the same study mentioned earlier, where a blend of essential oils including cedarwood was used to treat alopecia areata [3].
Cedarwood contains anti-inflammatory and antimicrobial properties, so it could help soothe an itchy scalp. It may also help in the treatment of dandruff and scalp eczema, which can cause hair to fall out.
Peppermint oil
Peppermint oil is well known for its calming effects on the digestive system, but one study found promising results in hair regrowth. Although the study was done on mice rather than humans, the study did find peppermint oil to be the most effective treatment to stimulate hair growth, compared to saline, jojoba oil, and 3% minoxidil [4].
Peppermint oil's active compound is menthol – it contains around 40%. Its effect on hair regrowth could be due to menthol increasing blood circulation in the scalp, and it may be one of the best oils to combat hair loss.
Geranium oil
One study investigated the effect of geranium oil on hair growth in mice, concluding that geranium oil could enhance hair growth, and prevent hair loss [7]. Interestingly, they found the geranium oil to be more effective than minoxidil. Geranium oil is known to regulate oil secretions around the hair follicles, promoting a healthy scalp.
Lavender oil
Lavender oil has shown promising results in animal studies. The 4 week study applied lavender oil once per day, 5 times a week for 4 weeks. After the month was up, the group that had lavender oil showed an increased number of hair follicles and deepened hair follicle depth [7].
Lavender oil contains active compounds such as linalyl acetate, linalool, and geraniol, with different beneficial effects. Linalool has antifungal properties, so it could help promote hair growth in people suffering from an infected scalp.
Lemongrass oil
Lemongrass oil can treat dandruff and promote a healthy scalp, which is essential for hair growth. In one study, a tonic with 10% lemongrass oil significantly reduced dandruff after just 14 days [8]. Another animal study found an increase in the length of the hair follicle after only 5 days of use [9].
Thyme oil
There is plenty of anecdotal evidence supporting the role of thyme oil in treating hair loss. However, there is only one clinical study showing it's benefits for hair growth in patients suffering from alopecia areata [3].
Thyme oil is rich in anti-inflammatory compounds, and inflammation is one of the causes of hair loss as we age. It can also stimulate the scalp, helping increase blood flow to the hair follicles. This works the same way as Minoxidil, which is a vasodilator. Vasodilators increase blood flow to the scalp, therefore encouraging the flow of nutrients to your hair follicles. The increased nutrients then encourage hair follicles to enter the growth phase of their cycle. Learn more about vitamins and hair growth.
Thyme oil could therefore be one of the best oils for hair loss caused by telogen effluvium, but more research is needed.
Ylang Ylang oil
Ylang ylang can help balance sebum production on the scalp, so it's one of the best oils to treat a dry scalp and brittle hair, which can be caused by an iron deficiency. Taken from a tropical tree native to South East Asia and Australia, ylang ylang is thought to strengthen hair follicles, reducing hair loss and breakage. So it may be one of the best oils to treat hair damaged by beauty treatments and styling.
Tea Tree oil
Tea tree oil can increase the efficacy of Minoxidil. Researchers found the combination of Minoxidil and tea tree oil slowed hair loss, increased hair growth and improved hair appearance without noticeable side effects such as itching or scalp inflammation [10].
Tea tree is frequently used in anti-dandruff products, as its major component of terpinen-4-ol possesses antimicrobial properties [11]. It could also be useful in the treatment of scalp psoriasis as it's an antifungal, but there isn't any clinical research supporting this.
Bergamot oil
Researchers have found the application of bergamot oil and boxthorn (a shrub in the Nightshade botanical family) increased collagen content, which is essential for strong, healthy hair. It also increased the activity of protective enzyme superoxide dismutase, and promoted hair growth [12].
Extracted from the peel of the bergamot orange, bergamot oil also has anti-microbial properties [13]. The fatty acid content may help condition and restore shine to hair.
Black seed oil
Black seed oil can stimulate hair growth and reduce hair loss [13-15]. It also works as an antioxidant, preventing oxidative stress that can manifest as alopecia.
Black seed oil has also been shown to reduce inflammation and symptoms of psoriasis [16].
How to use essential oils for hair growth and to treat hair loss
Massaging essential oils into your scalp can stimulate blood flow and encourage new hair growth. Always mix essential oils with a carrier oil like jojoba or olive oil, as they shouldn't be applied directly to the skin. Essential oils can cause adverse side effects such as scalp irritation. So it's always best to patch test before applying essential oils to your head and hair.
More research is needed on the scientific benefits of essential oils for your hair, especially in real human studies. But there are already promising signs in clinical trials for certain essential oils. Rosemary oil has the most scientific literature to support its use. So this is the best place to start if you're looking to use essential oils for hair growth.
Are you looking for a permanent solution to your hair loss? If you have advanced hair loss caused by pattern baldness, a hair transplant could be the right treatment for you. Our team of dedicated specialists are on hand to answer any questions you may have — book a free consultation to learn more.
Sources:
The Wimpole Clinic offers FUE Hair, Beard & Eyebrow Transplants & Trichology.
Talk to a specialist ☎
020 7935 1861
.
Blog search
Book a consultation
Simply fill in your details in the form below and we'll get in touch with you shortly.