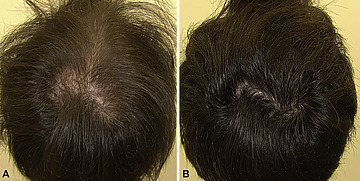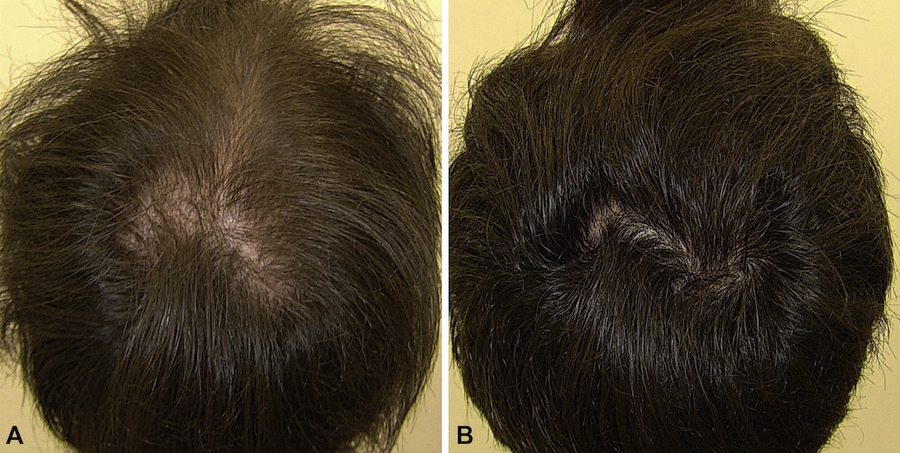 Minoxidil Before And After: Photos & Results
Originally used as a treatment for high blood pressure, Minoxidil is now best known as one of the world's most successful hair restoration solutions. Soon after its approval, reports suggested that up to 80% of patients taking it as an antihypertensive drug also experienced a slowdown in hair loss and unexpected rates of regrowth [1].
So what do the real-life results of taking Minoxidil look like? In this article, we'll deep-dive into the research and show what happened to real patients' hair before and after applying Minoxidil.
What is Minoxidil and how does it help hair growth?
Minoxidil is a topical treatment designed to stimulate hair growth. Minoxidil makes the blood vessels in your scalp dilate, improving circulation and encouraging hair regrowth [2]. It's sold under the brand name Regaine (in the UK) and Rogaine (in the US).
Rogaine has been shown to work for several hair loss conditions, including androgenetic alopecia, alopecia areata, and telogen effluvium.
How soon will I see results after using Minoxidil?
According to the Regaine website, you'll start to see visible results within 3 to 6 months of use. The Rogaine site says it can take at least 4 months for results to develop. Results are only likely to appear within this timeframe if you apply Minoxidil as recommended (usually twice a day).
Some people prefer to use Minoxidil 3 times a week. But if you use less than the recommended amount, regrowth may be slower or less successful.
Clinical research has shown that the longer you use Minoxidil, the better results you'll see. In one study, the average reduction in hair loss severity was 0.85 within 6 months, and 1.3 within 12 months [3].
Find out how to apply Minoxidil for best results.
Minoxidil before and after photos: androgenetic alopecia
Androgenetic alopecia, also known as male pattern baldness in men or female pattern hair loss in women, is the most common type of hair loss in the world. Here are the results of using Minoxidil before and after to treat androgenetic alopecia.
Female pattern hair loss and Minoxidil: before and after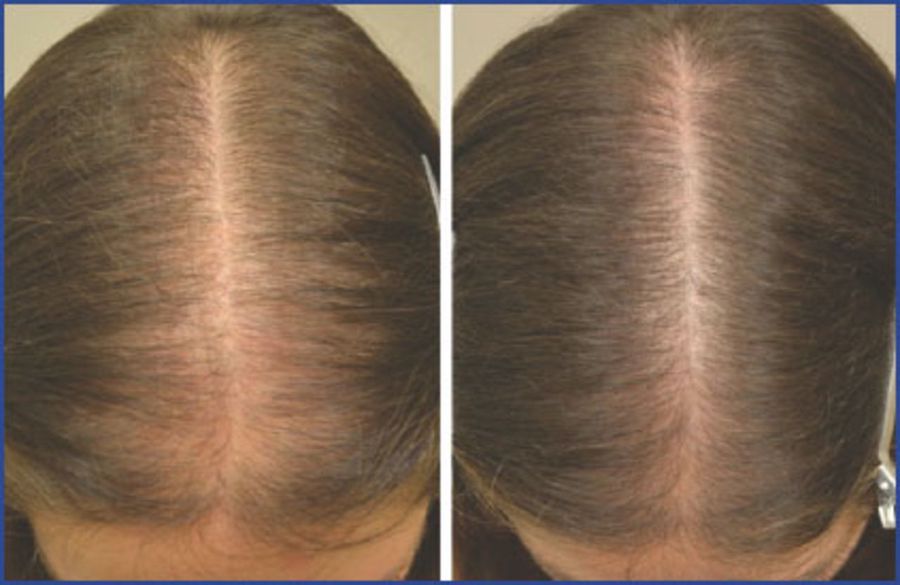 This patient has typical female pattern hair loss, characterised by a widening parting [4]. Before using Minoxidil, her hair loss is approaching stage 2 of the Ludwig Scale.
The second image shows the results after using topical 5% Minoxidil twice a day for 6 months. Her hair loss appears to have not only stopped but reversed, with her hair looking much thicker along her parting and around her temples.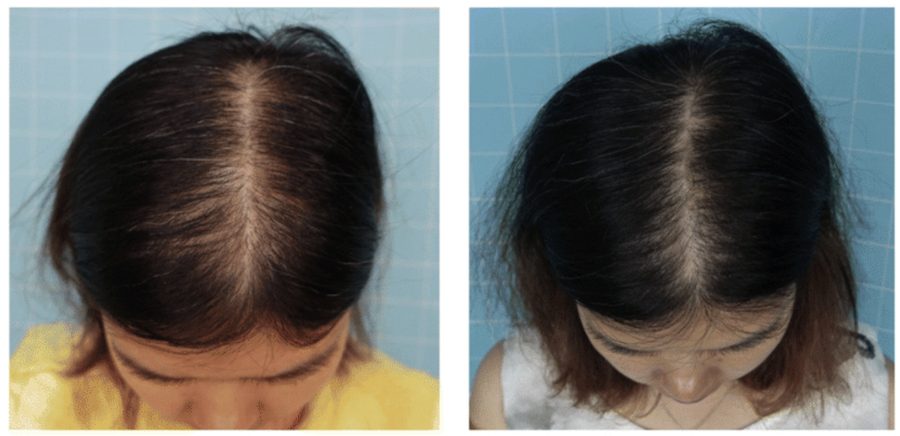 Thee before and after Minoxidil photos above show another patient with female pattern hair loss, which improved following 6 months of topical 5% Minoxidil application [5].


This patient's androgenetic alopecia is more severe than the cases above [6]. Yet Minoxidil has still stimulated visibly thicker hair growth across her scalp within 6 months.
This patient was part of a group of participants using topical 2% Minoxidil to improve symptoms of female pattern hair loss. The number of patients displaying focal atrichia — patches of skin that are visibly devoid of hair — dropped substantially at each interval.
Interval
Focal atrichia (% of patients)
Photos showing hair of
1 patient at each interval
Baseline
75%
A, E
2 months
35%
B, F
4 months
10%
C, G
6 months
0%
D, H
Minoxidil reversed hair loss for all patients in the group. At baseline, 20% of patients had Ludwig Scale stage 3 hair loss, and the remaining 80% had Ludwig Scale stage 2 hair loss. By the 6 month interval, no patients were beyond Ludwig stage 1; 20% of patients had even restored a healthy hairline, with no hair loss whatsoever: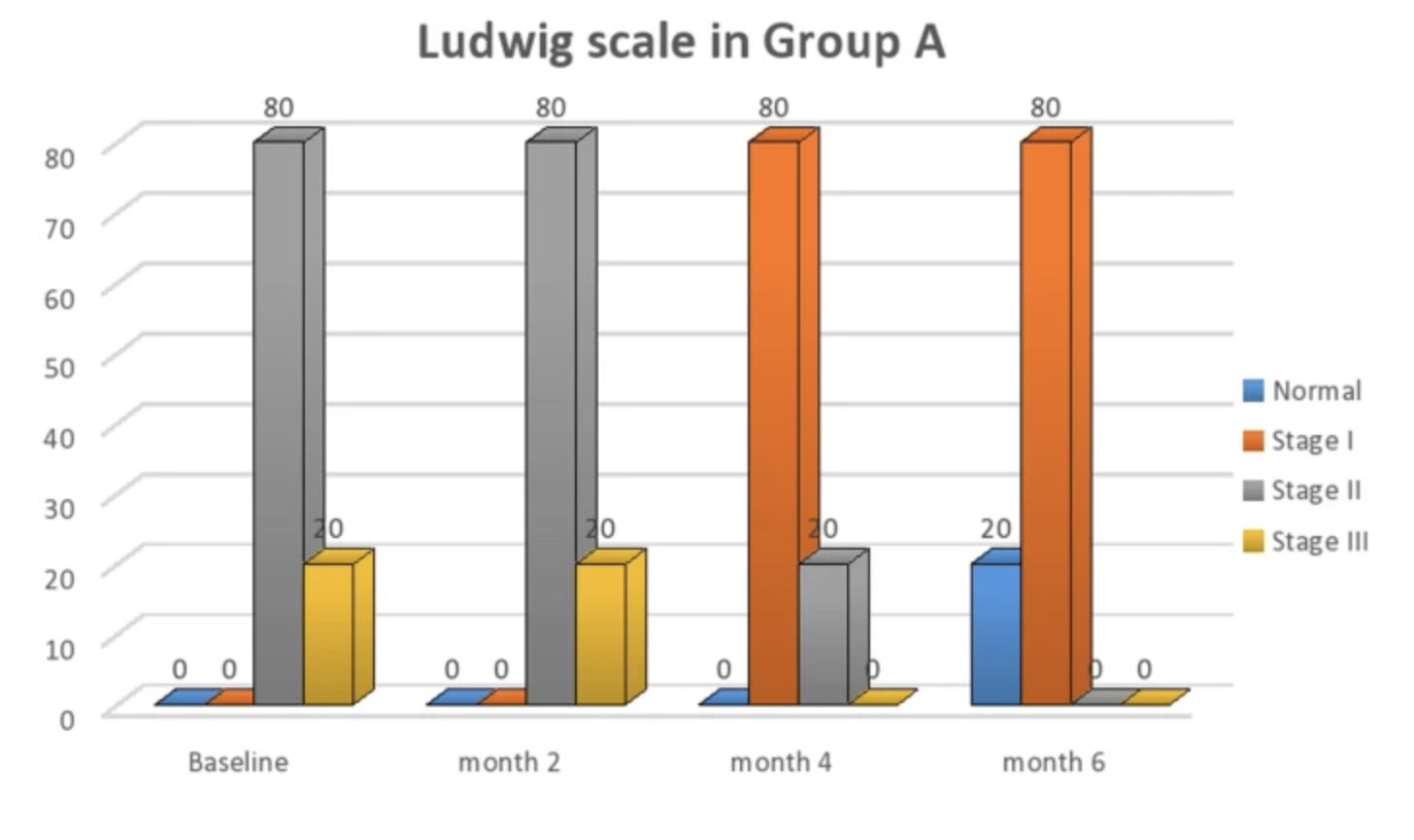 So topical Minoxidil is a highly effective treatment for female pattern hair loss. But are the results the same for men?
Male pattern baldness and Minoxidil: before and after
These 2 male patients developed receding hairlines and bald spots on their crowns — typical symptoms of male pattern baldness [7]. The Minoxidil before and after photos below show gradual improvement of symptoms at 12 and 24 week intervals, following use of oral Minoxidil taken once a day.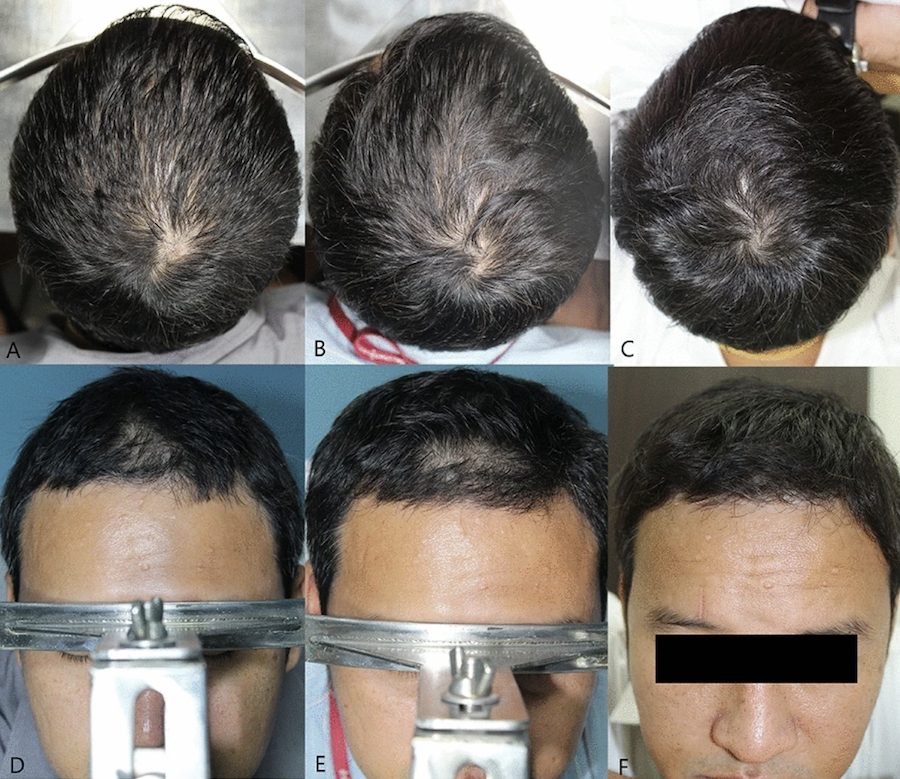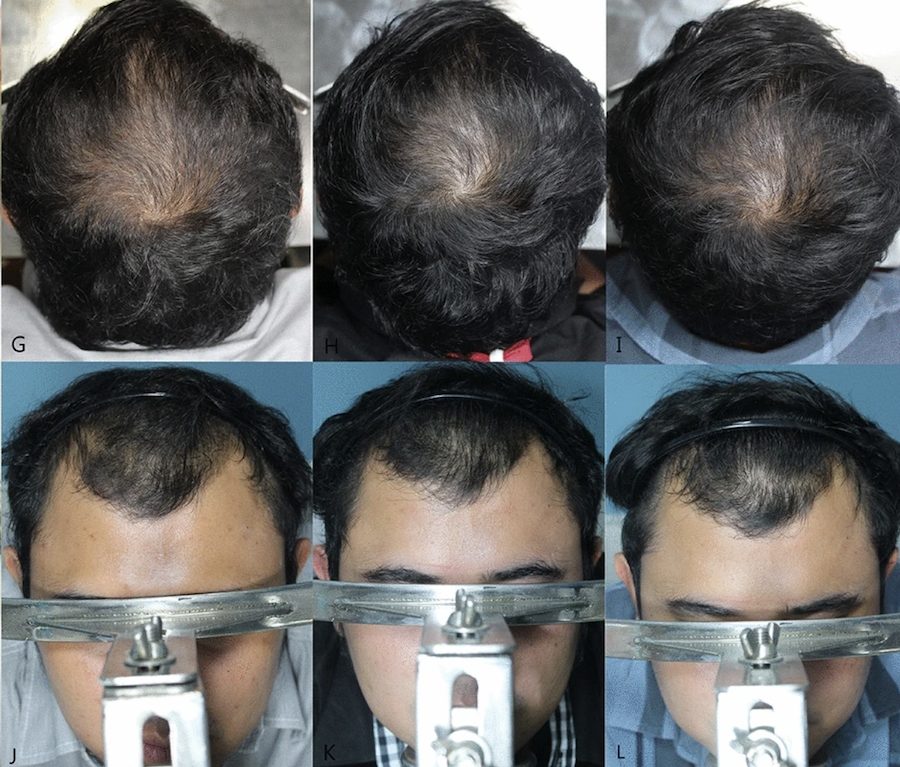 The study found that hair count and hair diameter both improved significantly over the 6 month trial as a result of oral Minoxidil use. A photographic assessment by an expert panel also declared a 100% improvement, with 43% of patients in the study achieving excellent results. Learn more about using Minoxidil for a receding hairline.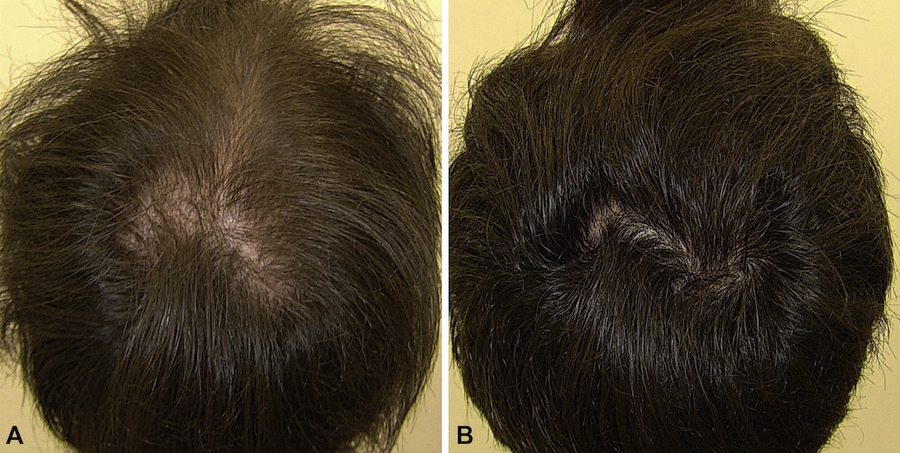 This patient shows similar levels of hair loss, identified as grade 2 hair loss on the Norwood Scale by researchers [8]. He also saw a marked improvement after just 3 months of oral Minoxidil use.
It's important to note that these patients all have relatively early stage hair loss. Men with more substantial hair loss — stage 4 and above — are less likely to see such dramatic improvements in their hairline using Minoxidil alone.
Is oral or topical Minoxidil better for male pattern baldness?
Each of these patients also used oral Minoxidil rather than the topical solution. Oral Minoxidil is generally more effective than topical Minoxidil — but the standard dosage can cause severe hypertension, so its use is sometimes limited [7, 9]. Low dosage oral Minoxidil is usually safe, but if you have high blood pressure, speak to your GP before taking any type of oral Minoxidil.
Topical Minoxidil is also effective in men with androgenetic alopecia [10]. But few studies have included clinical photographic evidence of Minoxidil before and after results.
Minoxidil before and after photos: alopecia areata
It's not just genetic conditions like androgenetic alopecia that can be treated with Minoxidil. It can also treat autoimmune hair loss conditions like alopecia areata, in which white blood cells attack the follicles and cause hair to stop growing.
This patient has a visible bald patch characteristic of alopecia areata [11]. Following 12 weeks of topical 2% Minoxidil application, his hair had begun to regrow.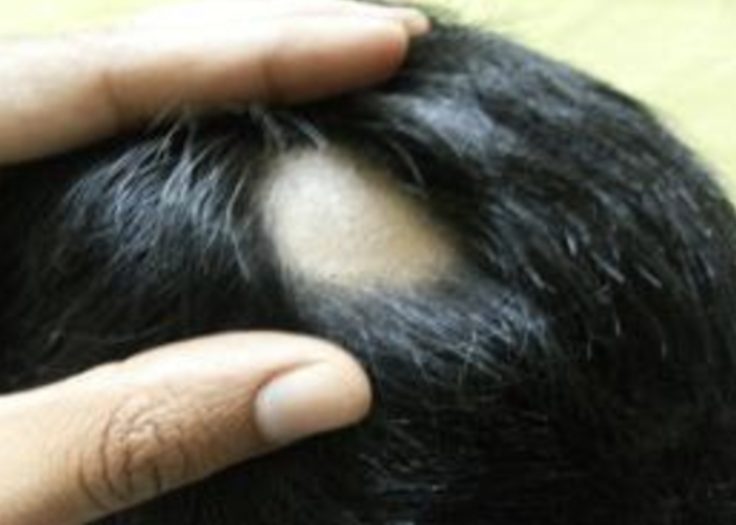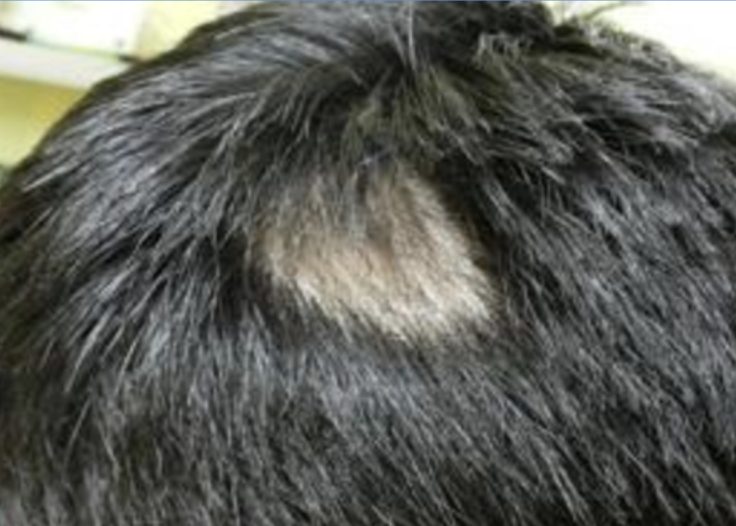 The patient was part of a group of participants testing Minoxidil against other types of treatment for alopecia areata. According to the researcher's alopecia grading scale, the average alopecia grade of the Minoxidil group dropped from 13.19 at the baseline to just 4.28 after 12 weeks.
But Minoxidil can also work in conjunction with other treatments for alopecia areata. This patient has multiple bald patches on his scalp caused by alopecia areata [12]. Like many alopecia areata patients, his treatment plan consisted of corticosteroids and topical 5% Minoxidil.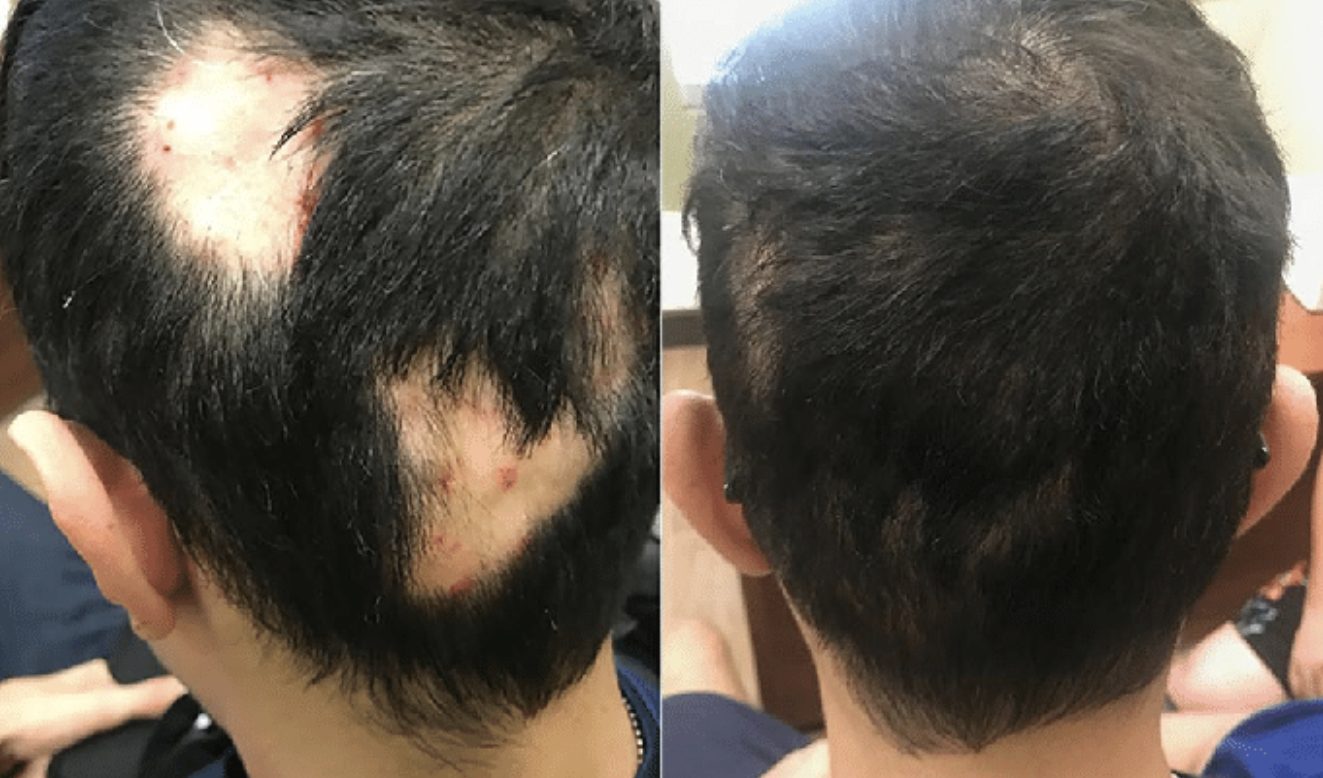 Photo A shows the patient immediately after corticosteroid injections (redness and scabbing are known side effects of this) but before Minoxidil treatment. Photo B shows the patient's hair just 8 weeks after daily Minoxidil foam application and a steroid cream for hair loss.
Minoxidil before and after: other hair loss conditions
Chemotherapy-related hair loss
Oral Minoxidil can improve chronic or permanent hair loss after chemotherapy, a type of medication known to cause hair loss.
This patient had severe diffuse hair loss across her scalp following intense chemotherapy treatment [13]. Her hair loss hadn't improved 18 months after her chemotherapy treatment ended, so she began applying topical Minoxidil — first 2%, then 5%.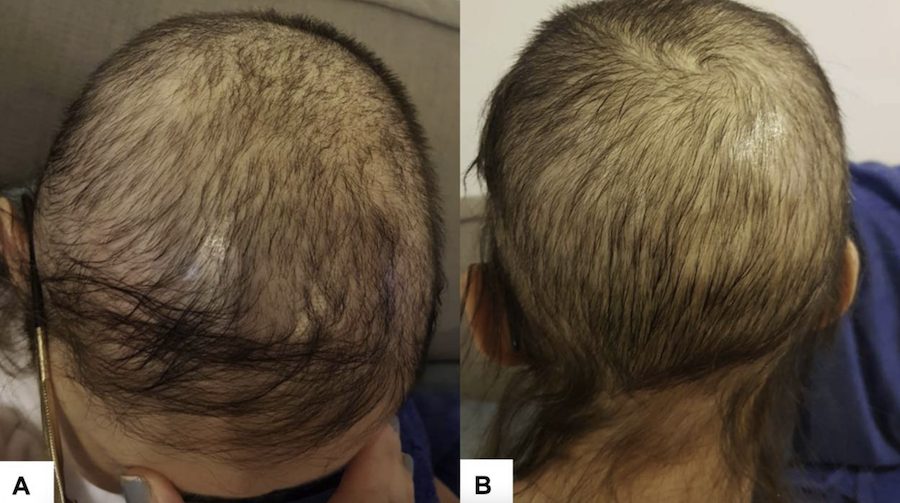 Topical Minoxidil failed to improve her symptoms. But under clinical advice, she began taking low dose oral Minoxidil — and her hair quickly began to regrow. After 4 months, the patient could stop wearing a wig to hide her hair. After a year, her hair had regrown to full thickness: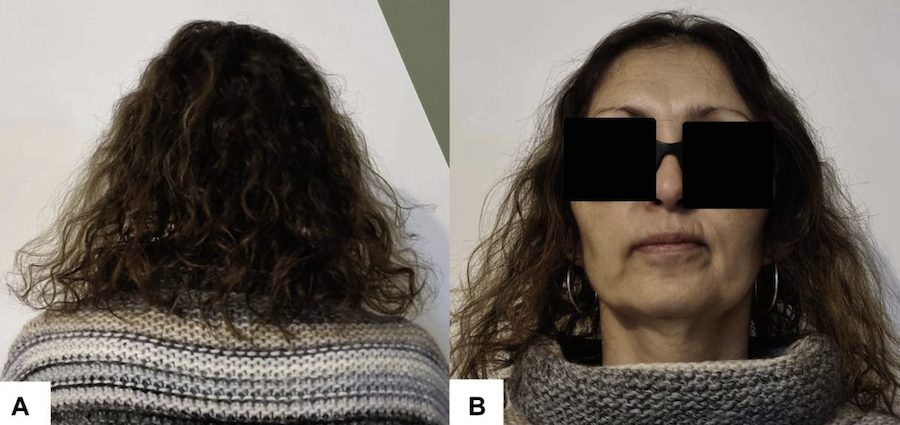 There's a clear difference between the efficacy of oral and topical Minoxidil in this case. But oral Minoxidil does have potential side effects, especially at higher doses, so consult with your doctor before taking oral Minoxidil for hair growth.
Traction alopecia
Oral Minoxidil can also help patients with traction alopecia, a condition caused by wearing your hair in tight hairstyles such as ponytails or dreadlocks. These before and after Minoxidil photos show a patient with traction alopecia pre- and post- 11 months of treatment with oral Minoxidil [14].
Telogen effluvium
Treatment isn't always necessary for patients with telogen effluvium, as in most cases this is a temporary hair loss condition triggered by stress, illness, or trauma. When the trigger is resolved, hair regrows naturally.
But some patients experience chronic telogen effluvium, in which this type of hair loss continues beyond 6 months. Research has found that Minoxidil is highly effective for chronic telogen effluvium, although there's no clinical photographic evidence to show this [15].
Minoxidil for facial hair: before and after
A common side effect of Minoxidil use (particularly oral Minoxidil) is hypertrichosis — excessive growth of body hair. While this may be unwanted in some areas, it does mean Minoxidil can also be effective at stimulating hair growth in areas like the eyebrows and beard.
This patient has noticeably thicker eyebrows after 16 weeks of topical 1% Minoxidil use [16].

Learn more about using Minoxidil for eyebrow growth.
This transgender male patient also successfully used topical 5% Minoxidil to promote beard growth over the course of 5 months [17]: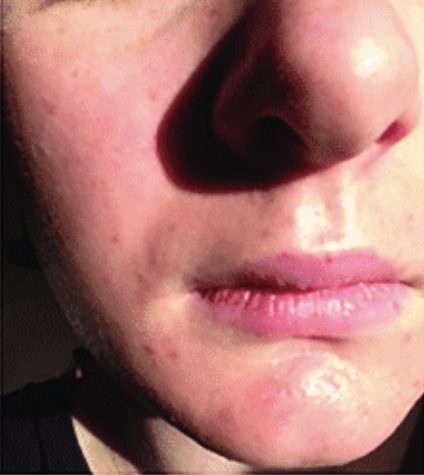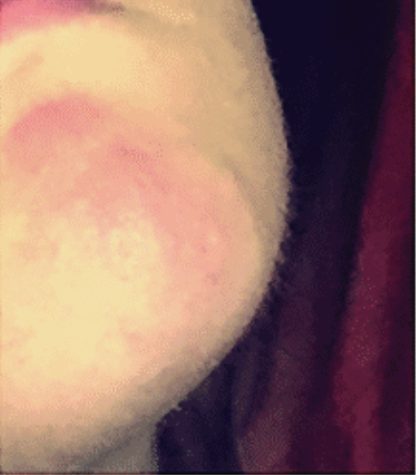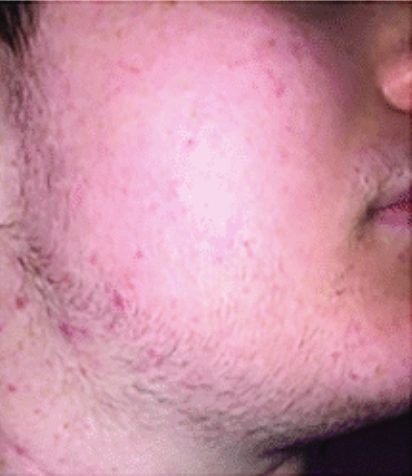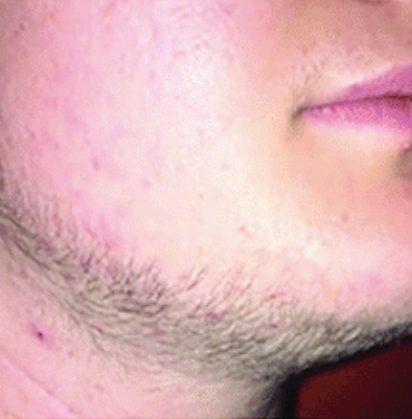 Images: Patient at baseline (before Minoxidil treatment); then at 2, 3, and 5 month intervals. The patient started testosterone treatment 2 months prior to the 5 month interval.
While the patient's transgender hormone therapy may have played a part in improving his beard growth at the 5 month interval, it's clear that Minoxidil had some effect, as he also shows visible beard growth after 3 months. Learn more about the impact of HRT on hair loss.
Side effects of Minoxidil
As these before and after Minoxidil photos show, both topical and oral Minoxidil can be a highly effective hair loss solution. But, as with any course of treatment, there are side effects you must be aware of. Learn more about Minoxidil side effects:
Where to get Minoxidil
Minoxidil is readily available online and over-the-counter, so it's easy to try for tackling your own hair loss. However, if you have severe hair loss thanks to advanced androgenetic alopecia, Minoxidil alone may not be enough to restore your hair.
Other hair loss medications like Finasteride or Dutasteride can be effective. See our comparison of Finasteride vs Minoxidil to find out how DHT blockers measure up against Minoxidil.
But for permanent results, a hair transplant is the best option. Learn more about FUE vs FUT hair transplants to find out which type is best suited to you.
The Wimpole Clinic offers FUE Hair, Beard & Eyebrow Transplants & Trichology.
Talk to a specialist ☎
020 7935 1861
.
Blog search
Book a consultation
Simply fill in your details in the form below and we'll get in touch with you shortly.