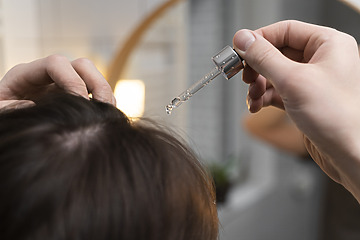 How Do I Apply Minoxidil?
Minoxidil, or Rogaine (brand name), is an extremely popular hair loss medication. It is designed to aid hair regrowth by shortening the telogen (shedding) phase and lengthening the anagen (growth) phase of the hair growth cycle [1].
Topical Minoxidil is effective due to direct exposure on the scalp. However, some people may find this daunting as they are responsible for applying the solution correctly, instead of simply taking a tablet.
In this article, you can expect to learn how to apply Minoxidil topical solution, foam, and spray, and how to use Minoxidil for beard growth.
How to apply Minoxidil topical solution
Applying the topical solution of Minoxidil to your scalp is relatively straightforward as you will be supplied with a dropper. When you're using Minoxidil for a receding hairline, be careful that the solution doesn't drip down your forehead and near your eyes.
Before applying, your hair needs to be completely dry.
Take the dropper and fill it from the bottle with the required amount.
Part your hair to access the affected areas of the scalp, and use the dropper to apply the Minoxidil.
You should keep your head tilted back when applying to avoid excessive dripping. Tilting your head will prevent the solution from coming into contact with unwanted areas.
Once the Minoxidil has been applied, put the dropper to one side and gently rub the solution into your scalp.
Now, wash your hands thoroughly, ensuring there is no trace of the solution left on your fingers.
See this video for assistance with applying topical liquid:
How to apply Minoxidil foam
Applying Minoxidil foam is much like applying the topical liquid. However, it doesn't come with a dropper for precise application.
Your hair needs to be completely dry before applying the foam, and you should part your hair to reach the affected areas beforehand, as you will have your hands full with the foam.
Press the can to release a half cap full of foam onto your hand.
Gently massage the foam onto the affected areas of the scalp using your fingers.
Keep your head tilted slightly back to prevent foam from dripping.
Thoroughly wash your hands and ensure all traces of the foam are gone.
See this video for assistance with applying foam:
How to apply Minoxidil spray
Applying Minoxidil spray requires a little more precision than foam and topical liquid, as you need to ensure that you aim exactly at the affected area when spraying. This can be difficult at first, but you'll get the hang of it with practice.
As per the previous guides, ensure your hair is completely dry to avoid diluting the solution with water.
Separate your hair to expose the affected areas of the scalp; this will help the solution reach the follicles more easily.
Spray the solution onto the affected areas, aiming closely and directly.
You shouldn't need to worry about drips as much with a spray solution. However, if you feel drips forming, tilt your head to prevent the solution from coming into contact with your neck or forehead.
Once applied, wash your hands thoroughly to ensure no solution has come into contact with your hands.
How to apply Minoxidil to long hair
When it comes to long hair, there isn't really much of a difference in applying Minoxidil. The only thing you need to be aware of is that you are applying the solution to the affected areas correctly by exposing the scalp to reach the follicles.
You don't need to spread Minoxidil solution over your whole head when using it, as this won't do anything except make your hair greasy.
As you can see in the picture below, the person has long hair, but the thinning areas can be seen on the scalp. After applying Minoxidil to the affected areas, their hair has begun to grow denser. This is the case in many Minoxidil before and after photos: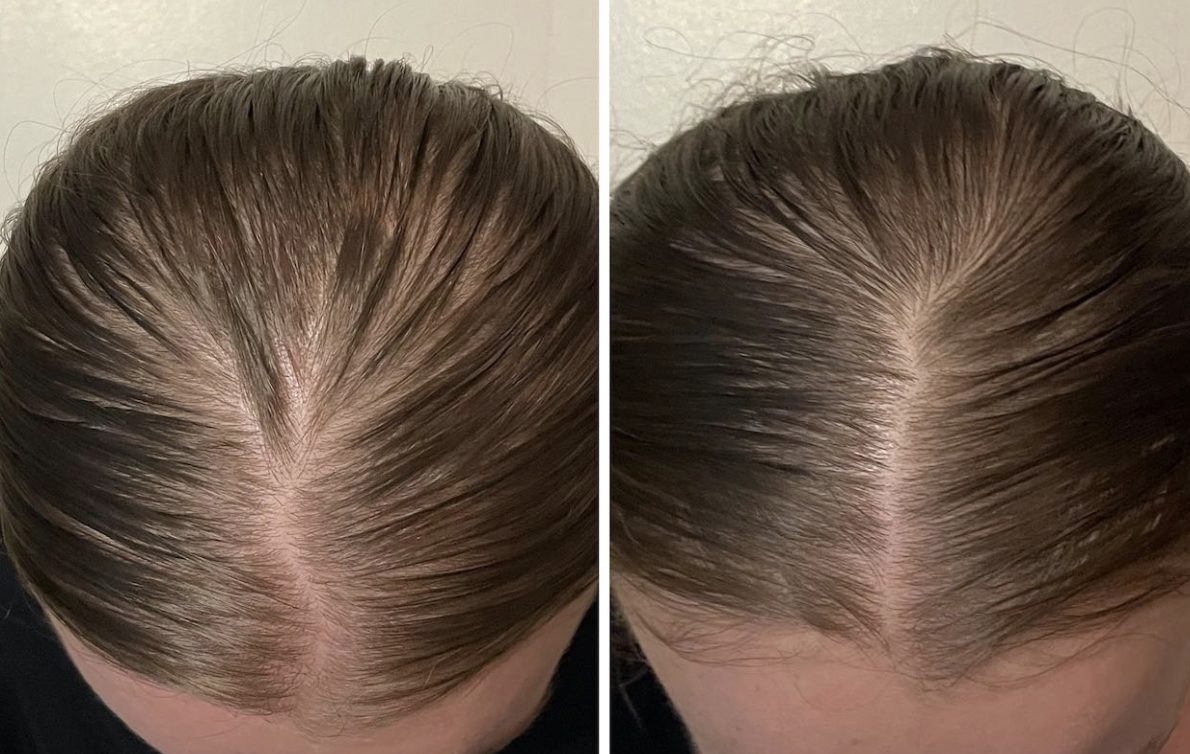 How to apply Minoxidil to your beard
When applying Minoxidil to your beard, the process is almost the same as applying it to the hair. You'll need to ensure that you allow the solution time to dry after applying, so don't wash your face or let any other liquid come into contact with the area.
Ensure your beard is dry before applying the solution.
Depending on the type of solution (foam, topical liquid, or spray), follow the guides above on how to apply Minoxidil to your beard.
Massage the recommended amount into the area using your fingers.
Thoroughly wash your hands, ensuring no trace of the solution is left behind.
Leave the solution to dry on your beard without disturbing it.
If you have used the solution before bed, ensure that you wash your face immediately after waking up. This can help avoid dry skin.
See this video for assistance with applying to the beard:
How can you tell if Minoxidil is working?
It usually takes around 8 weeks for Minoxidil to start working effectively. You should begin to see visible results in 4 months [2]. Of course, this is dependent on whether you have been using the correct dosage (usually 1 ml) twice daily. Reducing your Minoxidil use to 3 times a week will yield worse results. Consistent use will guarantee the best chance at successful results. You should only use the recommended dosage of Minoxidil for safety.
You should see significant improvement within 9 months. Signs Minoxidil is working may include:
After applying Minoxidil
Though it can be frustrating to wait around after applying Minoxidil, studies suggest that it is important to wait at least 4 hours for the solution to dry properly, as the longer the affected area is exposed to the solution, the better the results [3].
It may be tempting to ignore this and go about your usual routine, but this may inhibit your results. It can also easily stain fabrics and so it really is for the best that you allow it time to dry properly.
Where should I store Minoxidil?
Store your Minoxidil in a place where you will not forget to use it and that is free from heat and excessive moisture (not the fridge).
How often should I apply Minoxidil?
You should apply Minoxidil twice daily, with most people applying one dose in the morning, and one in the evening. Further use could lead to irritation.
The solution is only designed for scalp use (although many people also use it to stimulate beard and even eyebrow growth successfully). If Minoxidil comes into contact with other areas of the body you should immediately wash it with cool, clean water. If irritation occurs, you should contact your doctor.
What to do if Minoxidil isn't working for you
If you've been using Minoxidil consistently for the recommended amount of time and you haven't seen desired results, then it might be time to consider a hair transplant.
We offer treatments including:
Book your free consultation with the Wimpole Clinic today.
Sources:
The Wimpole Clinic offers FUE Hair, Beard & Eyebrow Transplants & Trichology.
Talk to a specialist ☎
020 7935 1861
.
Blog search
Book a consultation
Simply fill in your details in the form below and we'll get in touch with you shortly.