Minoxidil Shampoo: Does It Work?
As you've probably guessed, Minoxidil is a primary ingredient of Minoxidil shampoo. The medication is the only FDA-approved topical drug used to treat or slow down hair loss.
In a 1-year study conducted by the ISHRS, comprising 984 men with male pattern baldness, the use of Minoxidil reduced areas of hair loss in 62% of the patients [1].
With these facts in mind, Minoxidil shampoo most likely sounds like an effective way to combat hair loss for men and women, however, at present, there is limited research on the efficacy of Minoxidil shampoo.
This article will cover how minoxidil shampoo works and how quickly it can take effect, as all well the ingredient, step-by-step guides on use and alternative solutions you might wish to consider.
How does Minoxidil shampoo work
Minoxidil shampoo is a shampoo designed to slow hair loss, as well as clean your hair. The shampoo is usually 1-2% Minoxidil containing and is applied to the scalp and hair, in the shower or bath.
It is understood that Minoxidil works as a vasodilator, widening the blood vessels and increasing circulation to the scalp; this stimulates hair growth [2]. When added to shampoo, the individual can wash their hair and expose their scalp to Minoxidil simultaneously.
Though there isn't much research on the efficacy of Minoxidil shampoo at present, however, one study tested the therapeutic effect of 1% Minoxidil shampoo over 4 months. The double-blind placebo-controlled study comprised 60 subjects.
After 4 months there was an increase in hair growth in the 1% Minoxidil users, however, the increase was not significantly superior to the results of the placebo group. The study states that more than 4 months is needed to truly test the efficacy of Minoxidil shampoo [3].
It is also important to note that lower doses of Minoxidil may not be effective for hair loss. One study compared 5% topical minoxidil with 2% topical minoxidil, against 393 men with androgenetic alopecia.
After 48 weeks of therapy, 5% topical minoxidil was clearly superior to 2% topical minoxidil in increasing hair growth [4].
Another study trialled a 5% Minoxidil solution against a 10% Minoxidil solution in 90 men with androgenetic alopecia. The 5% topical minoxidil was superior to the 10% topical minoxidil in increasing hair regrowth, and the 10% solution posed more side effects [5].
These results indicate that a higher dose than 2% and a lower dose than 10% is more effective at treating hair loss, and therefore more research needs to be conducted on the effectiveness of a 1% Minoxidil shampoo.
It should be noted that these studies refer to topical Minoxidil which is not the same as shampoo; it does not clean your hair or create a lather when applied.
See topical Minoxidil before and after results.
How quickly does Minoxidil shampoo work?
There is limited research regarding how quickly Minoxidil shampoo works.
Research into topical Minoxidil, foams, and solutions states that the medication starts working after around 2 months and results are seen at 4 months, however, this refers to dosages such as 2% and 5% [2].
An important thing to remember is that Minoxidil shampoo is less concentrated and has less exposure time than Minoxidil topical liquid or foam. The average exposure time from using Minoxidil shampoo would be around 3 minutes before it is washed off the scalp.
One study, comprising 22 healthy males, was conducted to determine the relationship between the contact time of the applied drug on the scalp and minoxidil absorption.
By hour 1, 50% of the solution had been absorbed into the scalp, and by hour 4, over 75% had been absorbed. This study shows that Minoxidil needs at least 4 hours of exposure time on the scalp to be effective [6].
The reduced exposure time is likely to contribute to how quickly the medication produces results, as less exposure means the need to use the medication for longer in order to see results.
Which shampoos contain Minoxidil?
These are two known brands that offer shampoo containing Minoxidil
Foligan shampoo is suitable for both men and women and contains 2% Minoxidil.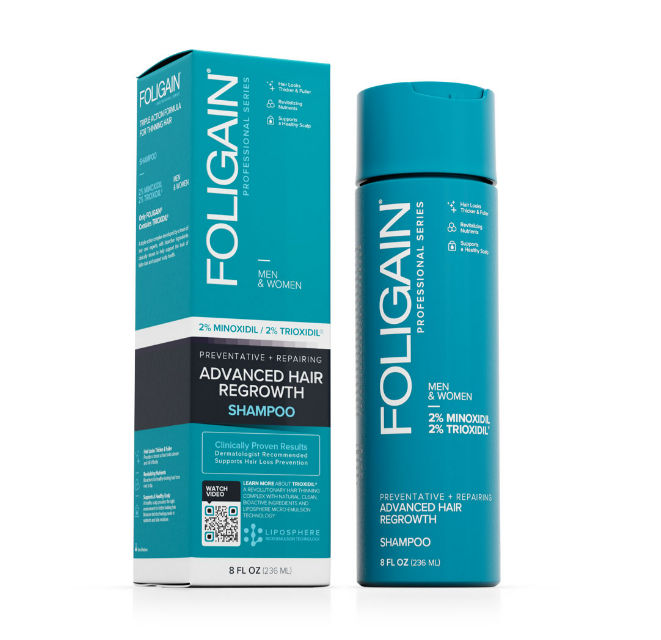 Foligan includes an agent called 2% Trioxidil which works to give the hair density, and also uses DHT blockers for male pattern baldness.
Bioken's Biotin shampoo and conditioner contain Minoxidil.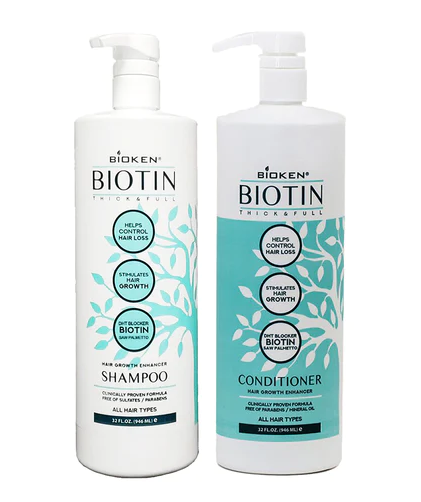 The shampoo and conditioner set uses Minoxidil and Biotin alongside each other to maximise hair growth and density. Biotin improves hair health through the restoration of keratin and potassium.
A step-by-step guide to using Minoxidil shampoo
When using Minoxidil shampoo it is important to remember to thoroughly wash your hands afterward. Though Minoxidil shampoo contains a small dosage of the medication, it could still cause hair growth when left on the skin.
Step 1: In the shower or bath, wet your hair.
Step 2: Squeeze a drop the size of a 50p coin into your palm.
Step 3: Massage the shampoo into your hair and scalp for 2 minutes.
Step 4: Allow the solution to sit on your hair and scalp for an additional 4 minutes, as this will give the Minoxidil time to work.
Step 5: Rinse the shampoo from your hair thoroughly, and ensure that you have washed your hands afterward to avoid leftover Minoxidil on the skin.
For the best results, you should aim to use the shampoo 3-5 times a week.
Minoxidil shampoo alternatives
If you find that you can't use Minoxidil, then there are a few alternatives to Minoxidil shampoo to try.
Caffeine shampoo
A common alternative is caffeine shampoo. Caffeine can be a popular ingredient in hair loss shampoos due to its ability to naturally impede the effects of the dihydrotestosterone hormone (DHT), which is responsible for hair loss in men. Caffeine also protects the roots of your hair and prevents breakage [7].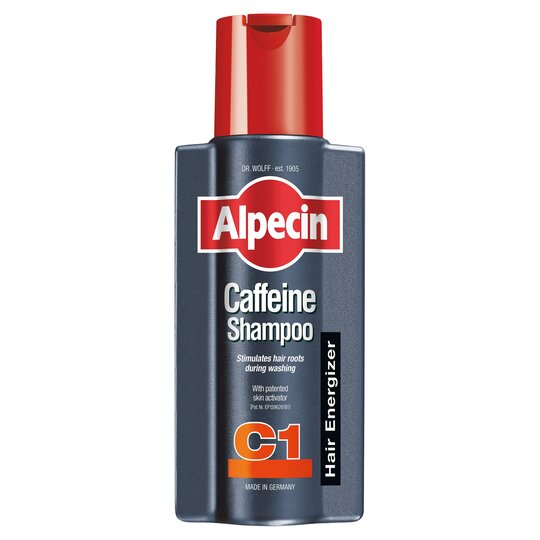 One study assessed the efficacy of a caffeine-based 0.2% topical liquid against a 5% Minoxidil solution; this was conducted on males with androgenetic alopecia. The study found the caffeine-based topical liquid to be non-inferior to the Minoxidil solution [8].
Some common brands of caffeine shampoo are:
Alpecin- find out whether Alpecin works
Umberto Gianni Grow Long
Seba-Med Anti-Hairloss Shampoo
Dr. Organic Coffee Hair Stimulating Shampoo
Ketoconazole shampoo
Ketoconazole is a medication commonly used to treat fungal infections such as athlete's foot and ringworm. It is available in a shampoo form for fungal and scalp infections, and it also tackles dandruff.
One study shows that Ketoconazole may disrupt the pathway of the DHT hormone in androgenetic alopecia [9].
A common Ketoconazole shampoo is Nizarol for hair loss, which acts as a DHT-blocking shampoo.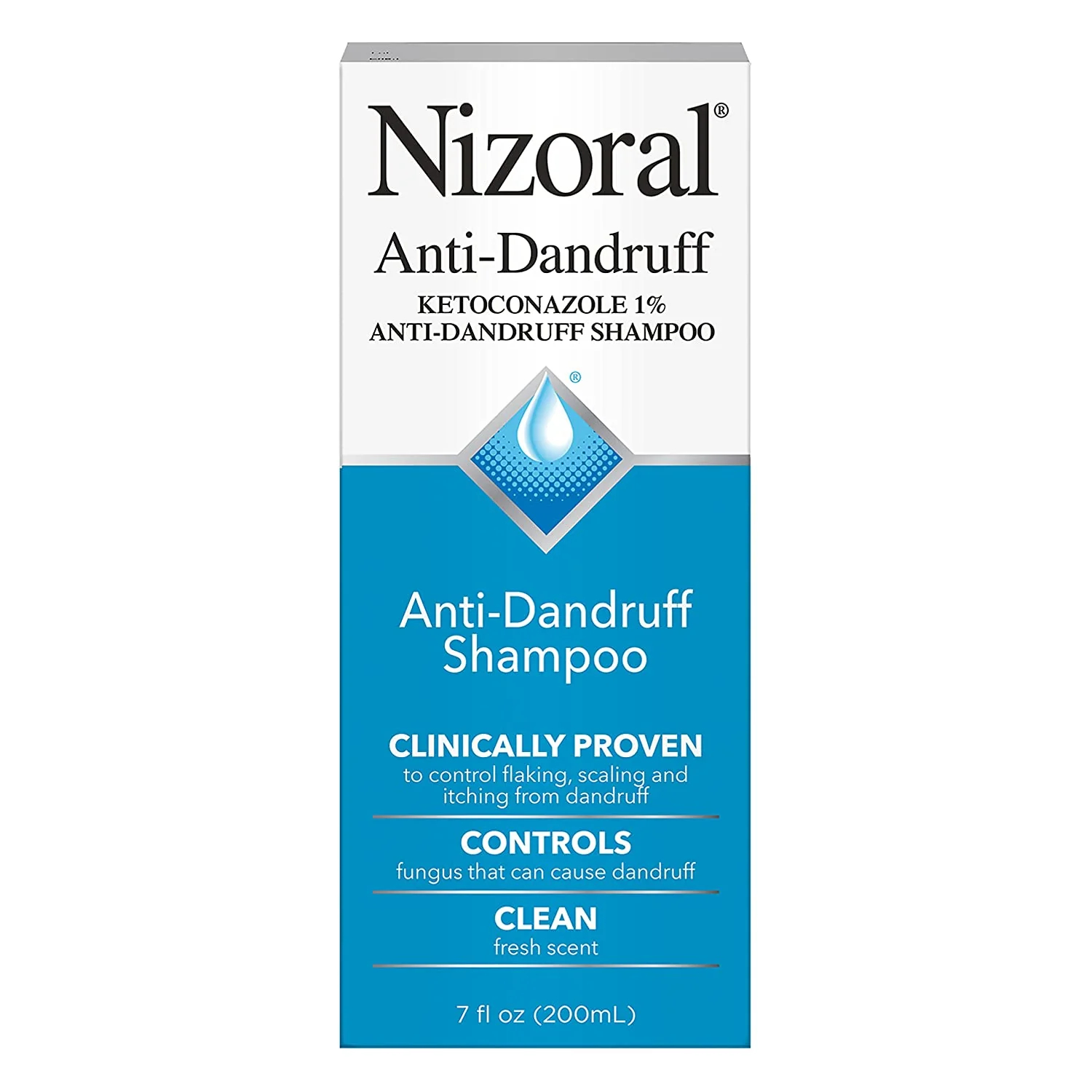 Studies show that Ketoconazole can improve hair loss, and in one study, a 2% Ketoconazole solution was found to be non-inferior to a 2% Minoxidil solution for androgenic alopecia [10].
Want to learn more about hair loss treatments?
If you want to explore hair loss treatments, our trichology team is on-hand to help.
We can answer any questions or concerns you may have, support you in exploring non-surgical and surgical options, and diagnose any underlying conditions.
If you want to learn more about Minoxidil, book your free consultation.

The Wimpole Clinic offers FUE Hair, Beard & Eyebrow Transplants & Trichology.
Talk to a specialist ☎
020 7935 1861
.
Blog search
Book a consultation
Simply fill in your details in the form below and we'll get in touch with you shortly.