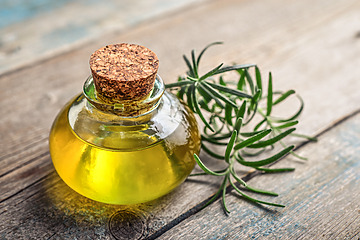 Rosemary Oil for Hair Growth: Benefits, Uses, and Side Effects
Hair loss may be a natural thing, but that doesn't stop us from Googling all the possible cures the second we notice our hair starting to thin out.
A simple search for 'hair loss products' will instantly deliver you pages and pages of products all claiming to help combat balding for the millions of people in the UK alone who are starting to lose their hair.
One common ingredient that is often touted as being a lifesaver for those suffering from hair loss is rosemary oil. But, can an essential oil like this really be the secret solution to the distress caused by losing your hair?
In this article, we'll discuss why rosemary oil is thought to be so beneficial for hair loss, how to use it, and whether it's likely that you'll experience any side effects if you do decide to use it.
5 benefits of rosemary oil for hair
According to many, rosemary oil has a variety of different benefits for your hair alongside its ability to encourage hair growth. Here are 5 benefits of using rosemary oil:
1. Stimulates hair growth
One of the many reasons why people start to use rosemary oil is because of its supposed ability to stimulate hair growth for people who are balding or thinning.
The reason why so many people believe that rosemary oil is able to do this is because the rosemary plant contains carnosic acid [1]. This is an acid that is supposed to be able to improve cellular turnover and improve blood circulation, which can impact your hair's ability to grow long and healthy.
2. Prevents hair loss
Rosemary oil has antioxidant properties that help protect our hair follicles from free radicals and the damage they can often cause.
This damage to the hair follicle is often the cause of hair loss, especially when you mistreat your hair, so by using an oil to counteract this damage, you will limit the likelihood of your hair falling out.
3. Reduces dandruff and dryness
Not only does it feel good to massage rosemary oil into your hair, but it can also help to keep your scalp moisturized and dandruff-free.
By lightly massaging any dry patches, you will be hydrating each piece of hair from the tip which will help keep your hair looking healthy – and without irritation.
4. Strengthens your hair
If you find that your hair is often breaking off when you're trying to brush it, rosemary oil can help to strengthen it from root to top.
Your hair will not only look thicker and denser after frequent use of the essential oil, but you will also be protecting it from damage and breakage.
5. Adds shine
Finally, like any oil you use in your hair, it will make your hair look extremely shiny and healthy. With its superior hydrating properties, rosemary oil will help to eliminate any dryness and ensure your hair looks radiant and glowing at all times.
Does rosemary oil really work for hair growth and hair loss?
Although a lot of people swear by rosemary oil for hair growth, it doesn't always mean that there are any science or studies to back up these claims.
Unlike some of the other natural cures for hair loss, there are some scientific studies that suggest that rosemary oil does show some benefits for people who are balding.
One 2015 study [2] compared rosemary oil to Minoxidil, another popular topical hair loss treatment. Throughout the six-month study, balding patients were given either rosemary oil or Minoxidil. At the end of the trial period, both rosemary oil and minoxidil produced significant hair growth in participants with the main difference being that rosemary oil caused less itching.
Another study looked at the effects of rosemary leaf on mice test subjects [3]. This study also found that rosemary was able to stimulate hair growth in test participants, especially when hair loss had been caused by testosterone – like most cases of male pattern baldness.
In a study that was carried out on human participants [4], experts studied a mixture of essential oils compared to a non-therapeutic carrier oil. Out of the 86 participants, half were treated with the essential oil mix and the other half with the non-therapeutic carrier oil.
After the seven-month trial period, 44% of essential oil patients showed improved hair growth, compared to just 15% in the other group. This does show that essential oils do have some hair growth benefits however, in this case, the essential oil was a mixture of thyme, lavender, and cedarwood oil, so the benefits cannot all be attributed to the rosemary oil.
To further back up the claims of rosemary oil, two separate clinical reviews [5,6] also cited the ability of the oil to improve hair growth.
Can rosemary oil regrow hair?
According to studies, it does appear that rosemary oil can regrow hair. In the 2015 study [2], patients with androgenetic alopecia (AGA) were given the treatment for six months.
At the end of the trial period, participants who had been using the rosemary oil experienced significant hair growth.
How long does it take for rosemary oil to work on hair?
Rosemary oil does not appear to be a quick fix for those with hair loss. In the same 2015 study mentioned above, there were no noticeable signs of improvement after three months of treatment, it was only at the six-month point that participants noticed significant improvement.
It typically takes several months of diligent use for rosemary oil to work, so it's important to be patient and always remember to apply.
Does rosemary oil thicken hair?
If your hair is starting to show signs of thinning, rosemary oil could be a good hair treatment to incorporate into your routine.
Rosemary oil helps to speed up cell turnover, encouraging your hair follicles to grow thicker, stronger hair.
How to Use Rosemary Oil
If you think that you could benefit from adding rosemary oil to your hair care routine, there are several different ways that you can apply it.
Mix into your shampoo or conditioner
If it's your first time using rosemary oil and you're worried about irritation, you can try mixing a few drops of it into your shampoo or conditioner.
Not only will your hair products dilute the oil down to make it less intense, but you also won't have to deal with having your scalp covered in oil – something that a lot of people can find quite uncomfortable.
Apply directly to your scalp
You can also apply the rosemary oil directly to your scalp in the areas where you're noticing thinning or bald patches.
It's important to be consistent with the application, so find a time that suits you. This could be when you wake up, just after you get out of the shower, or before you go to sleep.
You can either leave the oil in all day or all night, or you can rinse it out after a few minutes.
Use a rosemary oil shampoo or conditioner
There are plenty of shampoos and conditioners available on the market that contain rosemary oil and you can choose if you'd rather not apply oil to your scalp every day.
Although you can often find these products in any beauty store or drugstore, they often will contain very diluted versions of rosemary oil that may not ensure the benefits that more concentrated versions of the oil are able to.
Is it safe to use rosemary oil on colour-treated hair?
Rosemary oil is safe to use on any hair type, including damaged and colour-treated hair.
Can I ingest rosemary oil for hair growth?
You may have seen that you can buy rosemary tea and rosemary supplements, which may make you wonder whether these will also lend a helping hand in restoring hair growth.
The answer is, probably not. Most of the studies on rosemary have looked into its benefits when applied topically, there isn't any evidence to suggest that ingesting rosemary can help with hair growth.
How often should I use rosemary oil for hair growth?
It's recommended to apply rosemary oil to your scalp two to three times a week for a period of at least 3 months if you want to restore hair growth.
Consistency is the most important part of this process, once you start to forget to apply, it will take much longer for you to notice any changes.
Risks and Side Effects of Rosemary Oil for Hair
Like anything that you apply to your skin, there will be a small number of people that experience some side effects when using rosemary oil.
The two most common side effects are allergic reactions and skin irritations. To avoid these, we would recommend doing a patch test on a small section of your scalp, to begin with.
If you notice any redness, itchiness, swelling, or scabbing in this area, it's a sign that you are having a reaction to the rosemary oil. In this case, it may be best to look at other treatments for hair loss.

The Wimpole Clinic offers FUE Hair, Beard & Eyebrow Transplants & Trichology.
Talk to a specialist ☎
020 7935 1861
.
Blog search
Book a consultation
Simply fill in your details in the form below and we'll get in touch with you shortly.