What is the Best Buzz Cut for a Receding Hairline?
Buzz cuts have emerged as a popular and stylish option for those experiencing a receding hairline. Not only is it a low-maintenance way to disguise male pattern baldness, but as many celebrities have shown, the style has proven to be a confident and fashionable look.
Over 85% of men will experience hair loss or thinning hair at some point in their lives, with 66% having visible hair loss by 35 years old [1]. So it's important to find a hairstyle that makes you feel confident.

In this article, we will explore the best buzz cuts for receding hairlines, including which styles work best for the different stages of hair loss, and the upkeep needed for each style.
Does a buzz cut look good with a receding hairline?
Buzz cuts are favoured by balding men for three key reasons:
1. It hides an uneven hairline.
2. It reduces the contrast between your hair and your forehead.
3. It's a stylish cut that oozes confidence.
Short hair helps conceal hair thinning on one side of the head far better than long hair. With the hair cropped close to the skin, your hair distribution will look more even, rather than allowing patches of the scalp to be visible through your hair.
Secondly, by losing hair length with a close crop, you can minimise the immediate visual impact of a receding hairline. Buzz cuts help to make this balding far less obvious and noticeable.
Finally, the buzz cut allows men to embrace their balding in a strong and confident manner. As many bald celebrities have shown, the buzz cut for a receding hairline is a powerful and attractive look for many face shapes.
What are the different types of buzz cuts?
There are lots of different types of buzz cut, all of which can help disguise a receding hairline. Here are some of the most popular types of buzz cut.
1. Induction buzz cut
The induction buzz cut (also referred to as the traditional or military buzz cut) is an iconic hairstyle that provides a close trim all over by using hair clippers without any guard or attachment to trim hair to a short stubble.
2. Burr cut
Like an induction buzz cut, a burr cut is the same length all over the head, but it leaves the hair a little longer (usually trimmed with a number 2 or 3 clipper guard). So it works best if your receding hairline is in the early stages (ideally no more advanced than Norwood stage 2). There's no tapering or fading involved in a burr cut.
3. Buzz cut fade
The buzz cut fade is popular for men with a receding hairline, as the fade helps blends your thinning areas into your hair style. With a buzz cut fade, your hair is left slightly longer on top and tapers towards your neck. It also looks great if you usually wear stubble or a beard.
What's the difference between a buzz cut and a buzz cut fade?
Crew cuts are popular with men who have fuller hair, while the buzz cut is ideal if your hairline is receding. But crew cuts and buzz cuts have become more interchangeable in recent years with the rise of the buzz cut fade.
Buzz cuts refer to a type of hairstyle where the hair is trimmed all over with hair clippers to a uniform length all over the head. Fade buzz cuts refer to hairstyles that are tapered at the side and back to different lengths. This taper gradually fades to create a smooth transition from long hair to shorter hair and eventually the skin on the head or neck.
There are many buzz cut fades to choose from, including:
Skin fade buzz cut
Mid fade buzz cut
Low fade buzz cut
These refer to how blunt you want your fade to be. Skin fade removes almost all the hair from just above your ears, while a low fade is less dramatic, tapering more evenly towards your neck.
As always, show your barber a picture of what type of hairstyle you're after, and ask their advice on the best buzz cut to hide your receding hairline.
What are the best buzz cuts for a receding hairline?
When dealing with a receding hairline, finding the right hairstyle can make all the difference. Buzz cuts offer a practical and low-maintenance haircut that can be a stylish solution for men looking to embrace their receding hairline.
All these options can create a confident and fashionable look that shows you're unafraid of embracing your natural self. Remember to consult with a professional hairstylist to determine the best buzz cut for receding hairline style that suits your face shape and personal preference.
1. The zero buzz cut
Also known as the 'military buzz cut', this classic buzz cut evenly trims the hair into a close, equal crop over the head. Nicknamed for the trimmer setting, which uses no clipper guard to achieve this uniform look, the standard induction cut is the simplest and most straightforward option with no products or styling time needed.
This buzz cut is one of the most convenient choices for those with a busy lifestyle, as it can easily be achieved at home. However, it should be noted that a zero buzz cut will need a touch-up roughly twice a week.
Versatile and timeless, the standard induction significantly removes attention to the receding hairline as the contrast between hair and scalp is hugely reduced. Those who wish to go even shorter would need to consider shaving their head instead of a buzz cut.
Zero buzz cuts for a receding hairline
2. The high and tight
The 'high and tight' is somewhere between a crew cut and a buzz cut, and is slightly longer on top than your typical buzz cut fade.
While the sides and back remain extremely short, the top is left with slightly more length, giving the look more depth and dimension while remaining sharp and clean.
Minimal styling is needed with this look. Some may wish to run a light pomade or wax through the top, but it depends on the natural hair texture and direction.
This look tends to work best if your hairline has only just started to recede.
3. The classic burr buzz cut
The burr cut is a longer variation of the zero buzz cut. Like the zero, the burr cut is all one length, but there's a fair bit of length left across the scalp.
Because the hair is longer (between a number 2 and 3 on the clipper guard), it only requires around one touch-up a week. This is easily achieved at home as the hair is all one length.
Like the high and tight, this looks works best if you have slight recession around the temples. Because the hair is longer, there's still some contrast between your forehead and hair, especially if you have dark hair and a light skin tone. This will still be fairly pronounced with a burr cut.
Burr cuts for slight temple recession

4. Skin fade buzz cut
A skin fade is a great option for people who aren't ready to take the plunge and go for a military grade buzz cut, but want their temple hair loss to appear less dramatic.
A skin fade buzz is cropped extremely close to the skin around the temples and ears, blending your receding hairline into the style.
If you have good hair density around your mid-scalp and crown, you can even leave your hair a little longer on top to detract from any frontal balding.
Skin fade buzz cuts for receding hairlines

5. Buzz cut and beard
Growing a beard can distract from your M-shaped hairline, especially when paired with a stylish buzz cut. Male icons like Pep Guardiola and Jason Statham are keeping this trend popular.
If you struggle to grow a substantial beard, stick with stubble, or try a solution like Minoxidil for beard growth to enhance your facial hair.
Stylish buzz cuts with beards

6. Buzz cut for women
While buzz cuts are more popular with men, there's no reason why women with a receding hairline can't try out a dramatic new style.
Buzzing your hair can make you feel stylish and empowered, especially if you've been struggling with hair loss for a while.
If you're not quite ready to embrace a buzz cut, there are plenty of other great female hairstyles to hide a receding hairline.
Female buzz cuts for a receding hairline

What other styling options do I have?
Aside from the buzz cut, there are other style options you can consider to accommodate a receding hairline.
Experiment with other hairstyle options
Not ready to face the clippers just yet? Try a different hairstyle to disguise your temple hair loss. From brush forwards to bleach, short styles to longer looks, here are the top men's hairstyles for receding hairlines.
Enhance a buzz cut with scalp micropigmentation
Scalp micro-pigmentation is a non-surgical procedure that can quickly reduce the visual appearance of thinning or receding hair.
It works by tattooing pigment dots onto the scalp to create depth and coverage. This technique works especially well with a buzz cut and can effectively transform the hairline.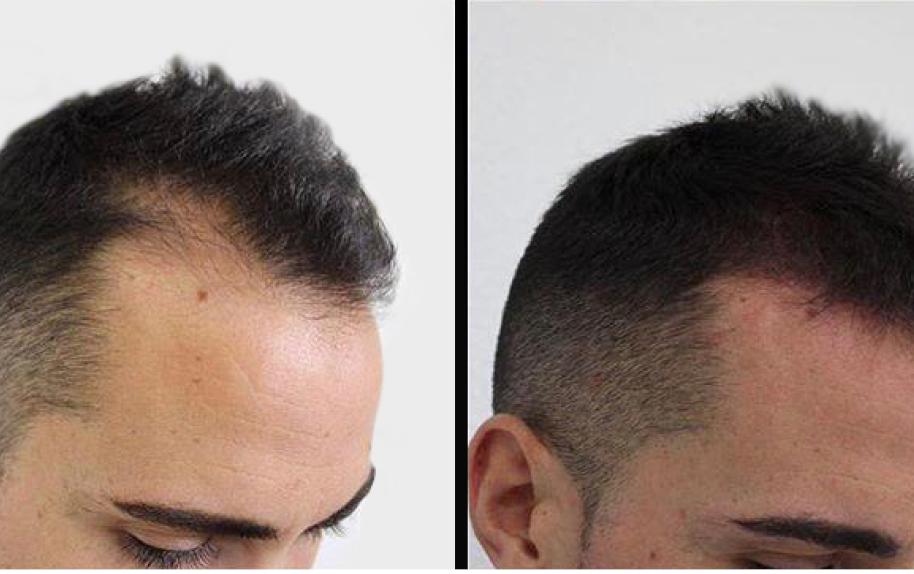 What can I do to treat my receding hairline?
If you would like to treat or stop your receding hairline, there are several effective hair-loss medications available on the market, including Minoxidil and Finasteride.
These medications are proven to reduce hair loss and promote growth when used consistently over several months, and especially if they're combined [2]. So if you want to actively tackle your hair loss rather than simply hiding thinning hair, these treatments are a great place to start.
What can I do to treat my receding hairline when all other options fail?
If you've tried other hair loss treatments and still haven't seen the results you're looking for, you may wish to invest in a hairline transplant. Hair restoration surgeries are a permanent hair loss solution that can help you achieve thick, full hair.
Receding hairline transplant costs are much more affordable than the widespread perception, with our UK hair transplant cost analysis showing that the average cost is just £4,820.
Many clinics offer free consultations to determine what hair loss treatment plan is right for you.
At the Wimpole Clinic, we're proud to have won the Best Hair Transplant Clinic Award in 2023 for three years running. If hair loss is something you would like to consider treatment for, contact one of our hair loss specialists today to discuss what we can do for you.

The Wimpole Clinic offers FUE Hair, Beard & Eyebrow Transplants & Trichology.
Talk to a specialist ☎
020 7935 1861
.
Blog search
Book a consultation
Simply fill in your details in the form below and we'll get in touch with you shortly.