Elton John's Hair Transplant: Everything You Need to Know
Hair transplants are more popular than ever: the market for hair restoration surgery has grown by 10% since 2016 (1). Many celebrities now turn to hair transplants. Celebs like David Beckham, Andros Townsend, Harry Kane, and Elon Musk have neither confirmed nor denied their rumoured hair transplants, but legendary singer Elton John isn't so coy. He's confirmed he's undergone not one, but two hair transplants over the years.
Sir Elton John is the recipient of a CBE, and has won multiple awards including Academy Awards and Grammys. He's known for his string of hits, elaborate fashion sense, and composing abilities. The 'Rocket Man' and 'Tiny Dancer' singer has spoken about his hair transplants in the press, in his memoir, and in his 1997 film entitled Tantrums and Tiaras. Let's take a look at Elton John's hair transplant journey over the years.
Elton John's hair journey
1970, aged 23
At the age of 23, Elton John made his US live debut at The Troubadour in West Hollywood. Sporting a full, thick head of hair, he seems like an unlikely candidate for a hair transplant. Men can start losing hair in their mid 20s, but Elton John's hair is long and thick in this image.
However, he was already concerned about hair loss. As hair loss runs in his family, his mum told him he would be bald by the time he was 20.
1975, age 28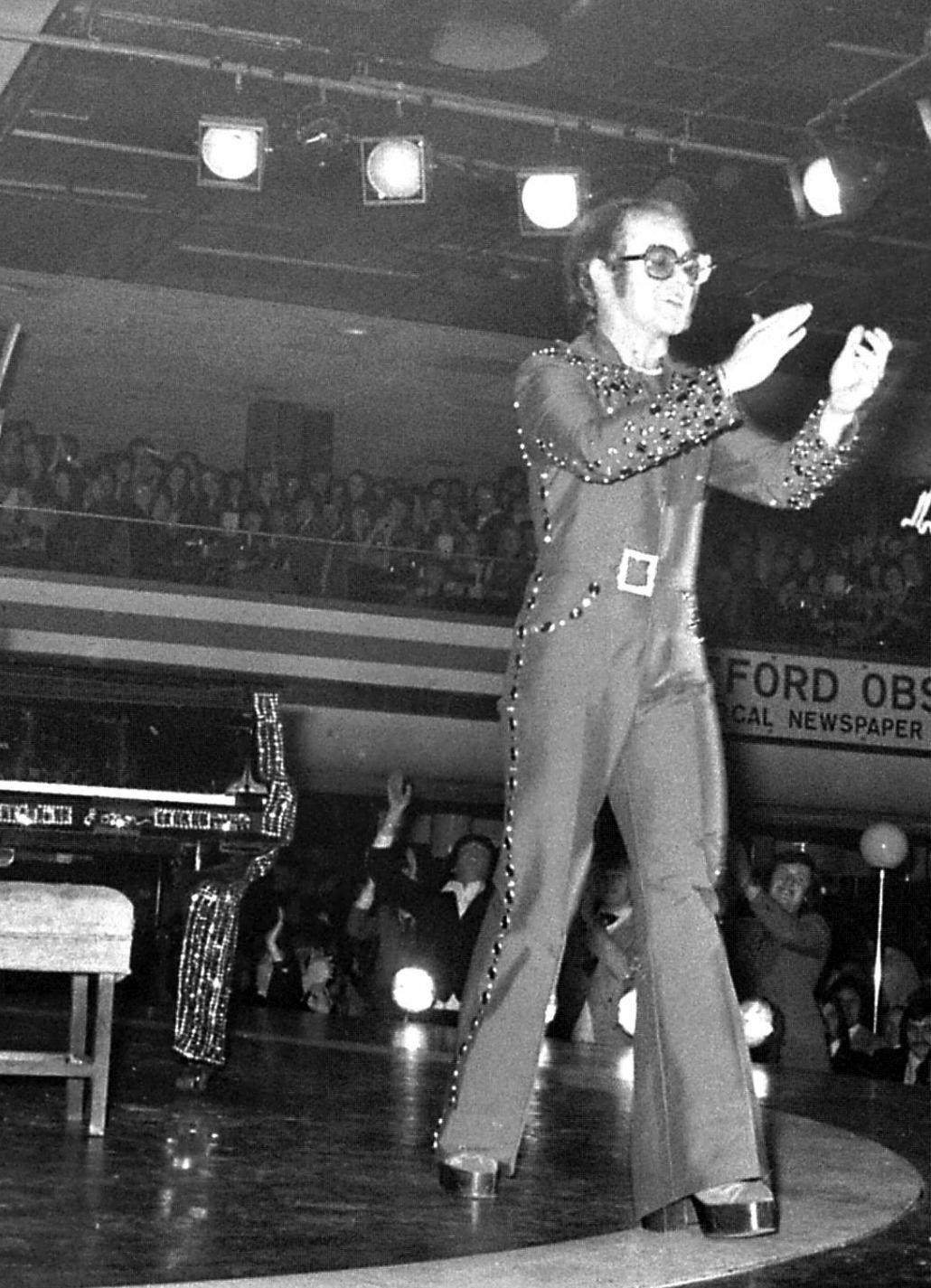 Seen here performing at a sold-out gig in Watford, we can see his hairline has begun to recede. He's beginning to show an M-shaped hairline at the temples. Elton John's hair in this image would be characterised as Stage 3 of the Norwood Scale, a chart used to measure hair loss in men. Stage 3 is the stage when men may begin to consider hair loss treatments, or a hair transplant.
The Norwood Scale
Let's skip forward in time to the 80s. Elton John's hair loss has continued into his 30s, and he's begun to sport a selection of flamboyant headgear to hide his thinning hair. This continued throughout the 80s, as his fabulous outfits delighted his fans.
Elton John's hair in the 80s
Elton's hair in the 90s
After Elton John became sober, giving up drugs and alcohol, he started using a weave. This first experiment with a wig didn't go down well with the media – reviews for his famous concert with Freddie Mercury at Wembley said it looked like he had a "dead squirrel" on his head. After his hair transplant went wrong, Elton John said he felt self-conscious about his hair loss and desperately didn't want to be bald.
Elton John's hair transplant: a new century
Elton John now wears a wig. He had a custom made hairpiece, created by wig-makers for Hollywood movies. He states that media interest in his hair has died down now that he wears a wig consistently.
What caused Elton John's hair loss?
Though his hair loss was most likely due to male pattern baldness, Elton John himself states that his hair loss in the 70s may have been from a bad dye job. His smoking may also have contributed to his hair loss, as well as making his hair more brittle and dry.
Elton John's rock and roll lifestyle may have taken a toll on his hair. Eating a healthy diet can prevent hair loss, so if he wasn't living a healthy lifestyle his hair may have suffered. He's been very open about his drug use in the 70s and 80s. In one study conducted on a small sample of heavy cocaine users, their hair was severely damaged. The cuticle layer of their hair had nearly disappeared, the hair's internal structure was damaged, and the hair shaft was thin and fragile. (3)
He may also have suffered from stress- and anxiety-related hair loss, thanks to the stresses of being a global superstar.
Why did Elton John's hair transplants fail?
Like other celebrities such as Jimmy Carr, Elton John has been open about his hair transplants. He stated he had more than one hair transplant in Paris in the late 70s. Both of these transplants were unsuccessful, and Elton John has stated this could have been due to him wearing a hat frequently afterwards. Our experts advise waiting around 10 days before wearing a hat after a hair transplant.
Elton John has said himself that his hair transplants may have also failed due to his drug use, which – as discussed above – weakens hair.
Which type of hair transplant did Elton John have?
Elton John described his hair being strip-harvested, so it appears he had a FUT hair transplant for both transplants. FUT stands for Follicular Unit Transplantation – a lower cost procedure which will leave a scar. Find out more about the difference between FUT and FUE hair transplants.
Hair transplant surgery has come a long way since then, with many advancements being made in technologies, treatments and techniques. The Wimpole Clinic has a 97% – 100% success rate for FUE hair transplants.
As we've seen from Elton John's failed procedures, it's rare, but hair transplants can fail. This can be due to bad surgical practices like overharvesting, or patients not following proper aftercare advice, leading to hair transplant infection. Patients have to be careful even washing their hair after a hair transplant, as even minor knocks can compromise the success of your procedure.
If you're contemplating having a procedure done and are worried about recovery time after hair transplant surgery, don't be put off by Elton John's bad experiences. Usually, hair transplants settle down within 5-7 days. After an FUE procedure, you should see results within 5 or 6 months. When it's been about 12 months, you may see the final results, or it could take up to 18 months. (2) Don't panic, as everyone's hair transplant journey is different. Hair transplants are permanent, so your results will last.
Seeking to restore your hair and your confidence? Take a look at our gallery of before and after hair transplant photos. We've helped over 10,000 patients restore their full head of hair, and we've been voted hair transplant clinic of the year 2022.
Your hair transplant could be the best thing you ever do. Book a free consultation at the Wimpole Clinic to find out more and ask whatever questions you really want to ask about hair transplants.
Sources:
The Wimpole Clinic offers FUE Hair, Beard & Eyebrow Transplants & Trichology.
Talk to a specialist ☎
020 7935 1861
.
Blog search
Book a consultation
Simply fill in your details in the form below and we'll get in touch with you shortly.