Should You Get A Second Hair Transplant?
Getting a hair transplant is a big decision. So what happens if you don't get the results you want? Should you get a second hair transplant — or is it better to accept and embrace your hair loss?
In most cases, it's safe and possible to get a second hair transplant to improve your hair density. In fact, more than a quarter of hair transplant patients need two hair transplants to get the look they want [1].
So should you get a second hair transplant — and if so, when's the best time to get one?
Do you need a second hair transplant?
There are four main reasons why you might want a second hair transplant:
Your first hair transplant failed
You're unhappy with the results from your first hair transplant
Your hair has continued falling out after your first transplant
Your surgeon pre-planned a follow-up hair transplant with you.
All these are valid reasons to seek another hair transplant. In most cases, a top-up transplant will give you the results you want. Just 3.3% of patients go on to need a third procedure [1].
But sometimes you won't be eligible to have a second hair transplant. This is usually if your surgeon has taken too many hair grafts in your first procedure (a process known as overharvesting). Taking too many grafts means there isn't enough hair left in your donor area to perform another procedure.
Follow-up hair transplants are usually planned in advance in unique circumstances. For example, transplanting hair into scar tissue is often more successful if performed over multiple procedures [2].
When should you get a second hair transplant?
After your first hair transplant, you should wait 12 to 18 months to see your final results. You can then decide whether you want a follow-up procedure.
If your first FUE or FUT procedure fails or goes wrong, you might need a second hair transplant fairly quickly after your first. If you have a good surgeon, schedule an appointment to discuss your results with them. They can assess your hair and help you decide on your next steps.
If your first hair transplant is successful, but your non-transplanted hair continues to fall out, you might need medication to slow your hair loss. Topical solutions like Minoxidil or tablets like Finasteride and Dutasteride can reduce hair loss, delaying or avoiding the need for a second hair transplant.
You can use the Norwood Scale to assess the extent of your hair loss even after a hair transplant:
Can I get a third or fourth hair transplant?
In theory, you can have as many hair transplants as you need until you deplete the safe donor area. So you might be able to have three or four hair transplants, especially if you have particularly dense hair. Find out how many hair transplants you can have.
Celebrities who have had two hair transplants
Many celebrities have had two hair transplants to keep their hair looking thick and full. See some of the most famous celebrity hair transplants before and after their second procedure:
Learn more about Wayne Rooney's hair transplant.
Learn more about Elon Musk's hair transplant.
Stuart Hogg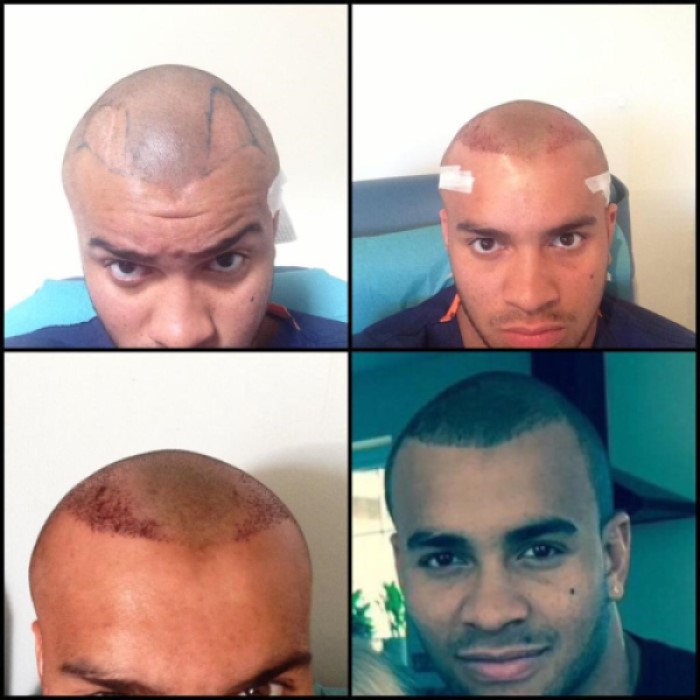 Rugby player Jonathan Joseph's hair transplant
Where to get your second hair transplant
If you trust the clinic that performed your first procedure, they should usually be your first port of call. They performed the surgery, so they're best placed to know why your hair transplant hasn't given you the results you were hoping for.
But some clinics have clear red flags that you may not have noticed until after your procedure, such as:
Charging too much or too little for a hair transplant — see the average cost of UK hair transplants
Lack of regulation and/or qualification — for example, they may not be registered with the Care Quality Commission
Overpromising results based on the extent of your hair loss
Neglecting to manage your continuing hair loss with Minoxidil or another hair loss treatment.
These can all contribute to a failed hair transplant. So if your clinic displays any of these red flags, it's best to seek a second opinion from another clinic for your next procedure.
At the Wimpole Clinic, we have a 97-100% success rate. So we're confident we can help you restore your hair — even if it's the second time around. Read our hair transplant clinic reviews, then book a free consultation to find out how we can help and answer any burning questions you really want to ask before getting a hair transplant.
Sources:
The Wimpole Clinic offers FUE Hair, Beard & Eyebrow Transplants & Trichology.
Talk to a specialist ☎
020 7935 1861
.
Blog search
Book a consultation
Simply fill in your details in the form below and we'll get in touch with you shortly.