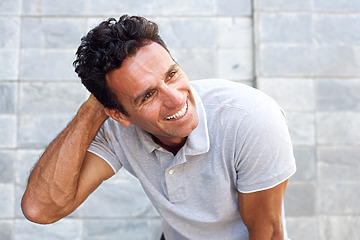 Unshaven FUE Hair Transplant (UFUE)
Unshaven hair transplants, also known as unshaven FUE or UFUE transplants, are becoming more and more popular. These almost undetectable hair transplants allow you to go out and about soon after your hair transplant, and most people won't notice you've had surgery to enhance your hairline.
So how does UFUE work, and is it the right hair restoration treatment for you? Find out everything you need to know about getting a hair transplant without shaving your head here.
Can you get a hair transplant without shaving your head?
Yes. Modern hair transplant techniques have evolved; it's no longer necessary to shave your head to restore your hair.
UFUE works the same way as standard FUE, except that your head doesn't need to be fully shaved beforehand. Partial shaving is sometimes necessary in the donor and/or recipient sites, but this can often be hidden behind your remaining hair.
The benefits of an unshaven hair transplant
There are lots of reasons to consider getting an unshaven hair transplant:
It's almost undetectable

— when the

post-transplant swelling

dies down, most people will be unable to tell you've had a hair transplant with UFUE


You can go back to work sooner

— you may be able to return to your normal activities more quickly, provided you feel fit enough
No need to wait for your lengths to regrow

— if you tend to wear your hair long, a UFUE means you won't need to wait for the rest of your hair to grow back
Faster recovery time

— like standard FUE, UFUE typically has a shorter recovery timeline than

FUT surgery

.
Are there any downsides to UFUE?
UFUE is increasingly popular, but there are some drawbacks to consider before you take the plunge:
UFUE is more expensive than FUE

— UFUE typically takes longer and requires more skill than standard FUE, so you can expect to pay more for this procedure

You may need more than one session

— UFUE is more labour intensive for surgeons, so you may need to spread your transplant across multiple sessions to get the best results.

UFUE is a highly skilled specialist technique

— not all hair transplant surgeons can carry out UFUE to a high standard, so it's essential that you choose a qualified, skilled surgeon.
That said, if you want a less noticeable procedure that gets you fantastic results, a UFUE could be the right procedure for you. So let's find out how UFUE actually works.
How does an unshaven hair transplant work?
An unshaven FUE transplant works the same way as standard FUE, except that your hair remains mostly intact before the extraction process begins. The amount of hair that's removed depends on the type of UFUE you choose (more on this in the section below).
To understand how a hair transplant without shaving works, it's essential to know the distinction between two important scalp sections:
Donor site

— an area of your scalp where hair is healthy and unaffected by balding, from which grafts will be taken.

Recipient site

— the balding areas of your scalp where hair grafts will be implanted.
If your donor area is unshaved:
Technicians section off areas of the scalp with healthy hair. These are usually linear gaps at the back or side of the head that will act as your donor area.

The surgeon then uses a graft extraction instrument to remove small clusters of follicles known as hair grafts.

When the grafts are prepared, the surgeon implants them into tiny slits in your recipient area.
If your recipient area is unshaved:
Technicians will shave a small section of your donor area, and use the same individual graft extraction technique as above.

When the grafts are prepared, the surgeon will strategically implant them around existing hairs in your recipient area.
Types of UFUE
There are multiple types of UFUE, some of which do involve partially shaving your head. But essentially, these methods all minimise the use of shaving to reduce visibility of your hair transplant.
Image A below shows what the scalp looks like with standard shaved FUE. The other images demonstrate how different types of UFUE can affect the donor area:
B: partial shaving of the donor area one day after surgery

C: small linear scars resulting from a completely unshaven donor area

D: fully unshaven FUE one day after surgery
Here's what you can expect from each type of UFUE.
Unshaved donor area
If your donor area is left fully unshaved, the technician will part the hair in your donor area horizontally, then extract individual hair grafts from this area: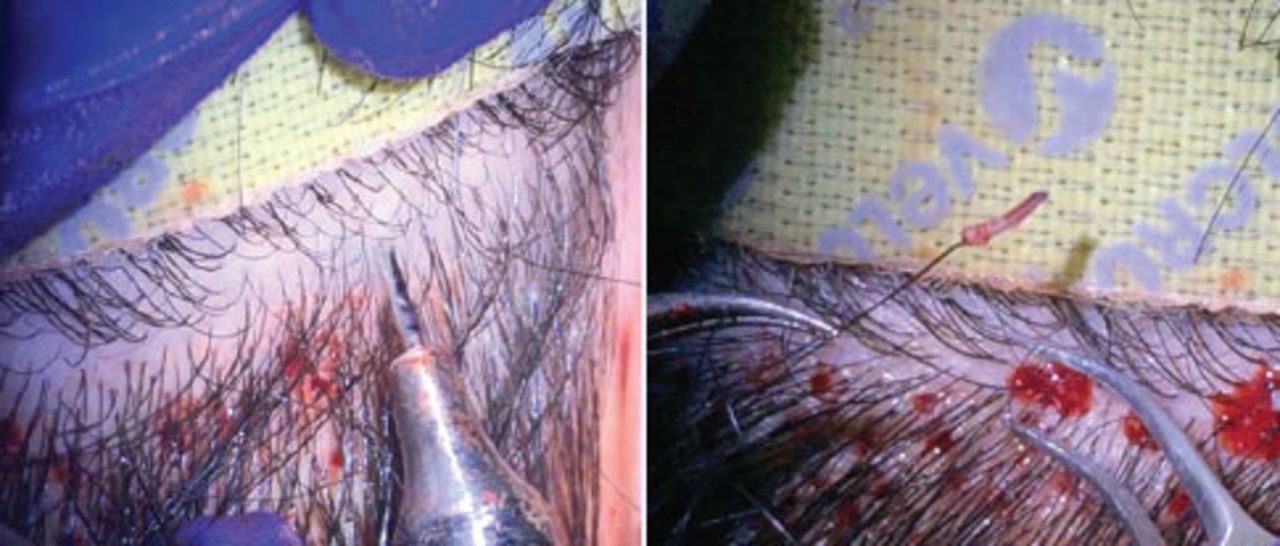 This type of UFUE is practically undetectable. But it may not be suitable for people who need a lot of hair grafts. It's much more difficult to extract a large number of grafts using any FUE technique, let alone when the donor area isn't shaved.
Your hair transplant consultant can advise if this procedure is suitable for you based on the extent of your hair loss.
Partially shaved donor area
A partially shaved donor area is best suited for people seeking a long hair transplant. Surgeons can section off a donor area that will be completely hidden by your remaining hair following the procedure:
Partially shaved recipient area
A partially shaved recipient area is still pretty noticeable in the early stages following a hair transplant. But if your hair is long enough, you may be able to cover some of the scabbing and redness after a few days: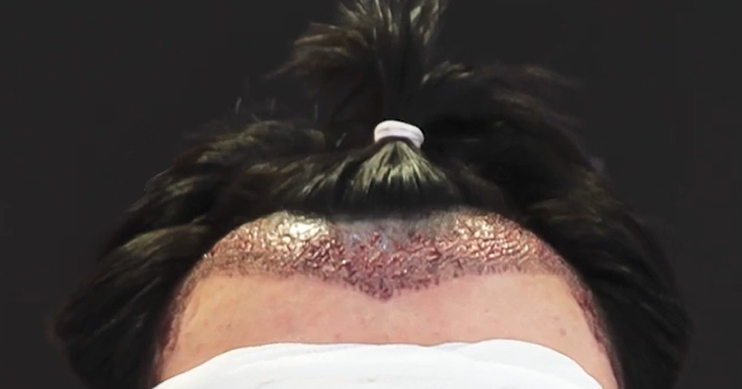 Unshaved recipient area
You may be able to leave the recipient area fully unshaved if you have low hair density in this area. Lower density means the surgeon can see the best places to implant your hairs.
Leaving the recipient area unshaved means your scabs can be partially hidden by your existing hair: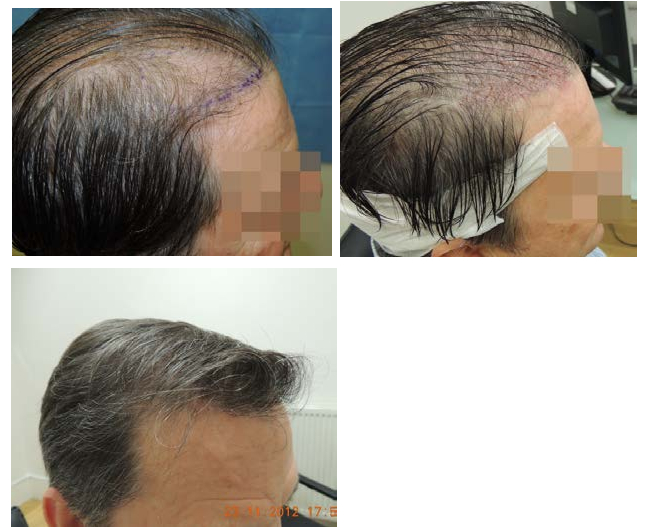 Leaving the recipient area unshaved also makes your natural hair patterns more visible, so your surgeon can follow them more easily.
UFUE results timeline
UFUE has a similar recovery period and hair transplant timeline as FUE. Here's what to expect:
Week 1: swelling, scabbing, and redness in the recipient area is likely. You may be able to disguise this with your remaining hair.


Weeks 2-4:

shock hair loss

may occur, leaving your recipient site looking similar to its pre-transplant state. This is normal, and your hair will eventually start to grow back.


Months 1-3:

your recipient and donor sites should be fully healed, but you may not see much regrowth yet.
Months 4-6: you'll start to see real progress and hair growth around this time.


Months 6-12:

final results start to become visible.
Months 12-18:

final results are now visible, Your hair should be thicker and fuller across your recipient site.
Use a preventative hair loss treatment like Finasteride or Minoxidil to maintain your existing hair and prevent ongoing hair loss.
Who can have a hair transplant without shaving?
Most people who are eligible for a hair transplant can have UFUE. But there are some instances where it might be more suitable:
If you have long hair

— most of your hair will remain intact, so you can use it to hide any partial shaving, which makes this a popular type of

female hair transplant

If you're worried about your transplant being noticeable

— the main benefit of UFUE is that it's easier to hide your procedure

If you have a higher budget

— UFUE tends to be more expensive than standard FUE, and you may need multiple sessions to get the best coverage

If you don't need too many grafts

— FUT is generally more suitable for people who need a high number of hair grafts [1].
Unshaven hair transplant costs
UFUE is a relatively expensive type of hair transplant, due to the time-consuming, demanding nature of the treatment. But it doesn't have to be prohibitively expensive.
At the Wimpole Clinic, our FUE prices start at £3,499. The average cost is usually between £3,500 and £7,000. Get a bespoke quote for UFUE based on your hair loss when you book a consultation.
Is a UFUE hair transplant right for you?
Unshaven hair transplants are popular, but they're not always the first port of call. There are several effective non-surgical hair loss treatments you can try first, particularly if your hair loss is minimal.
The best way to find the right hair restoration treatment is to speak to a reputable hair loss clinic that can answer any questions you might have about hair transplants.
At the Wimpole Clinic, we'll offer you all the free, impartial advice you need to choose the right treatment route for you. If you decide to opt for unshaven FUE, our highly skilled surgical team has performed hundreds of similar procedures in the past, with fantastic results.

The Wimpole Clinic offers FUE Hair, Beard & Eyebrow Transplants & Trichology.
Talk to a specialist ☎
020 7935 1861
.
Blog search
Book a consultation
Simply fill in your details in the form below and we'll get in touch with you shortly.