How Long Does Finasteride Take To Work?
Since its introduction in 1994, Finasteride has been used to treat many individuals, and is one of the most popular hair loss drugs. It halts the body's conversion of testosterone to dihydrotestosterone (DHT), the hormone responsible for androgenetic alopecia. The medication is usually prescribed for those experiencing male pattern baldness [1]. In one 10-year study investigating the results of taking Finasteride, researchers found the drug increased hair growth in 91.5% of candidates [2].
Finasteride can have side effects, including erectile dysfunction. That's why many patients want to know how long it will take for Finasteride to work, and decide if they want to start taking this hair loss drug.
In this article, you can expect to learn:
How long Finasteride takes to work
Finasteride timeline
How long you can take Finasteride for.
How long does Finasteride take to work?
Finasteride reduces serum DHT levels in the body by around 70%. [3]. It usually takes around 3-4 months to see the physical effects of Finasteride. However, the medication starts working in the body immediately as it reduces DHT production. Eventually, this slows hair loss and reactivates new hair growth.
Research shows that 65% of men who were treated with finasteride saw increased hair growth after a year. However, not everyone who takes Finasteride will see new hair growth. Some people may find it simply reduces or stops hair loss [4].
You can track your hair growth effectively by taking daily or weekly photos. This will help you notice the difference in density over a number of months. The hair growth chart states that it takes around 4-6 months for new hair growth to become noticeable.
Finasteride can be used on its own, or alongside other medications and treatments, such as Minoxidil.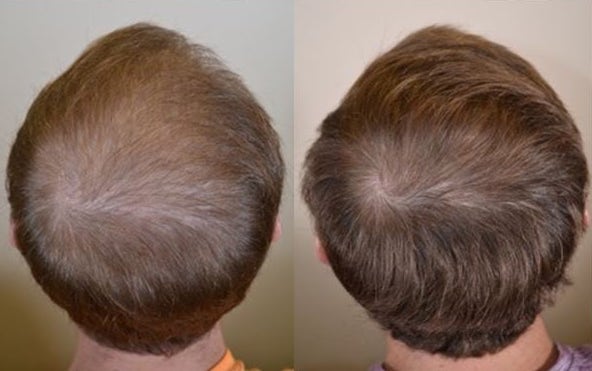 Patient before Finasteride treatment and after 6 months of taking 1mg per day

Missing one dose of Finasteride is enough to increase your DHT levels, so you should avoid taking Finasteride 3 times a week. Remembering to take a daily dose of Finasteride will ensure that DHT production is kept low and unable to continue causing hair loss.
By taking a daily dose of the medication, the full effect of new hair growth will begin around months 6-9, as follicles can take a while to produce new hair. Don't be alarmed if you see Finasteride-related hair shedding during the process, as this is a normal and temporary part of the natural growth cycle.
When will I see the final results from taking Finasteride?
In most cases, you will see the true results of Finasteride after around a year of taking the medication. Skipping days of medication will have an effect on how the medication works and could slow the process down.
Even though Finasteride doesn't immediately produce physical results, you shouldn't stop taking the medication. New hair growth takes time, and it's a waiting game when it comes to Finasteride. Rest assured that the medication is limiting the effects of DHT. Stopping Finasteride will only allow for further hair loss.
Stages of Finasteride use
Finasteride at 1-3 months
After taking your very first pill, your body will stop converting as much testosterone to DHT. However, it is not likely that you'll see noticeable results during this time. The hair growth cycle means it takes several months for hair to grow. So be patient, and try not to worry about whether Finasteride is working behind the scenes.
Finasteride at 3-6 months
This is when you may begin to see early results, usually in the area of your crown bald spot and hairline. Many men notice that their hair loss has significantly slowed down, and that they have no further thinning. Because of the progress made on the crown, Finasteride can be an alternative to a crown hair transplant.
By this point, however, your hair is still in the process of new growth. The results you see may be limited. Seeing a change in your hair at this time is a good sign that the medication is working in the way it should. It is also normal to see some hair shedding around this time, so don't be discouraged if you see hair loss in the shower or when brushing your hair.
Finasteride at 6-9 months
Visibly noticeable signs become apparent around the 6-9 month mark in most cases. This could include a fuller, denser appearance on the crown and hairline, and hair loss coming to a complete stop.
Finasteride at 9-12 months
Research suggests that the 9-month mark shows a clear improvement in hair growth and density. By 12 months, you will see a large difference from how you started out. Compare your first pictures with your current ones to see the difference!
By the 12-month mark, you should have a clear idea of your final results. If you're not happy with your results, it might be time to consider a hair transplant.
Of course, everyone's hair is different. No one result can predict the hair growth of another person. Taking Finasteride for a year should give you some idea of how you want to proceed.
How long can I take Finasteride for?
You can usually take Finasteride for months or even years. One study shows that the drug has good effectiveness if taken over a 10 year period [2].
For most men, Finasteride is very safe. However, as the NHS states, you shouldn't take Finasteride if you are trying for a baby or have a pregnant partner, as this can be harmful to a foetus [5]. It isn't always safe for women to take Finasteride either, as it can interfere with birth control and pregnancy.
How the Wimpole Clinic can help
As finasteride is not available on the NHS to treat hair loss, you will have pay the cost of finasteride medication. The Wimpole Clinic has been delivering exceptional hair restoration services for over 45 years using Finasteride in combination with hair transplants with exceptional results and you can learn how to get finasteride from us.
It's important to remember that for late stages of hair loss, Finasteride can only do so much, so it may be time to consider a hair transplant, which will offer permanent results. We offer a range of procedures such as unshaven FUE and strip surgery for a range of patients. We can also prescribe treatments including Finasteride if you haven't tried this yet.
Our trichology team can help you to decide which option is best for you. Book your free consultation to learn more.
Sources:
The Wimpole Clinic offers FUE Hair, Beard & Eyebrow Transplants & Trichology.
Talk to a specialist ☎
020 7935 1861
.
Blog search
Book a consultation
Simply fill in your details in the form below and we'll get in touch with you shortly.