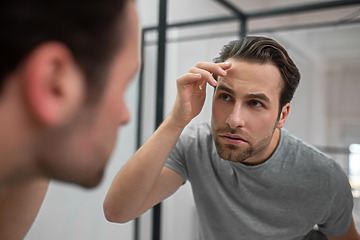 Does Finasteride Work?
Finasteride works better than almost any other medication to treat male pattern baldness [1]. Commonly known by the brand name Propecia, Finasteride is one of the most popular hair restoration drugs in the UK and around the world. In fact, in 2021, it was the most commonly prescribed hair loss medication, with 69% of clinics saying they "often" prescribed it to patients [2].
Finasteride can be an extremely effective hair loss treatment. One study found that 70-83% of balding men had no further hair loss after 1-2 years of using Finasteride [3]. It's especially effective for men with hair loss on the crown.
So does Finasteride just stop hair loss — or can it help your lost hair regrow, too? In this article, you'll learn:
how effective Propecia is for stopping hair loss and improving regrowth
whether Finasteride is the most effective hair loss medication
whether Finasteride is better than a hair transplant.
How effective is Finasteride?
Most research suggests Finasteride is a highly effective treatment for androgenetic alopecia in men (also known as male pattern baldness) [1, 3-6]. One study found that Finasteride halted hair loss in:
70% of men with temple hair loss
83% of men with crown hair loss.
Over 5 years of Finasteride use, 90% of men either maintained or improved their hair growth by taking Finasteride daily [3]. Cutting your intake of Finasteride to 3 times a week to reduce the risk of side effects like Finasteride-related erectile dysfunction may reduce the drug's effectiveness.
Most men take oral Finasteride to manage their hair loss. But there are some promising signs that topical Finasteride can also work, and has fewer side effects than oral Propecia [7]. This may become more widespread as more evidence shows efficacy of topical Finasteride.
How does Propecia work?
Finasteride is part of a family of drugs known as 5-alpha (5α) reductase inhibitors. 5α reductases are enzymes that convert testosterone to dihydrotestosterone (DHT) in men.
DHT is the hormone responsible for causing male pattern baldness. So by partially suppressing the effects of these enzymes, Finasteride reduces the amount of DHT that reaches the follicles.
Propecia can work for women, but it's not usually recommended as it can interfere with birth control medication and pregnancy. Learn more about Finasteride for women.
Can you regrow hair with Finasteride?
Yes. Finasteride can help regrow hair as well as stop balding. One study found men with crown hair loss have a 61% chance of mild to moderate regrowth [3]. An additional 5% achieve great regrowth.
Men with temple hair loss have slightly lower chances of regrowth, with 37% of men expected to see improved hair growth after a year of use.
How long does it take for Finasteride to work?
Finasteride isn't an instant fix for hair loss. It takes at least 3 months for the body to respond to the treatment. Most patients start to see results within 6 months. Sustained results can usually be seen around 12 months after starting Propecia treatment. Read more about how long it takes for Finasteride to work.
Prices for 3 months' worth of Finasteride start at £31.20. Learn more about Finasteride costs and how to get Finasteride.
Does Finasteride work permanently?
The results of Finasteride last for as long as you keep taking the medication. If you stop using it, you'll start to lose your hair again.
Some studies have shown that a combination of Minoxidil and topical Finasteride can help maintain hair after a period of taking oral Finasteride [8].
Is Finasteride the most effective hair loss treatment?
Finasteride is the most prescribed hair loss treatment [2]. But is it the most effective?
Several studies have found that Dutasteride, another 5α reductase inhibitor, is actually more effective than Finasteride [1, 9-10]. Dutasteride blocks three types of 5α reductase enzymes, whereas Finasteride just blocks two. Dutasteride is also three times more potent than Finasteride at blocking the type 2 enzyme [11]. So Dutasteride can stop more testosterone from being converted into DHT, yielding better results.
Dutasteride is stronger than Finasteride, and hair loss treatment is an off-label use. So it's not always necessary for people to take Dutasteride to reduce their hair loss. It's more likely to be prescribed if Finasteride hasn't achieved results. Find out more about the difference between Dutasteride vs Finasteride.
Minoxidil is another popular hair loss treatment. It's suitable for treating a wider range of hair loss causes than Finasteride. But for male pattern baldness, Minoxidil tends to be less effective than Finasteride. Find out more about Minoxidil vs Finasteride.
Does Finasteride work better than a hair transplant?
Hair transplants are usually used if Finasteride doesn't restore your hair to the level you'd like. Surgical intervention should be a last resort, especially if you only have minimal hair loss.
Hair transplants are often more successful than Finasteride. Good surgeons typically achieve graft survival rates of up to 90% [11]. At the Wimpole Clinic, our FU extraction and strip surgery hair transplant success rates are higher than 97%.
Finasteride is often prescribed after a hair transplant to maintain your existing hair, and make sure it doesn't fall out around your transplanted hair. If you stop taking it, your hair loss will continue, possibly leading to you needing a second hair transplant.
Should I get a hair transplant?
With the help of a trichologist and hair transplant surgeon, each prospective patient can decide on the most effective hair loss treatment for them. Many successful non-surgical hair restoration treatments are available if you decide hair transplant surgery isn't right for you.
But many pattern baldness patients opt for a hair transplant in order to get permanent, natural-looking results. Surgery takes less than a day, and you'll only need to take a few days off before you can return to normal life.
Get the right hair loss treatment for you, book a free consultation at the Wimpole Clinic. We have clinics all over the UK, from Harley Street to Birmingham. Get in touch with your closest clinic to get started.
Sources:
The Wimpole Clinic offers FUE Hair, Beard & Eyebrow Transplants & Trichology.
Talk to a specialist ☎
020 7935 1861
.
Blog search
Book a consultation
Simply fill in your details in the form below and we'll get in touch with you shortly.