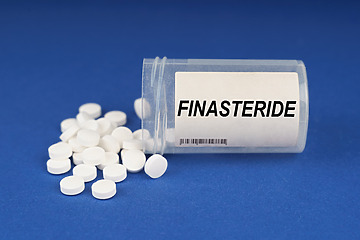 Does Finasteride Regrow Hair?
Finasteride is known as an effective medication for stopping hair loss caused by male pattern baldness. Many men use it to control hair loss and maintain their existing hair. But did you know Finasteride can also stimulate hair regrowth?
In this article, you'll learn all about Finasteride hair regrowth. Discover how Finasteride works to regrow hair, see real patient results, and find out how to increase the chances of Finasteride regrowing your lost hair.
What is Finasteride and how does it work?
Finasteride is a drug that blocks DHT production in the body. DHT, or dihydrotestosterone, is a hormone that binds to androgen receptors in your hair follicles and causes them to shrink. When your follicles shrink, they stop producing hair. If left untreated, this becomes permanent.
By blocking DHT production, Finasteride prevents your follicles from shrinking, so they can produce hair for longer. In some cases, Finasteride can even regrow hair in dormant follicles.
Finasteride isn't suitable for everyone. It shouldn't be used by:
People under 18

— blocking DHT production in adolescence can be dangerous for physical development

Women

— especially premenopausal women, as Finasteride can interfere with foetal development

Men trying to conceive

— Finasteride can pass into your semen and be dangerous for a foetus.
Can Finasteride cause hair regrowth?
Yes. Finasteride has been proven to not just stop and slow hair loss, but also to stimulate regrowth.
However, your regrowth success depends on a few factors, including the scalp location of your hair loss. One study found that men with crown hair loss have a 61% chance of mild to moderate regrowth when using Finasteride [1]. Men with temple hair loss have a slightly lower chance of regrowth, with 37% seeing hair regrowth after a year.
Another study found that Finasteride users with crown hair loss are more likely to see greater regrowth over time. 66% of people had improved hair growth after two years of use, compared with 48% after one year [2].
You're also more likely to get good Finasteride results if your hair loss is in the early stages.
Three randomised placebo-controlled phase III studies of Finasteride use included 1,879 men aged 18–41 with mild to moderate male pattern baldness [1-2]. Two studies included men with predominantly crown hair loss, while one focused on men with temple hair loss.
Regrowth was measured based on standardised clinical photography. In addition to hair regrowth, 70-83% of Finasteride-treated men had no further hair loss after one to two years.
Finasteride hair regrowth results
These male pattern baldness patients have experienced substantial regrowth as a result of using Finasteride:
As you can see, Finasteride can add great density to your hair if it's taken consistently over several months.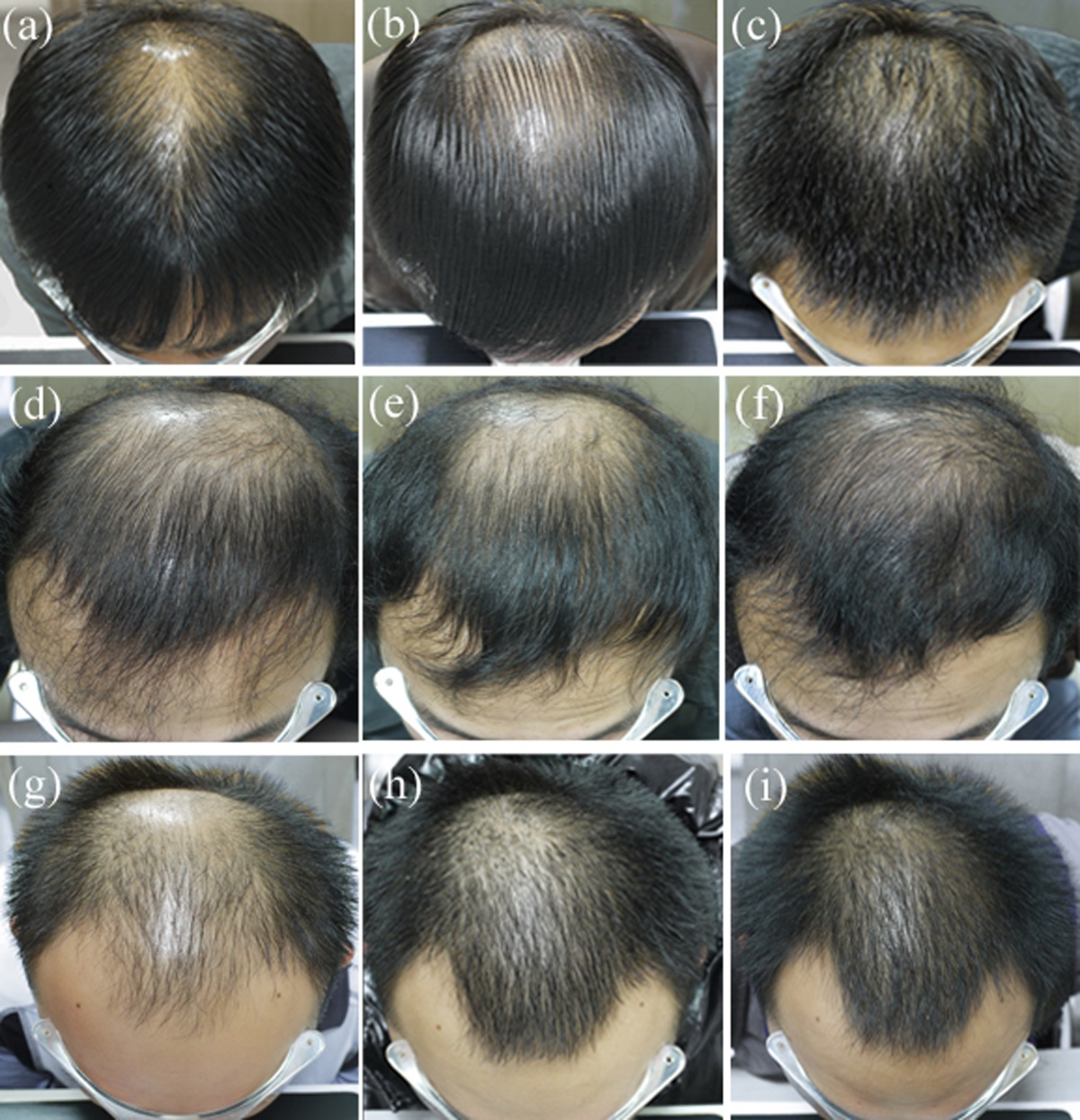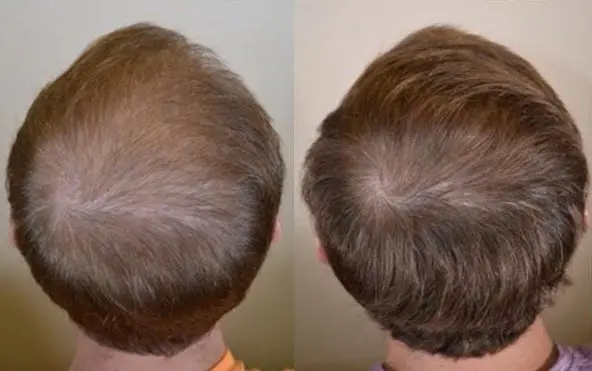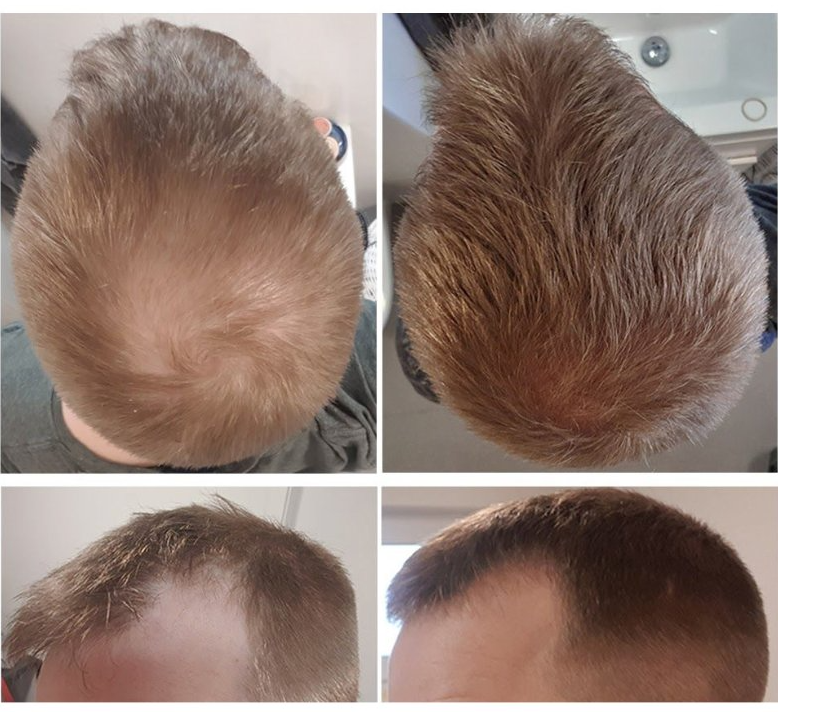 Finasteride hair regrowth timeline
It usually takes around 3-4 months to see the physical effects of Finasteride on your hair, but it can take longer to see regrowth. Visible hair regrowth often begins after around four to six months.
The longer you use Finasteride, the better your results can be.
What happens if you use Finasteride and Minoxidil together?
You can get even better hair regrowth if you use Finasteride in combination with Minoxidil, a topical hair loss treatment [3-5].
Minoxidil is available over-the-counter, so it's easy to obtain and use alongside your existing hair care routine. Most people are advised to apply Minoxidil twice a day.
Combined topical Finasteride and Minoxidil has also been shown to reduce the need for oral Finasteride in the long-term [4]. So using these treatments in tandem may provide a route for reducing Finasteride side effects while maintaining hair density.
How to stimulate hair regrowth with Finasteride
Follow these tips to get the best results from Finasteride use. You can stop your receding hairline and enhance the chances of regrowth:
Take the recommended dosage of Finasteride

— 1mg once a day, or as advised by your hair loss clinician

Use Minoxidil alongside Finasteride

— studies suggest using Minoxidil and Finasteride at the same time can give you better results [3-5]

Understand Finasteride shedding

— increased hairfall is a normal part of Finasteride use in the early stages of treatment, so learn what hair loss you can expect

Take care of your hair

— avoid heat styling products and tight hairstyles that tug on your follicles

Learn to manage stress

— stress and anxiety can contribute to added hair shedding known as

telogen effluvium

Give yourself a scalp massage

— stimulate blood flow to the scalp with a daily scalp massage

Eat a balanced diet

— avoid

hair loss associated with nutritional deficiencies

and other dietary problems.
How the Wimpole Clinic can help
You can get Finasteride (or Propecia, the branded version of generic Finasteride) on prescription from many online pharmacies. But it's best to get any hair loss treatment from a reputable hair clinic like the Wimpole Clinic. That's because:
We can assess and diagnose your hair loss in person

We'll create a unique hair loss treatment programme based on your needs

We'll discuss any concerns you have about treatment safety and effectiveness

If the medication alone doesn't give you the results you want, we can discuss, advise, and prescribe alternative or future steps for hair regrowth.
Book a free consultation at the Wimpole Clinic to get started.

The Wimpole Clinic offers FUE Hair, Beard & Eyebrow Transplants & Trichology.
Talk to a specialist ☎
020 7935 1861
.
Blog search
Book a consultation
Simply fill in your details in the form below and we'll get in touch with you shortly.