Is it OK to take Finasteride 3 times a week?
Hair loss is something that affects around 85% of men globally [1] and 8 million women in the UK alone [2].
Although it's normal to naturally lose hair from washing and brushing, when hair loss starts to become more severe, it's common for patients to jump into action and do something about it.
From topical products to hair transplants and oral medication, there are plenty of methods you can follow to prevent or reverse the effects of hair loss.
One medication that is frequently prescribed to those experiencing hair thinning and loss is Finasteride.
Depending on how quickly you're losing your hair, you might be wondering if you can adapt your dosage of Finasteride to suit your condition.
If you've been thinking about this, here's everything you need to know about the hair loss drug and its dosage.
What is Finasteride?
Finasteride is a drug that can be prescribed to you if you're experiencing hair loss, it comes as an oral tablet and can be administered with or without meals.
You'll normally find Finasteride under two brand names: Proscar and Propecia.
Proscar is most commonly used to treat symptoms of enlarged prostate and Propecia is usually administered to treat male pattern hair loss. Unfortunately, there are no clinical trials for treating female pattern baldness and we advise women against taking finasteride.
What's the recommended dosage of Finasteride?
The recommended dose of Finasteride is one tablet (1 mg) taken once daily.
You'll normally have to keep up the dosage for three months before you see any benefits, with the full effects starting to show within 12 months [3].
Can you take Finasteride 3 times a week instead?
Unfortunately, regardless of how bad your hair loss is, you shouldn't take anything other than the suggested dosage of Finasteride – which is 1 mg per day.
You shouldn't take finasteride 3 times a week because the tablet is formulated with the optimal amount of medication to reduce the level of dihydrotestosterone (DHT), which is a major cause of male hair loss [4].
A 1 mg daily dose of Finasteride has been licensed by the UK's medical regulatory board for its ability to improve hair loss, any other dosage will not have the same effect.
Some studies [5] have looked into the half-life of Finasteride, which stays in your body between 4.7 hours to 7.1 hours, which can result in slow accumulation over time, but it's still not recommended to skip any of your daily doses.
When you've been prescribed Finasteride, you want to make sure you get the optimal benefits, and to do this you have to be consistent with your dosage. Skipping, or lowering your dosage can result in minimal change in hair loss.
How does Finasteride work?
Finasteride decreases the amount of DHT in your body, which can often lead to hair loss.
The medications inhibit something known as 5alpha-reductase, which stops testosterone from being able to convert into DHT which slows down the rate of hair loss.
The results of taking Finasteride
If you're experiencing hair loss, you'll be happy to hear that the results of taking Finasteride are largely very positive.
In a range of clinical studies, it's been found that 1mg of Finasteride a day promotes hair growth and prevents further hair loss [6, 7] over a two-year treatment cycle and that the recommended dosage is usually well tolerated by patients [8].
There have been studies that show that daily doses of as low as 0.2 mg per day show some improvement in DHT levels [9], but it's largely agreed that there need to be more clinical studies to create a strong argument for lower doses.
Various other studies have shown that the drug has beneficial effects on androgenetic alopecia [10], however, it doesn't have the same effects on female hair loss.
In short, for men who have been experiencing hair loss, Finasteride is an effective medication that can prevent and improve hair loss, with no worsening over a 10-year period [11]. Learn more about whether Finasteride really does work.
Are there side effects?
Yes, despite a very low percentage side effects do exist. This includes but is not limited to a decreased sex drive, erectile dysfunction and skin rashes – most of which disappear once you stop taking the medication. Learn more about Finasteride safety and side effects.
The majority of users will experience no side effect – which is why 1 mg of Finasteride was the most prescribed medication to patients in 2021 by members of the International Society of Hair Restoration Surgery (ISHRS):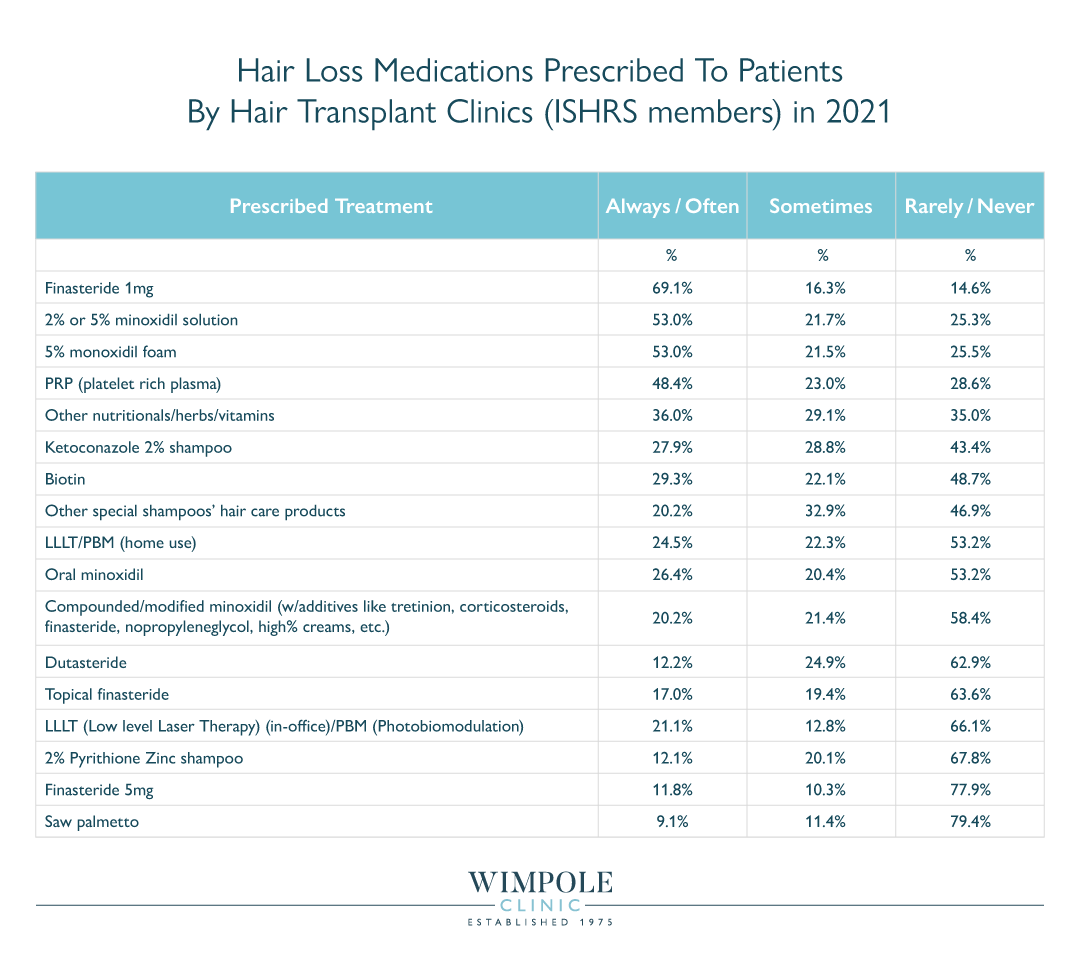 Alternative hair loss prevention
Although Finasteride is generally a well-tolerated medication that comes with a range of favourable benefits, there are some patients that experience some not-so-good effects [12].
The most common of these are reduced libido, decreased ejaculate volume, Finasteride shedding, and Finasteride gynecomastia – which is where male breast tissue enlarges.
If you're worried about taking Finasteride for these reasons, there are alternative methods of treating hair loss that you can consider.
There is a range of different options like Minoxidil, Biotin for hair loss, Pygeum bark, and Pumpkin seed oil [4] that have all shown signs of blocking DHT and reducing hair loss.
If your hair loss is more extreme, you might even think about getting a hair transplant. The two most common options are an FUE (Follicular Unit Extraction) transplant, or FUT (Follicular Unit Transplantation), both of which can provide a natural result.
Book a consultation
If you want to do something about your hair loss, or just need some professional advice to help you figure out which treatment method will be the best for your situation, why not speak to one of our professional surgeons at Wimpole Clinic?
Our expert and professional specialists can help you determine the best option for your needs, and take you through the whole process.
If this is of interest to you, you can start off with one of our no-obligation consultations. In this short discussion, you can speak to an expert and figure out if the hair transplant process will be effective for you or not.
References:
[1]
https://www.americanhairloss.org/men_hair_loss/introduction.html
[2]
https://www.health.harvard.edu/staying-healthy/treating-female-pattern-hair-loss
[3]
https://dailymed.nlm.nih.gov/dailymed/drugInfo.cfm?setid=ecd2fbb2-a4bd-44f2-831d-179e7dbf0741
[4]
https://www.healthline.com/health/dht
[5]
https://pubmed.ncbi.nlm.nih.gov/8846625/
[6]
https://pubmed.ncbi.nlm.nih.gov/9951956/
[7]
https://pubmed.ncbi.nlm.nih.gov/9777765/
[8]
https://pubmed.ncbi.nlm.nih.gov/12695131/
[9]
https://pubmed.ncbi.nlm.nih.gov/10495374/
[10]
https://pubmed.ncbi.nlm.nih.gov/11399540/
[11]
https://www.oatext.com/Long-term-(10-year)-efficacy-of-finasteride-in-523-Japanese-men-with-androgenetic-alopecia.php
[12]
https://pubmed.ncbi.nlm.nih.gov/15102575/
The Wimpole Clinic offers FUE Hair, Beard & Eyebrow Transplants & Trichology.
Talk to a specialist ☎
020 7935 1861
.
Blog search
Book a consultation
Simply fill in your details in the form below and we'll get in touch with you shortly.