Completely Bald Hair Transplant: Can It Be Done?
If you're completely bald, you may assume it's not possible to have a hair transplant. This is because in order to perform a full hair transplant on the scalp, a surgeon will need to harvest groups of healthy hair follicles from a donor site. According to the ISHRS, 93% of donor sites are situated on the back of a patient's scalp [1]. But in most cases of total baldness, there is no available follicle harvest site on the scalp, and so a completely bald hair transplant can't be performed.
But in some cases, it is possible. In this article, we'll outline how you can restore your hair even if you've lost most or all of your hair.
So, can you get a hair transplant if you're completely bald?
The short answer is yes. Though the reality is that you're not likely to get a sweeping mane of hair, you may be able to at least have a natural-looking hairline restored. Hair transplants are carried out through an Follicular Unit Extraction surgery (FUE) and/or strip surgery, both of which rely on removing healthy follicles from a donor site elsewhere on your body.
The scalp may not be a viable donor site if you're completely bald. However, it may sometimes be possible to use other areas of the body as the donor area. Of course, not all people are candidates for this type of procedure, as the success rate of any hair transplant first relies on donor supply. In these cases, you may need to consider other forms of hair restoration. If a hair transplant is viable with the use of a different area of the body as a donor area, an FUE will most likely be the best option, as this leaves minimal scarring in noticeable places. Some research suggests FUE is the only appropriate method for harvesting body hair [2a].
This only applies if your hair loss isn't caused by an autoimmune condition like alopecia areata. Hair transplants for alopecia areata or alopecia universalis patients are rarely recommended.
Which is the best donor area?
Opting for an alternative donor site to the scalp means that the look and feel of the hair will likely be different in coarseness and colour. However, it should not be a significantly noticeable difference.
After the scalp, the second most common donor area is in fact the beard, as beard hair continues to grow despite the presence of DHT (dihydrotestosterone) in the body [3]. This type of hair is coarse and may be slightly different in colour compared to the head. However, it can provide good coverage to the crown area if you're considering a crown hair transplant.
If the scalp is completely bald, using chest and abdomen hair along with beard hair on the scalp can create good coverage, as well as a natural-looking hairline.
How bald is too bald for a hair transplant?
The level of hair loss that men experience is usually measured against the Norwood Scale, which shows the 7 progressive stages of male pattern baldness (the female pattern baldness equivalent being the Ludwig Scale). Your Norwood stage can determine the possibility of a hair transplant, as most transplants rely on a donor area from the scalp.
At Norwood stage 7, which is the most advanced level of hair loss, you will typically have a single band of hair around the back and sides of your head, and be bald across your crown. Norwood stage 6 can also appear as almost total baldness.
Some men with aggressive hair loss begin to lose hair in the safe donor area. This is known as retrograde alopecia. Those who are completely bald are at a more advanced level than any stage of the Norwood scale. So you are most likely past losing hair. This does not mean that you cannot receive a hair transplant, however. Even if you are completely bald, you may have a healthy supply of hair in other donor areas.
Throughout the process of a hair transplant, surgeons must keep the safe donor area in mind. This establishes a safe number of grafts that a surgeon can extract from the donor area to avoid overharvesting the follicles. Therefore even if you have some hair present, it may not be usable if it's not in the safe donor area.
How many grafts are needed to cover a fully bald head?
In most cases of male pattern baldness, your stage on the Norwood Scale would determine the number of grafts you would need for a hair transplant, however, baldness is not a stage on the scale and therefore differs.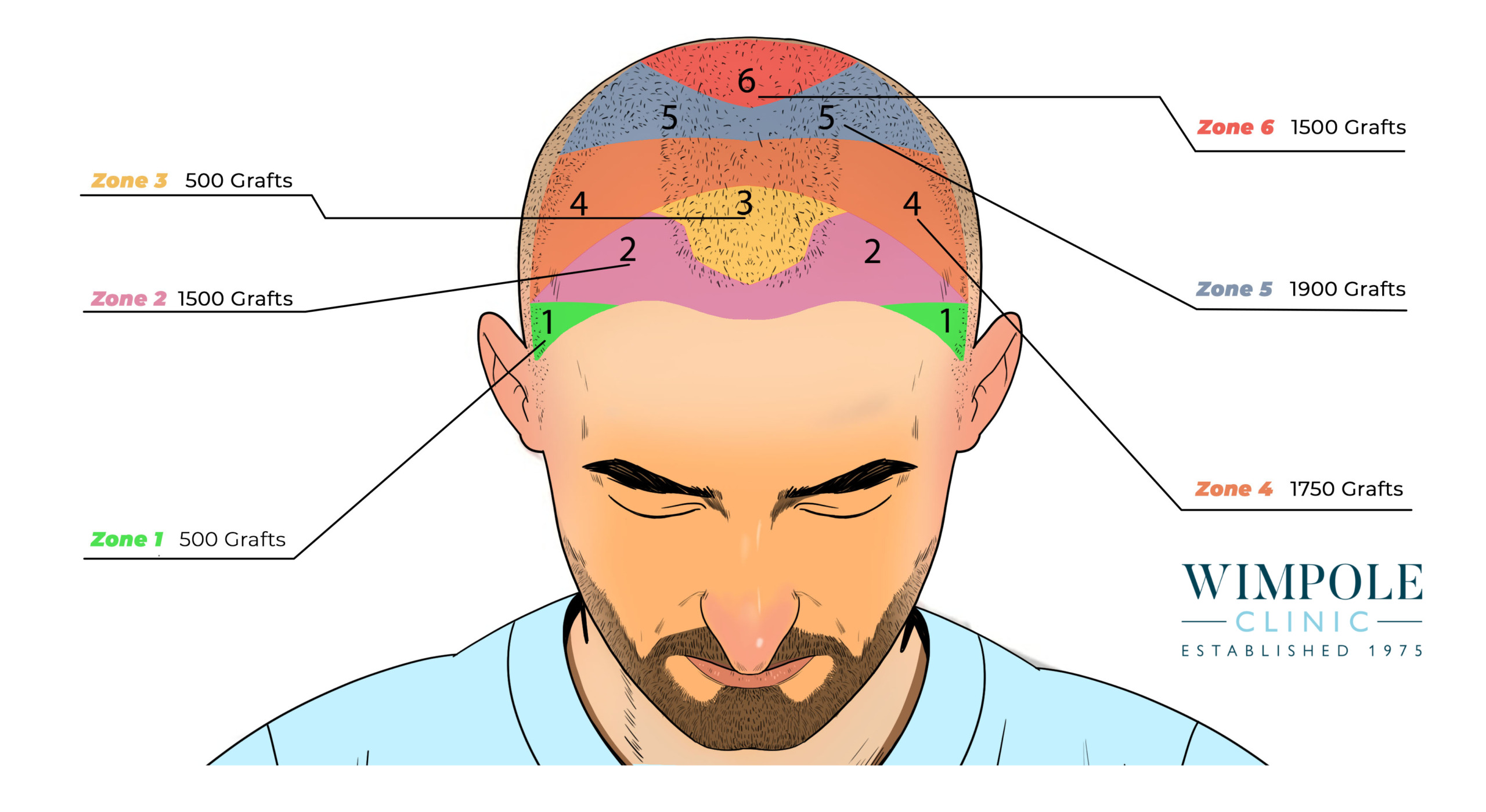 Using a graft calculator to work out how many grafts you need, you can see that at the most advanced stage of hair loss (7 on the Norwood Scale), around 4000 grafts may be needed to give a natural, denser appearance to the crown and hairline.

The UK hair transplant cost analysis places a 4000 graft hair transplant at around £13,000, depending on the procedure.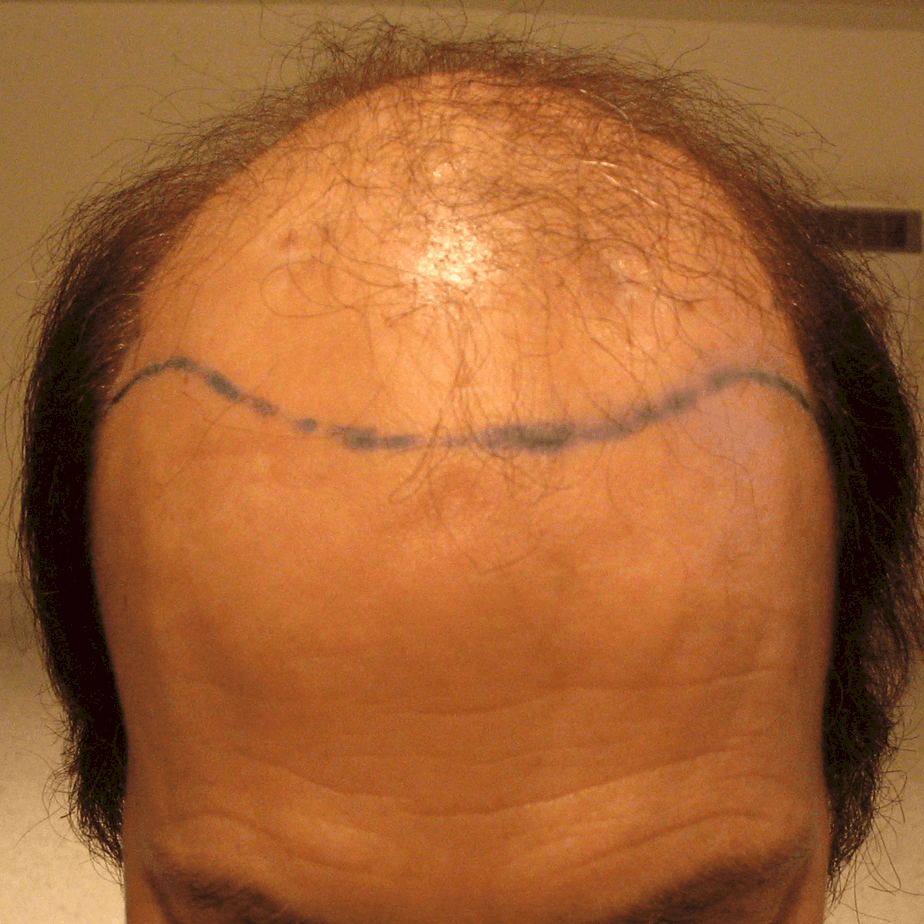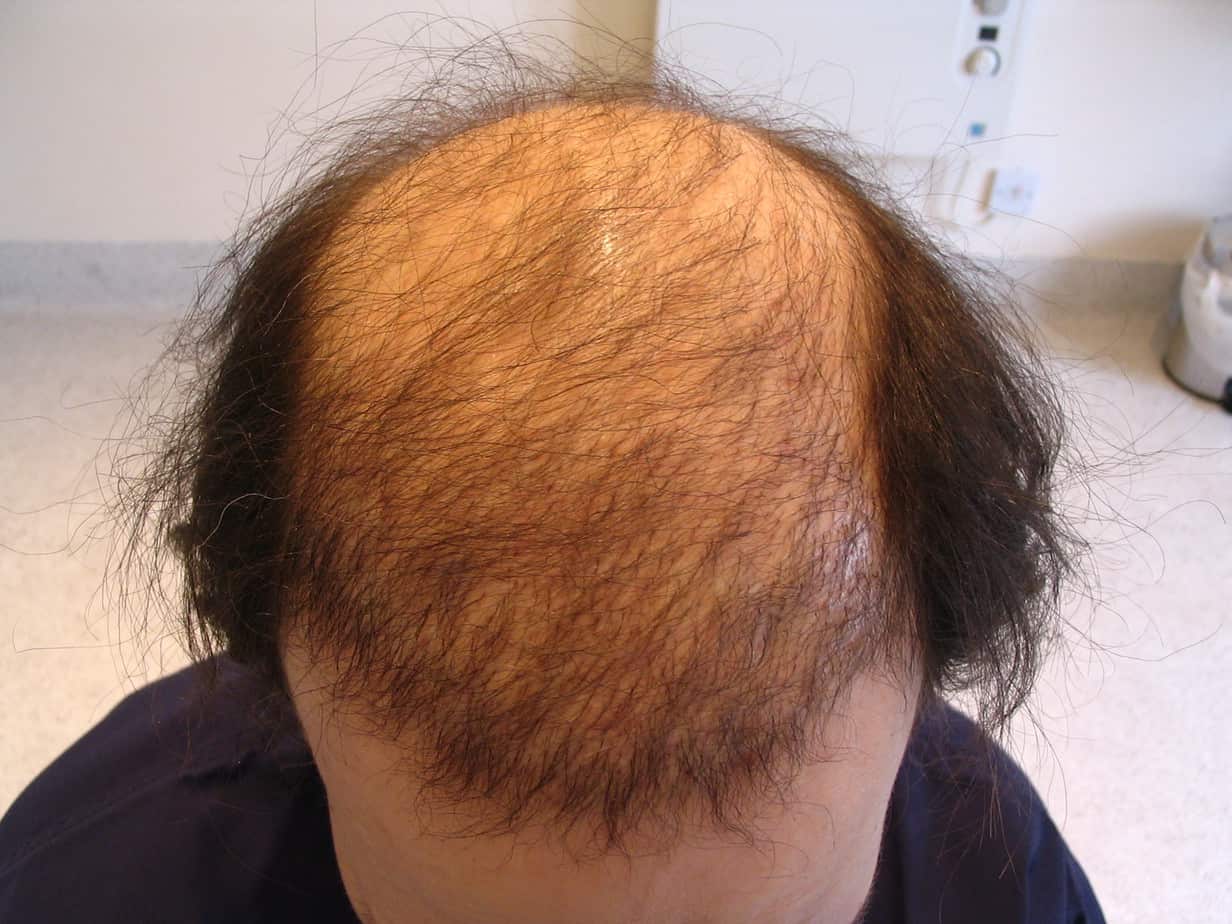 Patient at Norwood stage 6
A completely bald hair transplant can come in at around 5000 to 6000 grafts, or possibly even more. This amount of harvesting can be tricky to perform as the surgeon must keep the safe donor area in mind, whilst ensuring the most natural-looking result. Learn more about 5000 graft hair transplants.
They must also ensure that the donor area is able to withstand a large amount of harvesting.
You May Find The Following Articles Interesting
How we can help with hair loss
If baldness or hair loss is having a negative impact on your life, the Wimpole Clinic is here to help. Once you have consulted with your doctor about any underlying conditions, you can explore your hair restoration options.
At Wimpole, we've been providing expert hair restoration services for over 45 years; our leading team delivers consistently expert services, and our Trichology team is on hand to answer any questions or guide you on your hair journey.
We offer a range of services, including crown hair transplants carried out by FUT and FUE surgery. Book your free consultation with our team to find out more.
Sources:
The Wimpole Clinic offers FUE Hair, Beard & Eyebrow Transplants & Trichology.
Talk to a specialist ☎
020 7935 1861
.
Blog search
Book a consultation
Simply fill in your details in the form below and we'll get in touch with you shortly.