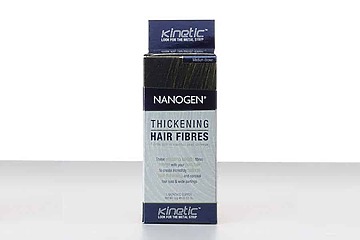 Instant coverage with hair loss fibres
Most hair loss treatments take weeks, even months, to show their full effects. Full, long lasting coverage of bald spots or receding hair lines requires you to be patient but the wait will be more than worth it.
However, if you have a special event to look forward to or simply want results now, then hair fibre products may be a more fitting hair coverage option for you. Hair loss fibres give you immediate, realistic results if you want to cover an area of hair loss or thinning air. You can enjoy thicker and more luscious hair in minutes; perfect for people on the go and for anyone hoping to improve the appearance of thinning hair while they wait for other hair loss treatments.
What are hair loss fibres?
Hair loss fibres are usually made from human hair or keratin fibres which have a metal strip attached to each fibre. This strip is charged with static energy which is what causes the fibre to stick to the hair follicles on your head. These fibres will then give you the appearance of having a thick, full head of hair.
Hair thickening sprays like the Nanogen Natural Keratin Thickening Fibres come in a range of colours and shades. It goes without saying that you need to find a shade that matches your own hair colour for the hair loss fibres to look realistic. One of the benefits of hair loss fibres is that if there isn't an exact match to your colour, you can mix and match shades to create a completely natural look for your unique shade.
Does it last?
A reputable and reliable hair loss fibre product should provide you with coverage that lasts for hours. Although it may seem unlikely that such small fibres will sit in your hair all day, the static electricity they use should ensure that your hair thinning, or hair loss is kept a secret as it provides you with the appearance of thicker, healthy hair. Nanogen assure their customers that their hair loss fibres will remain in the hair during poor weather such as rain or wind and during times of perspiration from sport or on a hot day.
If you are tired of the appearance of thinning hair or if your self-esteem has been affected by hair loss and you want a product that will give you immediate results, then you may want to consider investing in hair loss fibres. However, there are more permanent treatments you may want to consider for longer-term success. Why not speak to one of our experienced team to find out more?
The Wimpole Clinic offers FUE Hair, Beard & Eyebrow Transplants & Trichology.
Talk to a specialist ☎
020 7935 1861
.
Blog search
Book a consultation
Simply fill in your details in the form below and we'll get in touch with you shortly.