Gordon Ramsay Hair Transplant: Everything You Need To Know
Gordon Ramsay, the Michelin-starred chef and television personality, has been in the public eye for decades. As a result, his changing appearance has been witnessed and documented by fans and press alike, with special attention paid to Ramsay's much-improved hairline.
In recent years, more and more celebrities like Rob Holding are speaking out openly about their hair transplants to fight the stigma of balding and promote mental health. While Ramsay hasn't confirmed it himself, Ramsay's hairline has been the subject of speculation for years with many wondering whether the celebrity chef has had a hair transplant.
In this article, we'll take a closer look at Gordon Ramsay's hair transplant journey, including the rumours, the procedure itself, the cost, and the results.
Has Gordon Ramsay had a hair transplant?
While the facts remain unconfirmed by the man himself, the internet rumour-mill has been quick to suspect the celebrity chef has actually had two transplants, one in 2011 and one in 2014.
Gordon Ramsay's hair timeline: early days – 2010
Throughout the early 2000s, any hair loss Gordon Ramsay suffered was mostly unnoticed by the media. This was likely helped largely by his trademark long locks which were often styled to obscure a receding hairline. By comparing older photos to modern shots of Ramsay, we can see in retrospect that in 2010 Ramsay was suffering increased loss around his temples.
This indicates he suffers from male androgenetic alopecia, more commonly known as male pattern baldness. This type of hair loss is hugely common, especially in caucasian men, affecting over 80% at some point in their lives.
On the Norwood scale of hair loss, by 2010 Ramsay appears to be around Norwood stage 3. This is usually when men begin to look for solutions to their hair loss as the hairline begins to recede into an M-shaped pattern at the temples.
Gordon Ramsay's hair timeline: 2011 hair transplant
It wasn't until Ramsay was photographed leaving a hair transplant clinic in 2011 that the internet began to speculate that he might have had a hair transplant.
Captured leaving a hair transplant clinic in Beverly Hills in a scrub cap and bandages, it seemed likely that Ramsay had begun taking steps to improve his hairline. The celebrity has previously discussed other cosmetic procedures he'd taken, telling the Radio Times in 2009 that "Simon Cowell suggested now I'm a success in America, I should do something, so I had a filler put under the deep crevices. It hurt."
Later pictures of his swollen face were taken as further proof he'd undergone the procedure as swelling is a common post-transplant symptom.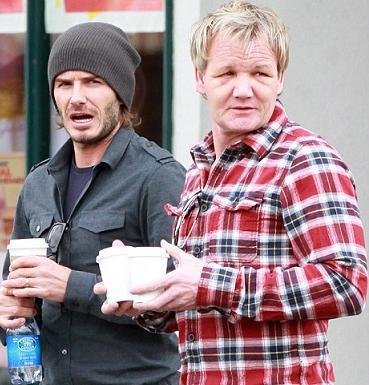 Gordon Ramsay's hair timeline: 2011 – 2014
Rumours of a second hair transplant emerged in 2014. Ramsay was papped at Victoria Beckham's birthday party sporting a hard undercut that people speculated was a donor area for transplant surgery. His trademark messy blonde hair was also pulled forward over his forehead, concealing his hairline – the focus of his earlier supposed transplant.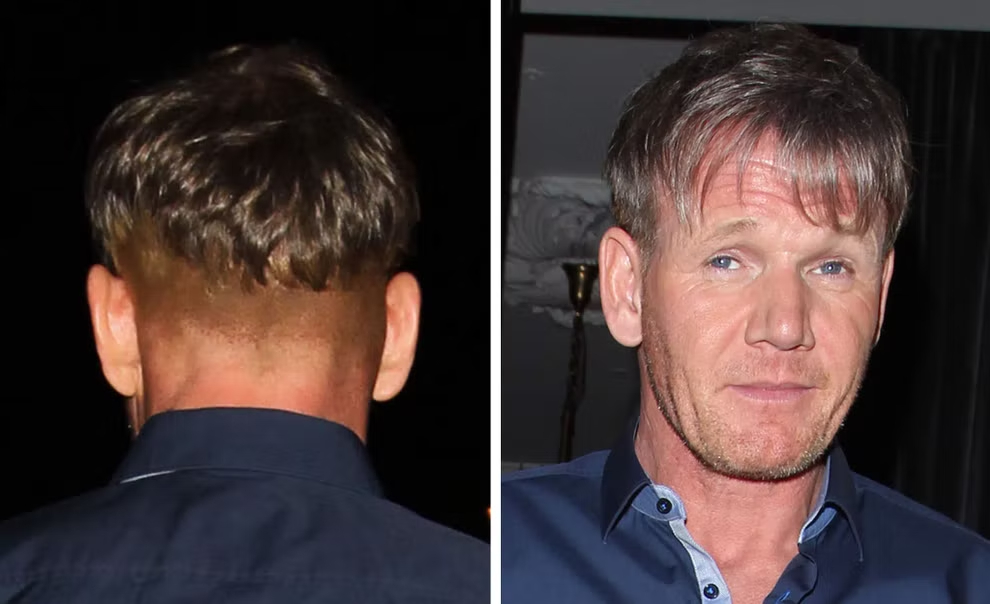 Gordon Ramsay isn't the only celebrity to have had multiple hair transplants. James Nesbitt, for example, is rumoured to have had up to six transplants to achieve his now-full head of hair, while Elton John has previously discussed his two failed transplants in the 1970s. However, the transplant procedure has developed considerably since then: the Wimpole Clinic, for example, has a 97-100% hair transplant success rate, which raises the question of why Ramsay needed a second round.
The most common reason for having a second hair transplant is progressive balding. For those with hereditary hair loss or pattern baldness, hair loss will continue and worsen with age. Patients who undergo a transplant can be left with uneven hairlines or even areas of transplanted hair marooned by balding patches due to this ongoing shedding.
Wayne Rooney, for example, underwent at least two hair transplants to tackle his ongoing balding. While his first two confirmed transplants in 2011 and 2013 helped to break the stigma against the procedure and worked to correct his receding hairline, in 2016 he was photographed with widespread thinning at the crown. In 2023, Rooney is sporting a much fuller head of hair once again, leading many to believe he has undergone another procedure or similar treatment.

Hair loss unfortunately will continue to worsen with age. Patients are highly recommended to use products such as Finasteride or minoxidil after their transplant surgery to control ongoing balding, otherwise it is likely they may require a second hair transplant to maintain their desired hairline.
Gordon Ramsay's hair timeline: 2014 – now
Gordon Ramsay now sports a full head of hair and a solid, natural-looking hairline that he has no problems showing off. Forgoing his earlier look, Ramsay is more often seen now with his hair pulled up, displaying none of the m-shaped balding seen in 2014.
Whether or not internet speculation is completely accurate, it seems clear that Ramsay has taken surgical steps to correct his hairline and is still enjoying the benefits of this, nine years on. What type of hair transplant did Gordon Ramsay have?
The paparazzi photos of Gordon Ramsay suggest that he had FUE transplant surgery.
More specifically, it is speculated that Ramsey underwent an unshaven FUE procedure, also known as a long hair transplant. Unlike traditional hair transplants which usually require patients to shave their head, this type of transplant requires only minimal amounts of shaving, if any.

With only small areas of shaven hairs, patients find it much easier to hide the tell-tale signs of the procedure. Doctors often advise patients to grow out the rest of their hair, allowing them to style it to cover the donor and recipient patches.
In 2011, Ramsay was soon spotted after leaving the same clinic with David Beckham with his normal hairstyle, not the shaven head expected from a traditional transplant, suggesting he had undergone an unshaven FUE procedure.
Similarly, in 2014, the bulk of Ramsay's hair seems untouched apart from the undercut and redness around his obscured hairline, again indicating a long hair transplant was likely. Within a few months, Ramsay also changed his hairstyle from the pulled-forward fringe to his hair pulled up, displaying a very healthy and full hairline.
How much did Gordon Ramsay's hair transplant cost?
Newspapers widely reported that his first hair transplant in Beverly Hills cost around £30,000. However, this claim is unsubstantiated and generally hair transplants are far more reasonably priced – the average cost of a UK hair transplant is only £4,820.
Even in Los Angeles, where Ramsay likely got at least his first procedure, our Los Angeles hair transplant research found the average cost is only $11,590 (£9,200).
Considering starting your own hair transplant journey?
For those who are considering their own hair transplant options, the Wimpole Clinic's experienced surgeons offer a range of hair restoration choices to help you regain your confidence. You don't need to spend £30,000 like Gordon Ramsay and Wayne Rooney either – at the Wimpole Clinic, hair transplant prices start at just £3,499.
We've helped more than 10,000 patients regain their hair. We've also won hair transplant clinic of the year three years in a row — so you can trust us with your hairline. Check out our before and after hair transplant gallery and read our hair transplant clinic reviews to see the results for yourself.
Book a free consultation with our trichology team today who can answer any questions you might have. If you want some advice on what to ask your hair transplant surgeon, here are some questions to ask before your hair transplant that will help provide you with additional value in your consultation

The Wimpole Clinic offers FUE Hair, Beard & Eyebrow Transplants & Trichology.
Talk to a specialist ☎
020 7935 1861
.
Blog search
Book a consultation
Simply fill in your details in the form below and we'll get in touch with you shortly.