James Nesbitt Hair Transplant: Everything You Need to Know
It's not uncommon for celebrities to want to have hair transplants. Like everyone else, they are just as likely to suffer from male or
female pattern baldness
at some point in their lives.
Some celebrities who have had hair transplants, like
Elon Musk
and
David Beckham
, are more coy about the procedure and normally don't officially announce that they've had the transplant done.
However, normally the proof is hard to ignore – when someone has gone from a receding hairline to a full head of hair again.
James Nesbitt has never shied away from the fact that he's had a hair transplant – in fact, he's now had multiple hair transplants that have yielded some very impressive results for the famous actor.
In this article, you'll find out:
Who is James Nesbitt

If James Nesbitt has had a hair transplant

James Nesbitt's hair transplant timelines

Which type of hair transplant James Nesbitt has had

How much James Nesbitt's hair transplant cost
Who is James Nesbitt?
James Nesbitt is a popular actor from Northern Ireland who started out acting in plays, and then got his big break playing "Pig" Finn in Waking Ned, which came out in 1998.
Since then, he has become a highly prolific actor who has become known for his roles in The Hobbit, Bloody Sunday, Five Minutes of Heaven, and The Way.
Why did James Nesbitt want a hair transplant?
James isn't shy about the fact that he's had a transplant and, in fact, attributes his successful career to his hair restoration surgery. Because of this, he's spoken extensively about why he wanted the procedure done, how it went for him, and how beneficial a hair transplant was to him and his career.
According to the actor, hair loss really affected him – both personally and professionally. Being a male actor in his early 20s, who was starting to notice the effects of hair loss had a big impact, he felt like he couldn't walk past a mirror without checking for further thinning, and the whole ordeal had a big negative effect on his confidence.
Has James Nesbitt had a hair transplant?
It's no secret that James Nesbitt has had a hair transplant. He's very open about the procedure he's had done and has revealed that he has now undergone the procedure multiple times to achieve the full head of hair that he now sports.
In fact, while it's common knowledge that James has had a hair transplant, it's now rumoured that he may have had up to six procedures.
James's hair loss can be attributed to a common condition known as
androgenetic alopecia
, which is also known as male pattern baldness – although it can affect both men and women.
Androgenetic alopecia is the most common cause of hair loss in both men and women, affecting around 85% of men and 50% of women by the age of 50 [1-3]. So, although it isn't going to affect everyone, James Nesbitt did find himself in the unlucky 85% of men who experience hair loss during their lifetime.
As you can see in some of the before and after shots of James Nesbitt, he experienced significant hair loss very early on. Before his first procedure, he was at Norwood stage 4 to 5, with severe frontal balding.
After both of his hair transplants, you can see an exceptional difference. Instead of a receding hairline, he now has a full head of hair and a very strong hairline.
James Nesbitt's hair transplant timeline
When James was younger, he had a full head of dark, curly hair. However, it was in his early 20s that he started to notice hair thinning and balding. As time passed, this hair loss became a lot more apparent as his hairline started to recede further and further.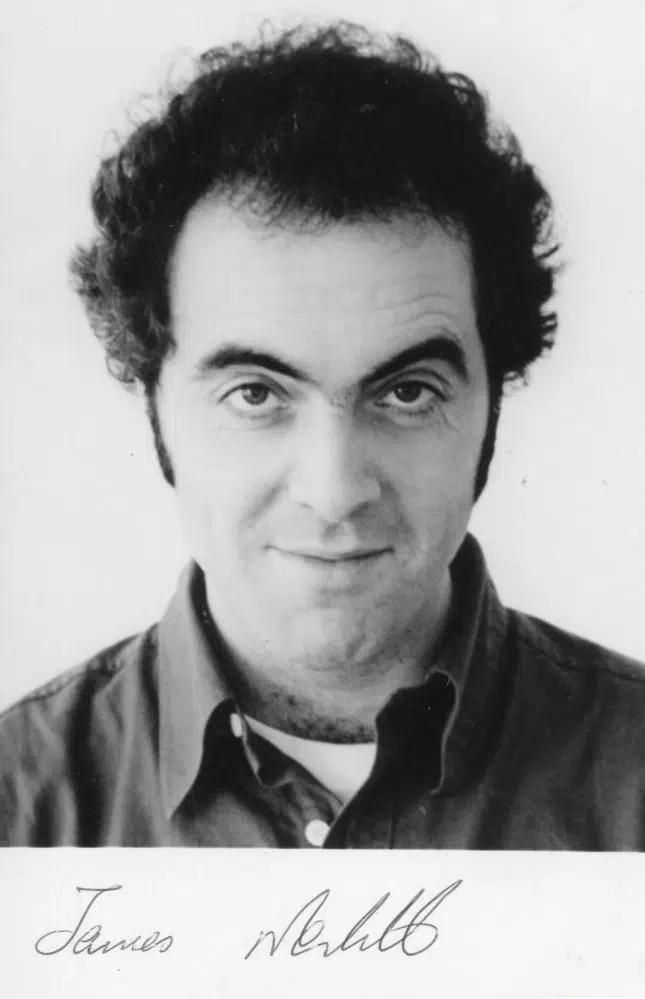 James's hair loss was at its worst when he was in his 30s, which is evident from images of him during the filming of Murphy's Law between 2003 and 2007.
In many images from the TV show, you can see that James' hairline had visibly receded and he frequently wore his hair short, which clearly shows the extent of the hair loss.
2008: James Nesbitt's first hair transplant
James was thought to have undergone his first hair transplant in 2008, shortly after wrapping filming for Murphy's Law.
At a 2010 gala, you can see the results of his first hair transplant. Although he was still wearing his hair short, you can see that his hairline had been brought forward and had experienced significant growth on the top of his head which had previously been almost completely bald.
Since this point, James is thought to have undergone multiple hair transplants as he continued to experience the effects of androgenetic alopecia.
2011-12: James's second hair transplant
In a recent video, James said he'd had a
second hair transplant
within four years of his first. This is sometimes required in cases of particularly aggressive hair loss, or if hair loss management medications like
Finasteride
aren't used or don't work effectively. These photos from 2013 show the results of James's second hair transplant:
2017: Rumoured third, fourth, and fifth procedures
News outlets have reported that James had three additional hair transplants between 2012 and 2017. James hasn't confirmed this — and given the short timeframe that would have been required between each procedure, this might be mere speculation. What's true, however, is that James did have at least one further hair transplant. In 2017, he reportedly said he'd "just had his last one." Here's how James Nesbitt's hair looked following this latest hair transplant:
2022: Has James Nesbitt had a sixth hair transplant?
Some news outlets reported that James was planning a sixth hair transplant in 2022 [4-5]. While it's not clear whether James has had any further work on his hairline, his hair looks fantastic:
Which type of hair transplant did James Nesbitt have?
James Nesbitt had a hair transplant procedure known as
Follicular Unit Transplantation (FUT)
. This type of treatment is among the most common forms of hair transplant where a surgeon will remove a strip of skin (known as graft) that has healthy hair follicles, either from the side or back of your head – anywhere that hair is growing as normal.
Your surgeon will then take this graft and dissect it into tiny clusters of follicles, which will then be reimplanted in the areas where a patient is experiencing balding or thinning hair.
Many people choose this procedure because:
It's cheaper than

FUE transplants

FUT creates a natural-looking appearance

FUT can be completed in under a day

It will help your hair look thick and natural in around 6-18 months.
How much did James Nesbitt pay for his hair transplant?
It's unknown how much James Nesbitt paid for his hair transplant exactly but, as a high-profile actor, he has the money and resources to choose the very best surgeon and clinic to perform the procedure. According to an interview with the Radio Times, James paid far more than this at approximately £20,000 per procedure [6].
The average cost of a hair transplant in the UK is around £4,820. So it's not necessary to pay over the odds for a hair transplant.
Where did James Nesbitt get his hair transplant?
James Nesbitt got his hair transplant procedure done in Dublin. He has spoken before about how he believes that it's important to do your research into the clinic you choose for your hair transplant, as it's an important decision that can have a big impact on your life.
James believes that you shouldn't just rush into it. Don't just jump on a plane and go somewhere as part of a package. He even said that he spent a year thinking about whether to get a hair transplant and where to get it done. So it's clear that he chose the clinic and surgeon that was best for him.
Are you considering a hair transplant?
If James's story has made you think about getting a hair transplant yourself, there are plenty of options you can choose from.
For those of you whose hair is starting to look like James's pre-hair transplant, we'd love to talk you through the different hair transplant processes and which will work best for you.
At Wimpole Clinic, we have a team of hair transplant specialists and surgeons who have helped hundreds of men and women restore their hair heads of hair. Our team is some of the most experienced on Harley Street and has achieved impressive results for our clients.
To find out more about our work, take a look at some of our
before and after hair transplant images
and our
hair transplant clinic reviews
. Then
book a free consultation
to discuss your personal hair transplant journey.

References:
The Wimpole Clinic offers FUE Hair, Beard & Eyebrow Transplants & Trichology.
Talk to a specialist ☎
020 7935 1861
.
Blog search
Book a consultation
Simply fill in your details in the form below and we'll get in touch with you shortly.