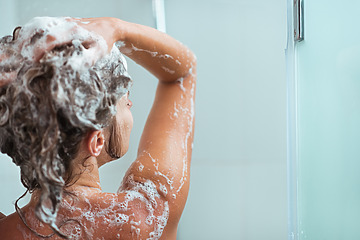 Does DHT Blocking Shampoo Actually Work?
DHT blocking shampoos are being touted as a solution for male pattern baldness, a confidence-knocking condition that affects millions of men.
DHT blocking shampoos often contain ingredients that have been shown to stimulate hair growth. But there's no evidence yet to suggest DHT blocking shampoo formulas actually work.
In this article, you'll discover:
Why blocking DHT can stop hair loss

What DHT blocking shampoos are

Whether DHT blocking shampoos are safe and effective

Ingredients to look for in DHT blocking shampoos

What to do if DHT blocking shampoos don't work for you.
How does blocking DHT stop hair loss?
Dihydrotestosterone, or DHT, is a male sex hormone. It plays a key role in male sexual development before birth and throughout your early life. After adolescence, DHT doesn't play a significant role in normal physiology [2].
But it can have an impact on your hair. Excessive DHT in men is a major cause of male pattern baldness, also known as androgenetic alopecia.
DHT binds to androgen receptors in the follicles around your hairline, crown, and mid-scalp. It doesn't impact follicles at the sides or back of the head. If your follicles are sensitive to DHT, they may become "miniaturised", which causes hair follicle damage and stops hair growth [3].
Follicle miniaturisation can cause:
DHT blockers stop your body converting as much testosterone to DHT. That means there's less DHT to bind to those androgen receptors, preventing hair loss.
Men produce more DHT than women, which is why androgenetic alopecia is more prevalent in men.
What is a DHT blocking shampoo?
A DHT blocking shampoo contains ingredients that block the effects of DHT that can cause male pattern baldness.
Like other DHT blockers, such as Finasteride and Dutasteride, DHT blocking shampoos aim to stop the 5-alpha-reductase (5AR) enzyme from converting testosterone to DHT. Active ingredients include plant extracts, plant oils, and chemicals.
Do DHT blocking shampoos work?
While most DHT blocking shampoos contain active ingredients that are proven to stimulate hair growth, this doesn't mean the shampoos themselves are a magic hair growth formula.
In fact, there haven't been any studies that prove that DHT blocking shampoos actually work.
Most of the studies that prove the effectiveness of hair growth ingredients are highly controlled. It's not easy to replicate these formulas or conditions in your morning shower. So don't necessarily expect big results from using a DHT blocking shampoo.
Tips for using DHT blocking shampoos
These tips can help you increase the chances of hair growth success with DHT blocking shampoo:
Leave the shampoo on for at least 10 minutes before washing it out
Check how much of the active ingredient your shampoo contains
Use a leave-in hair growth solution like Minoxidil alongside your chosen shampoo.
Are DHT blocking shampoos safe?
Most DHT blocking shampoos are safe when used correctly. However, they may contain harmful ingredients that can cause unwanted side effects. For example, sodium lauryl sulphate can cause loss of hair protein, leading to split ends and breakage [12].
Also, some shampoos contain allergens, so it is essential to read the ingredient lists of shampoos to avoid ingredients you know you're allergic to. Always do a patch test on your wrist before using any new DHT blocking shampoos.
DHT blocking shampoo side effects
DHT blocking shampoos are generally safe, but some people do experience side effects when using them. These include:
– Itching
– Redness
– A burning feeling on the scalp
– Dryness and scalp irritation
– Scalp inflammation
It's also possible to have a severe allergic reaction known as anaphylaxis. If you feel swelling in your mouth or throat or tightness in your chest after using a certain shampoo, you may need urgent medical attention.
Oral DHT blockers like Finasteride also have side effects. Because these are systemic drugs that affect your whole body, these problems can be more serious than those for topical DHT blocking shampoos.
DHT blocker side effects include:
– Erectile dysfunction
– Gynecomastia and other breast tissue problems
– Thicker, darker facial and body hair
– Fertility problems
– Anxiety and depression
– Nausea and vomiting.
These issues affect less than 4% of users [13]. But if you experience any of these side effects, talk to a hair loss clinic. They may be able to offer an alternative solution with fewer adverse effects.
Active hair growth ingredients in DHT blocking shampoos
Here are some popular shampoo ingredients proven to be effective in treating hair loss.
Saw palmetto
Saw palmetto is a plant that has been used in traditional medicine for many years. It can reduce the activity of 5-alpha-reductase, which reduces levels of DHT.
In a study to determine its effectiveness in treating male androgenetic alopecia, 38% of patients treated with saw palmetto had an increase in hair growth [5].
Ketoconazole
Ketoconazole is the active ingredient in Nizoral shampoo, is an antifungal ingredient used to treat fungi that live on the scalp and cause dandruff.
Studies have shown that ketoconazole shampoo improves hair density and size of the hair follicles in the anagen (growth) phase of the hair growth cycle in patients with androgenetic alopecia [6].
Like other DHT blockers, ketoconazole inhibits the 5AR enzyme, reducing DHT production [7].
Pumpkin seed oil
Pumpkin seed oil is rich in phytosterols, which may have an inhibitory effect on 5AR. Research has shown that when taken orally, pumpkin seed oil increases hair count by 40% when used in men with androgenetic alopecia [8].
Another study using pumpkin seed oil topically applied to the scalp showed it is effective in treating androgenetic alopecia [9].
Caffeine
Caffeine is a chemical that occurs naturally in seeds, leaves, and the fruit of many plants and trees.
Caffeine shampoos may counteract testosterone action, enhancing the hair shaft length and increasing the anagen (growth) phase of the hair cycle. It also decreases the expression of a hair growth inhibitor called testosterone-induced transforming growth factor [10].
Rosemary oil
Rosemary oil is a hair growth essential oil used for its antioxidant, antimicrobial, and anti-inflammatory properties.
Research has shown that rosemary leaf may have an inhibitory effect on the binding of DHT to androgen receptors and is effective in promoting hair growth [11].
A study showed that rosemary oil increases the hair count after six months of usage, similarly to Minoxidil [10].
Does biotin block DHT?
Many DHT blocking shampoos are marketed as biotin shampoos. This can be confusing, as biotin isn't known to have any DHT blocking effects.
In fact, most vitamin supplements don't help with hair growth unless you have vitamin deficiency-related hair loss.
Which DHT blockers are proven to reduce hair loss?
Finasteride and Dutasteride are oral DHT blockers that can dramatically improve your hair loss.
So if DHT blocking shampoos haven't worked for you, or your hair loss is too severe to be treated with topical treatments, oral DHT blockers are more likely to give you the results you want.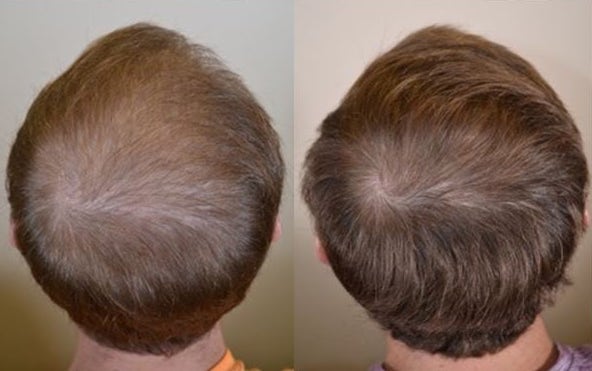 Finasteride results for a 25-year-old hair loss patient
Hair loss clinics can give you the best advice on how to tackle your hair loss, and prescribe Finasteride to kickstart your hair regrowth. Book a free consultation with the Wimpole Clinic to get started.
The Wimpole Clinic offers FUE Hair, Beard & Eyebrow Transplants & Trichology.
Talk to a specialist ☎
020 7935 1861
.
Blog search
Book a consultation
Simply fill in your details in the form below and we'll get in touch with you shortly.