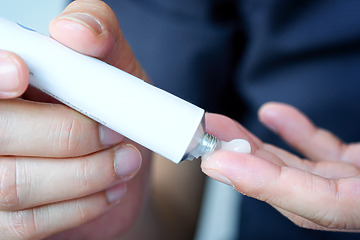 Steroid Creams For Hair Loss
Steroid creams are often prescribed to treat various skin and scalp conditions, including severe dandruff, seborrheic dermatitis, and pityriasis amiantacea. But steroid creams have also shown promising results for tackling hair loss.
One in every 170 UK adults suffers from alopecia areata [1]. And it can affect children, too. Alopecia areata can have a serious knock-on effect on your confidence. So many patients are pleased to learn that topical steroid creams can effectively treat this type of hair loss.
In this article, you'll learn:
Whether it's safe to use steroid creams for alopecia
Which steroid creams can help with hair loss
Which steroid cream is most effective.
Do steroid creams help with hair loss?
First, it's important to distinguish steroid creams (also known as topical corticosteroids) from anabolic steroids, which are used to build muscle tissue. Anabolic steroids may cause hair loss. But in this article, we're focusing on the former, as evidence suggests that some steroid creams are effective at tackling hair loss.
However, not all types of hair loss will respond to this treatment. For example, male pattern baldness and female pattern hair loss can't be tackled with steroid creams.
Alopecia areata and alopecia barbae (alopecia areata of the beard) are the two most common types of hair loss that steroid creams can treat.
Patients with alopecia areata typically have follicular inflammation caused by white blood cells attacking the hair follicles. Steroid creams reduce inflammation, helping the follicles recover and stimulating regrowth.
Fungal infections like seborrheic dermatitis can also cause hair loss. Steroid creams are often prescribed to treat fungal infections [2]. In these cases, any hair loss related to the condition will start to regrow after successful topical steroid treatment.
Is it safe to put steroid cream on your scalp?
Yes. If a steroid cream has been prescribed to you for a scalp condition, it should be safe. However, you may experience side effects; always check the label so you know what to expect.
There are also some hair-related side effects to be aware of when you stop using topical corticosteroid creams. These include inflammation and/or infection of the hair follicles [3].
One study has found that certain types of folliculitis can be misdiagnosed as a result of topical steroid use [4]. If you develop red spots or acne in the area, get your scalp checked by a trichologist.
If a steroid cream has been prescribed to you for another condition, check with your GP if it's suitable for scalp use before you apply it.
Steroid cream may make your hair feel greasy while you're using it. This is a short-term side effect that shouldn't stop you using the appropriate treatment. To avoid excessive greasiness, part your hair before applying the cream directly to the skin.
Types of steroid cream for hair loss
Here are some of the most common steroid creams for hair loss, and how effective they are.
Clobetasol propionate
Clobetasol propionate is a relatively strong steroid cream. Evidence suggests it's one of the most effective steroid creams for hair loss caused by alopecia areata, particularly in children [5-6].
Clobetasol propionate is also among the least painful treatments for alopecia areata, while providing moderate hair regrowth [6].
Because clobetasol propionate is relatively strong, overuse can result in more significant side effects. Use it no more than twice a day for a week, unless otherwise prescribed.
Betamethasone valerate
Like clobetasol propionate, betamethasone valerate is one of the stronger corticosteroid creams available. It's often used to treat scalp psoriasis. Studies show that, when combined with Minoxidil, it can be an effective treatment for alopecia areata [7].
Betamethasone is available as a specially formulated scalp lotion or scalp foam. These are the best ways to treat scalp conditions and hair loss with this type of topical steroid.
Triamcinolone acetonide
Triamcinolone acetonide cream can treat beard hair loss. Twice daily topical application of this steroid cream led to complete beard regrowth in a patient with alopecia barbae after six months [8].
Before steroid cream use: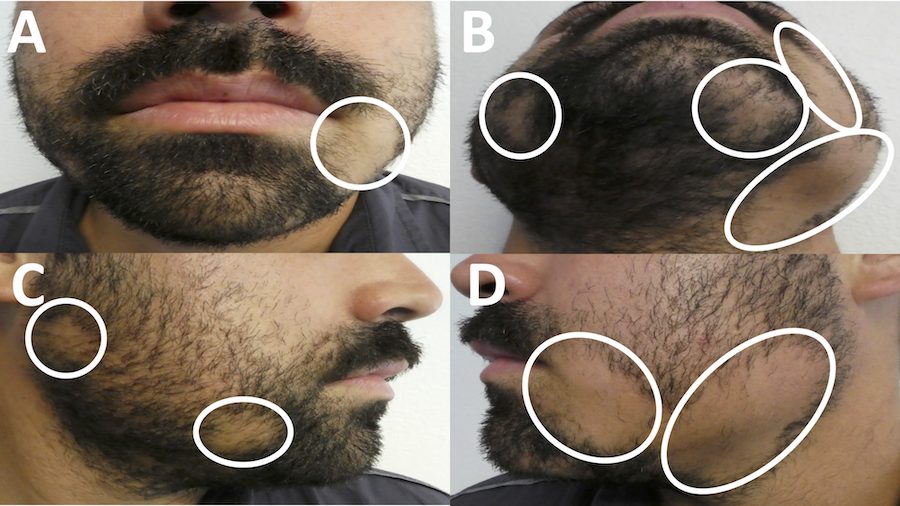 After six months of steroid cream use:
Mometasone furoate
Mometasone furoate works the same way as other topical steroid creams. One study found that using mometasone furoate to treat alopecia areata led to 71% hair regrowth on the scalp [9]. The same study found that combining mometasone with adapalene gel increased the regrowth rate to more than 90%.
Apply mometasone furoate the same way as other steroid creams. Avoid getting it on your face or other sensitive areas. Generally, you should only use it for short periods if using it for eczema or a fungal infection. But your doctor may recommend you use it for longer to treat alopecia areata.
Hydrocortisone acetate
Hydrocortisone acetate is the mildest steroid cream on this list. It's also the only one available over-the-counter.
Hydrocortisone is a commonly used steroid cream, but evidence suggests it's less effective than other hair loss steroid creams [5, 10]. One study examined the use of 1% hydrocortisone cream and topical Minoxidil to treat alopecia areata over 3 months, but the lesions didn't respond well to the treatment [5].
Most doctors and trichologists will prescribe a stronger steroid cream if you don't see results after using hydrocortisone.
Which is the best steroid cream for hair growth?
No studies have compared the effectiveness of all steroid creams for hair growth. Only clobetasol propionate and hydrocortisone have been directly compared for treating alopecia areata [5]. Results found that the stronger steroid cream — clobetasol propionate — was better at stimulating hair regrowth.
That said, it may not be necessary to use a high-strength steroid cream to treat your alopecia. Doctors often prescribe or recommend milder steroid creams like hydrocortisone at first. If these don't work, you can move on to stronger solutions.
How to apply steroid creams for hair loss
Wash your hands before handling the steroid cream.
Part or flatten your hair with one hand to avoid getting too much cream in your hair.
Apply a thin layer of cream to your hair loss patches.
Wash your hands afterwards to avoid applying it elsewhere on the body.
Re-apply after 8-12 hours (or 24 hours if using just once a day).
Try to avoid washing your hair within an hour of using the steroid cream, and don't apply other creams like moisturisers or serums at the same time.
What other treatments are available for alopecia areata?
Steroid creams aren't the only way to treat alopecia areata. Steroid injections into the hair loss patches can also stimulate hair regrowth. Other treatments include:
JAK inhibitors — Lilly's Olumiant and Pfizer's alopecia drug ritlecitinib have both shown promise as a treatment for alopecia areata
Contact immunotherapy — triggering a deliberate allergic reaction to suppress the body's autoimmune response in the follicles
Methotrexate — an immunosuppressant that reduces the body's autoimmune reaction.
At the Wimpole Clinic, our trichology team can help you find the right treatment for your hair loss. Book a free consultation to get started.
Sources:
The Wimpole Clinic offers FUE Hair, Beard & Eyebrow Transplants & Trichology.
Talk to a specialist ☎
020 7935 1861
.
Blog search
Book a consultation
Simply fill in your details in the form below and we'll get in touch with you shortly.